New York Knicks 22-year-old swingman Iman Shumpert is being coveted by the Phoenix Suns, according to the reliable Adrian Wojnarowski of Yahoo! Sports.
Here's an excerpt of Woj's report:
The Suns are willing to give New York a package that includes forward Jared Dudley and possibly a future first-round pick for Shumpert, but the Knicks have so far shown no inclination to do such a deal, sources said.

After tearing his left anterior cruciate ligament in the Knicks' opening game of last season's playoffs, Shumpert returned in January and has started the past 11 games. While Shumpert is still working himself back to the high level with which he performed as a rookie, the Knicks' front office remains a strong proponent of his talent, sources said.
With this news, earlier reports (by Alex Kennedy of HoopsWorld) of the Knicks' interest in Phoenix's Jared Dudley make a bit more sense. Regardless, the Knicks giving up on such a young, promising talent in Shumpert is a tad suspect—hence New York's reported lack of interest, according to Wojnarowski.
Shumpert's value to the Knicks stretches beyond the on-court worth he packs in 2012-13. Shumpert is the lone Knick under the age of 27. He's under team control through the 2015-16 season, and is already a proven defender along the perimeter.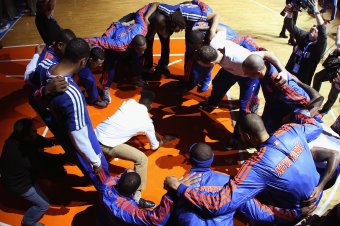 Bruce Bennett/Getty Images
His firey attitude and heart is a key part of this winning Knicks team. Shumpert is the leader of each pregame huddle, and can be seen hyping up his teammates—dating back even to when the sophomore was doing his rituals in suits earlier in 2012.
His offensive game is very much up in the air at this point. Currently, Shumpert's scoring is dependent solely on athletic ability, and not much else. He's a mediocre jump-shooter at the current, early stage of his career—he drilled just 31 percent of threes last season—but has shown improvement in limited time in his second campaign.
His shooting ability is extremely important in Mike Woodson's offensive scheme, as he likes his wing players to camp out in the corners awaiting open three-balls, as opposed to Shumpert's natural game which involves cutting and slashing.
After letting go of Jeremy Lin, Landry Fields, Josh Harrellson and others last offseason, it's no secret that the current Knicks regime isn't afraid to sacrifice young potential for proven talent. Even so, letting go of Shumpert in just his second NBA season would be questionable—especially to Knicks fans who have embraced his high-energy playing style since his second game at the Garden.
Dudley could be a nice fit on the Knicks roster, especially in place of Ronnie Brewer or Chris Copeland, but the Knicks would likely ask for much more than just Dudley in a trade package for the former first-round pick Shumpert.
Knicks fans may remember Dudley as the one responsible for much of their LeBron James optimism in July of 2010. It was Dudley who tweeted that his "sources" were certain that James would be heading to Gotham and joining the Knicks that summer.
Breaking News!!! My sources tell me Lebron will announce that he will be goin to the NY KNICKS tomorrow on ESPN.. This is serious.. WOW!!!!

— Jared Dudley (@JaredDudley619) July 7, 2010
Wojnarowski mentioned potential draft picks being included in the deal, which could be essential for New York. They have several future picks sent to various teams thanks to the Carmelo Anthony, Marcus Camby, and other deals. Their two rookies are 28 and 35, and have very limited in-house help for the immediate future.
Shumpert is the prime cornerstone for the future outside of Carmelo Anthony.
Sebastain Telfair was also mentioned in the Y! Sports report, and he could be valuable for the Knicks, who could use some insurance at the point guard spot thanks to Raymond Felton and Jason Kidd's fragile health situations.
Should the Knicks trade Iman Shumpert to Phoenix?
New York, so it seems, has a winning nucleus at the moment, and any deal to shake things up would have to be thought over long and hard by general manager Glen Grunwald.
Some youthful and affordable assets could be useful for the Knicks—maybe more so than any other NBA team—but dealing Shumpert has its consequences as well.
Follow me on Twitter at @JSDorn6.