3 Reasons Alex Smith Should Start in the NFL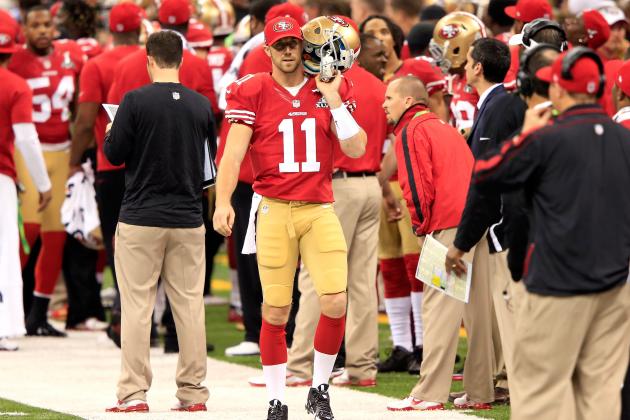 Jamie Squire/Getty Images
Smith walks the sidelines in the Superbowl
Alex Smith is a fantastic quarterback, but halfway through the 2013 season, head coach Jim Harbaugh decided his San Francisco 49ers would be better with Colin Kaepernick under center.
It must have gotten frustrating for Smith after playing extremely well and still not being good enough for Harbaugh. As the Superbowl came and went, Smith was still riding the pine.
The question now becomes should Smith get the chance to start for another team next year? With his strong pocket-passing skills as well as his playoff experience, the answer is a definitive yes.
Begin Slideshow

»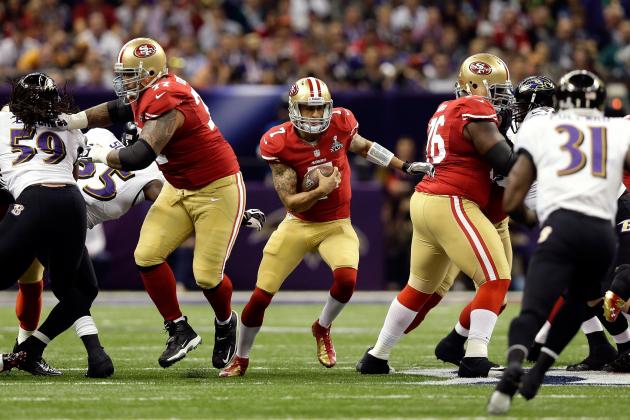 Ezra Shaw/Getty Images
Colin Kaepernick uses both his speed and his arm
Clearly, Jim Harbaugh thinks that Colin Kaepernick gives the 49ers the best chance of winning.
He has an absolute cannon of an arm and is just as dangerous on his feet. He proved his coach right by having a fantastic season and an even better playoffs. So while it turned out to be a difficult season this year for Alex Smith, the direction that the 49ers are moving in is at least finally clear.
While Kaepernick is a very strong quarterback, Smith is also a very solid player and leader, who deserves to be traded or released this offseason so he can have the opportunity to start for another team.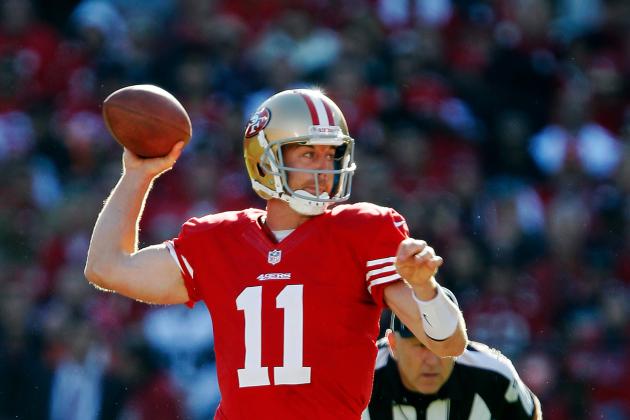 Brian Bahr/Getty Images
Alex Smith unleashes a bullet
While Smith is not the most mobile quarterback, he makes up for it with his presence as a pocket passer.
This season he completed 70.2 percent of his passes, had a 104.1 passer rating and threw for 13 touchdowns and only five interceptions. He led the 49ers to a 6-2 record and was playing some of the best football of his career.
Last season was also a strong year for Smith. He completed 61.3 percent of his passes, threw for 17 touchdowns to only five interceptions and finished the year with a quarterback rating of 90.7. He is one of the most solid and consistent quarterbacks in the league.
Ever since Jim Harbaugh came in as head coach, Smith has transformed himself into an elite quarterback in the NFL. He deserves to go play somewhere else if he wishes. The 49ers at least owe him that.
Ronald Martinez/Getty Images
Smith has postseason experience
While Alex Smith is extremely talented, he will not be able to carry an entire team to the playoffs on the strength of his arm. Only a select few quarterbacks have the ability to do so. He will need a strong secondary players to compliment his strengths. He is not a superstar but could be a key piece to creating a team that can compete for a championship.
The main reason that makes Smith a very ideal candidate to many teams is his playoff experience. He played two postseason games last year under Harbaugh in which he threw five touchdowns and no interceptions, which led him to a 101.0 passer rating. In addition, he was on the sidelines for this year's 49ers run.
The fact that Smith has been past the first round of the playoffs makes him a desirable quarterback. Smith knows how to lead a strong team to a winning record and has had some solid postseason experience. He would provide valuable leadership to any team who wants to sign him.