Grading Each Boston Celtics Player's Performance since Rajon Rondo's Injury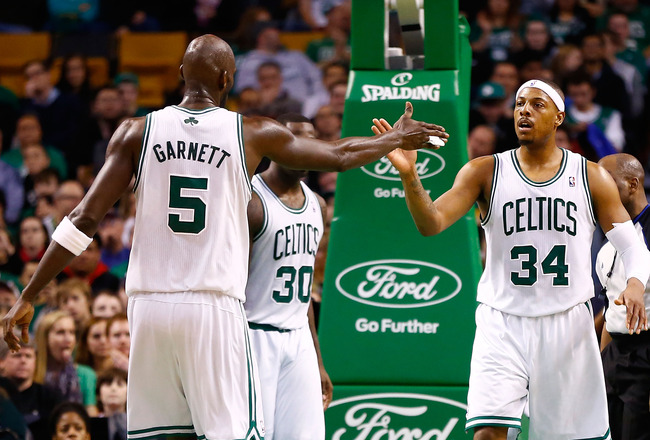 Boston has been just fine without Rondo.
Jared Wickerham/Getty Images
The loss of All-Star point guard Rajon Rondo was supposed to cripple the Boston Celtics. Instead, they just might be playing their best basketball of the season.
As improbable as that sounds, the Celtics' play as of late has certainly backed up such claims.
It's a thought that was almost unimaginable just over a week ago, with Boston having dropped six straight and set to host the defending champion Miami Heat.
The light at the end of the tunnel only got dimmer with news that Rondo would be sitting out the contest. That light completely faded out when it was announced at halftime that the 26-year-old would be sidelined for the remainder of the season.
Hope, game and season lost.
Or at least we thought.
In valiant fashion, captain Paul Pierce led the Celtics to an impressive 100-98 double-overtime victory. He finished with a triple-double, recording 17 points, 13 rebounds and 10 assists.
Since then, Boston has added three more wins, including a thrilling 106-104 victory over the Los Angeles Clippers.
On a down note, the team also lost outstanding rookie forward Jared Sullinger for the rest of the year. On the bright side, the Celtics now stand at 24-23 and boast successes over arguably the top-two teams in the league in the span of four games.
But what's most impressive is the all-around improvement made by the team during this rather tumultuous stretch.
In the four games without Rondo, Boston is averaging 100.5 points per game, while shooting 48.3 percent from the floor. Both are significant improvements over its season per-game averages of 95.5 points and 45.9 percent shooting.
The Celtics have even managed to rebound better, averaging 40.3 rebounds per game compared to their 39.5 season average.
However, the one area the team was expected to struggle with in the absence of Rondo was its ball distribution.
So far, that has not been the case.
In fact, Boston has actually improved in that category, averaging 24.8 assists per game. With Rondo, the team was only averaging 23.2 per game.
Saying the Celtics are overachieving right now could quite possibly be the understatement of the season.
So who's stepped up and who's not quite pulling his weight?
Only players who have averaged at least 10 minutes per game have been included
Starter: Kevin Garnett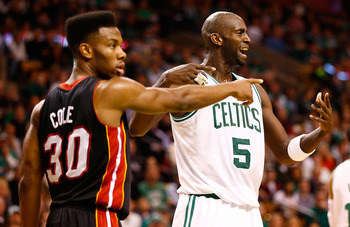 Garnett (right) is stepping up when his team needs him most.
Jared Wickerham/Getty Images
Kevin Garnett continues to defy the odds. At 36 years old, he's in his 17th year in the league and still continues to produce at a high level.
There's not much more you can say about a guy who's preparing to make his 15th career All-Star Game appearance on Feb. 17.
In Rajon Rondo's absence, Garnett has not just continued his strong play; he's taken it to another level.
In the last four games, Garnett has averaged 15.8 points, 8.8 rebounds, 3.1 assists and 1.5 blocks per game in 31 minutes per night. He has also shot 28-of-50 (56 percent) from the field.
That's an improvement across the board compared to his season averages—14.8 points, 7.3 rebounds, 2.2 assists and 1.1 blocks per game.
Garnett has stepped up when Boston has needed him desperately. He logged 45 minutes in the victory over Miami, recording 24 points, 11 rebounds, four assists and three blocks.
Even when he's not called upon much, Garnett has still proven to be effective. He finished with 14 points on 7-of-12 shooting, along with 10 rebounds and three steals, in just 23 minutes against the Orlando Magic.
While losing Rondo is definitely a blow to the Celtics, one has to believe that the loss of Garnett would hit this team a whole lot worse.
Grade: A-
Starter: Brandon Bass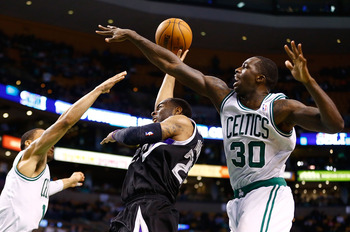 Bass (right) has continued his dismal 2012-13 campaign.
Jared Wickerham/Getty Images
After a solid campaign for Boston last season, forward Brandon Bass has completely disappointed this year. So it came as no surprise when head coach Doc Rivers opted to start rookie Jarred Sullinger ahead of him.
However, with Sullinger's recent injury, Bass was given another shot.
Thus far, he has not impressed.
Following a solid outing against the Sacramento Kings—12 points, four rebounds and three steals in 38 minutes—Bass has failed to reproduce that feat over the last two games.
In 26 minutes against the Orlando Magic, Bass finished with just six points and seven rebounds. He also had a team-low plus/minus of minus-15.
He did not fare too much better against the Los Angeles Clippers, recording nine points, eight rebounds and another team-low showing of minus-10.
His minus-13 rating over the last four games is tied for the team low.
Throughout the season, Bass has shown signs of the consistency that led the Celtics to re-sign him during the offseason. However, thus far, he has continued to underperform. He is shooting only 44.2 percent from the field this year and just 40.1 percent over these last four games.
Without the intensity and rebounding prowess of Sullinger, the team really needs Bass to step up.
If he does not do so soon, Bass might not only find himself out of the starting lineup again; he could also be on his way out of the city.
Grade: D
Starter: Paul Pierce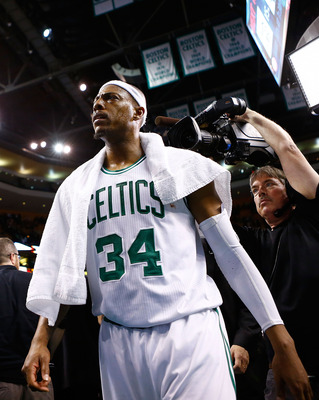 Pierce has re-found his stroke.
Jared Wickerham/Getty Images
Paul Pierce's most recent slump—a string of seven games in which he shot around 30 percent from the field and under 20 percent from three-point range—proved costly in more than one way.
Not only did it cost him his sixth-straight All-Star Game appearance, but it also played a role in Boston's recent six-game slide.
With Rajon Rondo out for the remainder of the season, the team's fate rests on whether Pierce can turn his fortunes around and take back the reins.
So far, he has responded quite well.
With the Miami Heat visiting on Jan. 27, Pierce stole the show from former teammate Ray Allen—making his first trip to Boston since leaving—by dropping a triple-double to help lead the Celtics to a double-overtime victory. Pierce finished with 17 points, 13 rebounds and 10 assists.
Over this current four-game winning streak, Pierce has averaged 17.3 points, 9.8 rebounds and 6.3 assists per game in 36.3 minutes per night. He's also shooting 45.1 percent from the field and 40 percent from beyond the arc.
Think someone is a little angry he was left off the All-Star squad?
While Pierce's strong play as of late has only helped increase trade speculation involving him, it has also displayed just how important he is to Boston's success.
He has already proven he can score, but in Rondo's absence, he has also shown he can work as a facilitator. On top of this, he has become a lot more aggressive on the boards.
Regardless of his trade value, trading Pierce would be a huge mistake for the Celtics.
Grade: A
Starter: Courtney Lee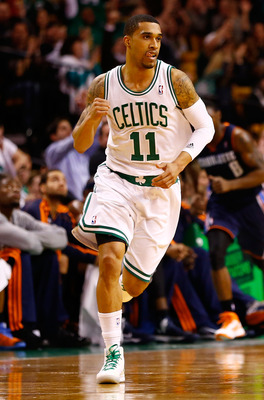 Lee is STILL trying to find some consistency in his game.
Jared Wickerham/Getty Images
Courtney Lee was set to benefit the most from Rajon Rondo's absence from the starting lineup.
The injury would give the guard an opportunity to make amends for his disappointing stint as a starter during Avery Bradley's rehab process.
He certainly deserved it.
Besides his strong play on the defensive end, Lee was starting to display some consistency on the offensive side of the ball. Day in and day out, he was providing the Celtics with the boost from the bench they had expected when they traded for him during the offseason. This would be the perfect chance for Lee to put together a complete game.
In the four games Rondo has been sidelined, Lee has averaged 8.5 points and three assists per game in 30.3 minutes per night. Furthermore, he has only shot 35.3 percent from the field.
That's not going to get it done.
Boston needs Lee to consistently perform at the level he did against the Orlando Magic—14 points on 6-of-13 shooting, five rebounds, five assists and two steals.
If he does not, it won't be long before he finds himself benched in favor of Jason Terry...again.
Grade: C+
Starter: Avery Bradley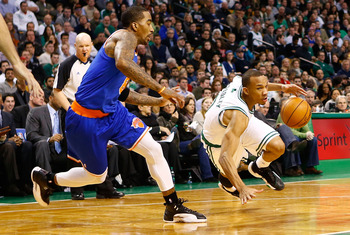 Bradley (right) has tripped out of the gates following his return.
Jared Wickerham/Getty Images
Avery Bradley's fantastic second half to the season was cut short last year after he suffered a shoulder injury. He would undergo surgery to both shoulders during the offseason.
Bradley finally returned to action on Jan. 2, but he has yet to rediscover the skill set that had GM Danny Ainge swooning about his talent. In 16 games this season, Bradley has averaged just 7.9 points on 39.3 percent shooting.
With Rajon Rondo out, Bradley has assumed the important role of starting point guard. There was much optimism on the Celtics' part, as Bradley had previously worked out in practice at the position.
However, the results haven't quite measured up to par.
Bradley has averaged 7.5 points, 3.1 rebounds and only 1.5 assists per game in the four games Rondo has been sidelined. He's shot only 33.3 percent from the field and just 22 percent from three-point range.
Bradley is also tied with Brandon Bass for the team-low in plus/minus at minus-13.
There's no denying that the guy is a defensive spark plug, but at some point he's going to be expected to deliver on the offensive end as well.
The Celtics are not getting much production from Courtney Lee, and they would prefer to have Jason Terry come off the bench, so it's imperative for Bradley to find his range.
Grade: C
Jeff Green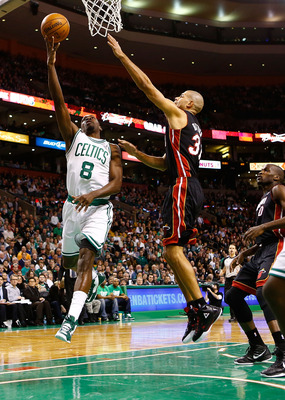 Green (left) has provided a spark for the C's off the bench.
Jared Wickerham/Getty Images
Who doesn't love a feel-good story?
After being diagnosed with an aortic aneurysm, forward Jeff Green missed the entire 2011-12 season and had to undergo surgery.
When the Celtics re-signed him in the offseason, they were hoping he would make a run for Comeback Player of the Year. Instead, he has been labeled a $36-million disappointment.
In 47 games this season, Green has averaged 9.9 points per game in 23.9 minutes per game. He has struggled from the field, shooting just 44 percent.
However, during Rajon Rondo's absence, Green has taken his game to another level.
Over the last four games, Green has averaged 13.5 points per game. His minutes per game have increased to 28.8 per night. He is also shooting at a 56.4 percent clip from the field and 44.4 percent from three-point range.
He is taking smarter shots, attacking the rim without hesitation, and has rediscovered his range. But most importantly, he's been a tremendous boost to the team from the bench.
Green has also improved on the defensive side of the ball, averaging 1.5 blocks per game over that span.
If he can keep it up, this extended time on the court is sure to continue.
Grade: A-
Jason Terry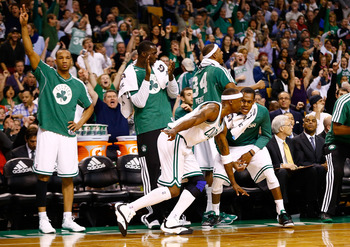 The Jet has finally taken off.
Jared Wickerham/Getty Images
Jason Terry was another one of those offseason signings who has disappointed for the large majority of the season. It was largely believed that his lackluster play was behind Boston's rumored interest in J.J. Redick (per Marc Stein).
Following Courtney Lee's failure to hold down the shooting guard position, Terry was thrust into the role to see if he could do any better. Unfortunately, he could not.
Terry's slump has continued for much of the season, most noticeably in his three-point shot. He is only connecting on 35.9 percent of attempts from distance—his lowest mark since his rookie season.
However, in Rajon Rondo's absence, Terry has turned it up.
During the four-game stretch, Terry has averaged 12.5 points and four assists per game in 28.3 minutes per night. Although his three-point shooting is still off (33.3 percent), he is hitting 52.3 percent of his overall shots.
Terry also has a team-high plus/minus of plus-46 during that span.
This is the player the Celtics thought they were getting. He could also be the player who helps lead the team on an unexpected run deep into the postseason.
Grade: A-
Leandro Barbosa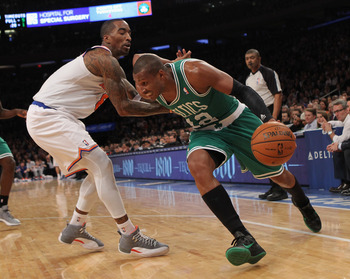 Barbosa is silently making a name for himself in Boston.
Bruce Bennett/Getty Images
Prior to Rondo's injury, the biggest contribution guard Leandro Barbosa had made to the Celtics was being their biggest cheerleader.
After every big play, you could guarantee Barbosa would be the one leading the celebrations. Whether he was waving his towel around or delivering high fives, Barbosa was the team's most avid supporter.
That is, until now.
Easily the biggest winner of this whole ordeal, Barbosa has seen his minutes skyrocket from 11.8 to 23.4 per game.
He's made head coach Doc Rivers look good for it, too.
Over the last four games, Barbosa is averaging 10.8 points and 2.8 assists per game. He's also shooting 51.4 percent from the field and 37.5 percent from beyond the arc.
Barbosa is attacking the rim hard and knocking down his open shots. His hustle and work ethic are noticeable on the floor, and they've been contagious.
According to ESPN's Chris Forsberg, the Celtics' best five-man unit has included Barbosa. The other four in that group are Jason Terry, Paul Pierce, Jeff Green and Jason Collins.
With Rondo on the court, and with Bradley's return, the depth at guard prevented Barbosa from seeing much playing time.
Now, he's making the most of his opportunities on the court. As a result, good things are happening.
Barbosa is a major reason that Boston's bench has been averaging 46 points per game over its last four contests.
That's saying something.
Grade: B+
Jason Collins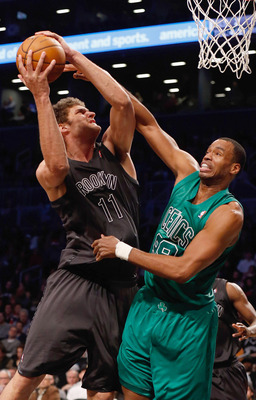 Collins (right) has made life difficult for opponents.
Mike Stobe/Getty Images
Remember how unproductive Jason Collins was back when he was starting at center?
Well, not much has changed since then.
In the three games he has participated in since Rajon Rondo's injury, Collins has averaged 2.7 points and 1.7 rebounds in just 10.7 minutes per night.
Take away his seven-point performance against the Los Angeles Clippers—five of those points were free throws—and his rate of production drops even lower.
But for all the flak he takes for his offensive deficiencies, Collins has been quite effective on the defensive end.
According to Synergy Sports (per ESPN), Collins has allowed only 0.657 points per play. That ranks him in the 97th percentile among all NBA players. Furthermore, opponents have managed to shoot only 26-of-79 (32.9 percent) in plays that finish against him.
Head coach Doc Rivers has offered only praise to his reserve big man:
You know, I don't care about the statistical part of it, he's just been doing [good things] all year...[Collins] doesn't do bad things; he just does a lot of good things.
That's nice and everything, but if Collins could score maybe just a couple more points, then the rest of the supporters could also get behind him. Just maybe.
Grade: C-
Summing It All Up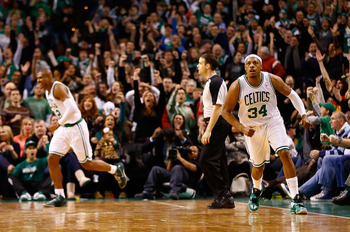 How long can Boston keep this up?
Jared Wickerham/Getty Images
While it's nice to see the Celtics faring so well without Rajon Rondo, it would be far-fetched to think that they are better off without him.
Players who were struggling before are finally stepping up. Shots that were coming up short are finally starting to fall. But most importantly, Boston is finally starting to play together as a team.
Was Rondo the one preventing all those things from happening? It's highly unlikely.
It makes you wonder, though: Just how good could the Celtics be right now if Rondo were still healthy?
That's something we will never know.
Stats used in this article do not include Wednesday night's matchup with the Toronto Raptors.
For complete team coverage and everything Celtics, follow Sebastian on Facebook or on Twitter at @SP7988.
Keep Reading

Boston Celtics: Like this team?