3 Reasons Steve Ott Will Flourish in His 1st Season with the Buffalo Sabres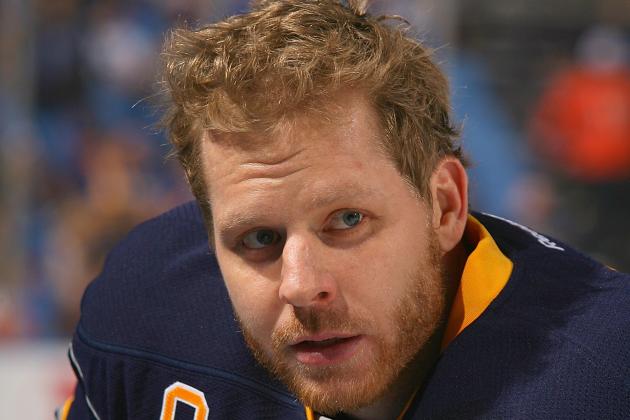 Rick Stewart/Getty Images
Ott has been a solid addition to the Sabres.
When the Buffalo Sabres acquired Steve Ott from Dallas last summer, it was the most important of several moves to make this team tougher to play against. Plain and simple, fans had to endure a squad that was spineless last season. But is the 30-year-old veteran going to be more than just a grinder for Buffalo?
Ott proved with the Stars that he could contribute offensively. He's not a guy that's going to ever net you 30 goals, but players who can give you 15 with 150 PIM are few and far between.
That's especially true in Western New York, where the Sabres have rarely had someone capable of numbers like those.
Incumbent ultra-pest Patrick Kaleta has never had more than 15 points in a season. In essence, Ott is a better version of Kaleta.
Ahead, we're going to look at three reasons why No. 9 will flourish in his first year with his new club.
Begin Slideshow

»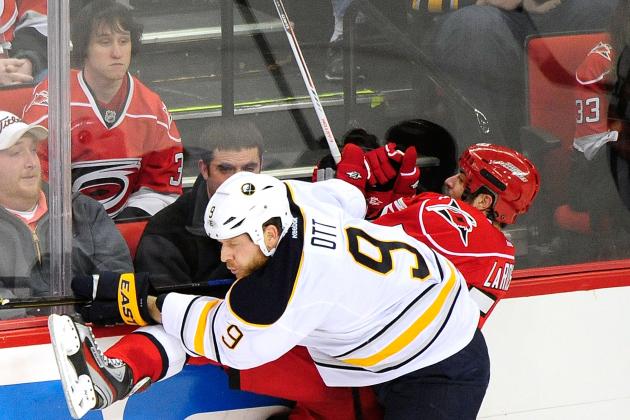 Grant Halverson/Getty Images
The new Sabre drills Carolina's Chad LaRose,
A day after adding gigantic enforcer John Scott, GM Darcy Regier made a popular move when he traded Derek Roy for Ott and Adam Pardy.
Roy exemplified to many what was wrong with Buffalo last season. He showed up when he wanted to, and unlike in past years, failed to compensate by producing on the scoresheet.
Those two acquisitions immediately added some teeth to this lineup. It also endeared these two players to their new fanbase.
Sabres fans are refreshed to see the guy wearing No. 9 now does all the things the previous one didn't. Ott hits, fights, backchecks, blocks shots and plays hard 100 percent of the time.
And without insulting Dallas fans, the Prince Edward Island native is now in a market that is truly passionate about hockey.
They've been waiting for a feisty leader who'll do anything to win, so their overwhelming support should only inspire his performance on the ice.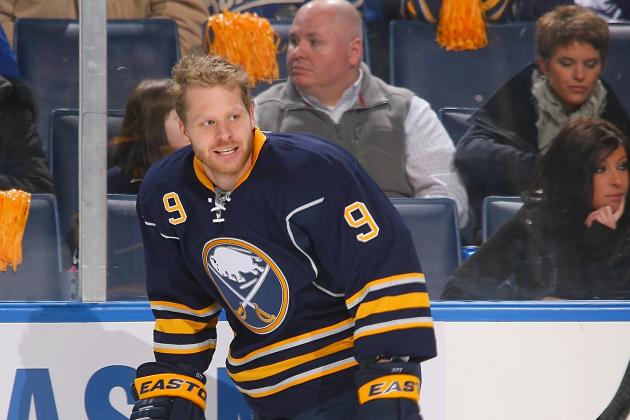 Rick Stewart/Getty Images
The 10th-year man had two points through Buffalo's first six games.
One thing it won't take Ott long to realize now that he's here in Buffalo is how much his coach likes to shuffle lines.
He was playing with highly-touted rookie Mikhail Grigorenko and Ville Leino throughout training camp, until Leino got hurt right before the start of the season. Ideally, that's Lindy Ruff's perfect third line.
The combination of Grigorenko's skill with Ott's grit and toughness only works, though, if Leino can bounce back from a forgettable 2011-12. That's still a big if at this point, too.
Regardless, the former Windsor Spitfire has already seen PP duty. If that continues, he's bound to benefit from the roll the trio of Thomas Vanek, Jason Pominville and Cody Hodgson are on.
Sabres fans should expect solid numbers (10-15 goals, 30-35 points) from Ott as long as his linemates, whoever they may be, can stay healthy.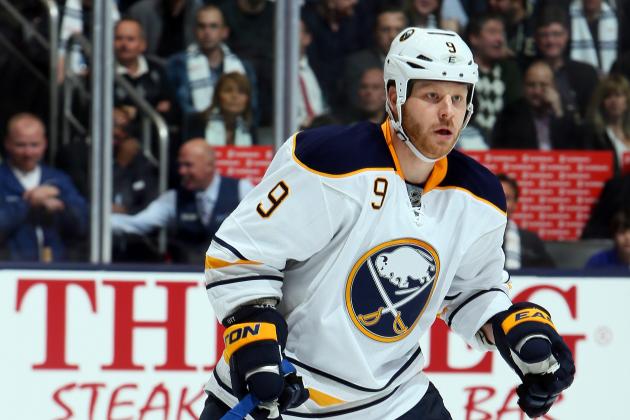 Abelimages/Getty Images
Don't be surprised to see an "A" on Ott's jersey in the near future.
We've talked about the physical overhaul Buffalo has undergone since the summer. But Ott has also brought leadership and heart to a group that desperately needed both.
He's the kind of player you want to "go to battle" with. A guy who will sacrifice individual statistics for the good of the team.
Sabres fans still can't help but laugh at the irony that Ott was traded for someone who possessed none of those intangibles.
Derek Roy didn't inspire his team. If anything, he set the worst example of how to play the game, especially as a so-called veteran for the Sabres.
Ott's attitude and approach on and off the ice is infectious. He's rubbing off on Buffalo's youngsters in the best way possible.
Expect him as the season moves on to become more of a vocal leader for this group as well.
It's about time this team has someone who will demand accountability.