Steve Nash Is Biggest Loser in Lakers Nightmare Season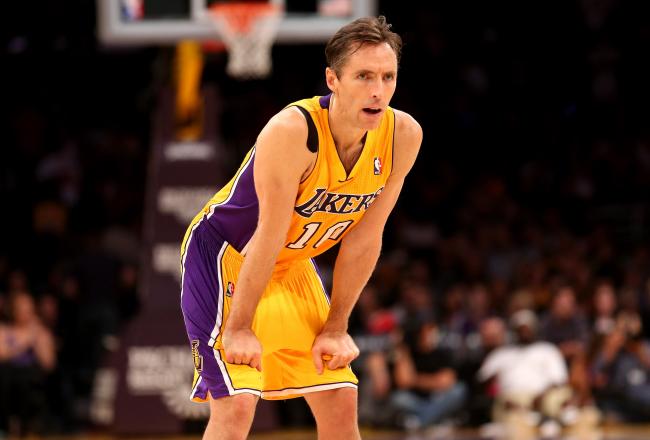 Steve Nash.
Stephen Dunn/Getty Images
With the Los Angeles Lakers stuck in what has been a train wreck of a season so far, the one player whose legacy will invariably take the biggest hit is none other than Steve Nash.
Dwight Howard was, as recently as two seasons ago, one of the most dominant forces in the league. However, his back injury has robbed him of his mobility and explosiveness, thus earning him a proverbial pass.
Pau Gasol has pretty much been there and done that at every level he's played in. He's dominated in international play, the Olympics and the NBA Finals, and he is also the proud owner of two championship rings he earned as a member of the Lakers.
The Spaniard has long been thought of as mentally fragile and a second or third option on a contending team. Thus, it's hard to expect more from him, especially with the way the coaching staff has mismanaged him this season. Much like Howard, he might get some heat directed at him, but not much.
Kobe Bryant, on the other hand, will get some blame. Perhaps his stature will even take a hit when history remembers how the purple and gold performed this season. But ultimately his five championships, two NBA Finals MVP trophies and the fact that he is the franchise's all-time leading scorer will give him not only a lot of leeway, but probably also lead to many completely looking the other way in terms of what he did to actually keep the team afloat throughout the most trying of times.
That leaves us with Steve Nash.
He is a former two-time MVP and unquestionably one of, if not the greatest point guard of his generation. The way he poured life into the Phoenix Suns and made them not only entertaining, but also competitive to the point that many felt as though they could contend for a title speaks to his singular talent as an elite point guard.
Nash in his Phoenix days.
However, those that know the Lakers' incredibly rich history will eventually offer the one question that could in fact be the dagger in Nash's last few seasons in the league: Would Magic Johnson ever allow this to happen on his watch with this roster?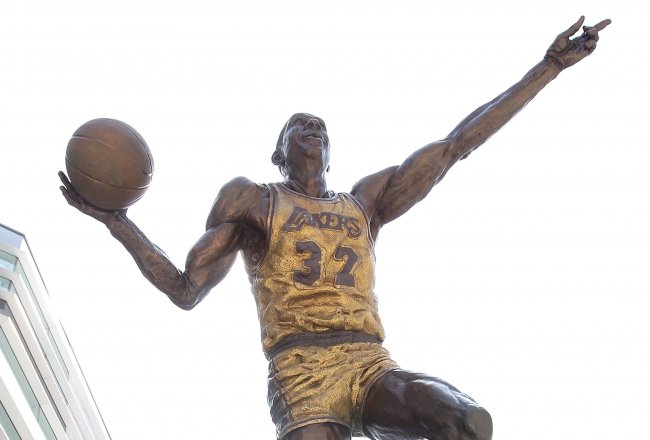 Magic Johnson statue in front of Staples Center casts a big shadow.
Christian Petersen/Getty Images
Fair or not, that last sentence is bound to come up at some point.
And let's not forget, Nash has played the majority of the season under the head coach that allowed him to enjoy the most individual success he's had in his illustrious career, Mike Dantoni.
The pieces may not fit with the system, but it is Nash's system to some degree, and the eight-time All-Star is well on his way to taking a hit for not succeeding in it with this collection of talent.
Where has this version of Nash been for most of the season?
The Santa Clara product seems destined to be the lone NBA MVP award winner other than Derrick Rose to never play in the NBA Finals.
Many assumed that dubious distinction might finally come to an end this season with a cast of future Hall of Fame-caliber players all competing on the same team, but it seems as though Nash may have been better off finishing his career in Phoenix, or even with Toronto or New York.
In Phoenix, he would have retired as the face of the franchise as well as its greatest ambassador for sticking through the best of times as well as the rough ones. He helped develop some of the young talent on the team and could have allowed the Suns' faithful to see him until the end.
In Toronto, he would have finally gone back home and made the Raptors not only interesting, but also worthy of perhaps a few nationally televised games. Fans in every NBA arena would have cheered for him because he chose to close out his career in his native country.
New York would have been an incredible experience given the stage and the performance of the Knicks. Nash would probably be playing in the place of Raymond Felton and alongside his former mentor Jason Kidd in an offense tailor-made for his impeccable pick-and-roll skills.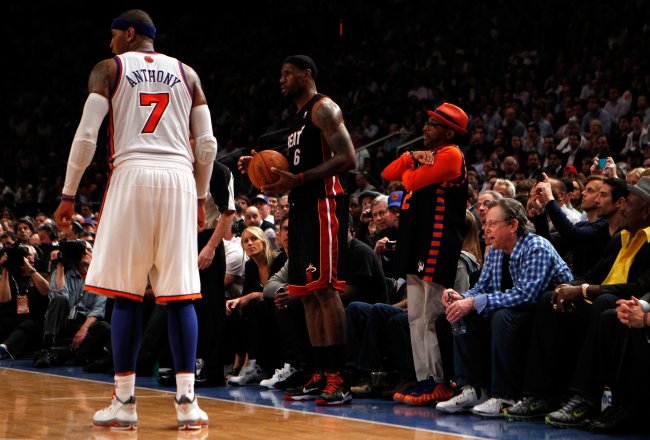 Spike Lee would have cheered for Nash in this setting.
Jeff Zelevansky/Getty Images
But more importantly, he would be in a winning environment with a shot at making it to the NBA Finals with the defending champions probably in the way, in what could have been an epic seven-game series with Nash heavily involved.
But instead he chose the Lakers, which looked like the best choice at the time.
He was getting a chance to play with longtime rival Kobe Bryant and one of the most skilled big men in the league in Pau Gasol. Combine that with Dwight Howard being on board and the team had the potential to be the most lethal offense the league had seen in many years.
But potential is a funny thing. It's how we expect things to unfold on the basketball court, essentially a projection of what should come about.
And when those expectations aren't met in professional basketball, reputations and legacies tend to suffer a bit.
And in this case, the Lakers' season-long lack of cohesiveness on both ends of the court will fall on the shoulders of the one player on the team whose best skill is bringing teammates together.
Steve Nash.
This article is
What is the duplicate article?
Why is this article offensive?
Where is this article plagiarized from?
Why is this article poorly edited?

Los Angeles Lakers: Like this team?