Virginia Tech Football: Hokies' Top Priorities on National Signing Day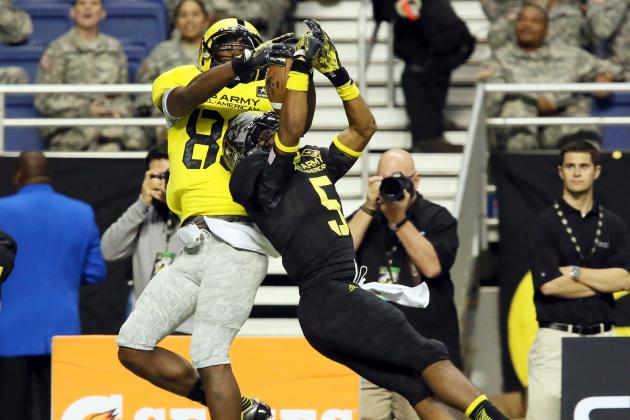 USA TODAY Sports
Kendall Fuller
With national signing day just a week away, schools from across the country are not only scrambling to get commitments from uncommitted players, but to also try and close the deal on those who have agreed to come to their school. Backing out of a verbal commitment almost seems to happen daily in this day and age.
High school players are very impressionable and seeing a coach like Nick Saban or a school like Michigan and USC come at you late can be very enticing for a 17- or 18-year-old. Remember, these are kids and every school has a chance until the player has signed a letter of intent.
Virginia Tech has verbal commitments from 20 players in their 2013 recruiting class. A handful of those players enrolled in January and the Hokies will wait until next Wednesday and hope no one bails at the last minute, which has happened on more than one occasion in the past.
Here is a look at the Hokies' top priorities, by position, and how they have fared to this point.
Begin Slideshow

»
Bucky Hodges
Senior Logan Thomas will be entering his third year as the starting quarterback in 2013. The Hokies couldn't be any happier with only untested junior Mark Leal behind Thomas. Head coach Frank Beamer understood the significance of adding at least two young players at the position and he did so with the recruitment of Bucky Hodges and Carlis Parker.
Hodges, at 6'5", 230 pounds, is much like Thomas in terms of size. He isn't quite the overall athlete Thomas was coming out of high school, but he may be a bit more polished as a passer. He still needs a lot of work but the tools are there.
Parker, from Statesville, North Carolina, is one of the players who enrolled in January. He is a terrific athlete who could easily transition to another position if he doesn't play quarterback. Parker also has good size (6'4", 190) but needs a lot of work behind center.
Watching these two compete over the next few years could be an exciting proposition for Hokies' fans.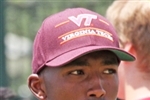 Kendall Fuller
The Hokies' lack of depth at cornerback in 2012 was glaring. Juniors Kyle Fuller and Antone Exum were excellent, but behind them were a pair of true freshmen.
Fuller's younger brother, Kendall, is one of the top recruits in the country and is generally viewed as the top high school cornerback. He won several awards in his senior year and could be poised to start as soon as he arrives on campus with this week's devastating knee injury to Exum.
Fuller is not only a terrific athlete, but he is an extremely smart football player. All three older brothers have played at Virginia Tech and the oldest, Vincent, played in the NFL for several seasons.
The Hokies also received verbal commitments from Cequan Jefferson, Charles Clark and Brandon Facyson at cornerback. The Hokies clearly made this position a priority, and each of these three, Jefferson in particular, could be a contributor early on. Facyson is another early enrollee.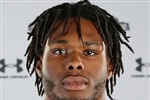 Holland Fisher
This position was in such a state of flux last offseason that defensive coordinator Bud Foster moved two of his sophomore cornerbacks to safety. Kyshoen Jarrett had a great season at rover and looks to be entrenched there for the next two seasons. Detrick Bonner had his share of struggles at free safety but had several positive moments as well.
Sophomore Desmond Frye and Michael Cole return, but Cole's future could be clouded by a neck injury he received in November. Both are promising, young players.
Holland Fisher, from Midlothian, Virginia, had a terrific senior season, and his profile has risen nationally. In October, Fisher visited Alabama, and no doubt the Hokies are hoping for positive news concerning Fisher next week. He was the Hokies' first verbal commitment in this class.
He had a terrific showing in a postseason all-star game and already shows an uncanny ability to always be around the football. He could play either safety position or possibly even line up at corner.
Anthony Shegog isn't necessarily a high-profile recruit, but the Hokies received a verbal commitment from him in his junior season, and he looks like he could have a strong future at rover/strong safety. He undoubtedly will be a redshirt candidate because he isn't as far along physically as Fisher.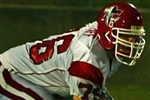 Braxton Pfaff
The Hokies have struggled all along the offensive line in recent seasons. In 2012, the Hokies had their worst season running the football in years. Some of that was due to the inexperience at running back, but the primary reason was a lack of running lanes.
Senior offensive tackles Vinston Painter and Nick Becton graduated. Laurence Gibson and Mark Shuman look to be first in line to fill those positions.
The interior of the offensive line was the biggest problem for the Hokies in 2012. Brent Benedict, David Wang, Caleb Farris, Matt Arkema and Andrew Miller, players who started at one time or another, will all return. This hasn't been the most consistent group, so the Hokies recruited four offensive linemen in this class.
The most highly regarded could be Braxton Pfaff. Pfaff, whose strong play late in the season moved him up recruiting boards, is big (6'4", 290) and surprisingly nimble.
Jonathan McLaughlin, who committed to East Carolina last season, prepped for a year at Fork Union and re-opened his recruiting and quickly chose the Hokies. He has already enrolled and could play next season as a true freshman.
Parker Osterloh possesses outstanding size (6'8", 299) but could need a redshirt year to adjust to the speed of the college game. He played left tackle in high school and right tackle in a high school all-star game.
Kyle Chung, son of Hokie great Eugene, could figure into the mix as well. At 6'4", 255 pounds, Chung will need to put on weight, but he is a good athlete having played tight end in high school. He projects to be a guard at Virginia Tech.