Why Liverpool Fans Should Be Excited About Likely Transfer of Philippe Coutinho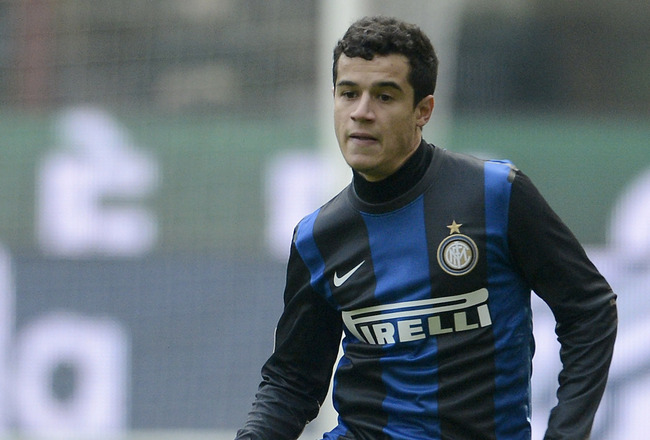 Claudio Villa/Getty Images
Liverpool look set to add to their squad before the closure of the January transfer window with Inter Milan's Philippe Coutinho looking likely to be the follow up to Daniel Sturridge, the Reds' only other arrival this month so far.
BBC reports that the two clubs have agreed terms on an £8.5 million deal to see the Brazilian starlet move to Anfield, subject to a medical and a work permit application.
For Reds fans feeling despondent after their team was knocked out of the FA Cup by lowly Oldham Athletic, the capture of Coutinho should do plenty to lift the gloom.
Already capped by the full Brazil senior team at age 20, there is clearly plenty to look forward to seeing from Coutinho when he eventually dons the Red shirt—presuming the move is completed.
Here are five reasons Liverpool supporters should be excited by the signing.
They Wanted an Inter Milan Attacking Midfielder, Right?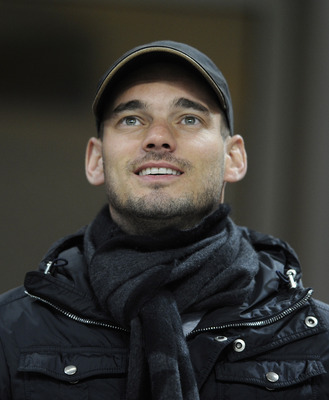 Claudio Villa/Getty Images
Only a couple of weeks ago, back in mid-January, Liverpool were linked with the first of two attacking midfielders from Inter Milan.
First up was Dutchman Wesley Sneijder, who the Reds seemingly coveted but were ultimately unable to either convince to move to England or match the wage demands of. While Sneijder moved to Turkey and Galatasaray, the Reds moved on to their second target from the same club—Coutinho.
Murmurings from fans have at times this year centred around the fact that many of Liverpool's transfer targets came from second-rate clubs; Swansea City for Joe Allen, Heerenveen for Oussama Assaidi and even Fabio Borini, though he signed from AS Roma and was part-owned by Parma before his transfer to Liverpool was completed.
January has seen a shift in such targets; Champions League winners Chelsea were approached to sign Daniel Sturridge, while Inter are of course a huge side in Italy.
Playing for a big side already is no guarantee of quality or success, granted, but if people at those clubs have seen enough to bring in the player in the first place, then it's a fair indication that there is something to be unearthed.
Expectations and pressures of playing for a big side will also be ingrained to some extent in the player already; no need for adjusting to the step up to playing for Liverpool after previously representing Middlesbrough, Sunderland, Newcastle or Blackpool.
A New No. 10, with True No. 10 Traits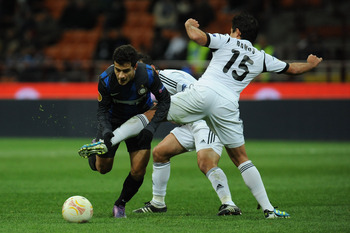 Valerio Pennicino/Getty Images
Something Liverpool have not had for quite some time is a real No. 10 player.
Steven Gerrard filled the role with distinction of course, but his game was always based more on power and presence, along with good technical qualities, rather than the creative and visionary approach that Coutinho will hope to bring.
Coutinho can run at defenders with the ball, can use both feet, has terrific close control and is a good passer—when on form, of course.
The other associated traits with No. 10s at times can be inconsistency, frustration and a light-weight approach to the game.
Hopefully, from the point of view of Reds supporters, Coutinho will not bring along those traits too often.
More Attacking Options for Brendan Rodgers to Work with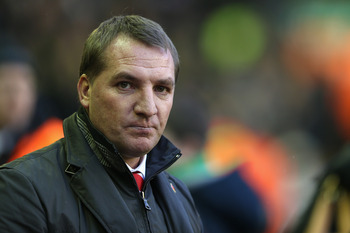 Mark Thompson/Getty Images
A far cry from October or November, when Brendan Rodgers was more or less forced to play Jose Enrique on the wing, the manager is now looking at quite a beefy list of names who can occupy the front three or four roles in the team.
Stewart Downing, Luis Suarez and Daniel Sturridge are the chosen three at present, with Jordan Henderson occupying an attacking role, too, but Raheem Sterling, Suso and Borini are all further options.
The acquisition of Coutinho would let Rodgers have a very mobile, fluid attack with plenty of technical ability on the ball.
Depending on the selections, of course, there's also the chance it could be very inexperienced and lacking in strength, but the levels of excitement and entertainment that any of them can bring to the pitch should be enough to keep Kopites looking forward to the new combinations.
Huge Levels of Potential Within the Squad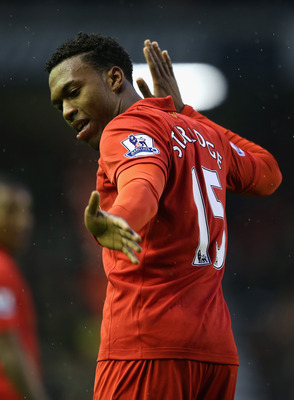 Mark Thompson/Getty Images
Liverpool are rebuilding, and as such, it is natural that plenty of the new, incoming transfers are of players who are a relatively young age.
The manager has already spoken about the need to incorporate experienced heads into the team as well, but the array of youthful talent available to him is impressive.
Add Coutinho to the list and there's a potential frontline of Sterling, Coutinho, Suso and Sturridge—all of whom are 23 or under. Borini is 21. Jonjo Shelvey is 20.
Then, there's the granddad of the team, Luis Suarez, who is a wizened, old 26.
That is a frontline, which, if it develops together over a period of seasons, could form one of the most exciting and effective attacks in Europe.
Of course, the same was also hoped of Anthony Le Tallec, Milan Baros, Florent Sinama-Pongolle and El-Hadji Diouf, all of whom were under 22 years of age in 2003-04.
That's the problem with potential; it has to be nurtured well and work hard itself, to be fulfilled.
A Very Good Price If He Fulfils His Talent, Resale Value If He Doesn't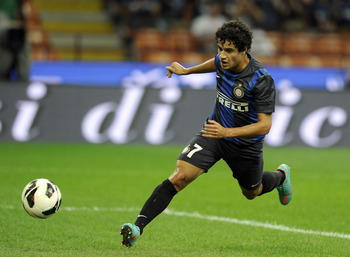 Claudio Villa/Getty Images
Quite simply, if Philippe Coutinho goes on to prove half as good as has been expected of him, then £8.5 million is a bit of a steal.
This is a player who was labelled as being the "future of Inter Milan" by the president of the club, who was prised from his home country at age just 18, having already agreed a transfer two years earlier.
If he shines and makes himself consistent enough to be a regular for Liverpool, his market value will double or even treble in short order. His worth to the Reds will be far higher.
On the other hand, should he not adapt to the Premier League or fail to hold down a regular place, the expected long term contract which he signs will ensure that he holds his value as a talented young player merely searching for the right team to showcase his abilities.
Liverpool could quite easily make most, or all, of their initial outlay back by selling him when he is still in his early 20s.
The hope, of course, is that he makes good of this transfer. Loss of form and lack of regular playing time have seemingly cost him the chance to make a real success of his spell in Italy.
If he gets the chance to play early on at Liverpool, then having an impact in his first few months could dictate how quickly he becomes a regular—or if the Reds buy someone else to challenge him for his place in the summer.
Keep Reading

Liverpool: Like this team?