Super Bowl 2013: Colin Kaepernick's Success Will Confirm New Era in NFL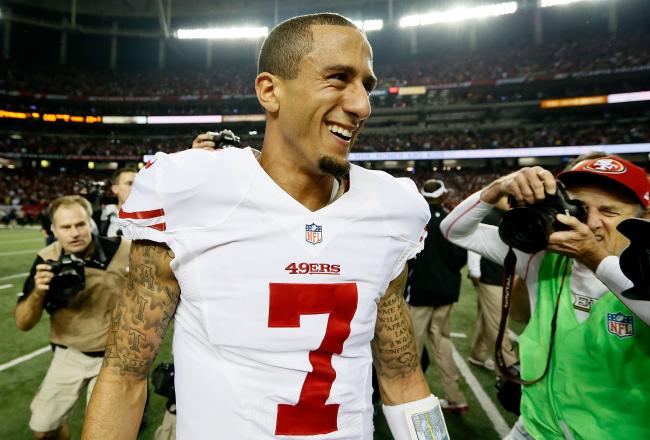 Kevin C. Cox/Getty Images
For as long as any NFL fan can remember, the way to win in this league has been with a solid pocket passer. However, if Colin Kaepernick succeeds in Super Bowl XLVII and brings home the Lombardi Trophy for the San Francisco 49ers, everything will change.
This year has easily been the year of the dual-threat quarterback thanks to the successes of Kaepernick, Robert Griffin III, Russell Wilson and, to a lesser extent, Cam Newton.
Newton was truly the first of his kind, but a lackluster second season has pushed him to the middle of the pack.
All of those quarterbacks have proven they can make plays with their feet, but most importantly, they are all accurate throwers who can make plays with their arms. In the past, speedy quarterbacks have mostly been runners first and throwers second.
The most recent example of this is Michael Vick, who is one of the most talented athletes the game has ever seen. Sadly for Vick, his pocket-passing abilities have never become elite, as evidenced by his career completion percentage of 56.3 percent.
However, it can't be denied that Vick made a major impact upon entering the league over a decade ago, but he's never been able to get over the hump and win a Super Bowl.
Kaepernick, RG3 and Wilson all finished with completion percentages above 60 percent on the season, proving that they are a step above the rest of the fast quarterbacks in NFL history.
Kaepernick specifically has been able to get the 49ers to the Super Bowl in two ways.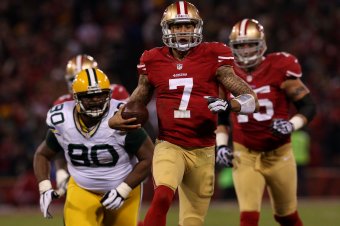 Stephen Dunn/Getty Images
First, against the Green Bay Packers, Kaepernick scorched the Packers for 181 yards on the ground, a new NFL single-game record for quarterbacks. In that game, Kaepernick's versatility was on full display, as he also threw for 263 yards in the winning effort.
Against the Atlanta Falcons in the NFC Championship Game, Kaepernick couldn't get much going with his legs, so he went to the air where he completed 16-of-21 passes for 233 yards. It showed that Kaepernick can win games without the luxury of running the ball, and he displayed incredible accuracy with his throws.
Such a style of play is huge for NFL teams to have in their arsenal and makes it a nightmare for opposing coaches to plan for.
Sure, defenses can plan to get pressure on these quarterbacks, but with the sensational athleticism of a guy like Kaepernick, those same quarterbacks can easily evade the pass rush and either run or step up to make the throw.
It creates a level of unpredictability the likes of which this league has never seen before. Quite simply, there is just no set way to stop an offense that can move the ball in so many different ways.
Until now, there hasn't been a team to win the big game with this kind of offensive approach, but Kaepernick and the Niners could be the first.
Granted, the move to dual-threat quarterbacks and college-type offensive game plans is already happening.
But a solid, all-around game for Kaepernick and a win for the 49ers over the Baltimore Ravens in Super Bowl XLVII will have head coaches around the league rethinking what they believe the prototypical quarterback should be.
This article is
What is the duplicate article?
Why is this article offensive?
Where is this article plagiarized from?
Why is this article poorly edited?

San Francisco 49ers: Like this team?