The San Antonio Spurs have been strangers to the rumor mill in recent years, but they have recently garnered attention for a handful of players, namely DeJuan Blair.
The undersized center out of Pittsburgh had a bright career early on, despite being drafted in the second round.
In his rookie campaign, Blair averaged 7.6 points and 6.4 rebounds in only 18 minutes of play. His performance was rewarded with a selection to the All-Rookie second team.
He improved further in his second year, averaging 8.3 points and 7.0 rebounds after finding himself a consistent spot in the starting lineup.
The 2011-12 season began in a similar fashion, but after the Spurs acquired Boris Diaw, Blair's career in San Antonio took a hit and has never recovered.
The 6'8'', 270-pound big man has become a hot name in the rumor mill, as a trade seems imminent for the unused Blair.
Though he cannot help the Spurs anymore, he provides an interesting skill set that is sure to interest multiple teams, giving San Antonio the opportunity to acquire someone who better fits the team in his place.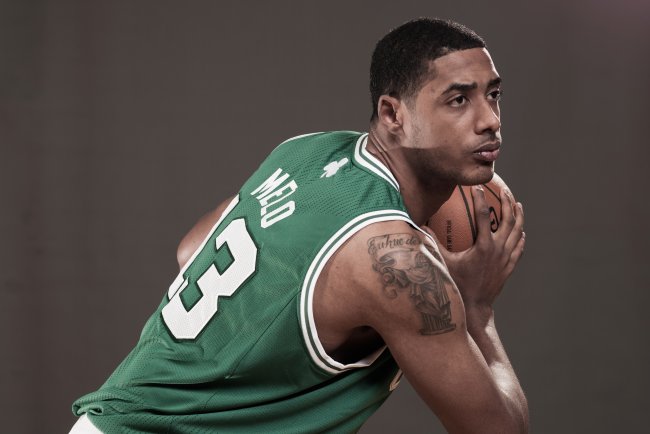 Nick Laham/Getty Images
Trade scenario No. 1:
San Antonio gets: Fab Melo
Boston gets: DeJuan Blair
The Spurs' most glaring weakness has been a lack of size and a desperate need for another big body on defense. Blair, though his strength has helped him become a prime contributor on the rebounding front, lacks size for his position and struggles on defense.
Conversely, rookie Fab Melo brings a seven-foot frame to the table, along with a massive wingspan and a defensive aptitude.
Though Melo is a nice piece for the future, he is yet to play in a regular season game with the Boston Celtics, having only played for their D-Legue affiliate.
He is quite raw, and even in San Antonio he'd find himself playing in the D-League, but the Spurs would make better use of him than his current employer, as would the Celtics with Blair.
The Celtics have been struggling on the boards lately, totaling just 38.9 rebounds per game, the second-worst total in the league. Their 8.5 offensive rebounds also rank second to last.
Blair doesn't provide the team with much size, but his tenacity on the rebounding end would help the team in numerous ways, especially his ability to create second chances. He also has demonstrated a quality offensive game during his sporadic periods of usage with the Spurs.
Though he no longer is a commodity to the team, he is more of a sure thing than Melo, having already spent three years in the league. Despite this, he remains 23, just one year Melo's senior.
The Spurs need a player who can provide them with size and defense, and Melo, having been the Big East Defensive Player of the Year in his final collegiate season, fits the bill.
Boston, on the other hand, is in dire need of a solid rebounder as well as someone to contribute on the scoring front—two categories that Blair has shown an aptitude for.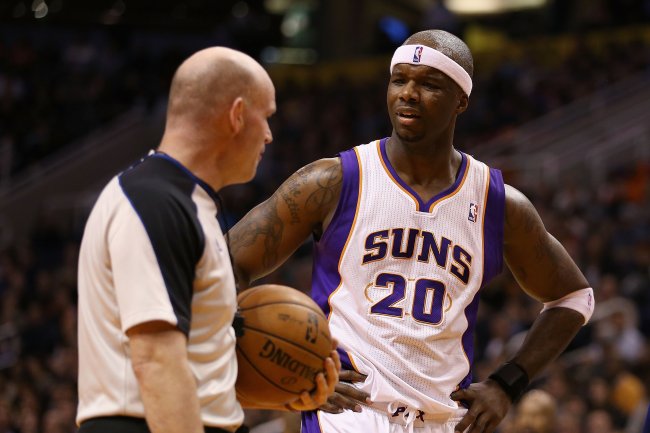 Christian Petersen/Getty Images
Trade scenario No. 2:
San Antonio gets: Jermaine O'Neal
Phoenix gets: DeJuan Blair
Unlike the Spurs, the Suns do not have a win-now mindset, and are currently in the midst of the rebuilding process. They welcome young, emerging talent, as youth takes precedence over veteran talent.
Jermaine O'Neal, currently in the latter stages of his career, remains a valuable contributor even at 34. At 6'11'', the former standout provides the Spurs with size, as well as rebounding and scoring when needed.
A recent argument with Suns GM Lance Blanks confirms the suspicion that the 16-year veteran is unhappy with his current situation, where he has averaged just 11.9 minutes per game in the month of January.
Though Blair doesn't provide the Suns with an abundance of size, his rebounding ability is valuable—and at 23, he provides the team with a potential piece for the future.
O'Neal gives the Spurs another veteran presence as well as the height that they lack so desperately. It is clear that Blair isn't a part of their plans for the future, so with the win-now mindset, acquiring a talented veteran is a smart move.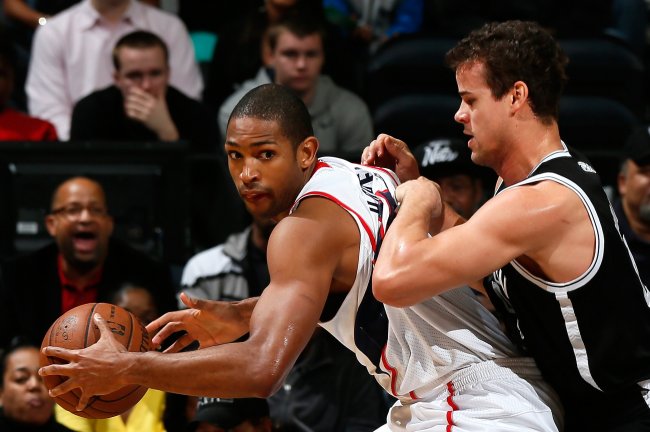 Kevin C. Cox/Getty Images
Trade scenario No. 3:
San Antonio gets: Kris Humphries
Brooklyn gets: DeJuan Blair, Stephen Jackson
The newly remodeled Brooklyn Nets franchise has changed drastically over the course of a year, including a new starting power forward.
Kris Humphries has provided the Nets with help on the defensive end and the boards, but Reggie Evans' resurrection has allowed for a major reduction in time for Humphries.
The Spurs, however, could use Humphries in numerous ways, with his strength and size making him an ideal candidate to trade for.
The Nets, in return, would receive Blair and Jackson—Blair, to match Humphries rebounding ability while giving the team a young asset, while Jackson would provide the team with a high-scoring wing man that they need to help run the second unit.
Jackson's $10 million expiring contract is an added bonus, allowing the team to knock a large salary off of its payroll.
With Evans having secured the starting job, Humphries' 15 minutes per game is too low for a player of his caliber and would be put to better use in San Antonio, where he would presumably be the first big man off of the bench.
The Spurs quench their need for size, while the Nets receive the swingman that they lack—with Blair as an extra piece, as each team helps to balance out their rosters as they eye a postseason run later in the year.
All stats are accurate as of January 22.