Stay or Go: Breaking Down Patriots' Returning Defensive Starters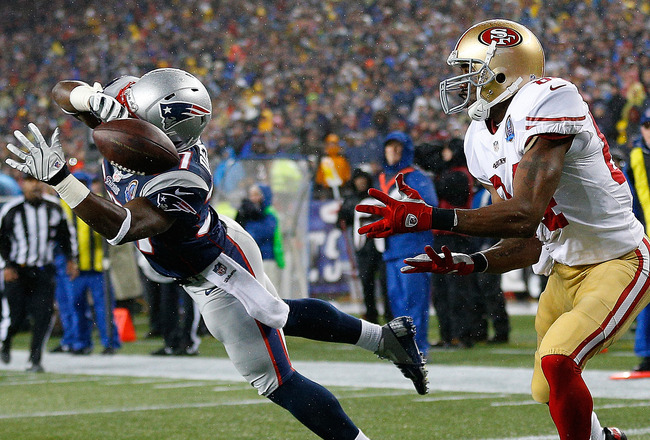 Jim Rogash/Getty Images
The first step to take in the offseason is to take a look at the returning starters from the Patriots and decide who is entrenched in their spot and who needs to be upgraded. This will not include any of the pending free agents to keep the evaluation simple, while also giving a better sense of just how big the needs will be.
There are a number of talented young players on defensive side of the ball, but that doesn't assure them of a starting spot. They'll need to fit the long-term needs of the team, while also addressing where the team struggled most.
Let's take a look at who is coming back and if the Patriots should want them back.
Defensive Tackle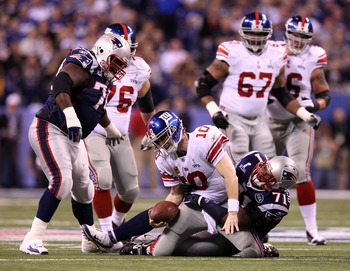 Elsa/Getty Images
Starters: Vince Wilfork, Brandon Deaderick
Top Backups: Kyle Love, Marcus Forston, Armond Armstead
There's no question that Vince Wilfork is the MVP of the Patriots defense, but Wilfork is past 30 years old and won't be the same dominant player forever. The Patriots not only need to look toward the future but building depth as well, so they won't have to rely on big Vince has heavily.
Kyle Love started the season next to Wilfork but was surpassed by Brandon Deaderick around Week 12. Per Pro Football Focus, their total snaps for the season were Love 592, Deaderick 468.
Also, according to Pro Football Focus' metrics, Love was better in run defense (5.1 compared to -5.3), but Deaderick was slightly better (but still not good) in pass rush (-3.5 compared to -4.8).
Both players were fairly comparable, and while Love had an overall more solid season, the Patriots should not hesitate to upgrade the defensive tackle spot with multiple players this offseason.
Armond Armstead was just added on Tuesday, according to Mike Reiss and Mike Rodak of ESPN, and he looks like just what the hoodie ordered.
At 6'5", 300 pounds, he should be able to contribute both on the inside and outside of the defensive line. Adam Schefter of ESPN called him "the equivalent of a high draft pick." Two days after their season ended and the Patriots are already taking positive steps to round out their roster.
Wilfork will be a huge key again in 2013, but finding some complementary pieces next to him could be the easiest way to upgrade the defense instantly.
Defensive End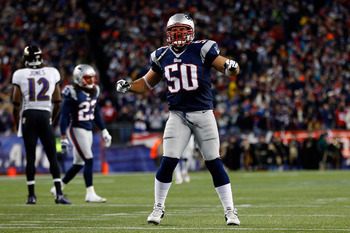 Jim Rogash/Getty Images
Starters: Rob Ninkovich, Chandler Jones
Top Backups: Justin Francis, Jermaine Cunningham, Jake Bequette
Ninkovich is one of the Patriots best playmakers, and despite being set back by two different ankle injuries, Jones is one of the brightest young talents on the Patriots roster. It appears that both are firmly entrenched as three-down starters in the Patriots defense.
Designated pass-rusher appears to be the biggest defensive end need. It's the role Mark Anderson excelled in before Andre Carter was lost to injury in 2011.
Jermaine Cunningham made some strides at an interior pass-rush position, but he fell off the radar after being suspended. Rookie Justin Francis seized the opportunity and was the clear No. 3 defensive end in the playoffs. He flashed more potential than any of the other defensive ends late in the season, and his emergence could make Trevor Scott unlikely to return.
Third-round pick Jake Bequette saw 29 snaps in three games but did nothing to impress. He'll have to make a big jump in the offseason if he's to have any hope of making the roster. He, Cunningham and Francis are already lined up to have a solid training camp battle.
There are some interesting younger players in the pipeline, but the Patriots could certainly stand to bring in a pass-rush specialist and more depth at the position.
Linebackers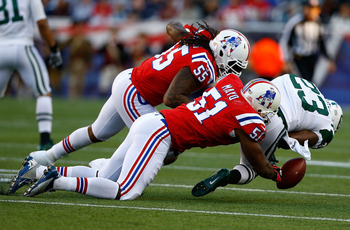 Jared Wickerham/Getty Images
Starters: Jerod Mayo, Brandon Spikes, Dont'a Hightower
Top Backups: Mike Rivera, Jeff Tarpinian, Dane Fletcher (RFA)
While the Patriots feature three SEC linebackers who are all tough and physical, they definitely lack something in the pass-coverage department.
Jerod Mayo had his best year as a pro in 2012, and Brandon Spikes was a dominating run stopper in the middle. Dont'a Hightower battled a hamstring injury and inconsistency early in the season but came on down the stretch to grade out above average in four of the last six games including the playoffs.
There is a lot to like in these three young starters, but there's no question that they were eaten alive, defending the middle of the field against the pass this year, especially in the AFC Championship. Hightower has some value as a pass-rusher, but with Spikes, they'll just have to accept the good with the bad, especially if they continue to play more base defense.
While a coverage linebacker may not be a starter, he could be just what this defense needs. Restricted free agent Dane Fletcher could help in that area, if he returns, which he should.
Still the Patriots should add another dimension to their linebacker corps with someone who excels in space. For a team that values versatility, they certainly seem to lack it with their linebackers.
Cornerbacks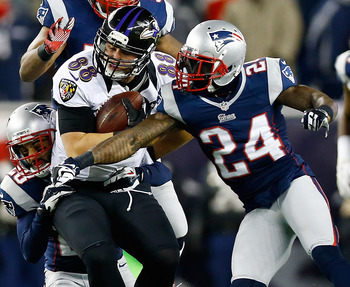 Jared Wickerham/Getty Images
Starters: Alfonzo Dennard
Top Backups: Ras-I Dowling, Malcolm Williams
It's a little scary to see that the Patriots only have one corner who made a significant contribution in 2012 slated to return, and it illustrates how much this position could change this offseason.
Dennard was a bright spot in 2012 after being taken in the seventh round. He was one of a few players who were excellent in the AFC Championship, only allowing one catch on five targets, according to Pro Football Focus. Dennard looks like an ideal outside corner and one who can finally be considered a building block.
Ras-I Dowling has been almost constantly injured since he was drafted with the first pick of the second round in 2011. He was barely playing before getting hurt again in 2012, seeing just 83 snaps in five games as a reserve defensive back. This will be a make-or-break year for Dowling.
Aqib Talib and Kyle Arrington could return, but there would still be a glaring need for corners.
Talib should be the Patriots' primary option for outside corner, and Arrington did well enough in a slot-only role that he could be brought back for that as well, though it's clearly time to move on from having him as a starter on the outside.
There's no question the Pats must add multiple cornerbacks this offseason. They'll have to fill their starting outside spot as well as their nickelback spot which is in essence a starter as well.
Safeties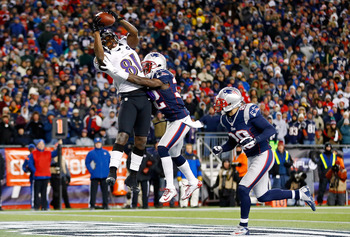 Jared Wickerham/Getty Images
Starters: Devin McCourty, Steve Gregory
Top Backups: Tavon Wilson
Devin McCourty excelled after being moved to safety, and it now looks like that will be his position going forward. He should only continue to improve with more experience at the new position.
Steve Gregory got a three-year, $8.8 million contract, which is close to starter money, last offseason. He missed four games in the middle of the season and was solid after returning, according to Pro Football Focus. However his two performances in the playoffs were abysmal, including his season-low -3.6 rating from PFF in the AFC Championship.
Gregory was better than the options the Patriots had a safety in 2011, but he wasn't the definitive answer they were looking for either. Gregory is an average fallback plan, but he is the one significant defensive starter who should be targeted for an upgrade.
He should be back for training camp, but if he doesn't win a starting job outright, he could find himself being labeled a cap casualty.
Tavon Wilson did not have one below-average game in his rookie year as charted by PFF, playing primarily in the dime defensive linebacker role, outside of the three games he was thrust into starting at safety due to injuries.
Wilson looks like a good fit for that role and could possibly challenge Gregory for a starting safety spot since he's a good complement to McCourty. He has size and quickness to play in the middle of the defense, and that's where the Patriots need the most help. If he blossoms this offseason, he could have a big impact on the defense in 2013.
Where to Upgrade?
Jim Rogash/Getty Images
The Patriots defense already has openings at left cornerback and slot cornerback that will have to be filled, but the starting tackle spot next to Vince Wilfork, along with the starting safety spot next to Devin McCourty, are two areas where the starters will be back but should be upgraded.
An argument could be made for the ancillary needs for a defensive end who can rush the passer along with a linebacker who can cover, but those are lesser roles reserved for the sub-defense solely in passing situations.
Look for the Patriots to add a number of defensive backs via both free agency and the draft, but if there's one place they should look to make a splash, either in the first round or on a high-profile free agent, it's at defensive tackle.
That's where the Patriots could immediately upgrade their defense with one single player, especially if it's an interior defensive tackle who can get upfield.
Keep Reading

New England Patriots: Like this team?