Oakland A's: 3 Most Interesting Position Battles for 2013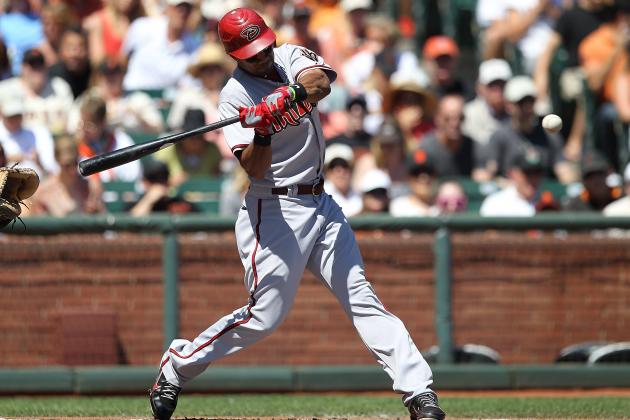 Tony Medina/Getty Images
A huge spring could make Young the everyday center fielder.
In spite of the cold weather here in Central California, the calender dictates that baseball is about five weeks away from the first reporting of players to spring training. For the A's, that means a trip to the dry desert of Arizona.
With the roster likely settled (never count out Billy Beane), it is time to start taking some preliminary looks at what might be concerning true competition in the spring for playing time on this team. Expectations will be higher, but not so much that there isn't room for someone to come off the radar and earn a spot.
However, it appears as though there are only three real spots that might be even really debatable heading toward the start of camp. So, let's start with the first one, shall we?
Begin Slideshow

»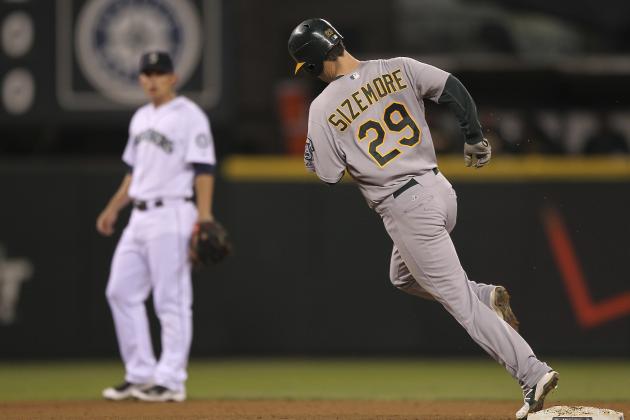 Otto Greule Jr/Getty Images
Sorry I overlooked you, Scott.
Being a man of reasonable integrity, I will be the first to admit that I screwed up. In my last column, I projected Jemile Weeks as the starting second baseman for the 2013 A's. That in and of itself is not my mistake. My mistake is that I omitted the fact that heading into spring training, Scott Sizemore is returning to his natural position, which happens to be second base.
You see, I put Weeks in pencil because I think right now, he still has a little more of an overall edge than prospect and inevitable call-up Grant Green. Green's time will come, and it will be sooner rather than later. I just figured that it would not be at the onset of the regular season.
But now, there is not a two-man race. There is actually a three-man race. And interestingly enough, CSN Bay Area beat writer Casey Pratt says that Sizemore is the early favorite to claim the job. I can't say that I agree with him at this point, but it does provide a little more of an obstacle for Weeks (and probably signifies the certain start at Triple-A Sacramento for Green).
All that said, each brings something unique to the table that would benefit the team. Sizemore has not shown himself as a major league second baseman, but is a decent hitter who has a little pop and a decent eye (11 home runs, .345 on base percentage in 2011). The question is, how does he slide back into his natural position? More immediately, how well is he recovered from the torn ACL suffered on the first day of last year's spring training?
Weeks is the absolute wild card here. Some people, like CSN Bay Area analyst Shooty Babbitt, think he is actually a goner in Oakland. I am from the school of thought that his 2011 was a bit of an aberration and that 2012 was an aberration in reverse. 2013 will see more of what Weeks really is: a tantalizing threat on the bases who doesn't reach base enough to merit maximum production.
The question with that is, will he show enough in camp to win back the job he was given to start 2012? Only time will tell, but I think he has enough to reclaim the spot. And, oh yes, Grant Green. Used as a jack-of-all-trades in Sacramento, Green played exclusively at second base down the stretch as a prelim to a shot in the spring to win a job with the big club.
If there is one thing that elevates Green over both Sizemore and Weeks, it is that he can hit. In 125 games at Triple-A, Green hit .296 with 15 home runs, 75 RBI and 28 doubles. The bat is not the likely concern for him. No, the real issue is where will he play? Josh Donaldson appears to have a lid on third base. Hiroyuki Nakajima is the undoubted starter at shortstop, barring an outright disaster.
So, Green's best bet to break camp with Oakland is at second base. While not a great defender by any means, the prevailing thought is that Green would not be exposed that much playing at second. Assuming his offense carries over (say, 85 percent), Green's defense will be what dictates his next move.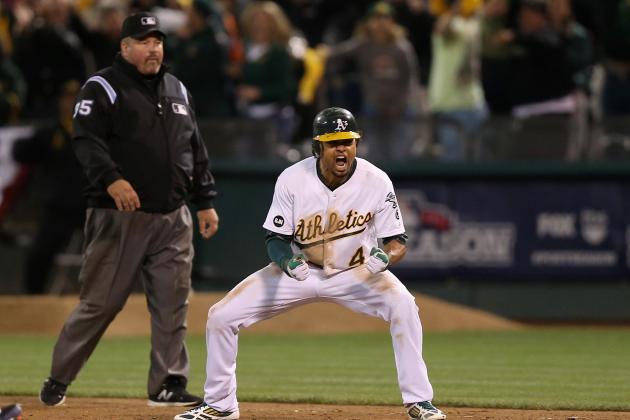 Ezra Shaw/Getty Images
Crisp's clutch play carried all the way into October for the A's in 2012.
Even before the 2012 postseason ended, Billy Beane was already going about the business of improving the 2013 club. His first move was to send Cliff Pennington to Arizona as part of a three-team trade that brought outfielder Chris Young to the A's. Suddenly, there was the prospect of potentially the best outfield in baseball defensively with Yoenis Cespedes, Young and Gold Glove right fielder Josh Reddick.
Except for one thing: The incumbent center fielder is still in Oakland. You know, that guy with the cereal name, Coco Crisp. And he was none too shabby for the A's in 2012. Steady defense, 39 stolen bases and a flair for late-inning magic (as his four walk-off at-bats attest).
The battle is going to essentially come down to the versatility of Crisp against the potential of Young. Crisp has to be the favorite going into spring training. What this will come down to is this: Will Young ever prove to be more than essentially a platoon player at the plate? Against right-handed pitching, Young is a career .228 hitter. Ultimately, the A's may need Crisp's presence at the plate in the leadoff spot.
But do not think for one second that Young, who is set to make $8.5 million in 2013, won't get ample opportunity to break into the lineup.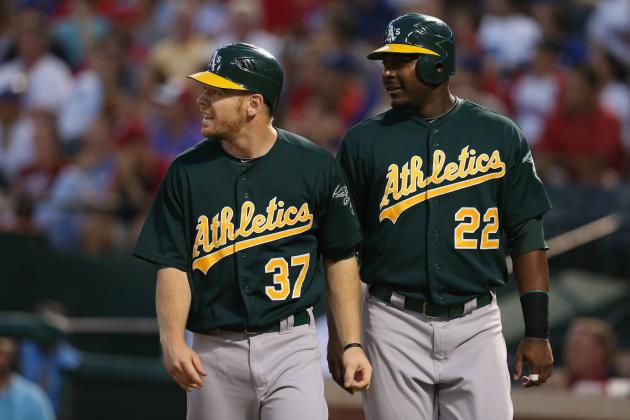 Ronald Martinez/Getty Images
Like Highlander, there can only be one.
The No. 1 position battle is intriguing because of the various possibilities it brings. Both Brandon Moss and Chris Carter have a prodigious power swing and both, while they strike out a lot, exhibited patient batting eyes in 2012. Moss in particular had a breakout year, swatting 21 home runs in the span of 84 games. His .596 slugging and .956 OPS percentages were both best on the team.
By contrast, Carter showed the tantalizing right-handed power swing he has been touted with for four years. He hit 16 home runs in 67 games and posted an impressive .514 slugging percentage in his own right. Upon their call-ups, the A's began to ascend in the rankings, and it will be curious to see how having two true power bats at first base for 162 games impacts Oakland in 2013.
All that said, I get the sense that the A's may want to see someone distinguish himself at the position. So, heading into the spring, both players will have the chance to move from a platoon situation to a full-fledged starting spot.
For Carter, that means looking more like the player he was upon his call-up and less like the guy he was at the end of the year. Carter is not a good defender, but he can be average. His key is laying off pitches in and under his hands because his numbers were similar against both left- and right-handed pitching.
Moss has to show that 2012 was not a fluke. In many ways, he is an older version of Carter, in that there was much promise for him as a power hitter early in his career, but he seemed to washout in Pittsburgh and Boston. Ultimately, if Moss continues his torrid play from the end of 2012, he may very well cast Carter aside.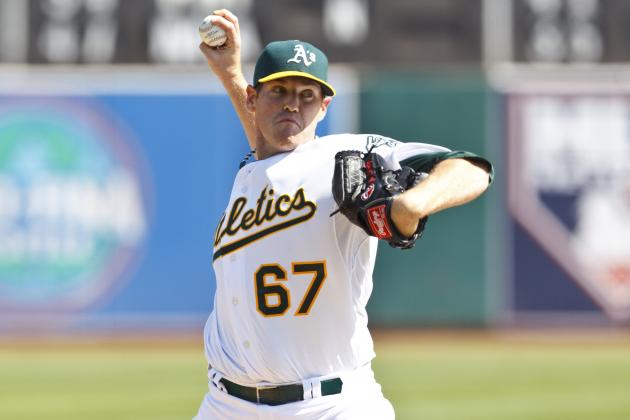 Jason O. Watson/Getty Images
Straily is one of a few competing for a rotation spot.
So, while the A's are pretty much set as far as the probable 25-man roster for the season goes, there are some things to look out for as we approach spring training. Improvements have been made, but now the process of filtering out the best of those improvements begins.
I omitted the pitching staff because the rotation seems pretty clear in the first four spots: Brett Anderson, Jarrod Parker, Tom Milone and Bartolo Colon. That leaves A.J. Griffin, Dan Straily and possibly Travis Blackley competing for the final spot. I expect Straily to look more like the dominant pitcher he was in the minor leagues in his second go-round, whenever that comes around.
The A's are in a situation where they could be better, and it might not show up in the standings. But there will be improvement. It is incumbent that the best players get put on the field when the season begins. In 2012, that did not happen (think Brandon Allen, Tyson Ross and Graham Godfrey). The battle will soon begin. But for now, let the competition commence.