5 Burning Questions the Detroit Red Wings Must Answer Early in 2013 Season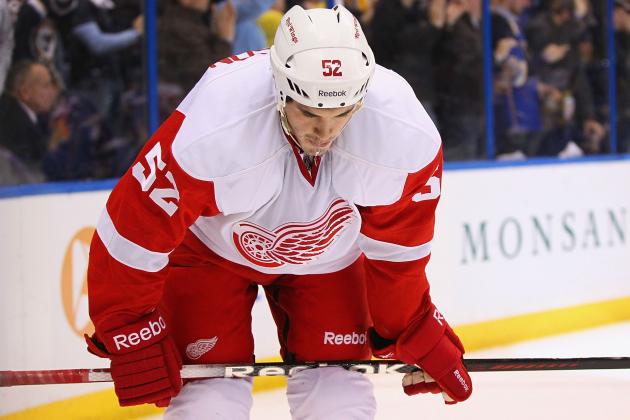 Dilip Vishwanat/Getty Images

Detroit is only one game into the regular season, but that one game was ugly. The Red Wings were laughed off of the ice in St Louis when they lost 6-0 on Saturday.
There were already some questions facing the team before the season started. Now with one game under its belt, are those questions even bigger or is it too soon to judge?
One game does not make a season. However, with a shortened season, there is little room for error.
GM Ken Holland must balance patience with the need to make moves quickly in order to keep the team in contention.
Begin Slideshow

»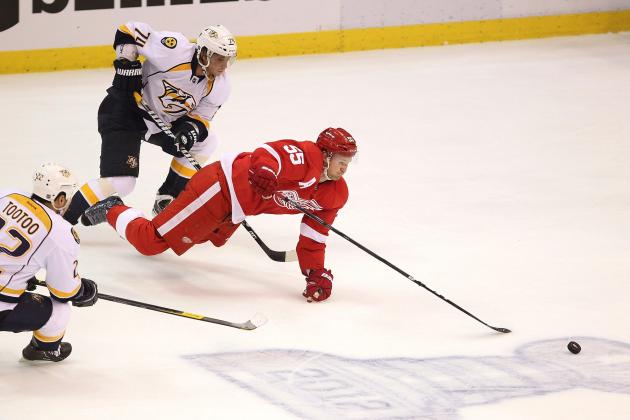 Gregory Shamus/Getty Images

Entering the season, there was much concern about the defensive unit. The retirement of Nick Lidstrom combined with Brad Stuart leaving via free agency created a big hole on the defense.
The team was unable to make any major moves in the offseason to help cover this area.
The Wings had hoped that Jonathan Ericsson would grow into a bigger role. He played well last night and was one of only two defenders who did not end up in the minus column.
The team really hoped that Kyle Quincey would bounce back after a rough start with the team following a trade last year. He was beaten twice for goals against the Blues. That is not the start the team needed him to have nor is it good for his confidence. Hopefully, a game against the Columbus Blue Jackets will help him.
As a whole, the unit gave up too many long passes that led to easy goals. Between the breakaway goals and four power-play markers, the defense provided very little help for goalie Jimmy Howard.
Was this just one bad game or were the offseason worries justified and perhaps understated? There are too many question marks for the team. Along with the Ericsson and Quincey questions, can Brendan Smith make the transition? How often will Carlo Colaiacovo be hurt?
It is likely that the team will need to make some type of move. When four of your six defenders have major questions surrounding them, it is not a good sign.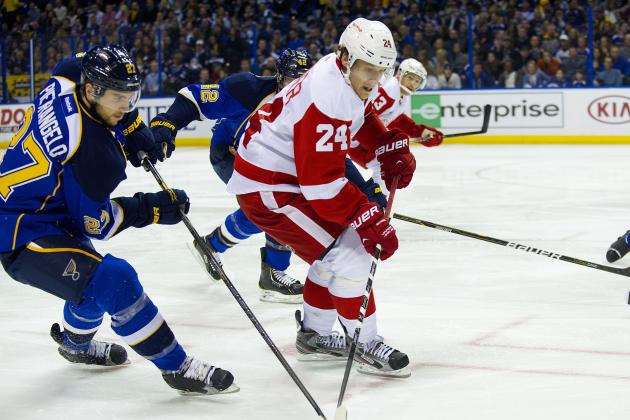 USA TODAY Sports

The star of the Swiss-A League has made his debut in the NHL. Though he did not have a dream game, he handled himself well.
Brunner was introduced to the physicality of the NHL very early when David Backes hit him hard only 25 seconds into the game. He quickly got up and did not shy away from contact.
He was able to flash a few good moves, but was not able to finish. He did have three shots, which tied for the team lead.
As Brunner gets better acclimated to the team and NHL game, he will be expected to produce. There are other players that would love to be on a line with Pavel Datsyuk and Henrik Zetterberg.
The offense only produced 14 shots on goal against the Blues. If that does not quickly change, then head coach Mike Babcock will be forced to make some line changes.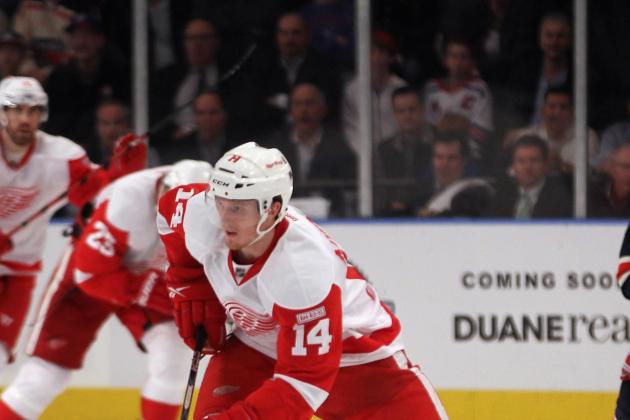 Bruce Bennett/Getty Images

Todd Bertuzzi will be out indefinitely after being diagnosed with mono (per Helene St. James of the Detroit Free Press). Dan Cleary is in the last year of his contract. Johan Franzen is still signed for the next while, but has become known as a streaky player. Mikael Samuelsson was added to the roster this year, but at 36, he is in decline.
All of this means that there are opportunities for younger players to fill those roles. It is just a matter of who steps up.
Jan Mursak, Darren Helm and Cory Emmerton are all under 25 years of age and they look to be first in line for more minutes.
The organization has several intriguing players in the minors. Gustav Nyquist, Tomas Tatar, Landon Ferraro, Joakim Andersson, Francis Pare and Riley Sheahan have each put up impressive goal stats. Nyquist is leading the way with 14 goals and 40 points in 39 games.
The question is, when will these players get the chance to show if they belong in the NHL? The team needs an infusion of speed, energy and scoring and these players can provide that.
Of course, the other option with these young guns is using them as trade bait. The Wings obviously do not have room for all of them right now, but with the holes on defensive, their greatest value to the team might be in a trade to bring in some immediate help.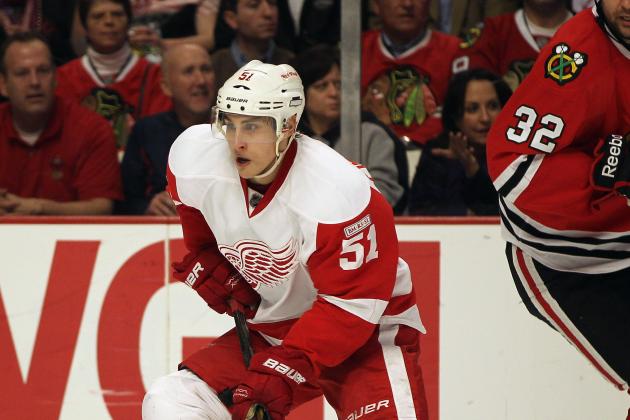 Jonathan Daniel/Getty Images

The team really does not have that one offensive threat. Yes, Pavel Datsyuk is incredible, but he really does not score as much as he could. Henrik Zetterberg has had declining numbers of late. Johan Franzen is very much a hit-or-miss player.
Can Dan Cleary bounce back? Will Valtteri Filppula show that last season was not a fluke? Will Darren Helm finally live up to the predictions on his potential?
Some player or players will need to step up. This will not be a defensively strong team, so it will need to be able to score and often.
Which player—if any—rises to the occasion will be a major question as the team progresses.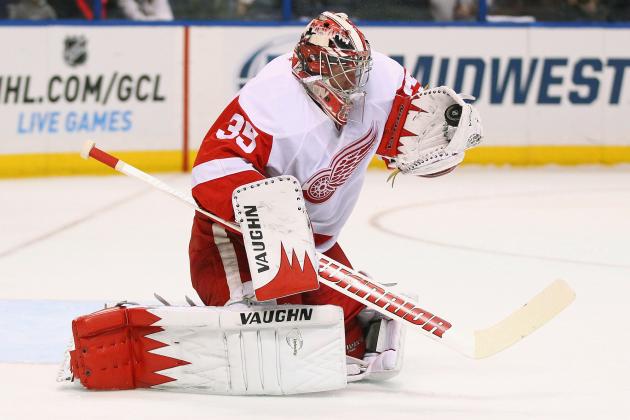 Dilip Vishwanat/Getty Images

Jimmy Howard is in the last year of his contract. He has been a very steady goalie for the team, having won at least 35 games in each of his three seasons as the starter.
There is some question as to whether or not he is the product of the good defense that played in front of him. He will not have that luxury this year. Will he be able to steal games for the team?
Detroit improved its backup goalie situation by signing Jonas Gustavsson during the offseason. While there is no goalie battle right now, Gustavsson could easily be the starter next season if Howard falls apart.
The season opener did not go well for Howard, but nobody can put the blame on him. The team really hung him out to dry on multiple occasions.
If the Wings are going to make a run for the playoffs, Howard is going to need to take another step this season.
PJ Sapienza is a Featured Columnist covering the Detroit Red Wings, as well as many other sports. He is also taking part in a Polar Plunge for Special Olympics and would greatly appreciate your support.
You can follow him on Twitter.
Detroit Red Wings: Breaking Down Their Season by the Numbers
Detroit Red Wings: 5 Issues the Team Will Need to Address
A Tribute to the Grind Line and 6 other Red Wing Unsung Players