WWE Royal Rumble 2013: 7 Twists & Turns the Del Rio-Big Show Match Could Take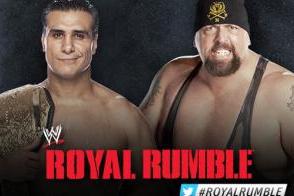 Photo courtesy of WWE.com
Alberto Del Rio defends his World Heavyweight Championship against Big Show this Sunday at the Royal Rumble, but this match is about much more than just those two.
The outcome of this match is bound to have a direct effect on the WrestleMania 29 card.
Who leaves the pay-per-view as World Heavyweight champion will determine a lot of what happens between now and the WWE's biggest event of the year, and in all likelihood, Big Show and Del Rio won't be the only ones who play a role in this match.
With Ricardo Rodriguez by ADR's side and Dolph Ziggler lurking in the distance, there are many possible ways that this match could play out.
Will we see a new World Heavyweight champion crowned, or will Del Rio continue his impressive run as a babyface?
Here are seven twists and turns the World title match could take in just five days at the Royal Rumble.
Begin Slideshow

»
Just about a month ago, Alberto Del Rio was a heel, but now, he's a full-fledged babyface.
And what do the WWE's top babyfaces typically do? They win clean.
While Big Show's dominance over the last six months suggests that this match won't end with Show losing clean, no one really expected ADR to win the World title the way he did, either.
Now that Del Rio is a good guy, he's much more likely to get clean victories in big matches, much like John Cena and Sheamus usually do.
Although it remains to be seen if Big Show's World Heavyweight title loss was just a minor bump in the road for him, the WWE is clearly pushing Del Rio as a top face now, which certainly bodes well for the World champion.
With the creative team firmly behind Del Rio as its new top Hispanic star, we might see another huge shocker from him this Sunday: a clean title defense.
The Shield has already targeted a number of top babyfaces, including Randy Orton, Sheamus and Ryback.
But being that Alberto Del Rio only just turned face, he's managed to avoid the wrath of The Shield—well, at least so far.
As we all know, though, The Shield has proven to be the WWE's "out" in awkward booking situations, and the creative team might need another out in the World title match on Sunday.
If creative isn't sure whether it wants Big Show or Alberto Del Rio to win, it wouldn't be too surprising to see The Shield interfere and cause the DQ finish.
The Shield has made a habit out of attacking top good guys, and with ADR now firmly entrenched as one, it's only a matter of time before The Shield makes him a target.
With Big Show's sudden title defense of Del Rio fitting the mold of an "injustice," perhaps The Shield seeks to correct that injustice this Sunday.
There's a good chance that Big Show vs. Alberto Del Rio will end without a clear-cut winner.
One way to ensure that that happens is for Big Show to lose the match by disqualification.
The reasoning behind this is simple: It keeps the title on Del Rio while simultaneously protecting Big Show by avoiding having him get pinned again.
There are literally countless ways to do a finish like this, too.
The WWE could have an incensed Big Show ignore the ref's five-count and refuse to stop attacking Del Rio, or it could have him get caught trying to cheat to win the match.
We saw Big Show purposely get himself disqualified against Sheamus at Survivor Series last year, so it's certainly a possibility that he gets disqualified again at the Royal Rumble.
Only, this time it would have to be unintentionally because he's the challenger and not the champion.
On last week's SmackDown, we saw Big Show get intentionally counted out during his tag team match against Sheamus and Alberto Del Rio.
Foreshadowing, perhaps?
Again, if the WWE wants to keep the title on Alberto Del Rio while keeping Big Show looking strong, it's going to have to book a non-finish.
That non-finish might very well come in the form of a double count-out, where ADR and Big Show brawl wildly outside of the ring and end up being unable to get back in the ring before the 10-count.
You have to think that Big Show is going to end up in the WHC Elimination Chamber match even if he loses at the Royal Rumble, so having a shady finish this Sunday could be a way for him to "earn" a spot in the Chamber match.
While no one seems to be crazy about shady endings like this, especially on a "Big Four" pay-per-view, it might be what the WWE decides to do if it doesn't want to book a clean finish.
Alberto Del Rio's face turn and feud with Big Show resulted from Show's mistreatment of ADR's ring announcer and buddy, Ricardo Rodriguez.
In fact, you could make a case that it's been Rodriguez who has truly been at the heart of this rivalry, having played a huge role in some of the biggest happenings of this feud so far.
That's why it would seem so fitting for Rodriguez to help ADR retain his World Heavyweight Championship at the Royal Rumble.
There's a good chance that Rodriguez will get involved in the match somehow, and that will give the WWE the opportunity to book a finish that sees Rodriguez, whether intentionally or unintentionally, give ADR the assist to win the match.
Maybe Big Show goes after Rodriguez, only for Rodriguez to bait Show into getting nailed with a big enziguiri from ADR, or something along those lines.
Rodriguez doesn't necessarily have to cheat to help ADR win, especially because that wouldn't be fitting for the now-babyface Del Rio.
Rather, some small distraction from Rodriguez would cause Big Show to lose focus and, ultimately, cost him the match.
When Big Show beat Sheamus to win the World title at Hell in a Cell last October, most fans seemed to expect him to be a transitional champion.
It was widely thought that he would either immediately lose the title to a cashing-in Dolph Ziggler, whether it be at Hell in a Cell or even Survivor Series.
That obviously didn't happen, but it doesn't mean we couldn't see a similar situation play out in the near future.
The Big Show lost the World Heavyweight Championship at WWE TLC in 2011 after holding it for just 45 seconds, and we could easily see a "repeat" of that at the Royal Rumble.
Just picture Big Show defeating Alberto Del Rio for the World Heavyweight title, only for Dolph Ziggler to make his way down to the ring, cash in, win the title and give Big Show yet another historically short title reign.
Not only would this be a nice little repeat of history, but it could add further fuel to the rumored Ziggler baby face turn, make Show an even bigger heel and potentially set up a Ziggler/ADR feud that would probably be pretty good.
While it might not be the best move to have Ziggler's cash-in take place on an already stacked Royal Rumble card, it would certainly get people talking.
Alberto Del Rio is getting over surprisingly quickly as a babyface, but still, most fans don't expect him to hold onto the World Heavyweight Championship for very long.
In fact, even if he retains his title against Big Show at Royal Rumble, he still might not leave the pay-per-view as champion...thanks to Dolph Ziggler.
Ziggler has held the Money in the Bank briefcase for about six months now, and at any moment, he could cash it in to become World Heavyweight champion.
He just might do so on Alberto Del Rio, too.
While Del Rio is being positioned as a top babyface and could use the title to solidify himself as one, it's almost always a better story for the face challenger to be going after the heel champion, and we could see an entertaining angle play out if Ziggler ends ADR's title reign before it could really even start.
Although it looks like Ziggler may not cash in until at or after WrestleMania 29, the WWE could always pull the trigger on that cash-in this Sunday at the Royal Rumble.
And if the creative team decides to do that, don't be surprised to see Ziggler ruin Del Rio's party shortly after his first successful title defense.
Drake Oz is a WWE Featured Columnist for Bleacher Report. Follow him on Twitter!