Six Rotation Changes the Golden State Warriors Should Make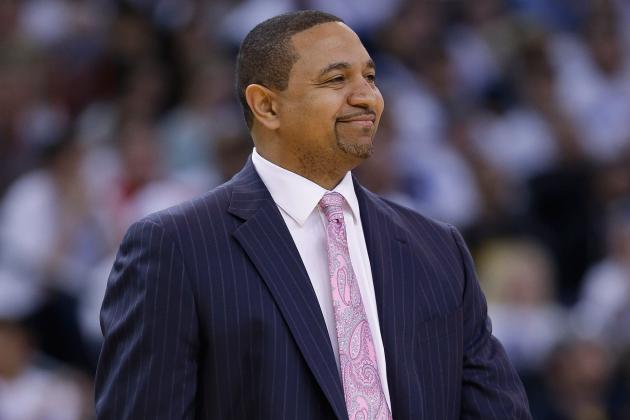 Ezra Shaw/Getty Images
Jackson has been one of the main reasons for the Dubs excellent start, but there are still improvements to be made.
"If it ain't broke, don't fix it" is a phrase that is widely used and accepted in any circle of life. This pertains to the current makeup of the Golden State Warriors—and how rarely does anyone get to say that—because of their 22-12 record and playoff standing in the West.
If the team is playing well, succeeding on both levels on offense and defense, why is there a need for change?
Answer: there isn't any reason.
But with any team in basketball or in all of sports, there is always need to get better and to improve. Look across the Bay for example at the San Francisco 49ers who, despite making it to the NFC Championship Game and a 6-2-1 record, made the change at quarterback that Jim Harbaugh believed to be a necessary season-changing move.
Now, this isn't to say that there are any rotation changes to make that come close to that level of impact. However, there are many reasons to shuffle the front-end or back-end of a rotation because of performance-related issues or injury concerns.
Begin Slideshow

»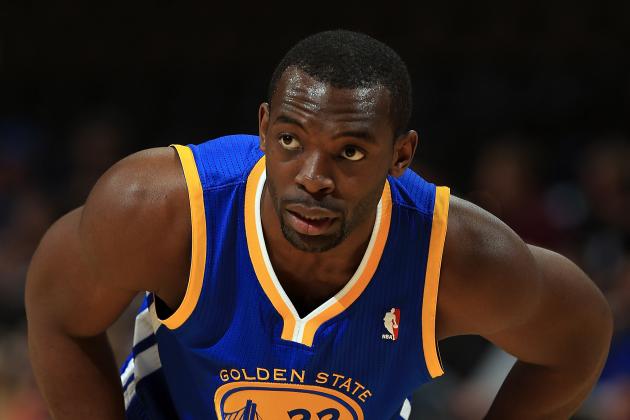 Doug Pensinger/Getty Images
The second-year guard from Hofstra could spell Curry for more than a few minutes a night.
Curry is currently the number one point guard in minutes played, which may be a disaster in disguise.
Because he has been able to play every game and log heavy minutes, the Warriors have thrived this season. However, the minutes may catch up to him soon behind the forever troublesome ankle and standard Warriors bad luck.
Charles Jenkins isn't only deserving of minutes because he is the main backup behind Jarrett Jack and Curry, but because he can play a little bit too.
So far this season, he is shooting 51 percent from 16-23 feet and doesn't turn the ball over, if at all. With Jack playing with Curry on the floor at the same time, the Warriors need another guard to step up down the stretch when games start to mesh together and injuries crop up a little more.
Playing Jenkins out of necessity may not be the death knell some fans may think.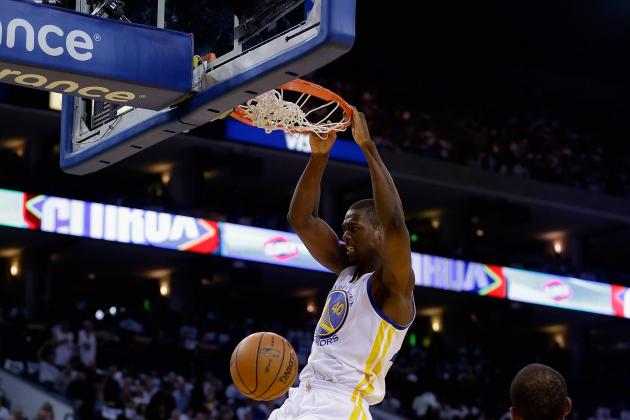 Ezra Shaw/Getty Images
Simply put, Barnes needs more minutes.
If one looks at Harrison Barnes' aggregate stats on the season, they aren't that pretty. He isn't shooting that well and isn't doing much on the floor except play solid defense.
However, what he has done is space the floor and not clog the lanes like his predecessor, Monta Ellis. Recently, there have been rumors that Rudy Gay may be on the move and that the Warriors are in on the talks.
Not only should the Warriors not trade for Gay, but they should actually play Barnes more each game. Averaging only 25 minutes per game, Barnes starts the game and only comes in for the last couple minutes of the first half. Because of Jack's great play thus far, Barnes has been relegated as a player that gets two or three touches and if he misses, won't get many opportunities later on.
He showed his ability to post up and distribute when driving through the lane in the past two games against the Clippers, finding Landry and Lee several times in the paint. Bumping his minutes up along with resting players like David Lee and Curry will help the team in the long run.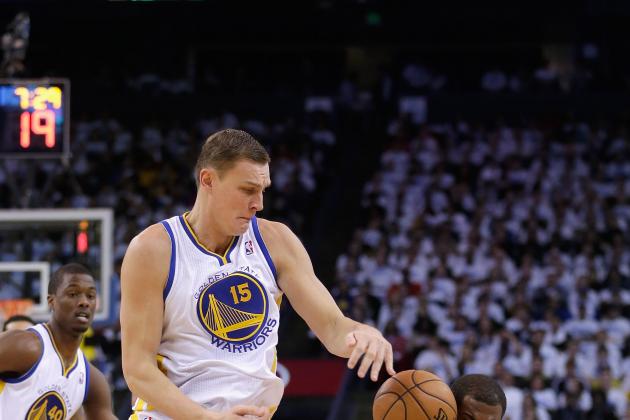 Ezra Shaw/Getty Images
More Biedrins.
Festus Ezeli can't catch a ball and the Warriors are relegated to playing four-on-five offense. Andris Biedrins can't make a free throw and is scared of the ball, so the Warriors are relegated to playing four-on-five offense.
See the difference there? Me neither. Both players have been average—being optimistic here—this season, but there are signs that Biedrins is ready to turn it around. Kind of.
He won't be the featured offensive player he was a couple years ago; no more spin moves off pinch post screens and definitely no more alley-oops. But he still has the ability to affect shots, clog the driving lanes on defense and grab a boatload of rebounds. Without a certain Andrew Bogut return date, Mark Jackson will have to rely on Andris more.
Even though it is a small sample size, the lineup with Biedrins is usually more efficient than the one with Festus, according to 82games. Holding the rest of the starting lineup equal, the Biedrins factor has an 80 percent WIN% while the Ezeli lineup is only a 56.6 WIN%.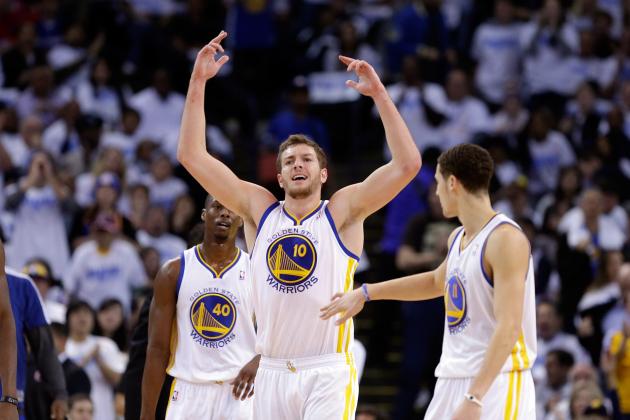 Ezra Shaw/Getty Images
David Lee has been great this year but the Lee/Landry combo may start to wear later in the season.
The Lee-Landry "smallball" Don Nelson-esque lineup has produced stunningly great results this season, providing destructive offense along with solid-enough defense.
However, they have played an enormous amount of minutes this season, accounting for three of the top five lineups for the team. And we see what happens when the lineup starts to flounder a bit, especially on the defensive boards.
A team ranked third in defensive rebounding rate, Lee and Landry were dominated by the Memphis Grizzlies on Wednesday night. Eerie 2011 flashbacks started to make its way into my brain. At one point in the fourth quarter, Coach Jackson took both out to put Biedrins and Ezeli in.
While the smallball lineup opens up everything offensively, its undoing on the defensive end may be a cause for concern going forward. Although having Bogut on the floor solves every single problem.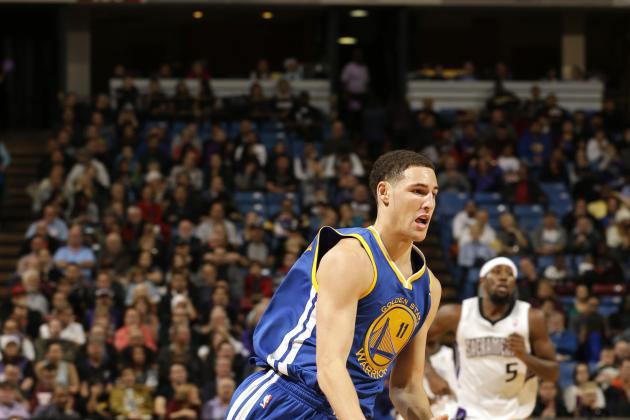 Ezra Shaw/Getty Images
Jackson's defensive lineups need a bit more dribble-drive action to jumpstart its offense and Klay can help.
Mark Jackson has played some interesting lineups at the end of quarters and halves this season, usually meant to sacrifice offense in the name of a few minutes of defensive suffocation.
However, it is the lack of offensive potential that stunts the growth of its slightly-above-average defense that hosts players like Green, Jenkins, Jack and Festus. Simply put, there aren't enough creators on that squad in order to extend or maintain the lead.
This ties into Barnes needing more playing time, but Klay Thompson needs to improve his dribble-drive ability too, the same he showed at the end of last season. It isn't that Jackson is losing games because of these rotations, but that he would stand to improve in small situations at a higher rate if he were to tweak it a little.
Because Curry and Lee will get theirs on offense and Barnes is known as more of a slasher, Klay doesn't get nearly as many touches on offense as he needs. Having him in there as the sole creator off side pick-and-rolls could help that.
His 20-7-7 stat line against Memphis is an excellent start.
But who am I to tell him what to do? He's the frontrunner for Coach of the Year.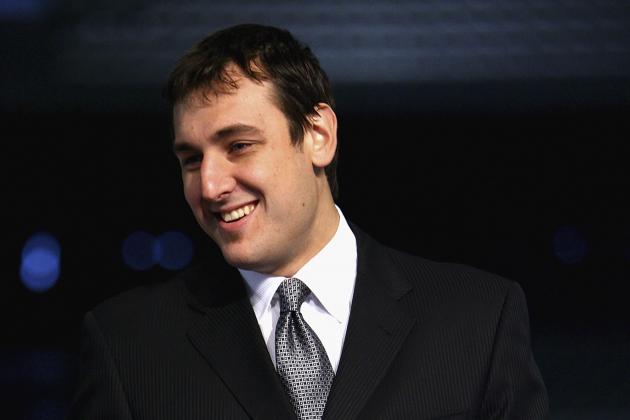 Robert Prezioso/Getty Images

For the sake of rotation-talks and hypotheticals, we take a look at what would happen to minutes given an optimally healthy starting lineup of Lee-Curry-Thompson-Bogut-Barnes.
While there aren't any elite players in that lineup, it is the perfect compilation of role players that can wreak absolute hell on defenses and play enough defense to win. Kind of like they are now, except Bogut drastically improves an already drastically improved defense.
In that lineup, every player shifts down one slot so players like Green, Jenkins and even Festus (to an extent) may lose whatever scant playing time they had before. Assuming Bogut would be able to play 25-30 minutes a game, this would have a trickle-down effect on players of different positions.
This would lead to less minutes for Lee and Curry assuming optimal success in early parts of the game.
There are a lot of assumptions being made here, even the one where Bogut plays at all this season. But there is one thing for certain; this Warriors team will be battling for a playoff spot down the stretch and in large part to Mark Jackson and the coaching staff.