Florida State Football: 5 Things Jimbo Fisher Must Do to Improve Offense in 2013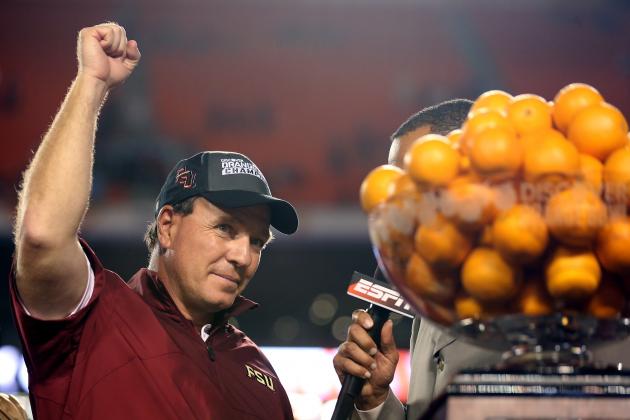 Streeter Lecka/Getty Images
Florida State mostly lucked out with an easy schedule in 2012. Don't expect such a repeat blessing.
2012 was an excellent—but not perfect—year for the Florida State Seminoles.
First ACC Championship since 2005. First BCS appearance since then, too. Only the third 12-win season in school history. A top-10 finish for the seniors, who finished their careers by winning the Orange Bowl convincingly.
The Tribe only lost twice, their fewest losses in a season since they lost the BCS National Championship in 2000. One came at the hands of the hated Florida Gators, but a more preventable loss had already dashed title hopes barely a month into the season.
Jimbo Fisher's play-calling in the second half against N.C. State was atrocious. He played like an NFL coach in the fourth quarter, having Chris Thompson run the ball incessantly. FSU gave away a 16-0 lead, and gave the Wolfpack a comeback to lose 17-16.
At other times, the offense looked atrocious. EJ Manuel almost gleefully threw picks in the home finale versus the University of Florida. The Seminoles actually finished with negative rushing yards in a nail-biter against Virginia Tech. Fisher's team almost lost the ACC Championship Game to a six-loss team as well.
In short, the offense just seemed to hit walls at random times. With a new starting quarterback and road games against Clemson and Florida, it doesn't make next year look so promising.
Coach Fisher might consider himself an offensive expert (it worked, he won a national championship as one at LSU), but there has to be major retweaking for the Seminoles to return to the BCS in 2013 and beyond.
Begin Slideshow

»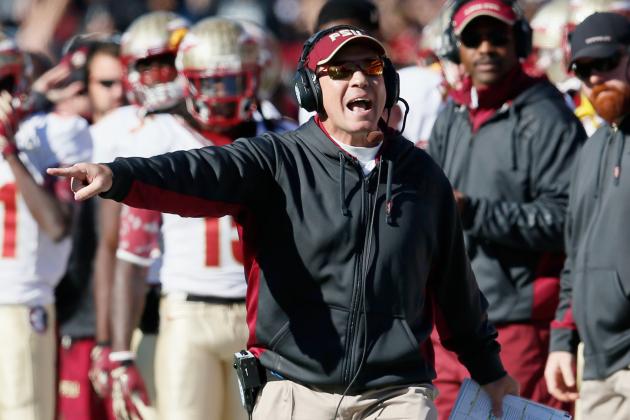 Rob Carr/Getty Images
Jimbo Fisher needs to be the head coach, not the OC.
Officially, James Coley is FSU's offensive coordinator. Coach Fisher should do himself a favor and, as a coach of a relevant southern football school, focus a bit more on relegating offensive duties to Coley.
Fisher has seemed to lack the killer instinct in games, usually running too often (though, in his defense, the running game was typically fantastic).
His "protect-the-lead" mentality cost the Seminoles early in the year, and (as stated before) nearly led to upsets by Virginia Tech and Georgia Tech. Those teams combined to finish 14-13 in 2012. N.C. State finished 7-6.
Yes, the Seminoles have a history of playing down to their competition, but the Tribe need an offensive coordinator who has more time to instill zeal in his players.
You know how animated and critical Will Muschamp was as a defensive coordinator? His teams at Texas were almost always motivated, and Will instilled fear in the players of messing up.
For James Coley (or whoever) to become that feared figure, Fisher has to quit getting in the way. In short, Jimbo should excuse himself from play-calling.
Note: one tidbit that isn't often discussed. Fisher, as the head coach, only sees the field at ground level. A coordinator like Coley gets a much better view from the sky box, so he can see wrinkles in the schemes that Jimbo is less likely to detect.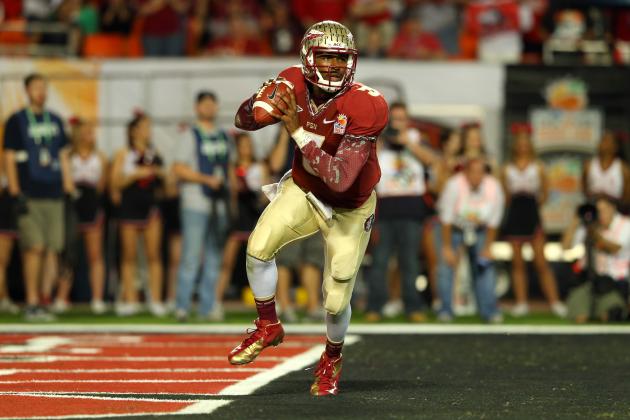 Mike Ehrmann/Getty Images
Would EJ Manuel have worked better in a pistol system?
The "multiple style" Florida State's offense employs might be a bit too complicated for players. The Seminoles can switch schemes throughout the game and keep their opponents confused, but look at how a system like that has benefited EJ Manuel. He actually threw more interceptions as a senior than in his junior year—against an easier schedule!
I recommend installing some of the pistol offense into play-calling. The offense can keep the option and use the running game (FSU's greatest forte) to its advantage. Having the quarterback farther away from the offensive line gives him greater periphery, which could have benefited Manuel tremendously.
The Seminoles might need a new type of quarterback to run this, though.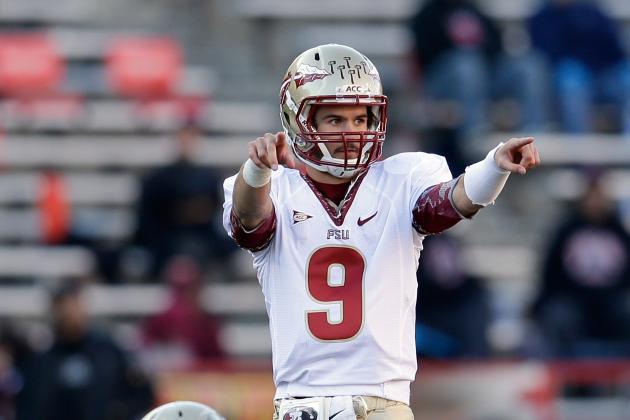 Rob Carr/Getty Images
Backup QB Clint Trickett has regressed.
I know his dad's the offensive line coach, but so what? Clint Trickett should answer to Jimbo, not the other way around. Note that I am not saying that it is. The younger Trickett, who performed admirably as a backup in 2011, seemed to lose some of his swagger over that offseason.
The Seminoles signed the No. 1 dual-threat quarterback, Jameis Winston, in the 2012 recruiting class.
Switching to a pistol formation might ease a transition into a new type of offense for the Seminoles—the spread option. Why not use it? Florida doesn't use it anymore, neither does Georgia. But look at the success Alabama has had—and the Crimson Tide used that offense.
Have you seen the success Clemson has had running the spread? Combine the pistol as a harbinger to the spread (so players will still work in the system) with the right players and Florida State can be more dynamic on both sides of the ball.
Also, having some kind of up-tempo offense would help keep the players always engaged in the game, and be more likely to prevent the complacency that cost the 'Noles in the N.C. State game.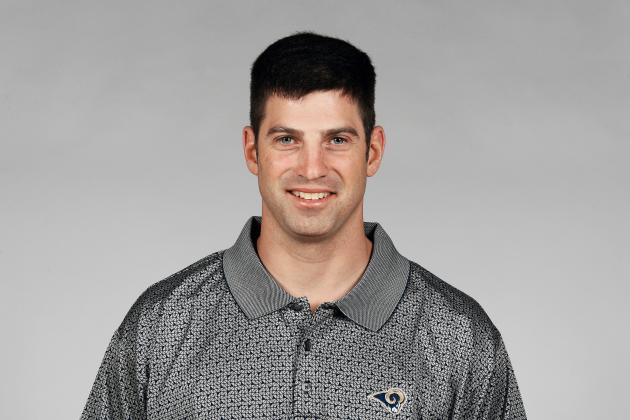 Getty Images/Getty Images
Doug Nussmeier has enjoyed tremendous success as Alabama's Offensive Coordinator.
Nick Saban has a tremendous eye when it comes to finding talented assistants. It allowed the Crimson Tide to reload so effectively in 2012 after running back Trent Richardson and offensive coordinator Jim McElwain left.
FSU OC James Coley had some experience with the Miami Dolphins, but having a bright NFL offensive mind would be superb. Getting a guy like Greg Roman or Bruce Arians would be difficult, but Jimbo should watch the guys behind the scenes during the NFL playoffs.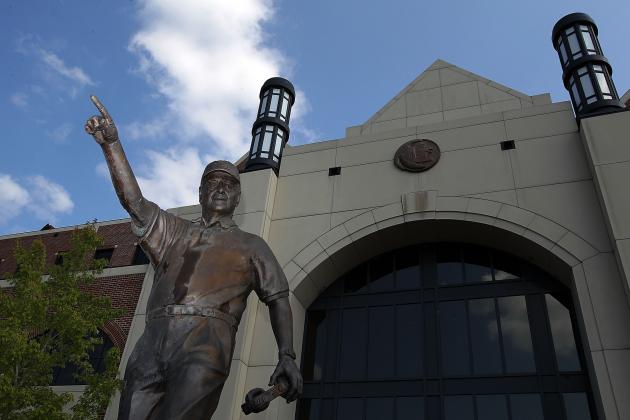 Ronald Martinez/Getty Images
Trick plays kept Florida State competitive early in its dynasty.
One of the reasons Bobby Bowden made FSU into a national power is quite a simple one: trick plays. It wouldn't be uncommon for a Bowden team to throw a pass from the quarterback to receiver…just to have the ball go back to the quarterback. Puntrooski against Clemson, anyone?
While using such storied plays might seem a bit obvious, it's the perfect icebreaker for whenever the offense appears inept in the passing game.
Don't get me wrong, FSU has half the formula right. The rushing game is tremendous. Join that with an offense that can empower a dual-threat QB and Florida State might get back to the BCS in 2013.