3 Most Important Things from Barca's Demolition of Espanyol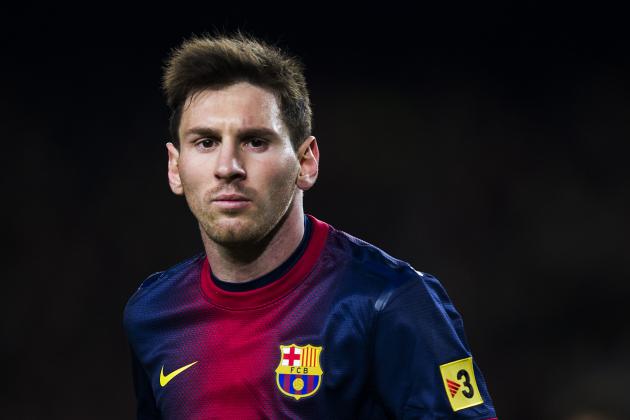 David Ramos/Getty Images

Tito Vilanova was back on the FC Barcelona bench as Lionel Messi scored a goal in his 2013 debut. Barça cruised past RCD Espanyol to a 4-0 win in the Catalan Derby on Sunday.
The scoring started in the 10th minute as a fabulous pass from Andres Iniesta inside the box found the feet of Xavi Hernandez, who slipped it past Kiko Casilla for the 1-0 lead.
Pedro Ledesma made it 2-0 in the 16th minute as a great pass from Messi found Cesc Fabregas cutting inside the box; Cesc dribbled it out, passed it back to Messi, and the ball deflected off Pedro's knee and into the back of the net.
The first real threat from Espanyol came in the 24th minute as Casilla's long kick found Sergio Garcia, who beat both Carles Puyol and Gerard Pique. However, Garcia's shot went flying into the stands.
Sergio Busquets made a tremendous pass to Pedro, who made it 3-0 in the 27th minute. Busi's pass went straight down Broadway, landing at Pedro's feet. Pedro chipped it over a charging Casilla, and the Canarian had his brace on the night.
Kiko Casilla brought Fabregas down inside the box just one minute after Pedro's goal. Lionel Messi stepped up and smoothly put in the penalty kick for the 4-0 lead.
In the second half, Pedro looked like he had his hat trick on the night, but Cesc Fabregas was called offside when he passed the ball to Pedrito. Replay showed Cesc was, in fact, onside.
Another potential goal for Pedro was taken away from him as he was called offside in the 73rd minute. Thiago Alcantara's pass was on target to Pedro, who put it in the back of the net, but the Canarian was called offside. Replay showed he was onside. Very disappointing.
Espanyol had a shot to get a goal in the 80th minute as Pique lost the ball to Juan Albin. The Uruguayan had a one-on-one with Victor Valdes and VV was able to make the stop.
One minute later, Messi's free kick hit the top of the crossbar, just missing Leo getting his brace on the night.
FINAL: FC Barcelona 4 - 0 RCD Espanyol
A great start to 2013 as Barcelona's rhythm remains strong, even after the holiday break.
Let's break down my three most important things "From The Mind of Xoel" from FC Barcelona's 4-0 win in the Catalan Derby.
Begin Slideshow

»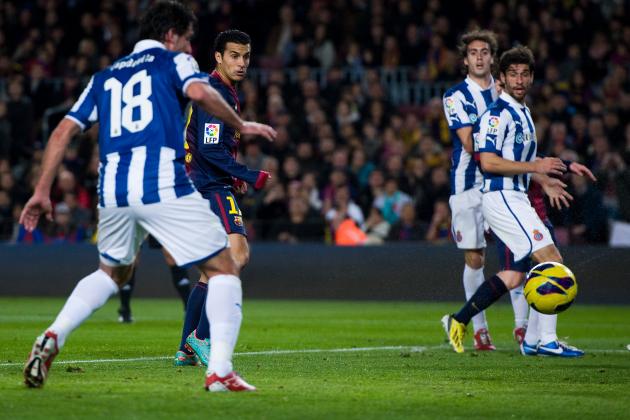 David Ramos/Getty Images

Pedro was not struggling this season, but many fans wanted to see him score more goals.
Ask and you shall receive.
Pedro started his 2013 season with four goals in the game against Espanyol, two of them counting as official goals.
Even though Pedro Rodriguez was robbed of two goals, a brace on the night was still terrific, and it shows that Pedro continues to be one of the most dangerous wingers, not only in La Liga, but in all of world football.
Let's hope Pedro is able to have a strong remainder of the 2012-13 season. With Alexis Sanchez struggling, and David Villa not starting many games, Pedro becomes the winger that needs to contribute the most for this team. Cristian Tello will certainly help, but the responsibility falls more on Pedrito.
I'm not concerned with La Liga or the Copa del Rey, but if Barcelona is going to go deep in the UEFA Champions League this season, Pedro needs to get into the scoring mix more often.
It can't all just be Lionel Messi. Goals need to come from other forwards—not just Messi.
Vamos Pedrito!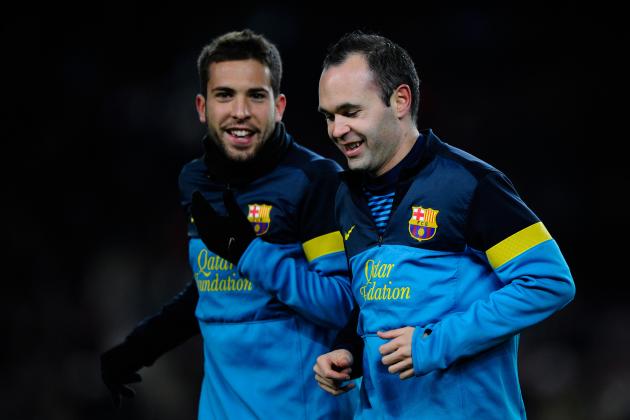 David Ramos/Getty Images

As we saw in this game, Don Andres Iniesta seems like he can do no wrong at any position he plays.
While we are used to see him playing in the midfield, Andres was moved to the left wing position. It's a position Andres is used to, as he has played LW many times with Barcelona. Iniesta plays the position more often with the Spanish National Team.
Andres was magnificent in the game against Espanyol. He found Xavi for the first goal, and he had several great passes to his teammates. Andres was toying with the Espanyol players many times in the game.
The question some fans may have is whether Andres Iniesta deserves to start at LW and keep Cesc Fabregas at the midfield spot?
It's a bit complicated, but here's my answer.
For Liga and Copa del Rey games, I say keep Pedro, Cristian Tello or David Villa at the LW spot. It's a crime to keep a player like Fabregas or Iniesta on the bench, but with Barcelona playing so many games in their three competitions (Liga, Copa and CL), a solid rotation of midfielders is needed. Thiago Alcantara helps in this rotation as well.
While I say keep a solid rotation for Liga and Copa games, for UEFA Champions League games, Tito Vilanova needs to go to the same starting XI he selected for the Espanyol game.
It's obvious Cesc is uncomfortable at the LW spot and performs best at the midfield position. As we saw in Euro 2012, Andres Iniesta is brilliant at the LW position. Let's not forget that his partnership with Jordi Alba was superb. This season, when Andres has played the LW spot, he and Jordi have continued their great chemistry on the left side of the pitch.
Tito Vilanova needs to put Andres Iniesta at the LW position for UEFA Champions League games. La Liga and Copa del Rey games are important as well, but CL is obviously more important.
And the best starting XI for FC Barcelona is a lineup with Cesc Fabregas at mid, and Andres Iniesta at the LW position.
Don't believe me?
Tito Vilanova said it himself at the post-game press conference:
"This (starting) eleven is the best eleven that I can present."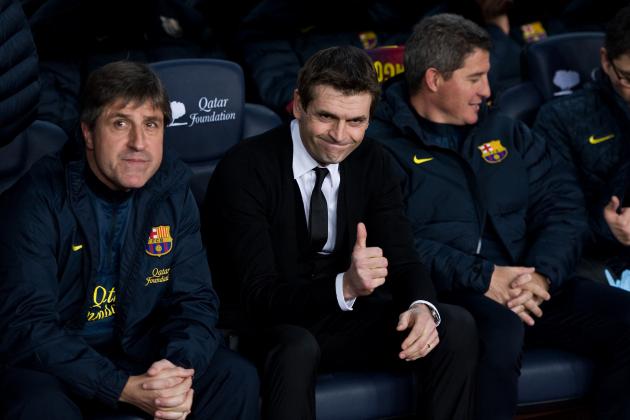 David Ramos/Getty Images

As much as other writers will probably talk about Lionel Messi and other players, for me, this game was more than just a good win—this game was all about Tito Vilanova.
As we all know, Tito Vilanova left the club a few days after Barcelona's win over Atletico Madrid in December, with a relapse of Parotid gland cancer. Tito was first diagnosed with the illness back in November of 2011.
Tito underwent chemotherapy and radiotherapy these past few weeks. Earlier last week, Tito returned to the Barcelona training field.
Tito was there with his team on the bench for this game against Espanyol, and his team made him proud in his return.
Towards the end of the game, there was a great moment as Tito tapped his friend and assistant coach Jordi Roura's knee. I'm sure Tito was not only thanking Jordi for a great game, but also for filling in for him while he was recovering.
After the game, Tito Vilanova told the media (via MundoDeportivo.com) he'd like to thank all the fans for their well wishes:
"Thank you to everyone for their show of support. I got a lot of messages of support, and they all help."
Pedro told the media (via MundoDeportivo.com) after the game that this FC Barcelona win over RCD Espanyol is dedicated to Tito:
"We dedicate this win to Tito. It has been a very difficult week for him, but now he's fine."
We know it will continue to be a long recovery for Tito Vilanova. But it was great to see him, his smile, and his familiar "thumbs up" on the Barcelona bench.
Grande Tito!
With Atletico Madrid's tie to Mallorca, FC Barcelona are now eleven points up on Atletico in the La Liga table.
Real Madrid is still 16 points behind Barcelona, as tension continues to grow among Jose Mourinho and the Madridistas.
Great win from FC Barcelona in their 2013 opener. Tito and his men continue to make history with this historic Liga run of theirs, as well as moving one step closer to making La Liga 2012-13 a blaugrana season.
Vamos!
Xoel, The Voice of FC Barcelona on the net, period.
Don't forget to check out my other columns: