Yankees Rumors: Fact or Fiction on All the Hottest Rumors in New York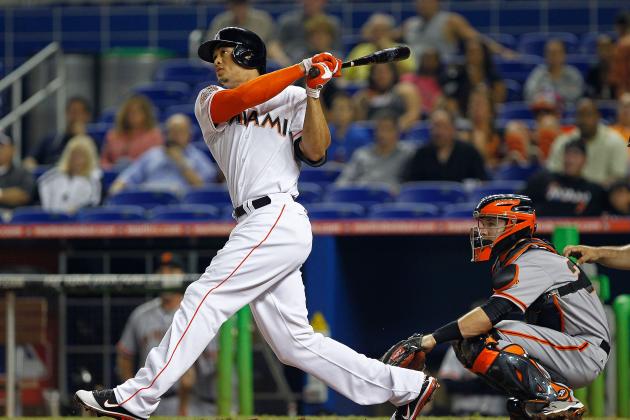 Mike Ehrmann/Getty Images

The 2012-13 offseason has been one of the quietest in recent memory for the New York Yankees. It's certainly possible Brian Cashman will make a splash sometime before opening day, but with the self-imposed budget restrictions he is under, that seems unlikely.
Still, there are players available who could significantly improved an aging team in 2013, with the team currently in the market for a catcher, a right-handed outfielder and perhaps relief help.
As we turn the calendar to 2013, let's play fact or fiction with the hottest rumors surrounding the Bombers.
Begin Slideshow

»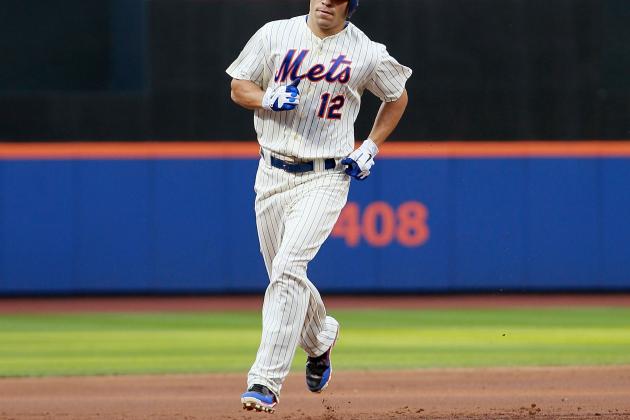 Jim McIsaac/Getty Images

As recently as December 28, it was reported that the Yankees are interested in signing Scott Hairston as a right-handed outfielder option to potentially platoon with Ichiro Suzuki.
I believe that the team would be intrigued by the outfielder who can play all three positions and hit 20 home runs in 377 at-bats with the New York Mets. Despite Hairston's low on-base percentage, Brian Cashman has pursued part-time players with sheer power in recent years (see: Raul Ibanez, Andruw Jones).
However, I think the Yankees would not feel comfortable giving a part-time player a multi-year deal, which Hairston is reportedly seeking. Any other year I could see the Yankees signing a player like Hairston, but this year he appears to be out of their price range unless his demands come down.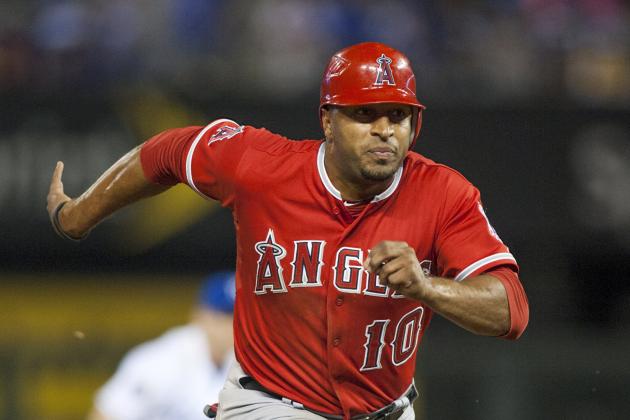 Tim Umphrey/Getty Images

A couple of weeks ago Anthony McCarron wrote that the Yankees were interested in Los Angeles Angels' outfielder Vernon Wells, who, like Scott Hairston, would fill an outfield platoon role.
The Angels would love to unload Wells, who is no more than a fifth outfielder on the club, with Mike Trout, Josh Hamilton, Peter Bourjos and Mark Trumbo ahead of him despite the $42 million remaining on his deal.
However, because of his high salary that includes $21 million in 2014, the season the Yankees want to have their payroll under $189 million, the Angels would have to eat virtually all of the money on Wells' contract to make a trade happen.
I just don't see the Angels paying a player around $40 million to play for somebody else.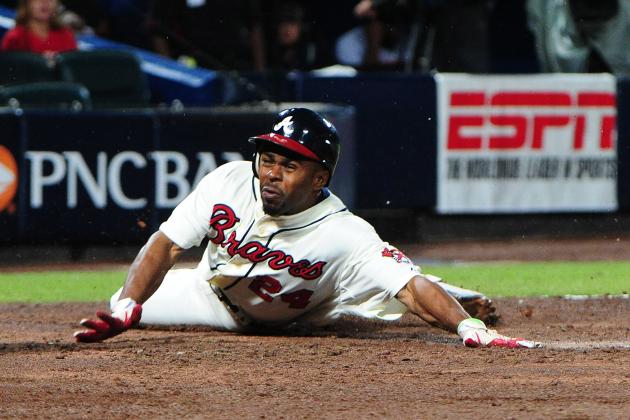 Scott Cunningham/Getty Images

It's been reported that the Yankees are quietly interested in free agent outfielder Michael Bourn, but fans shouldn't get their hopes up.
Of course they're interested in Bourn, who is the clearly the best outfielder left on the market with Josh Hamilton, Nick Swisher and B.J. Upton all signed.
The price for him will not come cheap, as Swisher signed a four-year, $56 million deal with the Cleveland Indians and Upton signed for five years and $75 million with the Atlanta Braves. Bourn is the best player of the three and will command much more money than the Yankees can afford to give him.
The Yankees would make him an offer at the right price but Bourn's cost is going to be too high for the Bombers this year.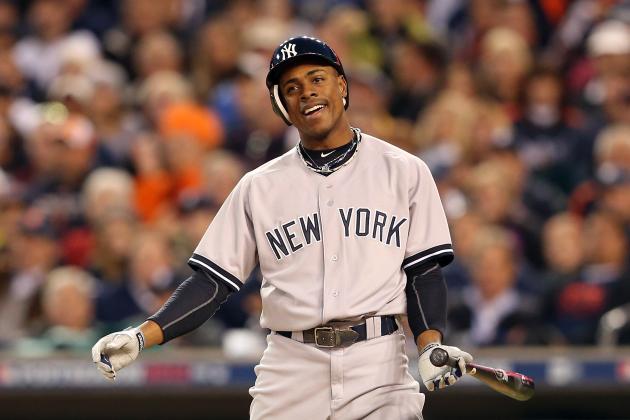 Leon Halip/Getty Images

The Yankees' big move this offseason could be trading away one of their best players instead of acquiring one.
It's highly unlikely that the Yankees will re-sign Granderson after the 2013 season, both due to his low on-base percentage (.319 in 2012), high strikeout totals (195 last season) and the high price tag he will likely carry due to his power numbers (43 home runs in 2012).
While trying to get their payroll under $189 million, the Yankees will have to re-sign Robinson Cano, Derek Jeter and Phil Hughes, among others, and Granderson will become a casualty of that spending freeze.
In return for Granderson, I think the Yankees would look for an impact player like a catcher or starting pitcher (perhaps pairing Granderson with Ivan Nova in a deal), but I do think they would love to trade him to acquire a quality player in return.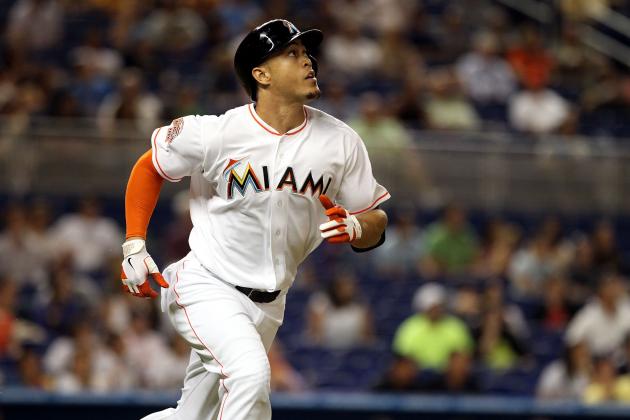 Marc Serota/Getty Images

As soon as it was reported that the Miami Marlins will listen to offers for Giancarlo Stanton, chatter started about virtually every team, including the Yankees, making a run at the 23-year-old.
Why wouldn't they? He already has 93 home runs in three major league seasons and the sky is the limit for the right fielder.
However, it's important to remember the cost it would take to acquire Stanton, which the Yankees probably can't afford. Just because the Marlins will listen to offers doesn't mean they're in a rush to trade him.
In order to acquire Stanton, the Yankees would probably have to give up at least four of their top prospects, including Gary Sanchez, Tyler Austin and Mason Williams, and even then it would be surprising if the Marlins let go of their superstar.
The Yankees would love to get him. But they won't.
Unfortunately for Yankee fans, I think the winter will continue without a major acquisition for the team. They may trade Granderson but they won't sign any of the top free agents available.
Fortunately, though, the team won 95 games in 2012 and will remain a contender in 2013.
Countdown to spring training: 40 days.