Power Ranking Every UFC Fight Card of 2012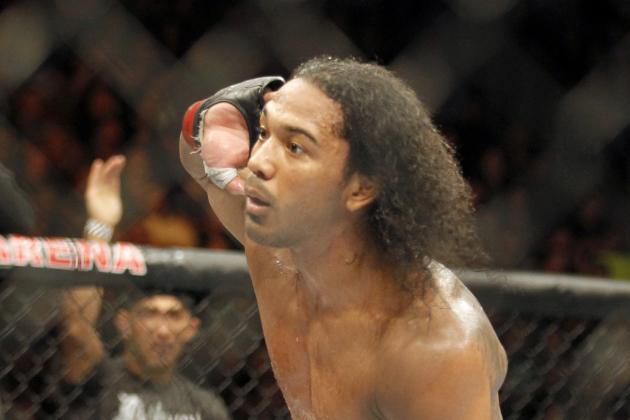 Joe Nicholson-USA TODAY Sports

With Cain Velasquez regaining the heavyweight title at UFC 155, the 2012 UFC schedule is complete. Looking back, the obvious question is this: What was the best fight card of the year top to bottom?
In a year that was certainly dominated and defined by the injury replacement, UFC matchmakers had to constantly scramble in 2012 to deliver quality fights to the fans. There were 32 events scheduled this year and 31 were completed, with only one—UFC 151—cancelled.
Taking into account the quality of every fight on each card, here is my power ranking of every event in 2012.
Begin Slideshow

»
The UFC's debut in Calgary was the most injury-riddled card of the year and paid dearly for it. Ryan Jimmo's flash knockout was overshadowed by some awful fights on the main card such as the Cheick Kongo-Shawn Jordan snoozefest and a disappointing debut from Hector Lombard.
This card was originally supposed to feature the long-awaited rematch between Anderson Silva and Chael Sonnen but ended up taking a much different shape in the end.
The card was filled with up-and-coming Brazilian fighters but lacked the real star power that usually boosts a main card.
The headliner was a rematch between Rich Franklin and legend Wanderlei Silva, and it was the best fight on the card despite the fact that it was fairly insignificant in the UFC landscape.
Flyweight's Demetrious Johnson and Ian McCall settled their score at this event and delivered a decent fight similar to their first one. The win set Johnson up to fight for the first flyweight title in September.
The other memorable bout on this card was a back-and-forth battle between Eddie Wineland and Scott Jorgensen that took home Fight of the Night honors.
This event was headlined by Carlos Condit vs. Nick Diaz for the interim title and had the makings of a real war.
Unfortunately, Condit and his camp had other ideas with their game plan, and the fight turned out to be a dud.
The headliner could have been one for the ages, but in the end strategy and caution took precedent. The title was at stake—and that's why I don't blame Greg Jackson or Carlos Condit—but that's the reason it shows so low in this list.
Condit employed a strike-from-a-distance approach, and the fighters failed to engage in any significant action throughout the fight. It left the fans booing and left the door open for Roy Nelson and Fabricio Werdum to take Fight of the Night.
Much like the previous slide and pick, this one is in this spot due to a caution-and-distance strategy, which even bordered on running.
Clay Guida was the culprit, and it made the fans boo while causing Gray Maynard to resort to obscenities to try to get him to engage.
It did have the Sam Stout-Spencer Fisher rivalry as Fight of the Night and a nice knockout by Cub Swanson over Ross Pearson, but it wasn't enough to boost it any higher up on the list.
Overall, the TUF Smashes finale card wasn't all that bad.
But when Cody Donovan vs. Nick Penner is your Fight of the Night, you know there is opportunity lost. It was the first event held in Queensland, Australia and was a huge success, but some fighters could have put in a little better showing.
Hector Lombard destroyed Rousimar Palhares in what should have been a closer fight, while some of the prelim fighters failed to answer the bell.
This card delivered a nice knockout by Antonio "Bigfoot" Silva over rising star Travis Browne and a nice Fight of the Night between Diego Nunes and Bart Palaszewski, but a couple of last-second cancellations really hurt the card overall.
Dennis Hallman vs. Thiago Tavares was called off on the scales the day before, while Jeremy Stephens vs. Yves Edwards was cancelled the day of the event, due to Stephens being arrested and held in jail.
It's tough for the card to fully deliver under those circumstances.
This card was just a little lacking in star power, with Mark Munoz and Chris Weidman being the only real Top 10 fighters on this card.
The main event was certainly a decent one with a nice finish, but it was just a bit disappointing in how sloppy Mark Munoz was. Cage rust was definitely a factor, as Munoz was coming off a long layoff due to injury, so he is certainly forgiven.
James Te Huna and Joey Beltran delivered a nice Fight of the Night, and the card had some nice finishes, but it wasn't enough to crack the top half of the list.
The Ultimate Fighter finale was originally supposed to headline the rematch between Demetrious Johnson and Ian McCall in the first round of the flyweight tournament. That fight was rescheduled, and the event was headlined by a welterweight contender match between Jake Ellenberger and Martin Kampmann.
Kampmann knocked out Ellenberger with a knee in the second round to deliver a solid headline fight, and Mike Chiesa defeated Al Iaquinta with a first-round rear naked choke to win the UFC contract.
Justin Lawrence and John Cofer took home Fight of the Night to add quality to the card.
UFC 155 and the rematch for the heavyweight title was one of the most anticipated fights of 2012, and it turned out to be a very interesting and solid fight.
Unfortunately, the middleweights on the main card wrestled the event to a bit of a disappointment.
Joe Lauzon and Jim Miller delivered a great fight in the co-main event, and Melvin Guillard and Jamie Varner had a close battle.
Todd Duffee returned with a nice KO as well.
Middleweight fights between Tim Boetsch and Costa Philippou as well as Yushin Okami and Alan Belcher left much to be desired, however, and left this card on the back of the list.
Jake Ellenberger and Diego Sanchez delivered a very exciting Fight of the Night in the headline spot of this card, but there was very little else of note on this show.
Stipe Miocic got a knockout over Phil De Fries, while Ivan Menjivar landed a submission to defeat John Albert.
The rest of the fights on the card were only decent and saw Stefan Struve knock out Dave Herman and Jonathan Brookins knock out Vagner Rocha.
UFC on FX 2 featured a back-and-forth main event in which Martin Kampmann was losing on all scorecards before snatching a submission win from Thiago Alves in the last seconds of the fight. It was one of the best fights of the year and made this card.
However, the headline fight was overshadowed by a controversial decision in the Demetrious Johnson-Ian McCall flyweight-eliminator semifinal bout. The fight was awarded to Johnson, but it was found later that the judges had incorrectly tallied the cards, and it was indeed a draw.
The error tarnished the Fight of the Night.
Stefan Struve's knockout of Stipe Miocic was a nice cap on a solid card in Nottingham, England. Hometown favorites Dan Hardy and Brad Pickett delivered big wins for the raucous fans, while Matt Wiman pulled out a surprise submission win over Paul Sass.
A weird knee injury to Duane Ludwig put a disappointing end to his fight with Che Mills, and John Hathaway and John Maguire have both performed much better in their careers.
Overall, the atmosphere and fights made it a solid night of fights.
Cung Le had arguably the most surprising and devastating knockout of 2012 with his one-punch sleeper against Rich Franklin at UFC Macau in November.
It was the UFC's first event held in China, and the card was spotted with low-ranked Asian fighters like Tiequan Zhang, Takeya Mizugaki and Riki Fukuda.
Japanese star Takanori Gomi had a very close fight against Mac Danzig that won Fight of the Night honors, and Thiago Silva submitted Stanislav Nedkov in a bout that was later overturned.
Thanks to Le and Gomi, it was a successful night in China.
This card had many highlights, aside from the solid headline fight between Jim Miller and Melvin Guillard.
Pat "HD" Barry had his usual quick and exciting finish in a knockout win over Christian Morecraft, and Mike Easton and Jared Papazian went wild for a great three-round war.
The preliminary card had a sick finish by debut fighter Nick Denis as he elbow-smashed Joseph Sandoval right out of the gate.
Although the card wasn't packed with star power, eight finishes in 10 fights lands this one fairly high on the list.
The first UFC show in Sweden was supposed to feature homeland hero Alexander Gustafsson stepping up in competition to face Antonio Rogerio Nogueira.
When Lil' Nog had to withdraw due to injury, Thiago Silva stepped in. Gustafsson defeated Silva with an easy unanimous decision, and some other knockouts helped make this card a success.
Siyar Bahadurzada knocked out Paulo Thiago in the first round, and Brian Stann did the same to Alessio Sakara.
If the headliner and the quick KO's weren't enough for you, Brad Pickett and Damacio Page delivered an epic Fight of the Night.
UFC 150 delivered a whole bunch of different things that can be seen in MMA, with another judging controversy in a title fight, a no-contest due to a failed drug test and one of the main-card fighters drastically missing weight.
Henderson vs. Edgar II proved to be no more decisive than the first one as Benson Henderson took home a close split-decision win in a very good fight.
Melvin Guillard put a small damper on his much-anticipated fight with Donald Cerrone by coming in a pound-and-a-half over the weight limit of 156 pounds.
Guillard didn't even take the two hours he is allowed to attempt to cut the remaining weight and elected to forfeit 20 percent of his purse to Cerrone. Once the fight started, these two delivered a flash war, and Guillard hurt Cerrone early before The Cowboy turned the tide and got the knockout one minute into the fight.
Jake Shields defeated Ed Herman via decision, but it was later overturned to a no-contest as Shields tested positive for a banned substance.
There were four other knockouts on the card as well as a standing guillotine submission pulled off by Dennis Bermudez to round out a solid card.
Injuries hit the UFC on Fox 2 card fairly hard, and four bouts were affected and rescheduled leading up to the event.
The headline fight of Rashad Evans vs. Phil Davis went off and turned out to be a bit of a one-sided affair, with Evans being a bit too good for Davis all night.
Chael Sonnen was originally supposed to take on Mark Munoz in a no. 1 contender bout, but Munoz was forced out at the last minute and replaced by Michael Bisping 11 days before the event.
Since Bisping was scheduled to take on Demian Maia the same night, he was simply bumped up, and Chris Weidman was brought in to face Maia to make the card fairly equal in talent.
Sonnen edged out a controversial decision against Bisping, Weidman was able to handle Maia and the event provided three solid and relevant fights in the main card.
Lavar Johnson and Joey Beltran delivered a one-round war on the undercard, and we also got to see a Charles Oliveira calf-slicer submission.
UFC 148 was simply the most anticipated mixed martial arts fight of all time.
It was heavily promoted in the months and weeks leading up to it, and there was even talk of having it in an 80,000-seat outdoor stadium in Brazil, before organizers settled on the venue in Las Vegas.
The card also saw other challenges leading up to the main event: Urijah Faber was supposed to fight Dominick Cruz after their stint as coaches on The Ultimate Fighter, but a knee injury forced Cruz out. Rich Franklin was pulled out of his fight with Cung Le and replaced by Patrick Cote, and in the end the card took on a much different shape than anticipated.
While Silva vs. Sonnen II had the makings of a historic night, Anderson Silva put a wrench in things by quickly and easily disposing of Sonnen early in the second round.
The fight was nowhere near as good as the first one and failed to deliver on the hype.
Tito Ortiz and Forrest Griffin put on an entertaining rubber match and gained Fight of the Night in the process. It was Ortiz's last fight before retirement, and he was inducted into the UFC Hall of Fame later on in the evening to add some history to the card.
The fight between Chan Sung Jung and Dustin Poirier at UFC on Fuel 3 was a mix of everything you want a fight to be.
A shot at the featherweight title was on the line, and these two went at it at an incredible pace from the opening bell. The Korean Zombie had the upper hand for most of the fight, but Poirier battled hard and showed that he wasn't going to let Jung take it home that easily.
Eventually, Jung was just too much and was able to secure a beautiful fight-ending D'Arce choke one minute into the fourth round.
This fight boosts this card near the top of the list.
Aside from the headliner, we were treated to Donald Cerrone vs. Jeremy Stephens, Igor Pokrajac vs. Fabio Maldonado, Yves Jabouin vs. Jeff Hougland and T.J. Grant vs Carlo Prater, all solid fights on the card.
It must have been the water in New Jersey.
All the fighters on the UFC on Fox 3 card fought like it was a matter of life or death in May at the Izod Center. Right from Facebook fighters Nick Denis and Roland Delorme to Fight of the Night winners Louis Gaudinot and John Lineker, they brought it hard.
And we hadn't even reached the main card yet.
The main card was packed with men willing to engage as well, as Lavar Johnson and Pat Barry did their usual stand-and-trade-until-someone-goes-down thing, followed by Alan Belcher killing the hype around Rousimar Palhares by beating him on the ground. Josh Koscheck and Johny Hendricks then engaged in a very close battle that the judges gave to Hendricks to keep him in title contention.
The main event was a one-sided beating at the hands of Nate Diaz, and he declared himself as the no. 1 contender to Benson Henderson's title by smashing Jim Miller.
All great for a free TV card.
Thank the lord Anderson Silva and Stephan Bonnar stepped in to save UFC 153 in Brazil, because they ended up saving one of the best fight cards of the year.
As expected, Silva disposed of a bricked-up Bonnar fairly easily and quickly, but it was still entertaining to watch Silva work.
And it was the rest of the fighters on the card who channeled the energy of the crowd into a wicked night of fights.
Country hero Antonio Rodrigo Nogueira used jiu jitsu to tap out cocky character Dave Herman, Glover Teixeira and Fabio Maldonado put on a slug fest for the ages and Jon Fitch and young Brazilian Erick Silva staged a candidate for Fight of the Year.
Phil Davis and Demian Maia got stoppages in their fights on the main card, as well.
The undercard was filled with up-and-coming Brazilians who delivered, to the delight of the unbelievable crowd.
This card makes it this high on the list based on the nine finishes it delivered in 11 total fights.
Everyone hates it when a fight is left in the hands of the judges, and the fighters on this card made it less of a worry than any other event in 2012.
While the TUF finale was a lackluster affair, Roy Nelson, Pat Barry and Dustin Poirier all delivered emphatic finishes to get our juices flowing. Barry's knockout of Shane Del Rosario was particularly devastating but fun to watch.
On the preliminary card, six out of seven fights were ended by knockout or submission, with Mike Pyle, Hugo Viana and TJ Waldburger highlighting the show.
UFC 152 in Toronto took on many different sizes and shapes leading up to it, and in the end, in typical UFC fashion, it delivered a great night of fights for the fans.
Following the cancellation of UFC 151, Jon Jones was brought in to headline Toronto for the second time in a row, and he got Vitor Belfort as his opponent.
It turned out to be a very interesting and tightly contested title fight right until the end, when Jones got Belfort to tap out to an Americana lock in the fourth round. Belfort had Jones in a dangerous armbar in the first that had threatened to derail the champ quickly.
There was a second title fight on this card as well, as Demetrious Johnson and Joseph Benavidez fought a close one to be the first flyweight champion in UFC history. Johnson was just too quick and elusive for Benavidez, and he took home the unanimous decision win in a solid fight.
Michael Bisping edged out Brian Stann, and Cub Swanson knocked out Charles Oliveira in fine fashion to move himself up the ranks of the division.
T.J. Grant delivered the Fight of the Night on the undercard with Evan Dunham, and there were also a couple of additional first-round knockouts for the fans to enjoy.
UFC 145 saw six main-card bouts that all had major implications to the division landscape for the rest of the year.
The main event was a highly anticipated bad-blood match between Jon Jones and Rashad Evans for the light heavyweight title. At the time many thought Evans would be Jones' toughest test to date, and although he was able to last the distance, Evans was no real match for the champ.
Rory MacDonald, Ben Rothwell and Michael McDonald all delivered main-card knockouts, while the now-retired Mark Hominick had a Fight of the Night with Eddie Yagin.
The preliminary card showcased some solid talent like Matt Brown, Mac Danzig, Travis Browne, Anthony Njokuani and Chris Clements, who all got victories over tough opponents.
UFC 154 saw the return of welterweight champion Georges St-Pierre to take on no. 1 contender Carlos Condit in his home town of Montreal, Canada.
St-Pierre had enormous pressure coming in to the fight, and he delivered his best performance in years, beating Carlos Condit in five rounds on his way to a unanimous decision win.
The fight did have some drama as Condit connected with a head kick in the third round that nearly ended the champ's reign.
Johny Hendricks put a case of deja vu on Martin Kampmann as he knocked him out with one straight left to the button to secure his place as a top contender to the welterweight crown.
Rafael Dos Anjos looked amazing in his clinic on Mark Bocek, and Mark Hominick vs. Pablo Garza delivered another great fight on the main card.
The preliminary card had some exciting and weird finishes, as Ivan Menjivar landed a lightning-quick and devastating armbar submission on Azamat Gashimov, and Patrick Cote vs. Alessio Sakara ended amid great controversy.
It ended up being one of the best cards of the year.
I wasn't in the building, but by all accounts UFC 142 was one of the most exciting and electric atmospheres in the history of mixed martial arts. And it is largely because of that, that it placed so high on the list.
Catching a fight card in Brazil is an absolute must for any MMA fan, and this one was the cream of the crop in 2012, with home-country hero and champion Jose Aldo defeating Chad Mendes with a trademark brutal knee before running off into a sea of fans on his way back to the dressing room.
This was another card ravaged by the injury bug, and main-card fighter Anthony Johnson failed to make weight for his fight with Vitor Belfort.
Despite the challenges, the main card was electric, with Edson Barboza starting off the festivities with one of the most exciting and unbelievable finishes in UFC history. He floored Terry Etim with a perfect spinning heel kick to the chin that made a highlight for the ages.
Belfort and Rousimar Palhares were able to gain submission wins before Jose Aldo took the stage, and fan-favorite Gabriel Gonzaga returned with a nice submission win.
It was Brazil's best show in 2012.
The UFC made its first trip to Japan in 2012 with UFC 144, which was held at one of the great halls of mixed martial arts: the Saitama Superdome.
The main event was a title fight between then-champion Frankie Edgar and Benson Henderson that saw a very close fight end in a controversial judges' decision to set the stage for an immediate rematch later in the year.
Henderson got the nod from the judges based on significant strikes and damage, but many felt Edgar had scored more and dictated the pace of the fight.
It is all a moot point now, of course, as Henderson defeated Edgar again at UFC 150.
Veteran striker Mark Hunt shocked the masses and spawned a social media resurgence when he knocked out Cheick Kongo, Anthony Pettis gave us another highlight-reel head-kick finish to stop Joe Lauzon and Tim Boetsch silenced the home crowd with a stunning comeback knockout over Yushin Okami.
The prelim card was filled with some of Japan's favorite fighters, as Kid Yamamoto and Takanori Gomi fought on the card.
Like Brazil, watching a fight card in Japan is a must for any mixed martial arts fan.
This event was originally supposed to be headlined by Brian Stann and the debut of Hector Lombard, but injuries turned it into a tilt between Shogun Rua and fan-favorite Brandon Vera.
Even though it looked like an irrelevant mismatch going in, the fight delivered a back-and-forth war that carried this card into the Top Five on this list.
Rua ended up getting the TKO in the fourth round and made it four finishes in four main-card fights of the evening for one of the most exciting cards of the year.
Lyoto Machida knocked out an over-matched Ryan Bader to stay at the top of the light heavyweight division.
Mike Swick knocked out DaMarques Johnson in his return from a long layoff, and Joe Lauzon submitted Jamie Varner in one of the best back-and-forth fights of the year.
Any card with Shogun and Joe Lauzon on it is a clear-cut favorite to make a "Best of" list.
UFC 146 was billed as a heavyweight showcase, and although the final card was different than it was supposed to be, it delivered all the drama and intrigue that the big boys often provide.
Junior Dos Santos was set to defend his title against monster Alistair Overeem, but Overeem failed his pre-fight drug test and Frank Mir stepped in.
The Overeem fallout shifted many of the fighters on the card to different slots, but it remained a huge event to clear up the landscape of the heavyweight division.
Cain Velasquez was supposed to fight Mir, but instead he destroyed newcomer Antonio Silva with ground and pound, opening up a huge gash on the Brazilian's face with blood all over the cage floor. It was Velasquez's return fight after losing his belt last November.
Silva was supposed to fight Roy Nelson, who instead faced Dave Herman and knocked him out with one punch.
Stipe Miocic knocked out Shane Del Rosario, and Stefan Struve landed a slick submission on Lavar Johnson to round out the heavyweight main card.
The preliminary fights also had some intrigue as Jamie Varner announced his return with an upset win over Edson Barboza, CB Dollaway forced Jason Miller to retirement and Dan Hardy saved his job with a knockout over Duane Ludwig.
UFC on Fox's Benson Henderson vs. Nate Diaz was, top to bottom, the best UFC fight card of 2012.
And thanks to the UFC, it was delivered on TV free of charge.
We were thoroughly entertained in the main event by the toothpick-sucking lightweight champion Benson Henderson as he dominated Nate Diaz from start to finish to retain his title. Even though the fight was surprisingly one-sided, it was filled with solid action.
The rest of the main card showcased two up-and-coming young fighters who proclaimed that they are ready to swim with the biggest sharks of their respective weight classes.
Alexander Gustafsson put on a technical display against legend Mauricio "Shogun" Rua to beat him via decision and place himself first in line to challenge Jon Jones.
Bad blood brewed leading up to Rory MacDonald vs. BJ Penn, and MacDonald made a statement beating up on the Hawaiian legend in easy fashion that led to a unanimous decision.
It could be the last time we ever see either Penn or Rua in the cage.
Matt Brown scored a devastating knockout over Mike Swick, Yves Edwards did the same over Jeremy Stephens and Daron Cruickshank and Abel Trujillo added excitement to the card.
Aside from all of that excitement, preliminary fighters Scott Jorgensen and John Albert delivered the best fight of the night to make this event a clear-cut winner for the best fight card of 2012.
Dwight Wakabayashi is a featured columnist for Bleacher Report UFC and regular contributor to Sportsnet.ca's UFC section. Follow him on Twitter @wakafightermma.