Ranking Every Move by the Cincinnati Reds During Busy Offseason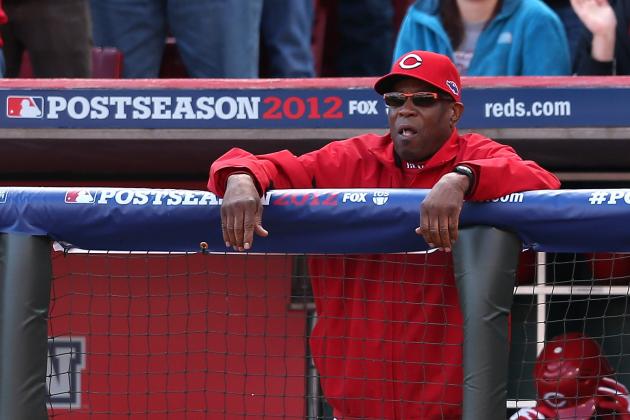 Andy Lyons/Getty Images

The Cincinnati Reds are looking to win the National League Central and make a deep playoff run in 2013, so it's time to evaluate the team's offseason moves.
For the second straight offseason, the team stayed put at the winter meetings. Just like last year, the Reds made some major moves after the meetings wrapped up.
Aroldis Chapman will try to move from closer to the rotation, but that move won't be evaluated because of his impact as closer. However, it could end up being the biggest decision of the offseason.
Cincinnati had three glaring needs entering the offseason: leadoff man, center fielder/left fielder and adding to the bench. A reliever was also part of the list, but the team had bigger needs to fill.
It's unclear if third baseman Scott Rolen will return or retire, but it would be a good addition if he accepted a bench role. He's a clubhouse leader and is still a great defender. Having him mentor Frazier can only help the team. It would rank among the best moves of the offseason if he returns.
Most of the roster stays intact, so the Reds are in great position to make a playoff run in 2013. The offseason moves should only enhance the team's chances next season.
So what was the most important move of the offseason?
Feel free to make an argument for any moves that should be swapped.
*Stats are from ESPN.com
Begin Slideshow

»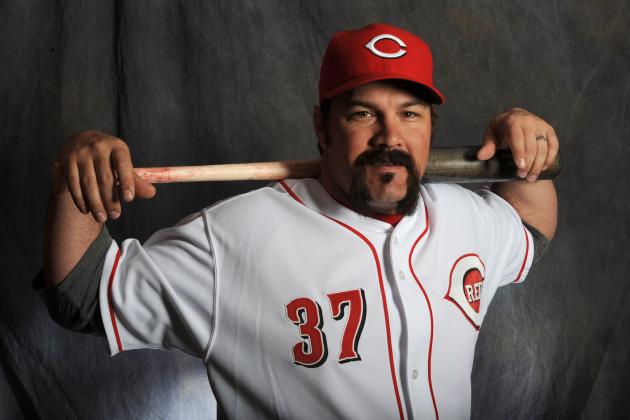 Rich Pilling/Getty Images

The legend of Corky Miller continues.
This might be one of the more popular moves made by the Reds this offseason. The team gave the catcher a minor league deal but will get an invitation to spring training.
When Dioner Navarro signed with the Chicago Cubs earlier this offseason, it left the Reds with very little depth at catcher.
Ryan Hanigan had a great all-around season in 2012, and Devin Mesoraco will look to rebound from a difficult rookie season. No other catcher in the organization is ready to play in the big leagues next year, so Miller's signing could be important.
If one of the catchers gets injured or Mesoraco continues to struggle, Miller could see some time in the majors next year.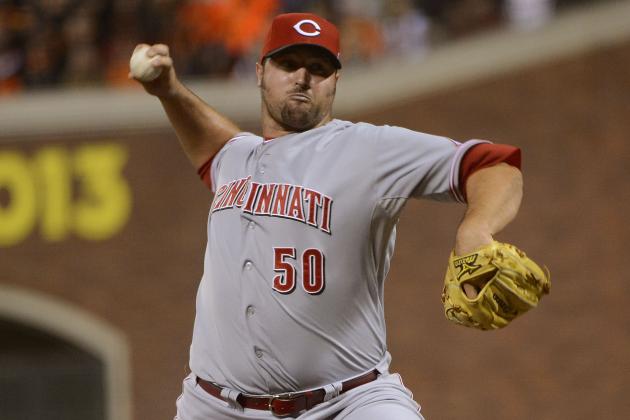 Thearon W. Henderson/Getty Images

Jonathan Broxton ended up being a good fit in Cincinnati after coming over from Kansas City at the trade deadline.
Between Broxton and Ryan Madson, the Reds were hoping to re-sign one of the former closers. It would allow the team to move Aroldis Chapman to the rotation. Madson was coming off of an arm injury, so Broxton was the easy choice.
It wasn't cheap to keep Broxton, but it helped keep baseball's best bullpen together. Ken Rosenthal of Fox Sports tweeted that the reliever signed a three-year deal worth approximately $21 million.
Broxton deal with #Reds is three years, $21M. Also a club option for 2016. Salaries of $4M-$7M-$9M, with $1M buyout on $9M option.

— Ken Rosenthal (@Ken_Rosenthal) November 28, 2012
Letting Madson go also made this move look good. If Chapman ends up turning into an ace, this will be the best move the team has made in a long time.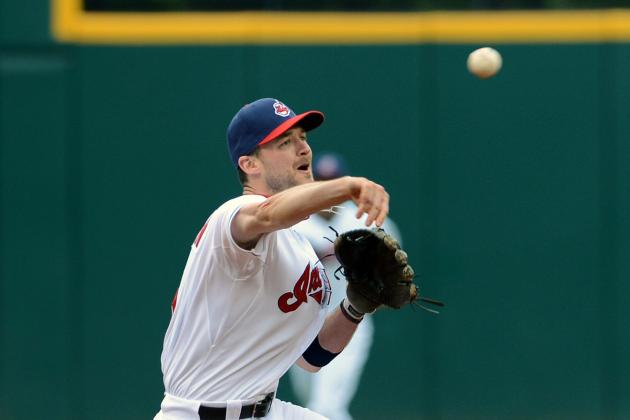 Jason Miller/Getty Images

Not a big move but signing Jack Hannahan gives the team some depth.
Wilson Valdez and Miguel Cairo have not been re-signed, so Hannahan will fill the utility role off the bench. The Reds have a great infield, but injuries to any of them would allow Hannahan to jump in and show what he can do.
The 32-year-old has played every infield position except second base, so his versatility will be used in Cincinnati next season. He has mainly been a third baseman, which is the position the Reds will use him at the most. Joey Votto and Brandon Phillips will need time off occasionally, but Todd Frazier will play in his first full season at third base next year.
Hannahan is a very good defender but has room to improve on offense.
His average has never been impressive, but he has shown the ability to hit in clutch situations. He has hit .323 with runners in scoring position the last three seasons.
Cincinnati struggled to find a left-handed hitter for the bench last season, so Hannahan can help fill that role.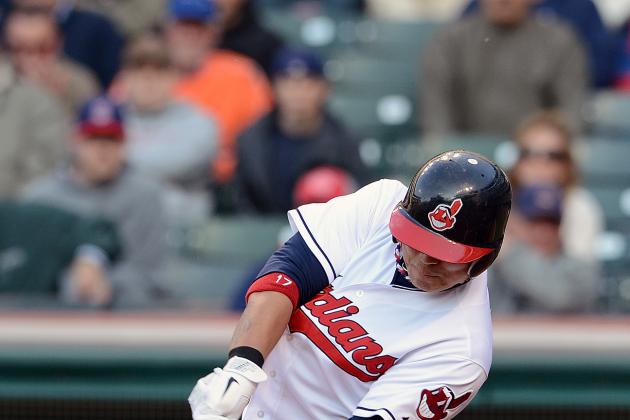 Jason Miller/Getty Images

Here is where the controversy will come from.
Reds fans will argue that not only does this move bring over Shin-Soo Choo, but former Red Drew Stubbs is no longer on the roster. They see it as the best of both worlds.
Yes, this move will significantly improve the leadoff spot. Choo hit .310 with an on-base percentage of nearly .390 from the top spot in 2012. He also has the ability to hit 15 to 20 home runs in a season, so he is dangerous in more than one way.
Choo stole 21 bases last season, which was only nine fewer than Stubbs. However, the Reds now lack serious speed on the bases.
Offensively, this is a great move for 2013. The team now has an extremely deep lineup and could make a run at the World Series. But this is just a one-year deal.
It also hurts the team on defense. Choo has a great arm, but he isn't a great fielder. Not only does his average defense hurt the team, but it will force Cincinnati to use him or right fielder Jay Bruce in center next year.
Choo has never consistently played center in the majors, and Bruce will win a Gold Glove one day in right field. Stubbs was also a Gold Glove finalist in center last season. It's a good bet that Choo will be in center for the Reds in 2013.
How can a move that could help the team make a playoff run not be the top move of the offseason? Well, the Reds won 97 games in 2012 despite having very little production out of the top of the lineup. They were one win from the NLCS.
It's a good move, but the leadoff position is not as big of an issue as everyone made it to be. This team is built on pitching, defense and chemistry. Let's see how this move pans out.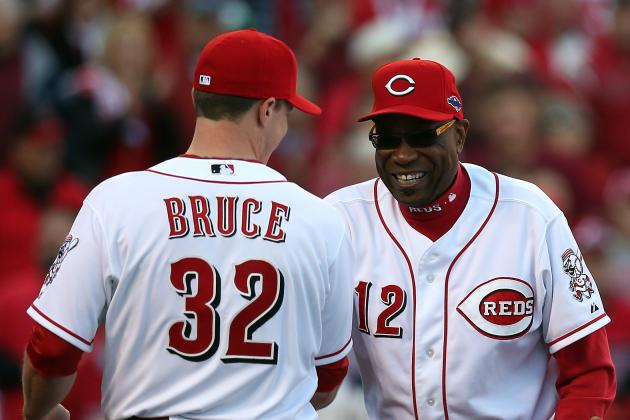 Jonathan Daniel/Getty Images

Fans, calm down. Dusty Baker is a good manager. He is not the reason the team lost to the San Francisco Giants in the NLDS. I don't recall him ever stepping up to the plate or taking the field.
Under Baker, Cincinnati has captured two division crowns. Eventually the team needs to get past the first round, but this is still a young team.
He earned a two-year extension by piecing together lineups in 2012 despite having an awful bench. Some of the lineups were questionable, but they won most of the games where he took chances by inserting backup players.
Baker has always been popular in the clubhouse, which is a big reason why the team had such great chemistry last season. Players want to play for him because he has their backs. Free agents are more likely to come here because of his managing style.
The 63-year-old handled baseball's best bullpen perfectly. In the postseason, he handled the injury to Johnny Cueto as well as any manager could have. He had no choice but to go to Mike Leake in Game 4.
It may not seem like a big move but think about who the Reds had as manager before Baker arrived. Some of the names should make fans cringe.
Baker knows when to give his players a day off and sticks up for his players when necessary. Add those together and it becomes a fun atmosphere to play in.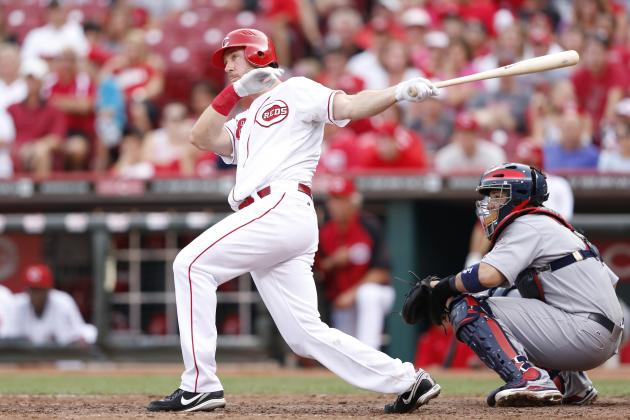 Joe Robbins/Getty Images

The Reds could have added a leadoff man who played left field, but Ryan Ludwick was an important part of last year's success.
Ludwick got a two-year deal and solidified the middle of the order. It allows Joey Votto and Jay Bruce to have some help knocking in runs. His 26 home runs and 80 RBI both ranked second on the team behind Bruce.
Adding a leadoff man seemed important, but the Reds needed to keep a run producer in the cleanup spot. The 34-year-old resurrected his career in Cincinnati and is looking to build on last season.
When Votto went down, Ludwick was one of the main guys leading this team.
He came up with many key hits over the course of the season, and Cincinnati benefited from taking a chance on him last offseason.
It does no good to have a leadoff man if there's not several people behind him to knock him in. By retaining Ludwick, the Reds have a productive middle of the order.
Chemistry shouldn't be overlooked, and Ludwick was one of the team's leaders in the clubhouse. The team played loose all year, which resulted in many comeback victories.
He managed to reach base in all five postseason games and has a career .333 average in the playoffs. He showed up in October in 2012, and he can hopefully help lead the team deeper into the playoffs next season.
It may not be the flashiest move, but re-signing Ludwick will be the biggest personnel move made by the Reds this offseason.