USC Football: Projecting Lane Kiffin's 2013 Offensive Depth Chart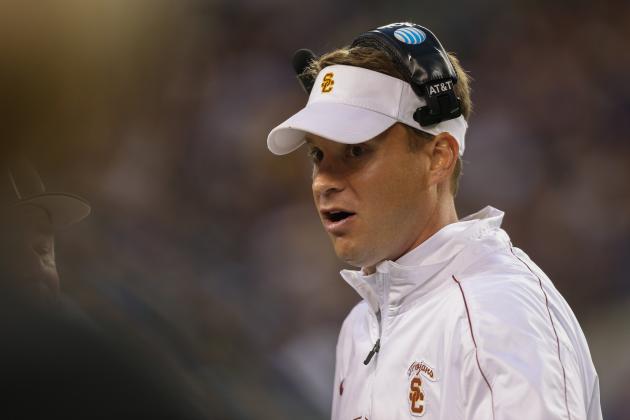 Otto Greule Jr/Getty Images

As USC puts the finishing touches on what all would agree was a disappointing 2012 college football season, fans of the program are eager to move on to what they hope is a brighter future for their beloved men of Troy.
And there is reason for optimism as USC will welcome a 2013 team that, despite having to replace some incredibly important graduating seniors, will be decidedly more experienced and, perhaps as significant, will be desperate to wash away the disappointment of 2012.
With that in mind, this slideshow will offer a very early look at next season's offensive depth chart with an overview by unit and a projection by position as to who will start along with their backups.
Though not etched in stone, here is a way-too-early look at what Trojan fans will be seeing on the offensive side of the ball in 2013.
Note: Projected starters are in bold
Begin Slideshow

»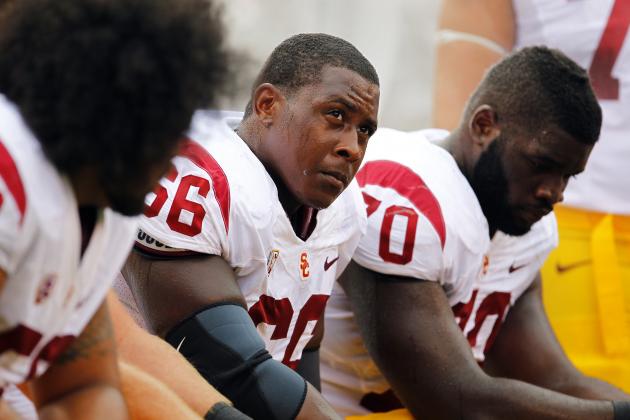 Rich Schultz/Getty Images

Without a doubt, there will be two primary questions regarding the offensive line that the Trojans will seek to resolve prior to the start of the 2013 college football season.
First, who will try to fill the ample shoes of departing senior center, Khaled Holmes? Holmes was one of the most valuable players for the Trojans over the last couple of years and there was no greater evidence of that as when Stanford's defensive line dominated USC when Holmes was injured during their win over the Trojans early in 2012.
A variety of potential replacements include Cyrus Hobbi who disappointed in that Stanford game and possibly a move by guard John Martinez who has some experience at the position. Also, Marcus Martin has been practicing at the spot and may move over there in 2013.
The other burning question for the offensive line is who will finally claim the critical left tackle spot?
When the season started, it was widely considered that Aundrey Walker was on the threshold of stardom and that only game experience separated him from his eventual rendezvous with All-American honors.
However, true freshman Max Tuerk surprised everyone with his play when Walker struggled and now this competition is neck-and-neck.
Depth Chart:
Left Tackle:

Max Tuerk
Aundrey Walker
Chad Wheeler
Right Tackle:
Kevin Graf
Zach Banner
Nathan Guertler
Center:
Cyrus Hobbi
John Martinez
Marcus Martin
Khaliel Rodgers (true freshman)
Left Guard:
Marcus Martin
Jordan Simmons
Right Guard:
John Martinez
David Garness?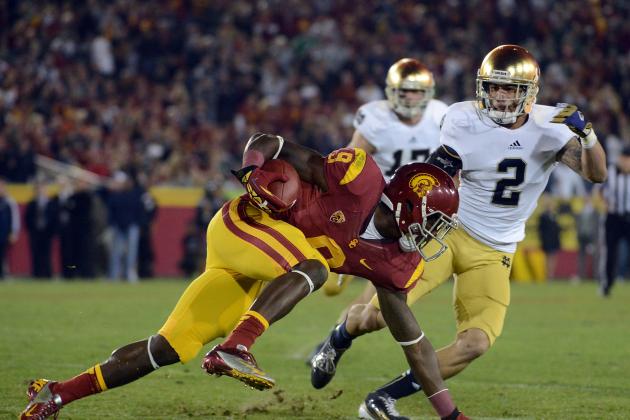 Harry How/Getty Images

While wide receiver is set with returning "All-Everything" junior-to-be Marqise Lee, things are much more unsettled at flanker until Robert Woods declares his intentions regarding his professional aspirations.
Should Woods decide to return, it will once again set the Trojans up for having one of—if not the most—dynamic duos of pass catchers in the nation.
However, even if Woods decides to take his talents to the next level, the Trojans should be fine as this is one area where USC is fairly deep.
Either way, the next Trojan signal-caller should be all smiles as he surveys his possible targets in 2013.
Flanker
Robert Woods
George Farmer Jr.
De'Von Flournoy
Victor Blackwell
Wide Receiver
Marqise Lee
Nelson Agholor
Darreus Rogers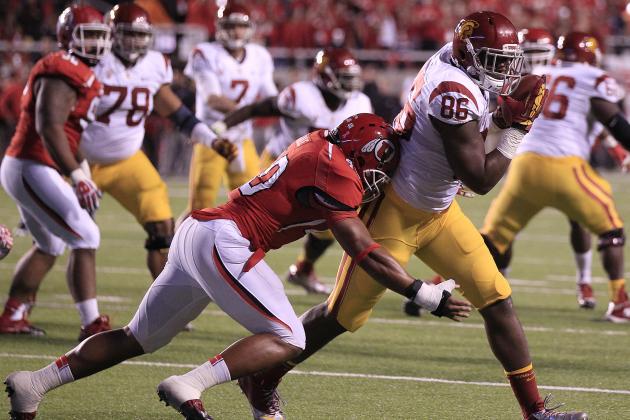 George Frey/Getty Images
Xavier Grimble
Another unit where the Trojans have an embarrassment of riches is at tight end.
With USC welcoming back their 2012 "co-starters," Xavier Grimble and Randall Telfer, the Trojans are so deep that promising redshirt sophomore Junior Pomee will likely see some action at receiver as well as a pass catcher on the offensive line.
In fact, the men of Troy are so well stocked at this position, they didn't even recruit a prep player for the 2013 class.
Xavier Grimble or Randall Telfer
Jalen Cope-Fitzpatrick
Junior Pomee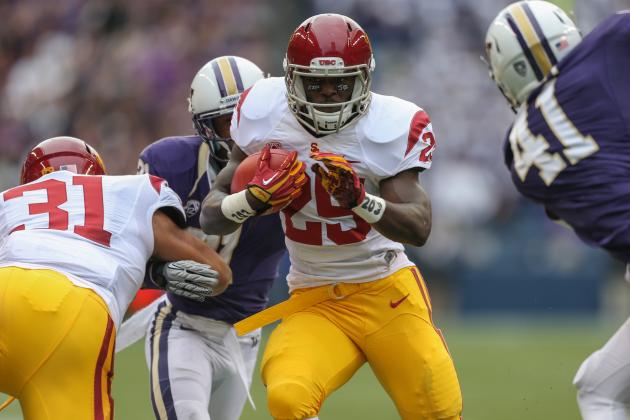 Otto Greule Jr/Getty Images
Silas Redd
At running back, the Trojans seem fairly set with the only question being whether senior-to-be Silas Redd returns in 2013.
If so, this will likely relegate the incoming stud running backs—Justin Davis and Ty Isaac—to redshirt status for the upcoming year.
The depth chart will depend on the health of returning running back Tre Madden—who missed 2012 due to knee surgery.
If he is healthy, Madden could push Redd for carries and even the starting gig.
At fullback, Soma Vainuku will start the 2013 season as the favorite to start, but after a somewhat disappointing season this year, he could be over taken by true sophomore Jahleel Pinner.
Tailback

Silas Redd
Tre Madden
D.J. Morgan
Javorious (Buck) Allen
Fullback

Soma Vainuku
Jahleel Pinner
Hunter Simmons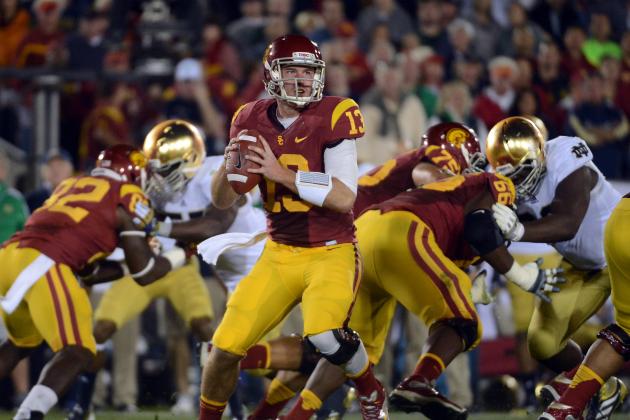 Harry How/Getty Images
Max Wittek
Despite the Trojans saying goodbye to a quarterback that has meant so much to the program (Matt Barkley), the future is bright at this position.
With two years already in the system, both Max Wittek and Cody Kessler have the knowledge and the talent to lead USC to brighter days ahead.
Mix in the Gatorade national player of the year in the form of incoming freshman Max Browne, and there is reason for hope as the Trojans move forward into a new era of USC football.
Look for Wittek to break fall camp as the starter with a spirited battle for the backup position between Kessler and Browne.
However, if Browne beats out Kessler for that spot, Kessler may look for brighter pastures elsewhere.
Max Wittek
Cody Kessler
Max Browne (redshirt?)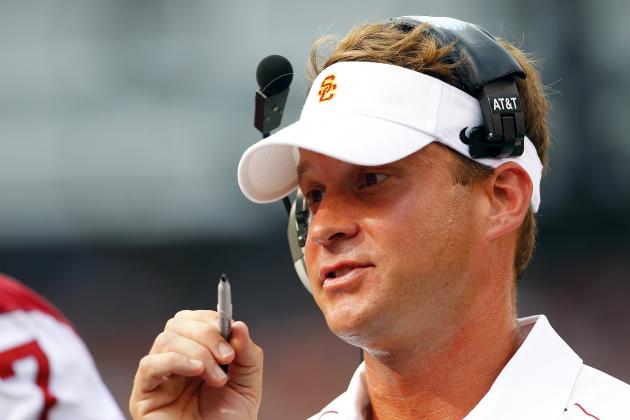 Rich Schultz/Getty Images

With dozens of practices ahead of them before the 2013 season starts, the best characterization of the upcoming seasons depth chart would be defined as fluid to say the least.
Juniors who still may declare for the draft, injuries and, of course, the abilities of the players themselves will all have a profound effect on who takes the field as starters this year.
Whomever those players may be will be hoping to have a more successful season than the 2012 version of the men of Troy did.
And with Head Coach Lane Kiffin's job likely riding on their efforts, he will endeavor to send his best team out there to be sure.
Will it be enough to get the Trojans back to where they want to be?
Time will tell.