San Jose Sharks: 5 Best Prospects to Crack 2013-14 Roster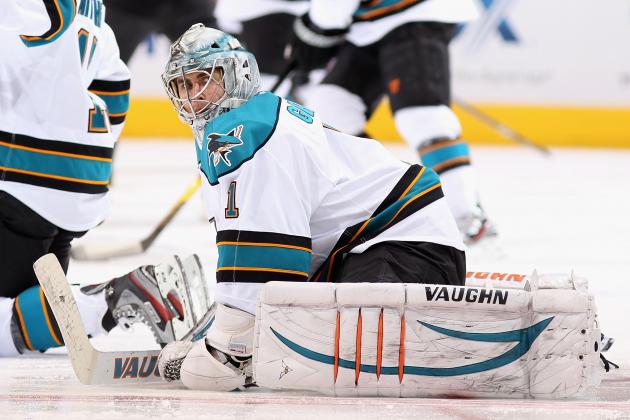 Christian Petersen/Getty Images
Could Thomas Greiss be the San Jose Sharks starter in net soon?
With the potential of a lost season from the NHL lockout looming, teams like the San Jose Sharks must ask themselves tough questions about their future.
What young talent can step up into regular roles the team can then choose to open up? Which of those that cannot fill such roles will be worth holding onto?
(See the four most likely veterans lost next summer over at San Jose Sharks Examiner.)
For the purpose of this list, a regular role is determined to be playing in almost every game. This rules any goalies out for the Sharks because they will not give up on Antti Niemi with two years left in his contract unless the season is not lost and he plays badly in it.
In that event, only Thomas Greiss could possibly be ready for anything more than the backup role he already has. Alex Stalock and Harri Sateri would be lucky to be capable of taking that No. 2 job should San Jose let Greiss walk in free agency.
Ironically, that leaves the Sharks only deep prospect position as the only without a player capable of breaking into an everyday role. Both skater positions are thin but offer multiple possibilities for new contributors. The five most likely choices are as follows...
(MJ Kasprzak is a paid columnist for San Jose Sharks Examiner and SF Christian Examiner.)
Begin Slideshow

»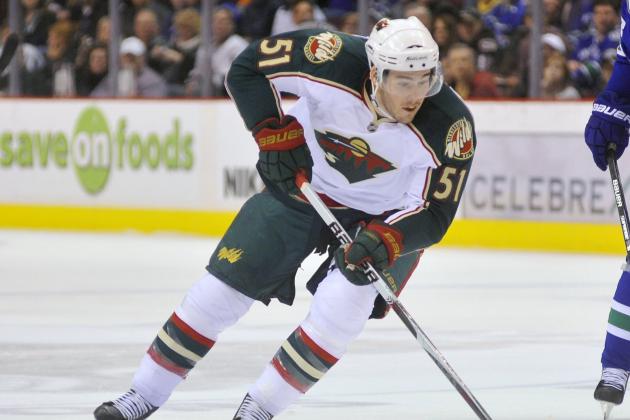 Rich Lam/Getty Images

The San Jose Sharks traded a third-round pick for James Sheppard in 2011. Thanks to a serious injury, he failed to take the ice at the NHL level before the team re-signed him to a one-year deal the next summer.
As a restricted free agent next summer, the Sharks should be able to afford him.
He was a checking line centre for three seasons with the Minnesota Wild before coming to San Jose. Thus, it is logical to expect him to be capable of stepping in on a daily basis when that role becomes open in seven months.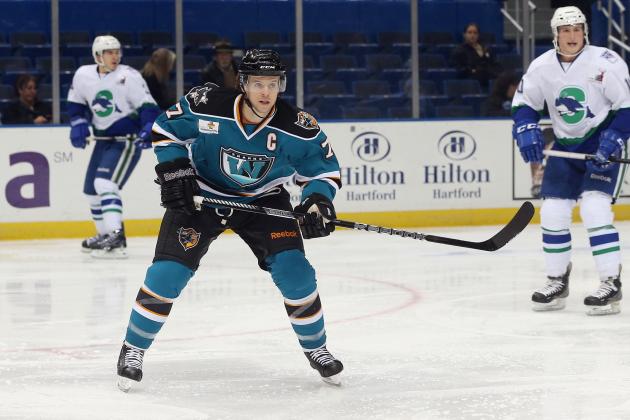 Bruce Bennett/Getty Images

John McCarthy has been a "cup of coffee" NHL player, playing 51 games with the San Jose Sharks over the past three seasons. But the team said they expect him to be a regular when they signed him to a two-year extension last summer.
Their action speaks louder than words. The contract is only two-way this season, meaning he will have to clear waivers to be designated for assignment to the minors next season.
He will be given every chance to prove he is a qualified role-player in the top hockey league in the world.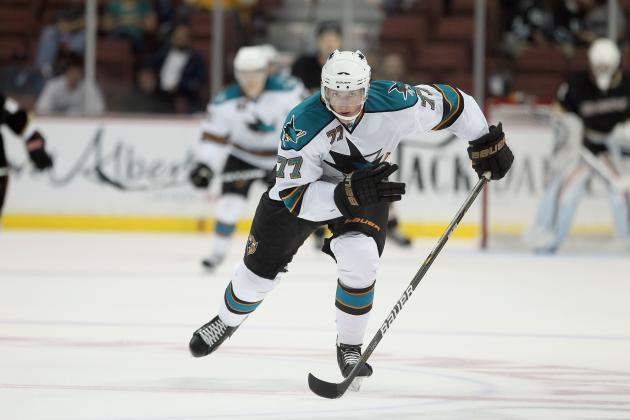 Jeff Gross/Getty Images

With the potential of losing both Douglas Murray and Jason Demers next July, the San Jose Sharks will be looking for someone from their system to step up rather than sign a free agent.
Taylor Doherty is by far the closest to NHL-ready. He offers the same skill set as Murray (physical, stay-at-home big man who is offensively challenged), but will cost less and has a chance to be more since he will start next season at just 22 years old.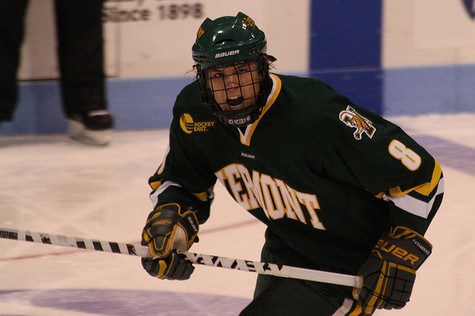 Sebastian Stalberg was nearly a point-per-game producer in his three seasons at Vermont and has 13 points in 35 games with the Worcester Sharks.
Neither is especially impressive, but he is on this list ahead of 2012 first-round pick Tomas Hertl because he is still closer to NHL-ready. Not only is he four years older, but he has played in the more physical North American game and faces fewer language or cultural obstacles.
Hertl will play a major role sooner, but there is a higher chance of Stalberg simply making the everyday lineup.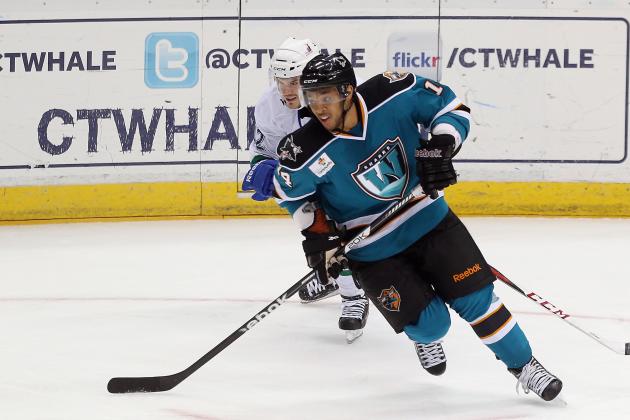 Bruce Bennett/Getty Images

Sena Acolatse is 22 years old and shows potential as a two-way defenceman at the NHL level. He has 37 points and 132 penalty minutes in 91 games for Worcester.
If the San Jose Sharks should lose more than one player on the blue line, Sena has a chance to crack their roster by simply being less of a liability in his own end than Taylor Doherty is on the attack.