Comparing Aaron Rodgers to the Rest of the NFL MVP Candidates in 2012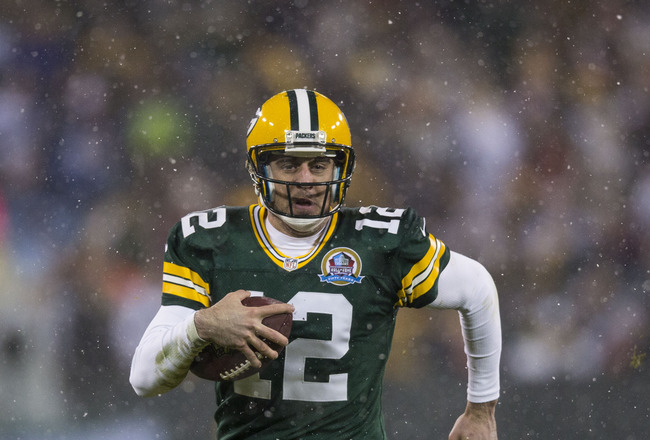 Tom Lynn/Getty Images
We have reached the point in the 2012 NFL season when players, coaches and members of the media start promoting players that they believe should win the NFL MVP Award.
To most observers, there are five legitimate candidates for the award this season. Those players are quarterback Aaron Rodgers of the Green Bay Packers, quarterback Peyton Manning of the Denver Broncos, quarterback Tom Brady of the New England Patriots, running back Adrian Peterson of the Minnesota Vikings and defensive end J.J. Watt of the Houston Texans.
All five of the candidates have put together great seasons in 2012, and the last two weeks of the season may determine who actually will win the award. Three of the five candidates—Rodgers, Manning and Brady—have already won the coveted award in the past.
Manning has won it four times, Brady has won it twice and Rodgers won it last season. The last player to win the award not named Manning, Brady or Rodgers, was running back LaDainian Tomlinson in 2006.
Let's take a look at each of these players, and see how their 2012 statistics compare to one another.
Aaron Rodgers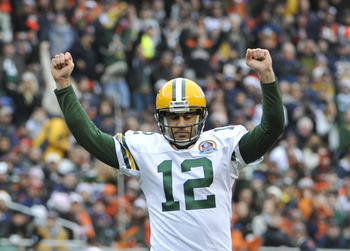 David Banks/Getty Images
Aaron Rodgers won the 2011 NFL MVP Award, when he put together a year for the ages. Rodgers had 45 touchdown passes, compared to just six picks, for 4,643 yards. Rodgers also had a 122.5 quarterback rating, which not only led the league, but also became the all-time record for quarterback rating in a season.
Rodgers has come close to matching those numbers again this season. Through 14 games, Rodgers has 32 touchdown passes, versus just eight interception, for 3,588 yards. Rodgers also has a NFL-leading 104.7 quarterback rating.
Rodgers has accomplished this while many of his offensive teammates have been injured. Starting running back Cedric Benson and starting right tackle Byran Bulaga both suffered season ending injuries, while both Greg Jennings and Jordy Nelson have missed a number of games at the wide receiver position due to injuries.
Not only that, but Rodgers has been sacked a league-leading 45 times.
Of the three quarterbacks in the mix this year for the MVP award, Rodgers is definitely the best of the three in terms of running the football.
Rodgers has rushed for 248 yards so far in 2012—including two scampers for more than 20 yards—plus he has scored a rushing touchdown.
Rodgers has also led the Packers to their second consecutive NFC North title this season.
Peyton Manning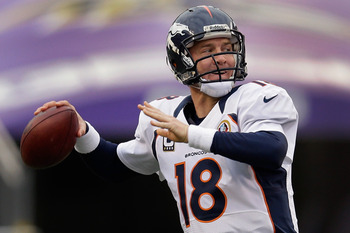 Rob Carr/Getty Images
Peyton Manning is no stranger to the NFL MVP Award. In fact, no player in NFL history has won the award as many times as Manning has.
Manning has won the award in 2003, 2004, 2008 and 2009.
The season that Manning has put together in 2012 is remarkable for a couple of reasons. For one, Manning missed all of the 2011 season due to a neck injury that some thought would force Manning to retire.
Manning had a number pf medical procedures done to alleviate his neck issues, and he looks like the same old Peyton in 2012. Except this year, it's not with the Indianapolis Colts.
Manning moved on to the Denver Broncos in 2012, and has led the team to the AFC West title with an 11-3 record so far.
Manning has thrown 31 touchdown passes, compared to 10 interceptions, for 4,016 yards. Manning also has a 103.5 quarterback rating.
Manning doesn't run too often, as evidenced by his six total yards rushing, but he is nimble enough in the pocket and has only been sacked 21 times.
Tom Brady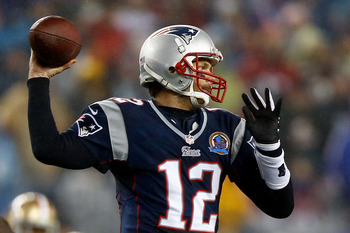 Jared Wickerham/Getty Images
Tom Brady is also no stranger to the NFL MVP award. Brady won the award in 2007 and 2010.
Brady is having another great season again in 2012, as he has thrown 30 touchdown passes, compared to just six interceptions, for 4,276 yards. That all adds up to a quarterback rating of 100.1.
Brady has also led the New England Patriots to a 10-4 record and yet another AFC East title this season.
Brady is like Manning, in that he doesn't get sacked too often. So far in 2012, Brady has only been sacked 23 times.
Brady only has 32 yards rushing this season, but there isn't any quarterback in the NFL that sneaks the ball as well as Brady, as evidenced by his four rushing touchdowns.
Adrian Peterson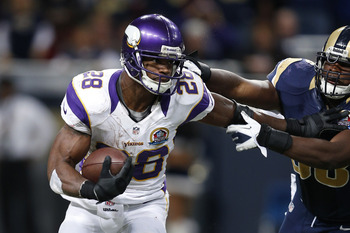 Joe Robbins/Getty Images
Adrian Peterson is having a fantastic 2012 season for a couple of reasons.
For one, Peterson suffered an ACL tear late last season in his left knee. Secondly, Peterson has come back so strong that he has a decent chance of breaking Eric Dickerson's all-time single-season rushing record of 2,105 yards, which was set in 1984.
That is truly remarkable, especially when one considers that he suffered his terrible knee injury the day before Christmas in 2011.
So far in 2012, Peterson has rushed for 1,812 yards and 11 touchdowns. Included in that is 20 runs of 20-plus yards, and eight runs of 40-plus yards.
Peterson is finishing the season strong, as he has twice rushed for over 200 yards in the last three weeks.
Peterson has helped lead the Minnesota Vikings to a possible spot in the NFC playoffs also. Right now, the Vikings are the No. 6 seed in the NFC.
Even with Peterson's accomplishments this season, history tells us that he still might not garner the MVP award.
In 1984, when Dickerson set the all-time rushing record, the running back of the Los Angeles Rams did not win the NFL MVP Award. Instead, the award went to quarterback Dan Marino of the Miami Dolphins.
J.J. Watt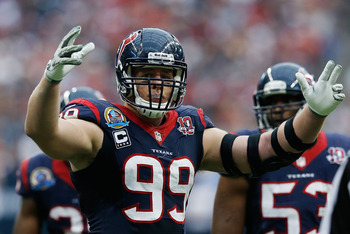 Scott Halleran/Getty Images
Defensive end J.J. Watt of the Houston Texans is trying to become the first defensive player to win the NFL MVP Award since Lawrence Taylor won the award in 1986.
I don't believe Watt will win the NFL MVP Award, but he is most definitely the front runner to win the Defensive Player of the Year Award in 2012.
Watt has 74 total tackles and 19.5 sacks. He has also forced three fumbles, recovered two fumbles and has knocked down or deflected 15 passes. That is a very strong resume.
Watt, along with Aldon Smith of the San Francisco 49ers (who also has 19.5 sacks), has a legitimate chance to break Michael Strahan's all-time record of 22.5 sacks in a season.
Watt has also helped lead the Texans to a 12-2 record and an AFC South title.
Keep Reading