Blueprint for Los Angeles Lakers to Actually Miss the Playoffs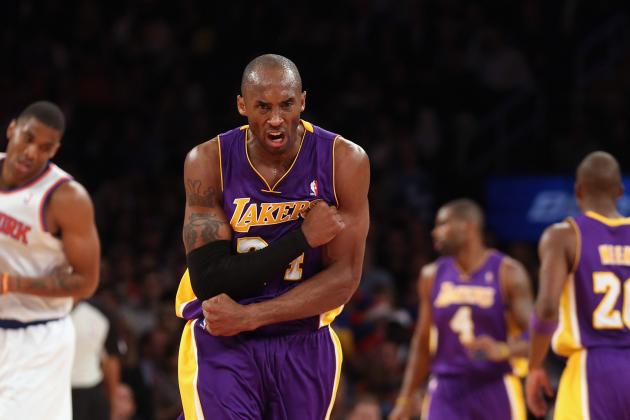 Bruce Bennett/Getty Images

If there's a silver lining to be found in the black cloud hovering over the Los Angeles Lakers following their embarrassing 116-107 loss to the New York Knicks on Thursday night it's this: The NBA playoffs don't start tomorrow.
If they did, the Lakers, at 9-14, would be spending the postseason at home, with plenty of time to count ping pong balls ahead of the NBA draft lottery.
Fortunately for LA, it has five months to clean up the mess into which the 2012-13 season has thus far devolved.
Or is that unfortunately? It will be if the Lakers continue to slog through the campaign as they have to this point. The list of explanations and excuses is endless—Steve Nash and Pau Gasol are injured; Dwight Howard isn't at full capacity just yet; the team as a whole can't find solid footing together with everything changing around it.
But the Lakers can't expect the rest of the league to wait up while they spin their wheels. Few (if any) could've predicted that this team, after the blockbuster summer it enjoyed, might actually miss the playoffs.
Yet, even an NBA-high $100-million payroll can't guarantee that the Lakers will be playing past mid-April.
Begin Slideshow

»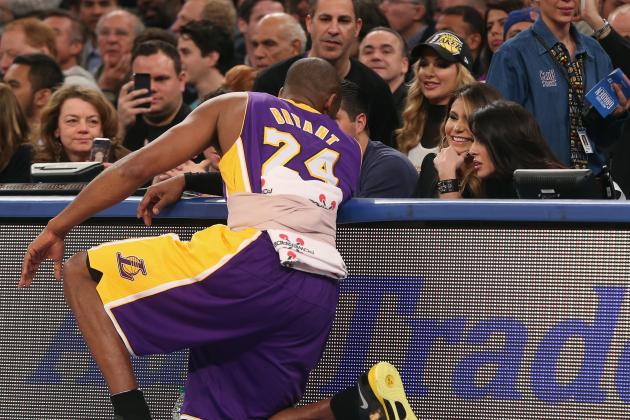 Bruce Bennett/Getty Images

The Lakers certainly won't be sniffing the postseason in 2013 if Kobe Bryant feels compelled to take over every night. LA dropped to 1-11 when the Black Mamba tops the 30-point plateau with Thursday's defeat, in which he tallied 31 points on 24 shots.
Are the Lakers failing because Kobe's doing too much? Or is Kobe doing so much because the rest of his teammates aren't contributing their fair share?
Either way, it's not a good sign when Bryant does (or has to do) so much. A bigger offensive burden for Bryant leaves him with less energy to expend on the defensive end and his teammates isolated from the flow of the game.
Worse still, Bryant's been playing big minutes under Mike D'Antoni and the ill effects are starting to show. He started the night a perfect 4-for-4 from the field but missed his next eight attempts while battling back spasms.
It was only a matter of time before the weight of the world took its toll on Kobe's health. The last thing the Lakers need is another of their stars succumbing to an injury. If you thought the Lakers were struggling already, just imagine what a complete mess they'd be without the Mamba...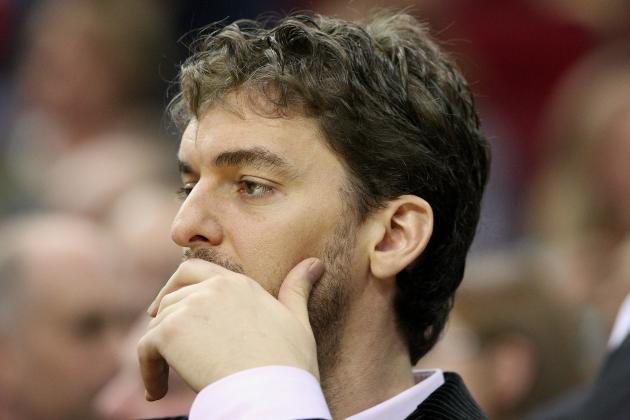 USA TODAY Sports

...Seeing as how they've already been a disaster sans Pau Gasol.
With or without weak knees, Gasol is hardly guaranteed to thrive in Mike D'Antoni's offense. He was misused enough—as a spot-up power forward rather than a post-up center—under Mike Brown and wasn't exactly succeeding in a similar role under Mike D.
To be sure, Gasol's further decline this season might have as much to do with tendinitis as offensive confusion or a lack of confidence. Then again, he's always been better suited to punishing opponents on the low block.
D'Antoni should know as much. He was on hand when Gasol dominated Team USA in the paint at the 2012 London Olympics and nearly led Spain to the gold medal, even with brother Marc mired in foul trouble.
True, D'Antoni's offense has trouble enough functioning with one big man in the post, much less two. But if there's anything to be learned from LA's second-half near-comeback, it's that the Lakers function better with a slow, deliberate, half-court style of play than by forcing old legs to push the pace.
Lakers fans can only hope that D'Antoni took note. Otherwise, if he insists that Gasol spend the bulk of his time on the perimeter when he returns, the Lakers as a whole only figure to sputter along while one of the league's most skilled big men wastes away.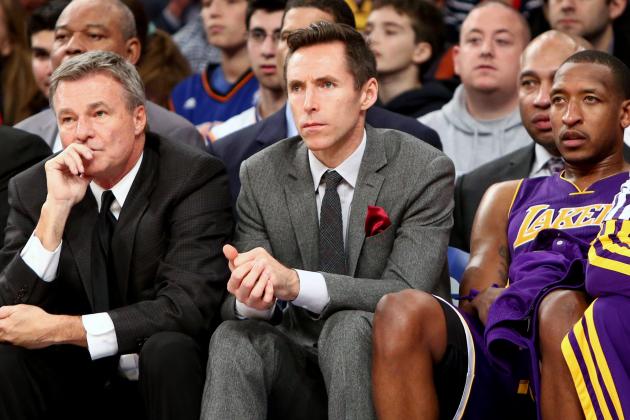 USA TODAY Sports

Suppose D'Antoni doesn't budge. At least Pau can count on Steve Nash making him comfortable in the offense, right?
That is, if the nerves near Nash's left fibula ever heal properly. According to Dave McMenamin of ESPNLosAngeles.com, the two-time MVP is back to running and may well be participating in practice again next week:
Steve Nash says he plans to return to practice next week. He has started running in the last couple days. No return game circled though

— Dave McMenamin (@mcten) December 14, 2012
His re-debut can't come soon enough. The Lakers' point-guard play has been abysmal in the absence of Nash and backup Steve Blake. Few teams (if any) could hope to compete at a high level in today's NBA with Chris Duhon and Darius Morris running things.
Their poor play has necessitated more facilitation from Kobe...and led to far more turnovers than the Lakers could ever hope to handle. They rank among the league's worst teams in nearly every statistical category related to ball security.
Even when Nash returns, there are no guarantee that, at 38, he'll be effective enough to lend the Lakers a whole new identity. He'll be an upgrade at the point, but LA may need something closer to a savior to dig out of its current hole.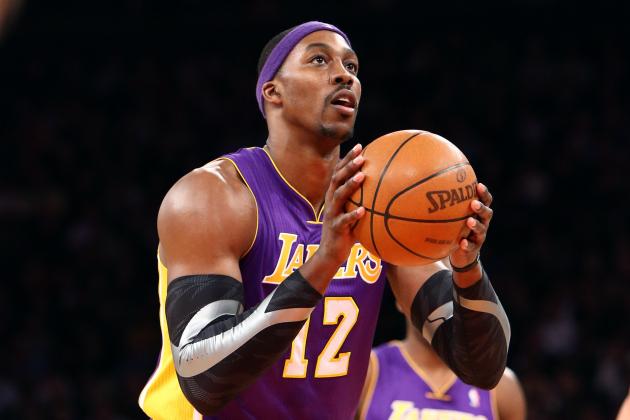 USA TODAY Sports

Speaking of injuries, Dwight Howard's back remains on the mend, but it may be his confidence that requires the most therapy in the end. As TJ Simers of The Los Angeles Times recently relayed, even his father has noticed that Dwight isn't playing with the same energy and enthusiasm that was his trademark.
Prior to the "Dwightmare," that is.
And it's shown, particularly at the free-throw line. Howard's accuracy is up to 49.2 percent—just above a career-low set in 2011-12—after converting 4-of-6 attempts in New York on Thursday.
The present and future of the Lakers franchise depends not just on Dwight's ability to hit his freebies, but, on a greater level, playing without restraint, without fear of being made a fool at the foul line. He's the best big man on the planet, or will be once he's 100-percent healthy.
When that time comes, he'd better start performing up to his billing, lest he miss the playoffs for the first time since 2006.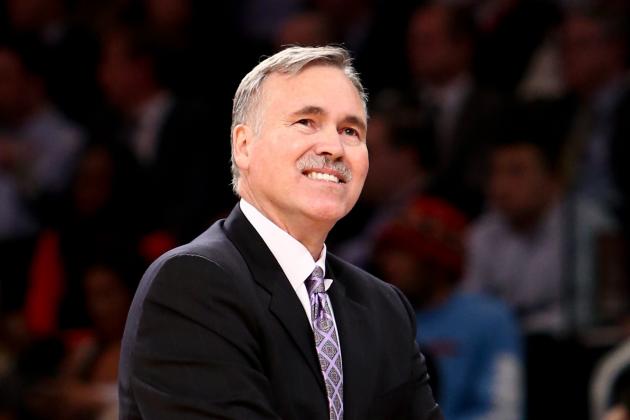 USA TODAY Sports

Let's say, for the sake of argument, that Howard's back, Pau's knees and Nash's leg are all in ship shape within the next few weeks.
At that point, would it be wise for Mike D'Antoni to implement in earnest the offense for which he's so well known? Are the Lakers, at full strength, well-suited to jacking up shots in seven seconds or less?
We won't know for sure until they try, though the circumstances would seem to suggest otherwise. D'Antoni's system is predicated on spreading the floor with perimeter shooters to make room for pick-and-rolls in the middle.
But the Lakers don't have much in the way of marksmen, even though they walked into Madison Square Garden with the sixth-best three-point percentage of any team in the league. LA's greatest offensive strength, rather, is post play, of which it has plenty.
Gasol, Howard and Bryant are three of the best with their backs to the basket in the NBA today. D'Antoni may not care for the way that post-ups deaden the vitality of his offense, but for a team bereft of ideal pieces, a slower, more deliberate approach may suit the Lakers better.
Not to mention how time-consuming it might be for D'Antoni to rewrite the script to his particular tastes midseason, especially with so many other problem areas to address.
Namely the defense, which was abysmal in New York. Mike D'Antoni snapped at Los Angeles Times columnist TJ Simers on Tuesday when told that the Lakers don't practice defense enough.
D'Antoni's response? They spent a half hour working on it as a team. By the looks of things, they'll need much more than a cursory 30 minutes to sort out assignments and get the Lakers back to the basics of playing fundamentally-sound team D.
Unless, of course, he'd prefer to oversee a squad that runs and guns its way even further out of the playoff picture.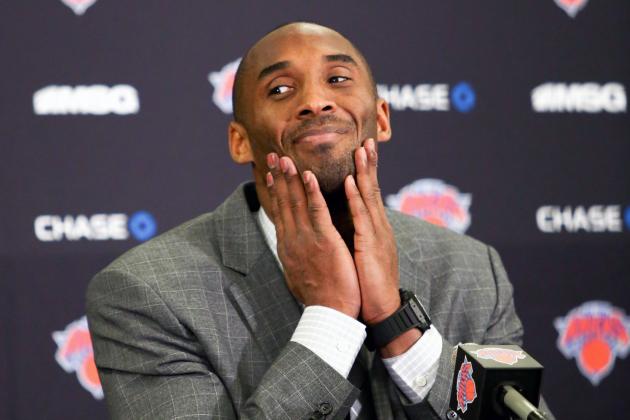 USA TODAY Sports

What's more troubling for the Lakers, though, is the context in which their struggles have occurred.
They've enjoyed one of the friendliest schedules through the first quarter of the 2012-13 NBA season. They played 13 of their first 21 games at home and have thus far been gifted with road dates against such "heavyweights" as the Sacramento Kings, the Houston Rockets, the Cleveland Cavaliers and the New Orleans Hornets.
And yet, the Lakers have emerged from this stretch with all of nine wins. They may well turn things around in due time, but it won't be because the slate got any lighter. They still have three dates apiece against the Los Angeles Clippers and the Oklahoma City Thunder and two apiece opposite the Miami Heat, the Memphis Grizzlies and the San Antonio Spurs with which to concern themselves.
On top of that, the annual Grammys road trip—which will take the Lake Show to seven locales this season—is still on tap for late January and early February.
With fewer games in the quiet confines of the Staples Center, the Lakers will be afforded less rest and fewer days during which they can practice together, work out their collective kinks and learn to trust each other under D'Antoni's tutelage.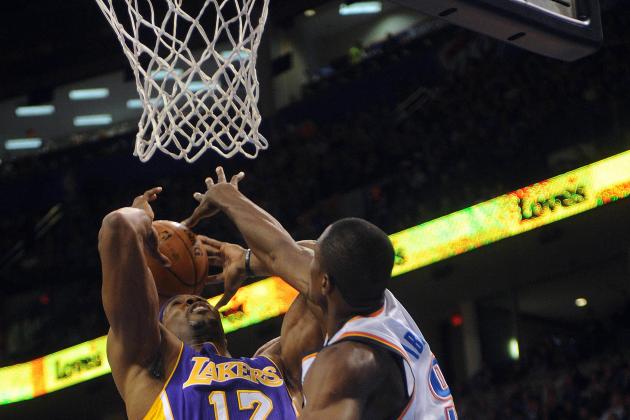 USA TODAY Sports

The forthcoming schedule will do the Lakers no favors when it comes to climbing back into the thick of things in the Western Conference. The playoff picture on LA's side of the bracket is already stacked with talented teams, and what little wiggle room there is may well be taken up by teams already ahead of them.
They can just about kiss any semblance of home-court advantage good bye. The Thunder, the Spurs, the Clippers and the Grizzlies have all but staked their respective claims to spots among the top four of the West, barring a colossal collapse from one or more of them.
A glance at seeds five through eight doesn't paint a much rosier picture. The Golden State Warriors, the Minnesota Timberwolves and the Dallas Mavericks are all getting on rather well, with each waiting to welcome a central star back into the fold. The Utah Jazz are currently slotted sixth, but may be vulnerable to ouster if their management decides to cash in some of their more attractive trade chips.
Not that the Lakers are at all qualified to jump the Jazz at the moment; LA's already lost to them twice this season.
At present, the Lakers sit at the bottom of the next four in line. Their 9-14 record leaves them 12th in the West, just a game up on the same team (the Phoenix Suns) from whom they pried Steve Nash, ironically enough.
Even a mark as poor as LA's is just two games worse than the eighth-place Mavs, but still leaves the Lakers with three other teams to leapfrog.
The ninth-place Denver Nuggets are bound to get back on track as their schedule softens and Andre Iguodala further integrates himself into George Karl's system. The Houston Rockets, in 10th, have managed to hang tough thus far, despite sporting a completely revamped roster, getting subpar production from Jeremy Lin and having to endure without head coach Kevin McHale for a stretch.
Perhaps the Lakers can hope to edge their way past the 11th-place Portland Trail Blazers. Then again, the Lake Show was run ragged at the Rose Garden by Damian Lillard and company, who outlasted the mighty Spurs on Thursday.
All of which is to say, the Western Conference is stacked. The Lakers are counting on a healthier corps of superstars to thrust them back into the mix, but can't expect everyone else to wait around in the meantime.