Oakland Raiders: 5 Valuable Things Raiders Can Learn in Remaining Games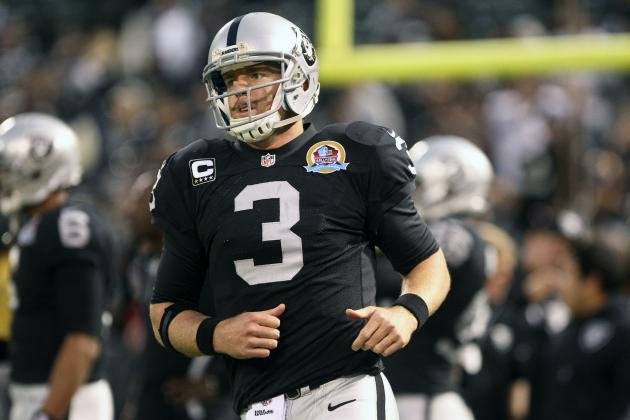 USA TODAY Sports
Carson Palmer has thrown 22 touchdowns and 14 interceptions this season.
If the world really is supposed to end in 2012, it would be perfectly fine with the Oakland Raiders.
The Raiders are riding a six-game losing streak, their longest since 2007. With each week that passes, they become less of a threat and more of a joke to the rest of the NFL.
The aura of "Commitment to Excellence" and "Just Win, Baby" have been lost this season, and nobody is doing anything to restore them.
The Raiders have learned some hard lessons this season and will have three more games to decide how they will finish off 2012.
Begin Slideshow

»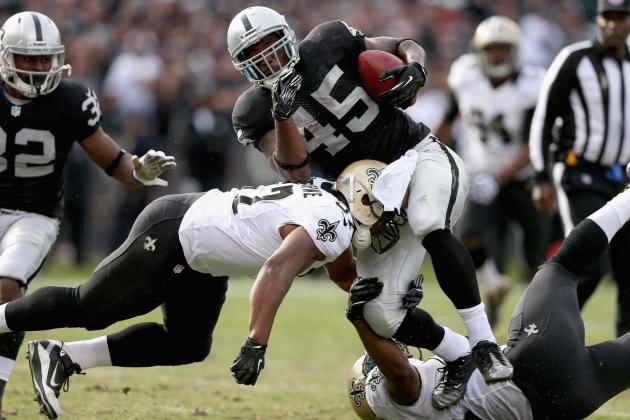 Ezra Shaw/Getty Images

Marcel Reece was one of the most impressive players in the NFL when Darren McFadden nursed an ankle injury that sidelined him for a month.
Reece compiled 446 yards of total offense in four games as Oakland's starter, but his production went right out the window as soon as McFadden came back against the Denver Broncos.
Reece only managed 15 total yards in the Raiders' 26-13 loss to Denver, while McFadden finished with 64 yards and a touchdown.
McFadden has yet to play a full season since being drafted by the Raiders in 2008 and Reece has been reliable whenever he has been called upon.
If the Raiders can find some balance in their running game with Reece and McFadden, their backfield would be one of the best in the NFL.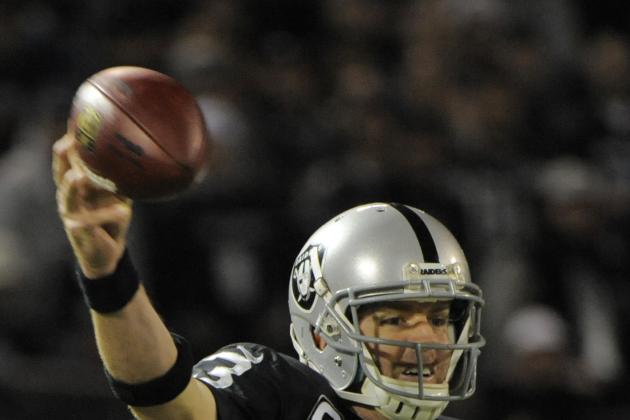 USA TODAY Sports

The Raiders gave up a first-round draft pick to get Carson Palmer last October, and it was a dicey move to say the least.
With a new offensive scheme, a lack of a running game and a shaky offensive line, Palmer has been forced to take on more responsibility than any other quarterback in the NFL.
Palmer got off to a solid start in 2012 but has regressed as of late. He's thrown an interception in nine straight games and his questionable decisions have stalled plenty of Oakland's drives.
While Terrelle Pryor waits to finally get some action, Palmer must try to salvage the rest of what has been a disastrous 2012 season.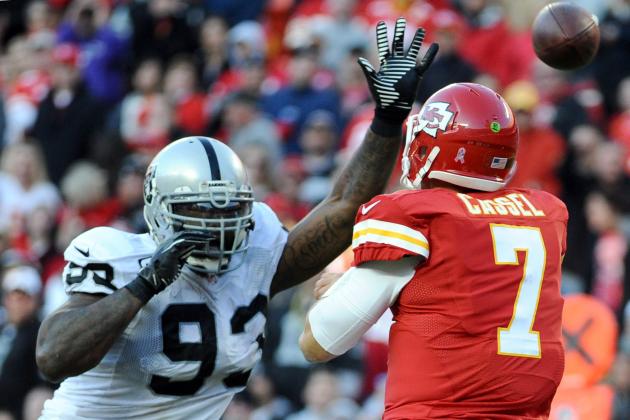 John Rieger-USA TODAY Sports

The AFC West remains one of the most bitter and historic divisions in the NFL.
The Kansas City Chiefs, Denver Broncos and San Diego Chargers have all been notorious rivals of the Raiders since 1960, and all four teams can't stand each other.
Two of Oakland's final three games are against divisional foes, and even though the season is lost, a hard-fought win over your longtime rival always makes the season feel worthwhile.
The Raiders' image has always reflected toughness, grit and the willingness to compete no matter how bad the situation is.
Beating the Chiefs and the Chargers in true Raiders fashion would sure put a smile on Al Davis' face upstairs.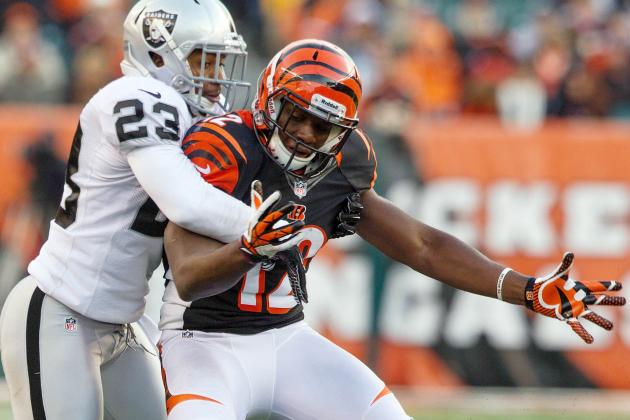 Rob Leifheit-USA TODAY Sports

At 3-10, Oakland's season has been as disappointing as Ryan Reynolds playing the Green Lantern.
After back-to-back eight-win seasons, 2012 has offered nothing but poor play and questionable decisions by the coaching staff.
The Raiders rank near the bottom of the league in every defensive category. With no pass rush and a pitiful secondary, Oakland will have some serious things to consider once the draft rolls around in April.
These last three games will help management decide who to draft next season.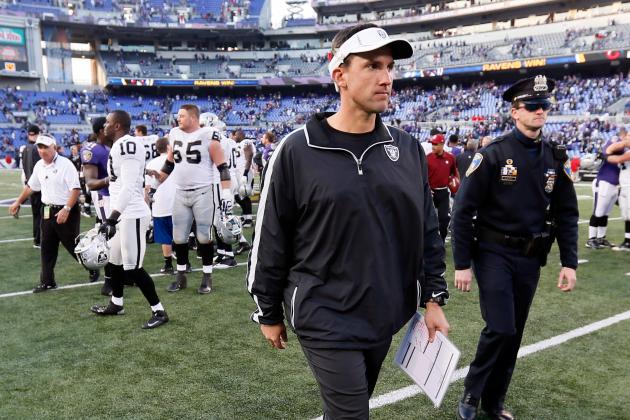 Rob Carr/Getty Images

Dennis Allen is the first "defensive-minded" coach the Raiders have had since John Madden.
He was brought in with the hope that the defense could reach its full potential and help get the Raiders to the postseason. So far, the defense has been more of the problem than the solution.
Madden was one of the guys when he coached on the sideline. His personality was embedded in the team, and they reacted to it. He resembled more of a fan than a coach, and the players were okay with it.
Madden was the Raiders. His team loved him, played hard for him and they respected him.
Allen doesn't have the same chemistry with his team, and his Texas toughness doesn't fit well with the Raider image. As the Raiders finish out what has been a catastrophic season, it will be seen if they really believe they can win with him as head coach.