Broncos vs. Raiders: Final Report Card, Player Grades for Oakland
The Oakland Raiders were unable to pull out a victory at home against the streaking Denver Broncos, dropping a 26-13 contest that wasn't as close as the score indicates. While the Raiders drop to a disappointing 3-10 record on the season, the Broncos improve to a very solid 10-3, moving into the second spot in the AFC playoff hunt.
Let's take a look at the Raiders' final game grades and evaluations.
Begin Slideshow

»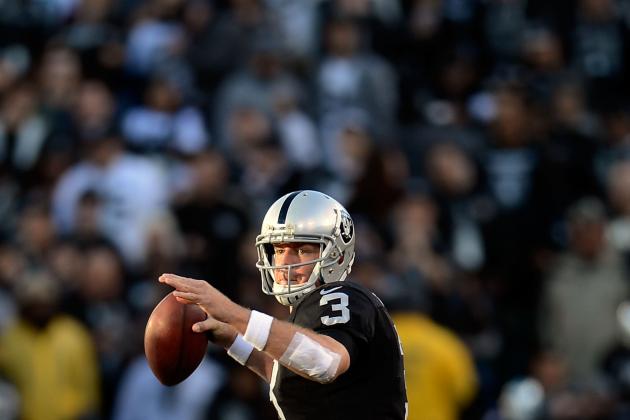 Thearon W. Henderson/Getty Images

Carson Palmer: B
Palmer wasn't the reason the Raiders lost to the Broncos, considering he threw a lot of very good passes that his receivers just weren't able to catch. While he did fumble, throw an early an interception and miss some reads overall, a good performance lands him a somewhat solid grade.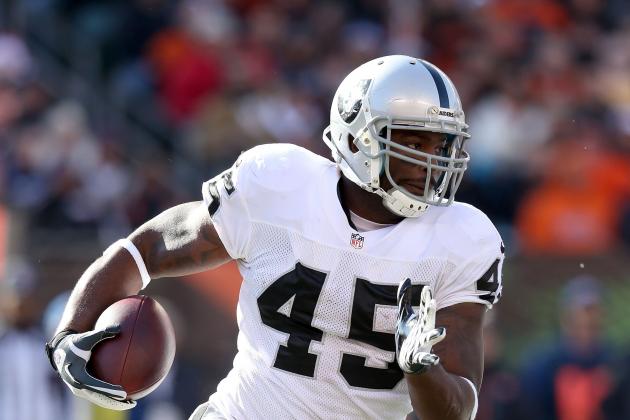 Andy Lyons/Getty Images

McFadden is one of the biggest reasons that the Raiders have struggled immensely this season and while he wasn't terrible on the night, it was only one or two big plays that saved McFadden from a very ho-hum night. A touchdown run on a screen helps his grade.
Marcel Reece: B-
Reece appeared in a limited amount of time but performed effectively when given the opportunity to do so. This hybrid fullback keeps his legs moving and always grinds out extra yards when he's being tackled; he's one of the best players on the team and needs more time.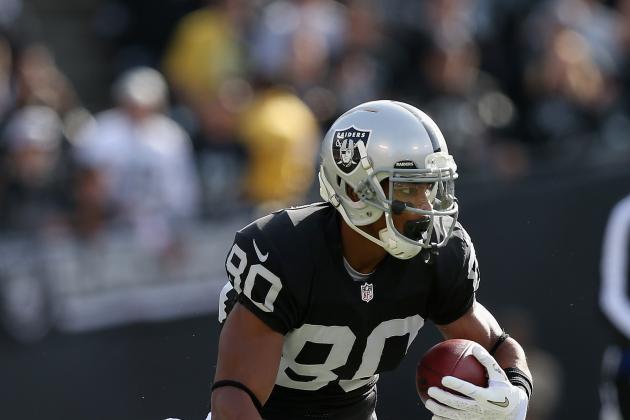 Ezra Shaw/Getty Images

Rod Streater: A-
For a rookie, Streater has played well of late and tonight's effort didn't go unnoticed. This former Temple standout amassed 100 yards through the air, including a huge catch in the first quarter. Streater's speed is real, but he needs to catch everything thrown his way before he can be an effective option.
Darrius Heyward-Bey: B
A big touchdown grab was the highlight of Heyward-Bey's night, but other than that catch he didn't make much noise. The wide receiver was subdued on a stay pass near the goal line and has to work on his lateral quickness as the season goes on.
Denarius Moore: C+
A few curl route completions marked a solid night for Moore, who was as unspectacular as he usually is; this wide receiver is a reliable target but really nothing more than that.
Juron Criner: C
Criner was relatively quiet on the night, only recording two catches on quick-hitter routes. A solid route runner, Criner has some work to do but is well on his way to legitimate time in the Raider rotation.
Ezra Shaw/Getty Images

Brandon Myers: D
Only recording one catch for seven yards on the night, considering the fact that he's been a main target of Carson Palmer in recent weeks, is why Myers receives a bad grade. He wasn't great in run blocking either, allowing serious leakage from his side and having a tough time setting the edge for tosses and stretches.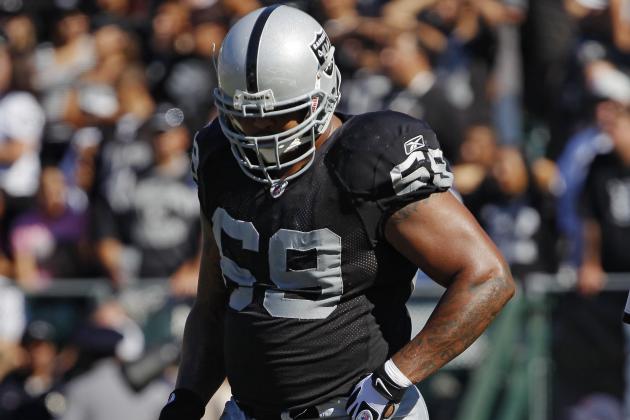 Brian Bahr/Getty Images

Overall Grade: C-
The line had trouble opening holes for Darren McFadden all night and couldn't handle pressure from Von Miller. None of the players on the line really stood out as making an impact and the Raiders ultimately suffered from losing the war in the trenches.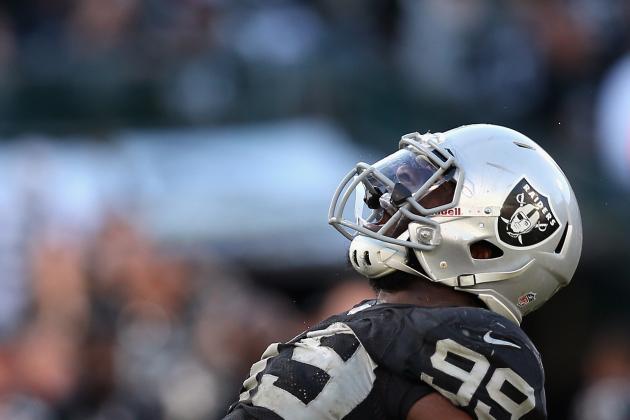 Ezra Shaw/Getty Images

Tommy Kelly: A
Kelly had a good night and he seemed to be somewhat involved in every tackle made on the night. This big defensive lineman is savvy and, at points throughout the game, was covering both his own gap and helping out Matt Shaughnessy.
LaMarr Houston: A
Another Raider defensive lineman who a huge night, Houston is immensely talented when everything is clicking and he uses his hands. Fighting off blockers like Chris Kuper all evening, Houston disrupted a number of plays in the backfield and even recorded a sack.
Desmond Bryant: C+
Bryant struggled somewhat, but the lineman was enthusiastic and his motor didn't give out all night long. This defensive end was able to hold his own weight along the line and played well in run defense in the first few quarters.
Matt Shaughnessy: C-
Certainly, Shaugnessy can't happy with the fact that Denver started targeting him on run plays by the end of the game. This lineman had issues in both the pass and run game, leading to an ineffective and disappointing night.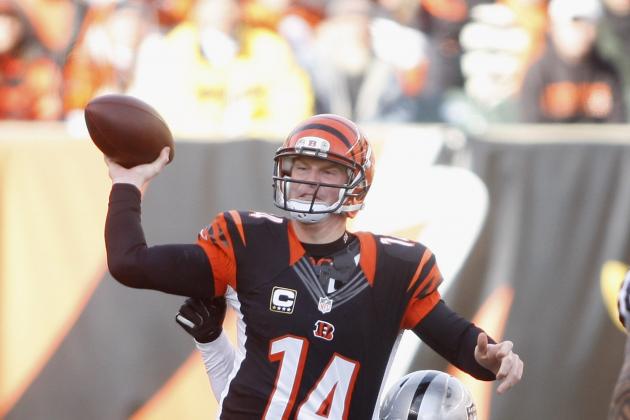 John Grieshop/Getty Images

Miles Burris: B
Burris is a sure tackler who rallies up and hits when he sees the ball. Nothing terribly special, this linebacker is the type of player that every defense needs to have. Instinctual to a degree, this player's real value lies in his tackling form.
Phillip Wheeler: C-
Wheeler had a really tough time stopping Knowshon Moreno's iso run plays and the linebacker's job was to bottle up anything up the middle. Moreno had a huge night and Wheeler's grade suffers as a result.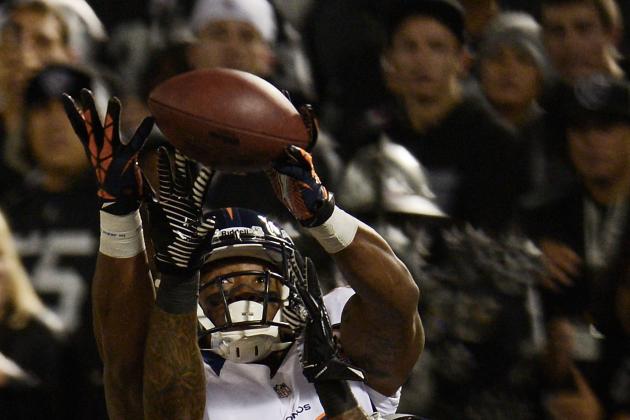 Thearon W. Henderson/Getty Images

Joselio Hanson: D+
When a cornerback leads his team in tackles, he either had a great night against outside runs or was abused in coverage and had to make a lot of tackles to compensate for allowing completions. Unfortunately for Hanson, the latter of the two befell this ex-Eagle.
Ronald Bartell: C+
Though he made some nice plays on the night, Bartel was beat by Demaryius Thomas too many times to have a night labeled 'successful'. Bartel defended a fade well, but that was about it.
Patrick Adams: B
Adams made a very nice interception early in the game and, for the most part, held his ground this game. Eric Decker made some plays, but Adams performed admirably considering the matchup.
Mike MItchell: B+
Mitchell is a physical player who has a kamikaze-like blitzing style; his ability to play in the box really helped the Raiders replace Tyvon Branch after Branch went down with an injury this game.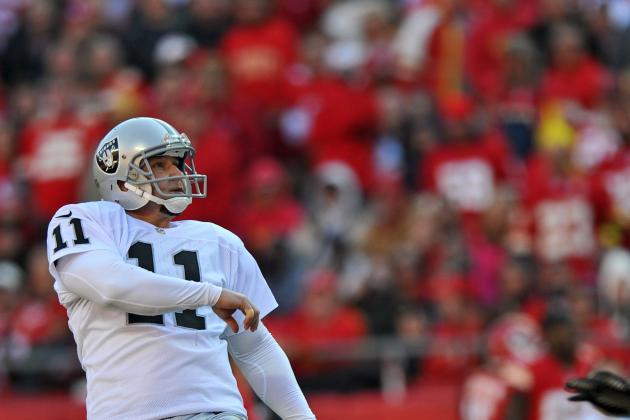 Peter Aiken/Getty Images

Shane Lechler: B-
It wasn't a great night for Lechler, who had one or two iffy punts that gave the Broncos okay field position. However, some other solid punts make up for the odd miscue.
Sebastian Janikowski: B+
Janikowski didn't see much time, but he still completed every task asked of him by booting a touchback as well as drilling an extra point.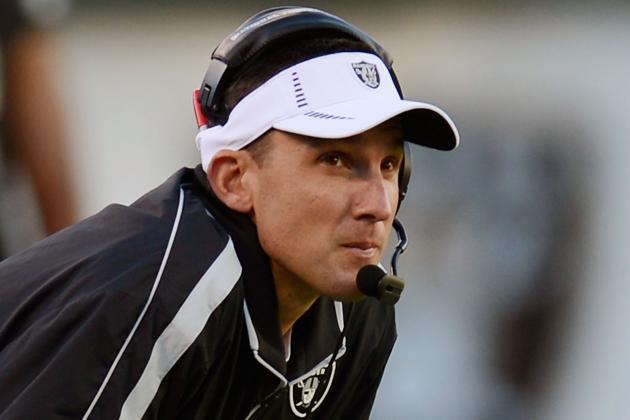 Thearon W. Henderson/Getty Images

Dennis Allen: B-
Allen coached his team with a heavy heart on the night, having lost his father earlier in the week. Though his team didn't win, Allen had some good play calls and just needs his players to do a better job in execution.