Boston Celtics Player Power Rankings Based on November Performance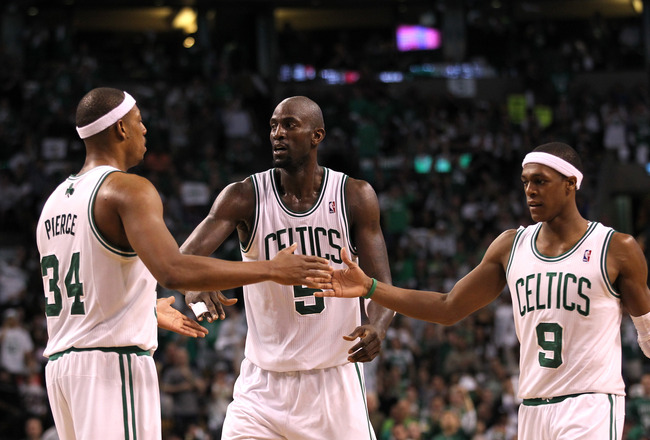 Jim Rogash/Getty Images
There's undoubtedly a hierarchy of power among the Boston Celtics regarding how they stack themselves.
It starts with a three-headed monster at the top and works it way down to Kris Joseph, a current Maine Red Claw.
Each respective member of the "New-New Big Three" has been the most important Boston Celtic on the floor at various times this year, a trend that will likely maintain the rest of the season until Rajon Rondo is fully committed to taking over the reins full-time.
Beyond Rajon Rondo, Paul Pierce, and Kevin Garnett, however, are three consistent contributors—a potential All-Star, a rookie, and a Brazilian sprinter—and a pair of big men that have played for a combined 10 teams, one of whom is coming off season-ending heart surgery.
Needless to say, after the core trio, it's an interesting bunch.
Here's how they all rank following the month of November, in which Boston went 9-6.
Paul Pierce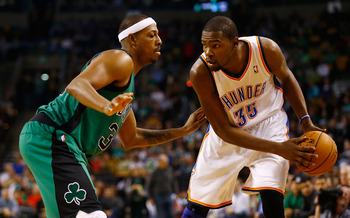 Jared Wickerham/Getty Images
Paul Pierce is still the captain for a reason.
After seeing Ray Allen leave town, the forward has picked up his production to give him the best per-36 minute numbers he's posted since before the "Big Three" era began in 2007-08.
The 35-year-old's scoring is up, he's attempting nearly an entire free throw more than last season, and he's grabbing more rebounds. Looking at Pierce, it's clear that the fire is still there and he's hungry for another championship.
Plus, he routinely guards the opposing team's best scorer.
It certainly wouldn't be easy, but the team could sustain an extended stretch without Rajon Rondo.
Everything would fall apart without Pierce.
Rajon Rondo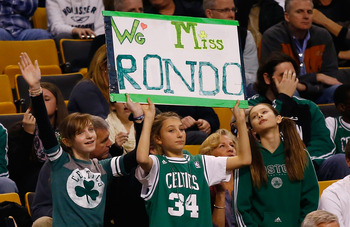 Jared Wickerham/Getty Images
That being said, Rajon Rondo is still crucial.
The point guard led the league last season with an eye-popping 11.7 assists per game.
This season?
He's at 12.9.
It has become clear that Rondo is satisfied with literally being the "assistant" on the team—creating opportunities for his peers and making sure that they're putting the ball in the basket— rather than thinking to score first like other point guards.
Despite that, his scoring this season still ranks second overall among his career numbers and his field goal percentage has jumped to 50.6 from last season's 44.8.
Kevin Garnett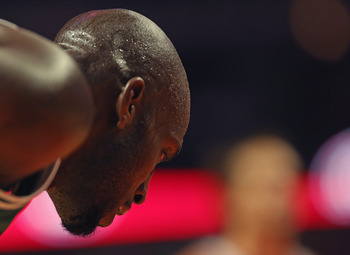 Jonathan Daniel/Getty Images
If Pierce is the statistical leader of the team, Kevin Garnett is certainly the emotional one.
(As an added bonus, Garnett does do plenty to add to the stats, too. He's a swell guy.)
After Rajon Rondo...uh...over-zealously came at Kris Humphries to defend his teammate's honor, it became apparent that:
A. Rondo might have a screw loose.
and
B. Garnett draws a lot of respect from his teammates, probably because they all know he has their back.
The importance of the forward/center to his Celtics peers, combined with being on track for his best numbers since his 2007 debut in Boston, make Garnett the third most important piece of what this team is trying to accomplish this season.
Jason Terry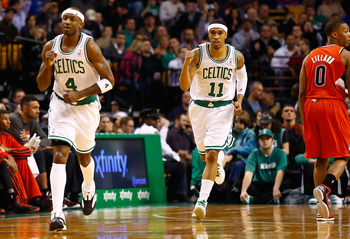 Jason Terry has played a crucial role, but Courtney Lee might be waiting in The Jet's wings to move up in the rankings.
Jared Wickerham/Getty Images
Jason Terry hasn't lit it up this season by any means.
But don't you get the feeling that at any moment, the veteran guard could explode for a stretch of 25-plus-point games, if needed or given the opportunity?
The numbers would seem to suggest so.
Despite Terry playing predominantly as a starter for the first time since 2006-2007, he is averaging under 30 minutes per game. The only other time he's done so was his rookie season; his chances are naturally going to be down.
Take into consideration his 48.3 percent from the field and 38.2 percent from downtown—both the highest since his 2006 season—and Terry should become more of a regular contributor as the season progresses and his comfort-level rises.
Then we'll start to see those high-scoring outputs.
Courtney Lee
Jared Wickerham/Getty Images
On the other hand, Courtney Lee might have the highest upside for 2012-13 of any player on this team.
The 27-year-old brings a certain excitement, energy, and flash that this team hasn't seen outside of Rajon Rondo.
Already on his fourth NBA team in five seasons, Lee probably hasn't been able to settle into any of his roles. In his only two-season campaign, he increased his workload by nearly 10 minutes while adding over three points and half a steal in back-to-back seasons with the Houston Rockets from 2010-12.
Once rotations pan out and Lee finds his missing three-point shot (he's shot better than 40 percent from three-point range in three of his previous four seasons while shooting 24 percent this season), the guard could easily be just a notch behind Rondo, Paul Pierce, and Kevin Garnett.
Brandon Bass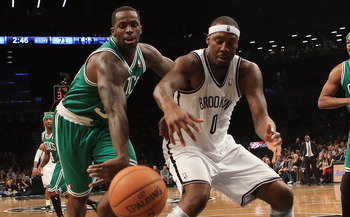 Bruce Bennett/Getty Images
While his numbers are slightly down across the board and he's averaging a foul more than he did last season, Brandon Bass is still a crucial piece of this team.
Even if his contributions often go unnoticed.
Boston is a remarkable free-throw-shooting team, ranking third in the NBA with an 80.8 percent from the the charity stripe. Bass is a huge part of that. He's shooting 88.2 percent from the line, which makes it that much harder for opposing squads to choose who to foul late in games.
While his field goal percentage has definitely taken a hit at 44.3 percent, his shot selection always seems to be correct. Much like with Courtney Lee, if Bass is taking the right shots, history tells us that eventually they'll start to fall.
Jeff Green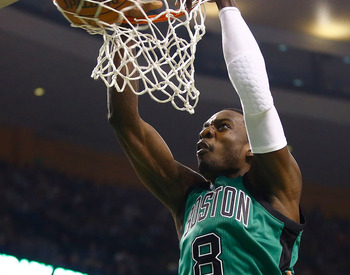 Jared Wickerham/Getty Images
Jeff Green has been a disappointment thus far.
For all of his games of scoring 16, 17, 18 and 19 points, the forward also has games with 1, 2, 3, 4, 5, 6 and 7.
He's just wildly inconsistent. Case in point: The 17, 18, 19, 1 and 2 games came over his last five outings.
That being said, the talent is there. Green appears to be the heir apparent to Paul Pierce and his per-36 minute points numbers this season are basically in line with what he's averaged for his career, aside from a career-high 16.2 in his sophomore season in Oklahoma City.
He'll get it eventually. Just keep in mind this guy didn't enter a single NBA game last season and is probably still working off the rust.
Jared Sullinger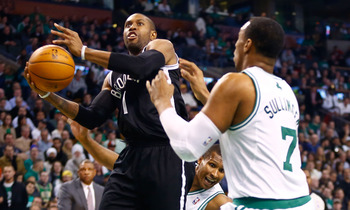 Jared Wickerham/Getty Images
Nothing says "Welcome to the league, rook," like being blocked on nearly a fifth of your shot attempts.
Such is the case for Jared Sullinger, who is being blocked on 18.8 percent of his shot attempts (according to HoopData.com). That's fourth-worst in the league.
This is part of growing into an NBA player, especially one with a history of back issues. It's possible Sullinger is still working to get the same kind of lift he had at Ohio State.
Still, Sullinger has been a nice addition to the team and seems fit to grow into his role. His per-36 minute numbers of 10.8 points and 9.1 rebounds have him projected to nearly averaging a double-double as a starter, so there's a bright future ahead of him.
Leandro Barbosa
Bruce Bennett/Getty Images
Does anyone else feel like they haven't seen Leandro Barbosa miss a shot yet this season?
He's obviously sneaking them in there with his 44 percent field goal percentage, but I think "The Brazilian Blur" is just missing shots so fast that the human eye can't catch up.
Regardless, Barbosa has provided a nice spark off the bench thus far, offering a scoring threat from deep with quick hands. Plus, he offers solid insurance for backcourt depth should Rajon Rondo, Jason Terry, or Courtney Lee go down.
Chris Wilcox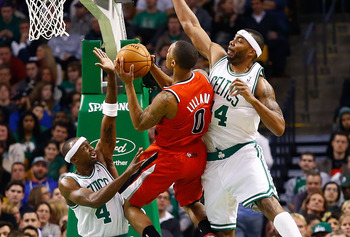 Jared Wickerham/Getty Images
Chris Wilcox is shooting 70.3 percent from the field!
While that would technically put him in second place in all of the NBA behind Tyson Chandler, the big man has only taken 37 shots this season, so he doesn't qualify.
But, still.
Wilcox is a career 53.5 percent shooter which offers the Celtics a reliable big off the bench that plays consistently, can block a few shots and grab a few rebounds while Kevin Garnett is on the bench re-hydrating by drinking iced battery acid.
Jason Collins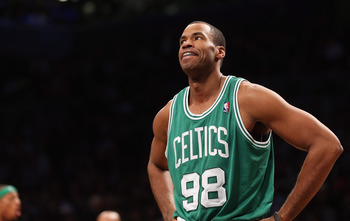 Bruce Bennett/Getty Images
Well, technically he's on the roster.
Collins has heard his name called by head coach Doc Rivers just four times this season and he doesn't have a whole lot to show for it. He's scored a total of two points in 45 minutes of play.
But, he has snagged nine rebounds.
That's something, right?
Keep Reading

Boston Celtics: Like this team?