Game-by-Game Predictions for Oklahoma City Thunder's December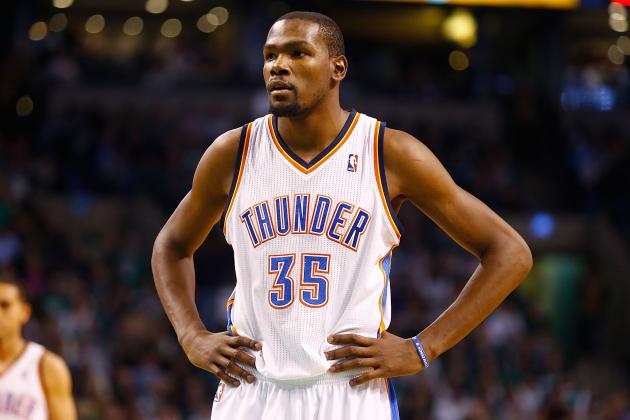 The month of the November is leaving us, but December brings more exciting NBA action. The Oklahoma City Thunder enter the last month of 2012 as the Northwest Division leader, but how will their December schedule impact that lead?
The biggest news for the Thunder came before the season, when the team traded reigning Sixth Man of the Year James Harden to the Houston Rockets. While it seemed like a drastic move at the time, the Thunder have proved that they are more than just a single player.
Yet again, they are among the top of the Western Conference and are likely to remain that way. However, the December schedule will not be an easy one, and the Thunder will have to play their very best if they want to keep their reputation as elite intact.
Begin Slideshow

»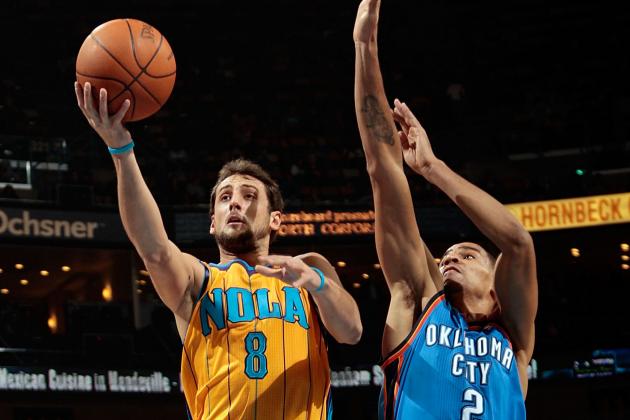 Win
The New Orleans Hornets are not ready to compete with the Oklahoma City Thunder at this point in their development. Kevin Durant and Russell Westbrook alone are enough to top this opponent. Anthony Davis and Co. have a bright future, but the future is not now.
All of the Hornets' young players are not ready to compete at the Thunder's level, while all of their veterans are not talented enough to do so. New Orleans has built a nice supporting cast around young stars Eric Gordon and Anthony Davis, but those players are not where they need to be yet.
Loss
Deron Williams outplays Russell Westbrook in this game due in large part to his superior experience, and the Thunder fall on the road to an inferior team. It may be a defensive lapse or turnovers, but one of the Thunder's team flaws will do them in in this game.
The Nets are an incredibly potent team offensively, with players like Brook Lopez and Joe Johnson who do basically nothing but score. While the Thunder can hang with those types of offensive-minded teams, this is a team that will give them problems because of their well-rounded offense.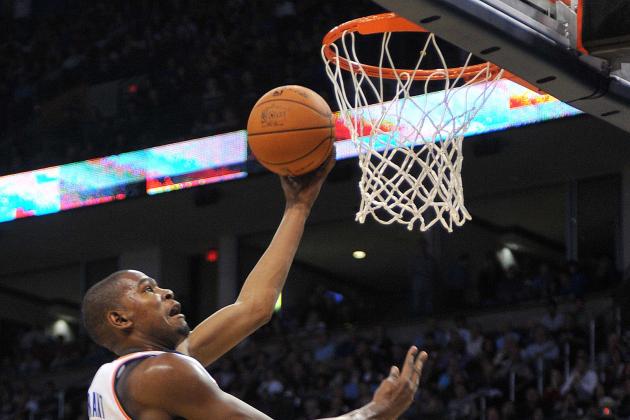 Win
The Los Angeles Lakers have looked awful in this young season, and although they will get it together at some point, they will not get it together enough in time for this game. The Thunder still have major athletic advantages on the perimeter, and they will exploit them in this game.
The Lakers cannot guard Kevin Durant, Russell Westbrook and Kevin Martin all at once. The sudden offensive relevancy of players like Serge Ibaka and Thabo Sefolosha makes the matchup an even worse one for LA.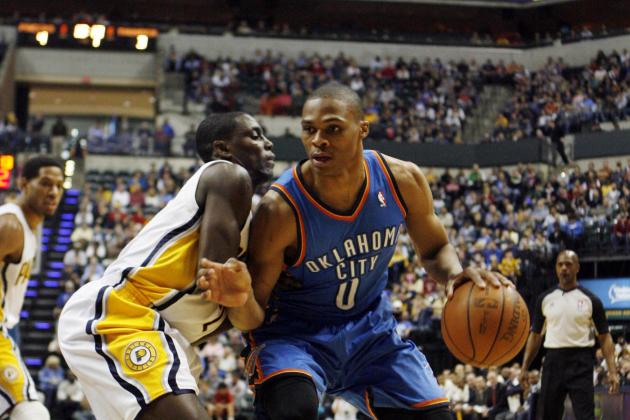 Loss
The Indiana Pacers are a tough, defensive-minded team that is one of few NBA teams that can match Oklahoma City's youth and athleticism. This is one of those games that comes down to a few key fourth-quarter plays, and the Thunder are not the ones that make them this time.
Scrappy teams that work hard tend to give the Thunder fits. Whether that is because they work harder than the Thunder or they sneak up on them, who knows. The point is that this Pacers team will get the better of the Thunder in this game thanks to their work ethic and tenacity.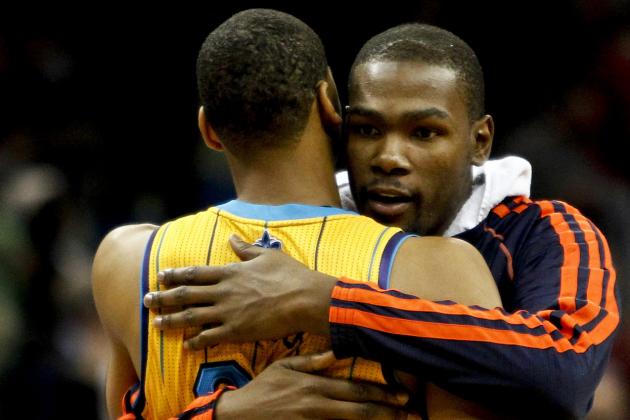 Win
See the previous slide.
There is no way these Hornets will defeat the Thunder when Oklahoma City is coming off a loss to an Eastern playoff team that they should have won. There is no way they beat them any other time either.
This matchup is not good for New Orleans because of the lopsided edge the Thunder have experience-wise. The Hornets may be able to use their youth to sneak up on older, less athletic teams and they may simply be able to outplay fellow young teams with little experience. The Thunder have the perfect blend to beat New Orleans as a young team with significant NBA experience.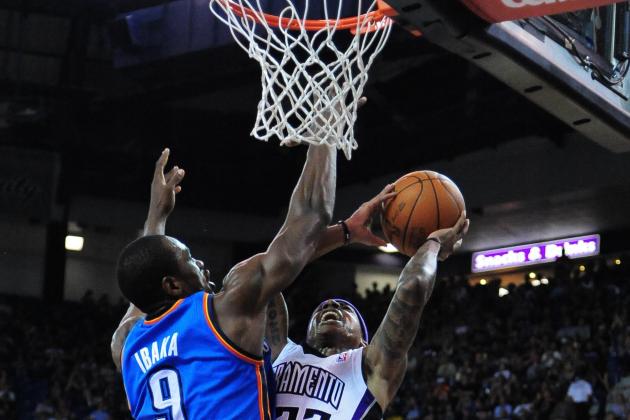 Win
The Sacramento Kings are still the talented train wreck they have been for years. They play no defense, despite their talent, and can only score. The Thunder eat those teams alive, primarily because they can outrun them on offense and also play decent defense.
If the Kings ever get serious about playing basketball the right way, they will probably be a tough matchup for the Thunder. They are extremely athletic at basically every position with players like Tyreke Evans, Marcus Thornton, DeMarcus Cousins and Thomas Robinson. However, they do not take the game seriously, and the Thunder are a team that is even more athletically-gifted that actually does.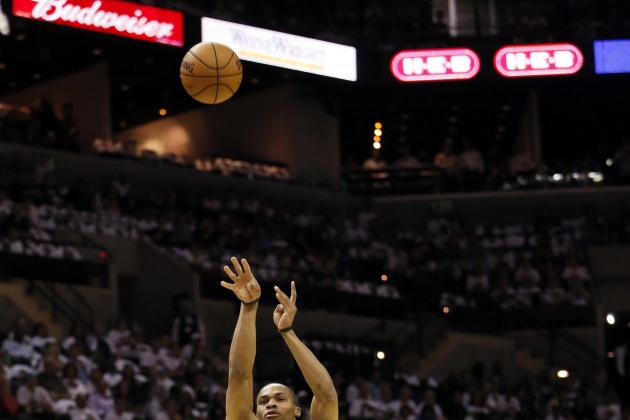 Win
The Spurs won a close season opener in San Antonio against the Thunder on a last-second shot by Tony Parker. Oklahoma City gets the revenge win here, as Kevin Durant hits multiple clutch shots in the final minutes to notch a narrow victory.
These two teams will continue to fight over the West until the Spurs finally become too old to compete. Tim Duncan is a matchup nightmare for Oklahoma City, and he will continually keep the Spurs in these games. Tony Parker is as well, and it will take a monumental effort by the Thunder to get this win. It is just a hunch, but I believe they will get it.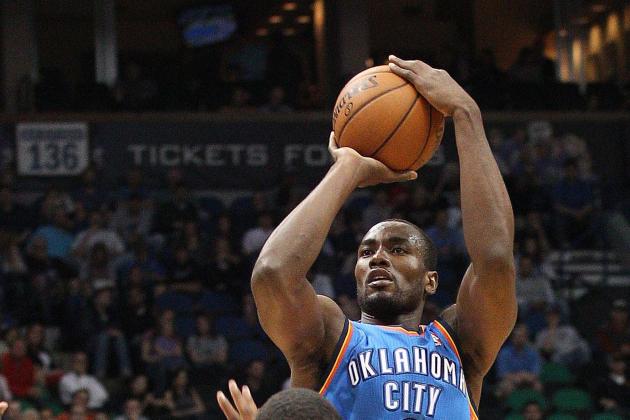 Win
This one will be tight, but it will go to the Thunder. If Ricky Rubio is back, he could swing the victory over to Minnesota, but I do not think he will be. Kevin Love cannot win this one on his own, and the Thunder are too good to be stopped by the Timberwolves solid defense.
The Timberwolves do not have the depth to compete with the Thunder in the second unit. This is an area Minnesota has gotten better in recently, but they are still not at the Thunder's level. Love and Durant are very similar players, but it is clear who is the better player. That is why Oklahoma City will win.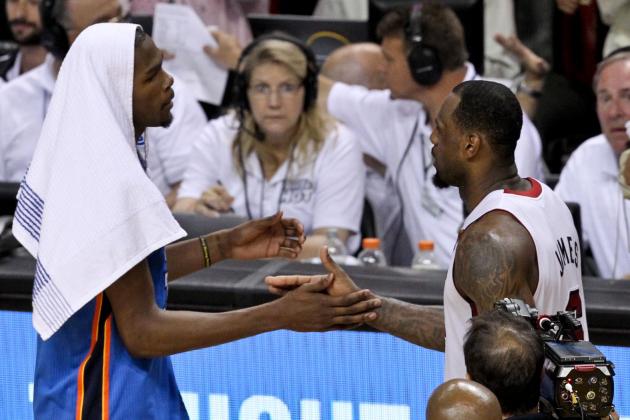 Loss
An NBA Finals rematch is the game we all really want to see, and we will get just that for Christmas this year. Unfortunately, Santa Claus will be delivering a win to Miami. The game will be close, but the Thunder will lose in similar ways to how they lost to the Heat back in June.
LeBron James killed the Thunder then, and he will do the same now by drawing the defense to him, hitting shooters like Ray Allen and Shane Battier and scoring at the rim any time he can. James' defense will also be instrumental, as he is really the only player left in the league that can slow down Durant enough to secure a victory.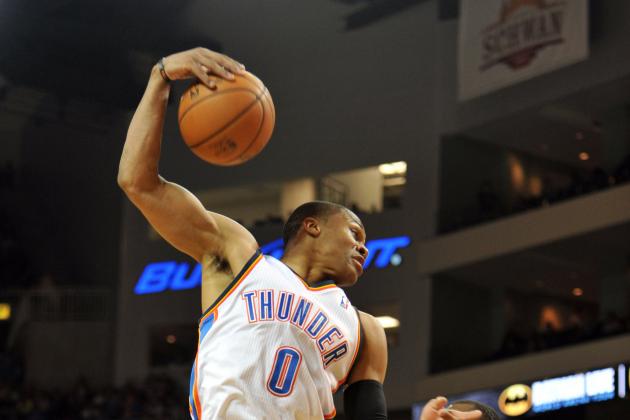 Win
The Thunder will bounce back with a win over the Dallas Mavericks. Mark Cuban has done a decent job rebuilding some semblance of a team in Dallas, but it is nowhere near good enough to beat the Thunder, especially when Kevin Durant is refocused after losing his last game to LeBron James.
Having O.J. Mayo as your main offensive threat is bad enough, but thinking that you can beat the Thunder that way is ludicrous. There is no way he can keep up with the two-headed monster that is Durant and Westbrook, and Kevin Martin's added firepower will push Oklahoma City even farther over the edge.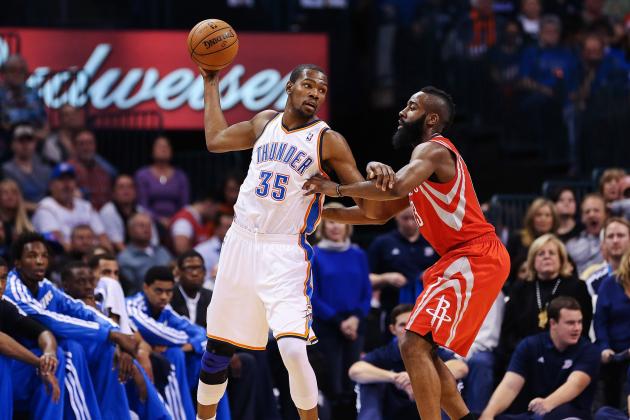 Win
I just cannot see Oklahoma City losing to Houston at all this season. Russell Westbrook eats Jeremy Lin alive on defense, and Thabo Sefolosha does similar things to James Harden. Taking those two out of the equation is really all that is necessary to beat the Rockets at this point.
The rest of the Rockets' roster does not offer much else in the way of help against Oklahoma City. Omer Asik provides no offense on his own. Chandler Parsons, Daequan Cook and even Patrick Patterson are really nothing more than three-point shooters, unable to create on their own. With the only shot-creators on the team covered up tight, the Rockets have no way to score on Oklahoma City, which was apparent in their first matchup this season.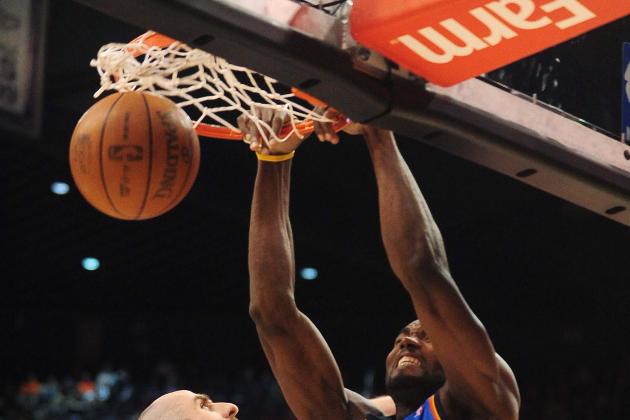 Win
Phoenix should be better this season, but they are not. Up-tempo, offensive teams do not fare well against Oklahoma City because no one is as fast and good in transition as they are. The Suns do not play the necessary defense to knock out the Thunder.
There is no one to stop Durant and Westbrook from getting to the basket at will. The defensive frontcourt of Serge Ibaka and Kendrick Perkins matches up nicely against Marcin Gortat, and Westbrook should have no problem going up against Goran Dragic.
Predicted December Record: 10-3