Highlighting Chiefs' Methods of Frustrating Peyton Manning and How QB Adjusted
November 28, 2012
The Denver Broncos defeated the Kansas City Chiefs 17-9 on Sunday, but the Chiefs looked capable of pulling off an upset early on—flustering Broncos quarterback Peyton Manning on Denver's first three possessions. 
Below, we will quickly review how the Chiefs stayed competitive with the Broncos early in the game. Unfortunately for Kansas City, Manning adjusted at halftime and bounced back in the second half.
With the help of his offensive line, Manning ultimately walked away from Arrowhead Stadium with a sixth consecutive victory.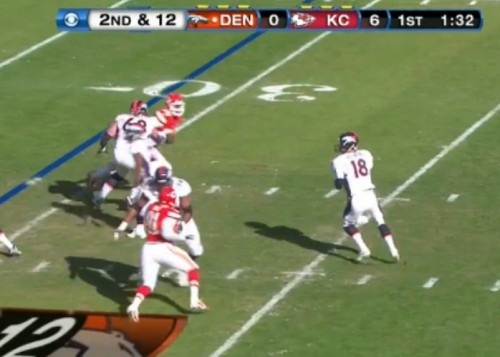 On this play early in the first quarter, Manning is protected for a short time.  His pocket will quickly collapse, however.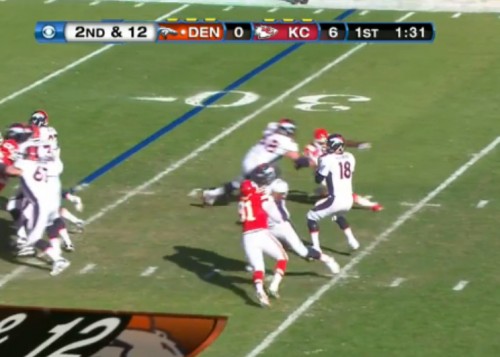 At this point, Manning has a receiver open down field, but he is feeling pressure to his right.  To escape, Manning steps up in the pocket.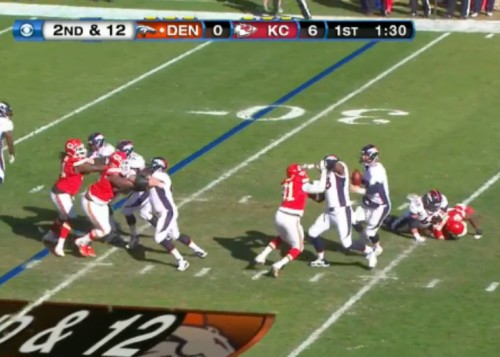 Manning is now feeling pressure to his left.  With a receiver still open, Manning tries to calm himself and prepare to throw.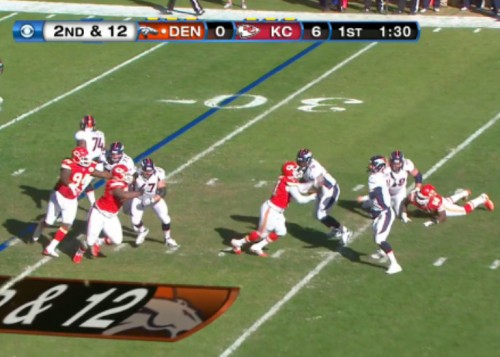 By this time, the safety has closed in on the receiver and Manning has been rattled.  With his feet in an awkward position, Manning opts to throw the ball away rather than attempt a risky throw.  Below, we'll look at the coverage that Manning saw.
Manning likely would have been able to complete this pass to wide receiver Eric Decker if not for the pressure Kansas City applied.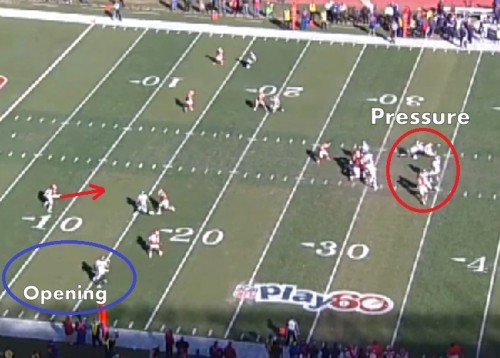 As the play develops, one of the Chiefs' safeties breaks on Brandon Stokley's fly route, leaving a small window for a completion to Decker. 
If Manning set his feet and threw the ball to Decker on the sideline, it likely would have been completed.  But as Manning felt pressure from behind, he had to step up in the pocket.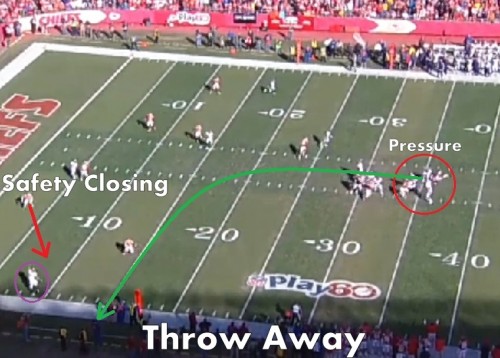 Feeling pressure on both sides, Manning hesitates and the safety is now closing on Decker, narrowing Manning's window.  Rather than force a pass that could have been intercepted, Peyton throws the ball away, bringing up third down.
The coverage was not extremely poor, but the Chiefs' defense probably would have given up a first down if not for Manning moving around under pressure.
On the next play, the Chiefs lock on and play man coverage across the board, forcing Denver's wide receivers to beat their coverage.
As the play develops, Kansas City cornerback Brandon Flowers is in such good position that the only place Manning can safely throw the ball is out of Demaryius Thomas's reach.  Incomplete. Fourth down.
The Chiefs flustered Manning early in the game with pressure and their Pro Bowl defensive backs forced Manning to throw passes away.  This week, the
Buccaneers
will be looking to match KC's man-to-man coverage.
Tampa Bay's best cornerback, Eric Wright, missed Sunday's game due to an Achilles injury and recently lost his appeal of an Adderall-induced suspension and will miss the Bucs' next four games.

Without Wright, the Buccaneers can still fluster Manning by applying pressure.  As the first play diagrammed showed, Manning had a receiver open, but he ultimately had to throw the ball away after reacting to the pressure up front.
Unfortunately for Kansas City, they were unable to apply pressure throughout the game, as Denver's offensive line stepped up and Manning beat the Chiefs' secondary.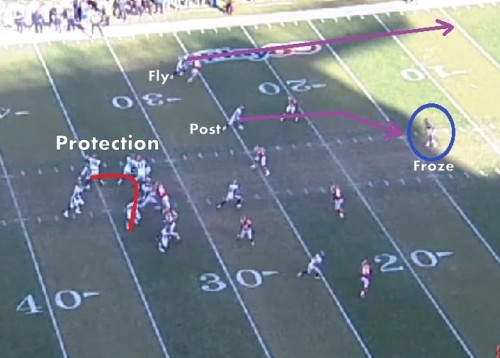 In the third quarter play above, Manning finally gets good protection and is able to find a hole in Kansas City's secondary.  On the outside, Thomas runs a fly while Stokley runs a post on the inside, freezing the safety, whose natural instinct to cut off Stokley's route.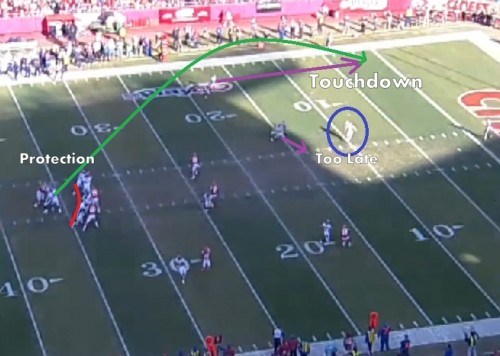 Because the safety hesitated and Manning was protected, he was able to drop the ball right into Thomas's hands.  Touchdown, Broncos.
It sounds simple (because it is), but the Chiefs' defense was successful on Sunday when they were able to frustrate Manning with pressure.  When they were unable to "hurry" his throws, Manning made them pay for it.
This week, the Buccaneers will be looking to harass Manning with pressure, forcing him to make poor decisions and throw balls away.  The problem is, getting to Manning is easier said than done.
This season, Manning has attempted 409 passes and has been sacked 16 times (about once every 25.5 passes).  Averaging around 37 throws a game, Manning is sacked just over once a game, on average.  One sack a game is nothing to scoff at considering how times Manning throws a game.
Manning's left tackle, Ryan Clady, has helped the Denver's offensive line provide Manning with excellent protection this season, allowing just one sack himself.
Through 11 games, the Broncos have allowed the fourth-fewest sacks this season.
"They have done a great job and certainly every quarterback appreciates it when you don't get sacked," Manning told CBS4 when asked about his offensive line's protection.
It is possible to get the best of Manning.  Knocking him down is relatively easy (it happens about once a week).  Keeping him down is the challenge. 
Jon Heath is a Denver Broncos Featured Columnist on Bleacher Report and a Social Media Manager for BroncoTalk.  Heath can be found on Twitter, @JHeath_DEN.