Hot-Seat Meter for the Pittsburgh Steelers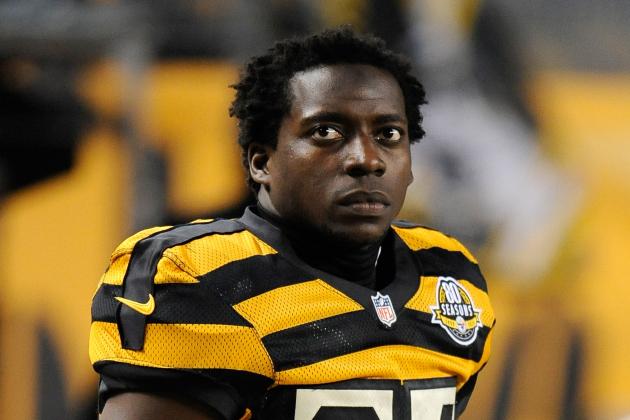 Joe Sargent/Getty Images

Sunday's loss in Cleveland may have been the final straw for a lot of Steelers fans, but the fact is that many of the icons on this team haven't played up to expectations all season long, leading Pittsburgh to its current 6-5 record.
Granted the team is 0-2 without starting quarterback Ben Roethlisberger, but how quickly we forget major losses in Oakland and Tennessee that nearly ruined the Steelers season early on.
There's little question that the Steelers roster will look different in 2013 but the question is how different and who will be sent packing?
Let's take a look at a few guys who are on the hot-seat.
Begin Slideshow

»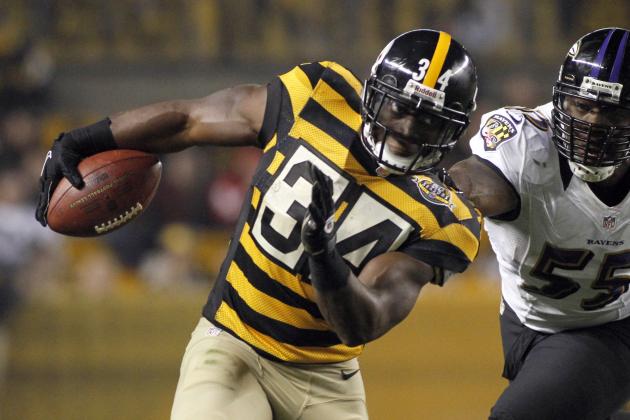 Justin K. Aller/Getty Images

Hot-Seat Meter: 9
For a guy who's in a contract year, Rashard Mendenhall doesn't look like someone who is playing for a big pay day.
When Mendenhall returned to the lineup in Week 3 against the Eagles, he showed some promise to a running game that was struggling by scoring a touchdown and leading the Steelers to a win. But he only stuck around for six more carries the next week before leaving with an Achilles injury.
Since the 68 yard outing against Philadelphia, Mendenhall has managed just 45 yards on 21 carries in three games, an average of 2.1 yards per carry.
Yet, despite the lack of production, the Steelers continue to throw him out there and have started him on multiple occasions. This picture might show best why Mendenhall has fumbled three times in four games this season and embodies the rage of Steelers fans.
With both Jonathan Dwyer and Isaac Redman playing at a higher level than the former first-round pick, I can't envision a logical scenario where the Steelers bring back Mendenhall, especially with the looming cap situation.
Unless he has a major turnaround in the final five games, this could be the end of Mendenhall in a black and gold uniform.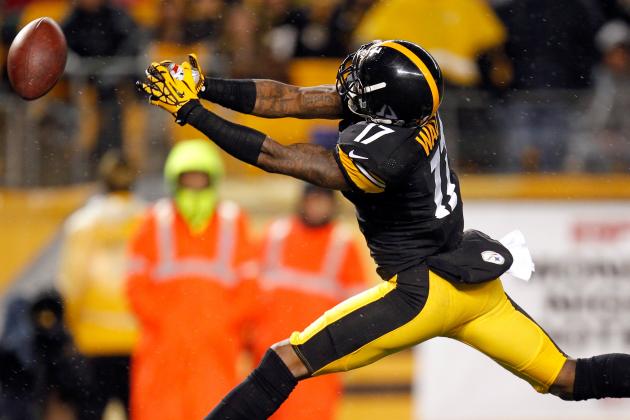 Gregory Shamus/Getty Images

Hot-Seat Meter: 6
Mike Wallace garnered a ton of unwanted attention from the Pittsburgh and national media this offseason during his lengthy holdout. The attention grew when it was reported that Wallace had asked for "Larry Fitzgerald money."
I can blatantly say that so far in 2012, he doesn't deserve Antonio Brown money.
Although Wallace is the team's leading receiver right now, that doesn't mean he's underperformed. After two straight season of at least 1,100 yards and eight touchdowns, it appears Wallace won't come close to matching those numbers. In fact, he's currently on pace to barely top 900 yards receiving this season. He's also dropped five passes this season.
One of the main reasons Wallace is the Steelers leading receiver is because teammate Antonio Brown has missed the last 15 quarters with an ankle injury. Brown had been the Steelers leading receiver in terms of receptions when he became injured.
With Brown out of the offense, Wallace should have thrived, but he's been mediocre at best. Over his last four games, Wallace has amassed only 11 receptions for 113 yards and two scores.
Wallace gets somewhat of a pass, especially over the last two games when playing with backup quarterbacks Byron Leftwich and Charlie Batch. But the Steelers brass can't be impressed with what Wallace has done this year.
I think his lack of production actually gives the Steelers a better shot to bring him back, but the question is do the Steelers want him back? I think he's an integral part of the offense and his seat may cool off a bit when Roethlisberger comes back. I also expect that Pittsburgh will make a strong push to re-sign Wallace in the offseason.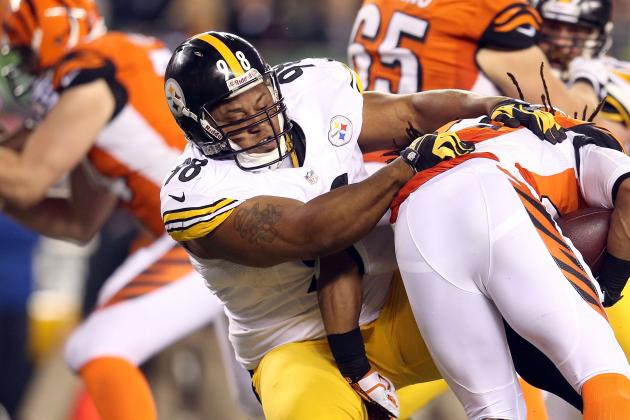 Andy Lyons/Getty Images

Hot Seat Meter: 8
There was once a time when Casey Hampton was universally considered the game's top nose tackle. He was a guy who, in a way, invented the 3-4 nose tackle position and set the bar for future generations to come.
Hampton will always be remembered as a legend in the Steel City and deservedly so, but in 2012, it looks like that time is coming to an end.
Hampton clearly hasn't been the same player he was two or three years ago and it's shown up front. The 35-year-old nose tackle can no longer take on the double teams and create penetration that is needed to be successful in Dick LeBeau's defense. As a result, Hampton has been relegated to situational duty, which he splits with Steve McLendon.
One of the biggest reasons the Steelers have to be frustrated with Hampton this year is because he's making nearly $3 million to play a small percent of downs. That also comes after taking about a $2 million pay-cut in the offseason.
When Hampton's time in Pittsburgh is finished, he should without question be honored as an all-time Steeler great. But it's looking like that time is going to be coming sooner rather than later. For what it will cost, you just can't justify bringing back and aged and diminished nose tackle when you have other positions to fill.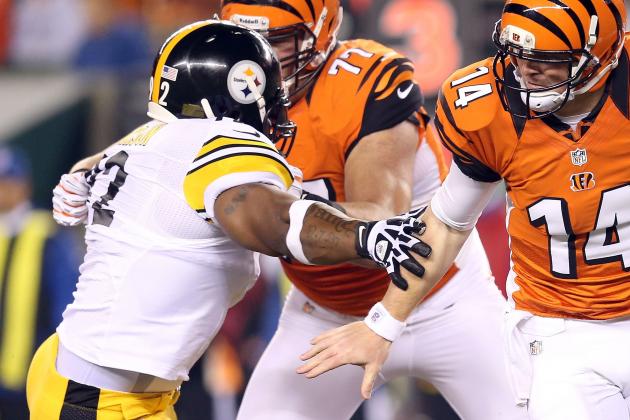 Andy Lyons/Getty Images

Hot Seat Meter: 9
It has been a very uncharacteristic year in 2012 for James Harrison in more ways than one.
For starters, Harrison has been flagged just one time this season and it wasn't for a roughing the passer call. It was actually for an offsides. But that doesn't mean it's all been good.
Harrison's year has mostly been uncharacteristic because of his inability to get to the opposing quarterback. From 2008-2011, Harrison recorded 45.5 sacks, giving him an average of about 11 per season over that span. This season, Harrison has reached the opposing quarterback just three times in eight games.
The 34-year old's contract isn't exactly helping out his case with the Steelers either. Harrison is making $5.5 million this season and is scheduled to make more than $14 million from the team over the next two seasons. That's a lot of cap room for a guy who has three sacks this season and is on the wrong side of 30.
Like Hampton, Steelers fans will always remember Harrison as a defensive force and maybe the most terrifying dude they've ever seen on a football field. But if Harrison isn't willing to take a pay cut, I can't see the Steelers bringing him back after this season.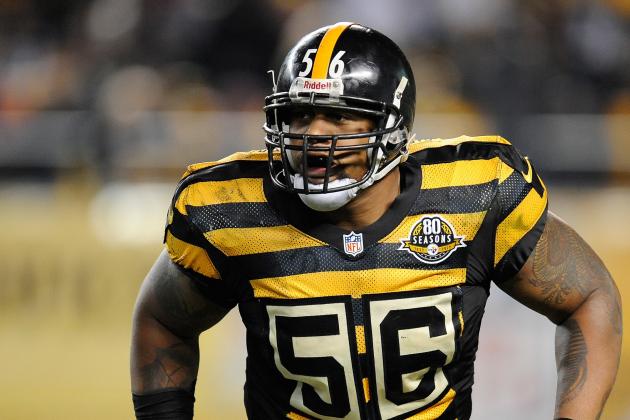 Joe Sargent/Getty Images

Hot Seat Meter: 3
I've been the first to say I think LaMarr Woodley, when healthy, is the best pass rusher the Pittsburgh Steelers have on the roster.
But that's a big "when healthy."
Woodley has consistently been injured for the Steelers over the course of his career including a nagging hamstring injury and an ankle injury in the team's most recent game, a loss to Cleveland. Those injuries have had a major impact on his play.
After having three straight season from 2008 to 2010 with at least 10 sacks, Woodley's injuries have caught up with him. He recorded only nine sacks last season, but played in just 10 games due to the hamstring injury that has plagued him. This season, he's played through injuries in most of his games and he's only gotten to the quarterback four times.
For the record, I don't think LaMarr Woodley is going anywhere. The Steelers just need to get him healthy. One thing working against him, like most players on this list, is his contract.
Woodley restructured his deal this offseason to accommodate the Steelers cap needs and he may have to do so again this year. He'll make various amounts between $8-9 million over the next four seasons and the Steelers might see a need to reduce that.
When healthy, LaMarr Woodley has been a terror for opposing offenses. The Steelers just have to get him back to state.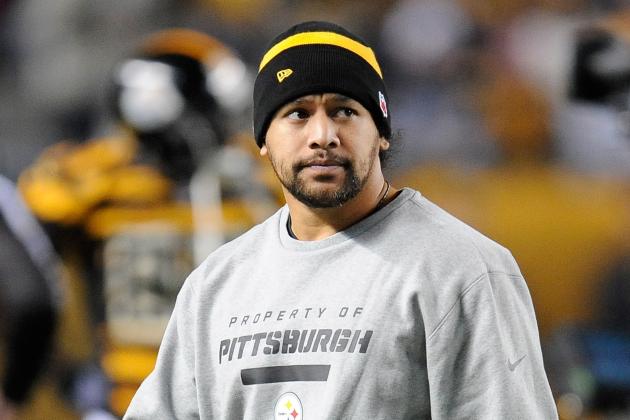 Joe Sargent/Getty Images

Hot Seat Meter: 6
Like LaMarr Woodley, Troy Polamalu's hot-seat rating has a lot to do with the injuries he's suffered and his inability to stay on the football field.
Over the years, Polamalu has dealt with various injuries, but 2012 seems to be the worst and has a lot of people questioning if the 31-year-old can still get it done. This season, Polamalu missed the team's Week 2 and Week 3 games against the Jets and Raiders and returned following the bye. He came back against the Eagles only to leave early on, re-aggrivating the calf injury that sidelined him.
Polamalu hasn't even practiced on his strained calf in seven weeks now as the Steelers desperately await his return to the defensive secondary.
Troy is, without question, one of the most beloved Steelers of all time and has a Hall of Fame resume attached to his name already. But would the Steelers actually get rid Troy following the 2012 season?
His contract, like most everyone else, will probably play a part in the decision. Polamalu is scheduled to make nearly $16 million over the next two seasons. If he was playing like his old self, that's a steal for the Steelers. But can he play like himself.
I really doubt we've seen the last of Troy Polamalu in a Steelers uniform and, personally, I think he can play another two or three years at a high level. But every game Polamalu is on the sidelines, he's got to be feeling that seat getting a little warmer underneath him.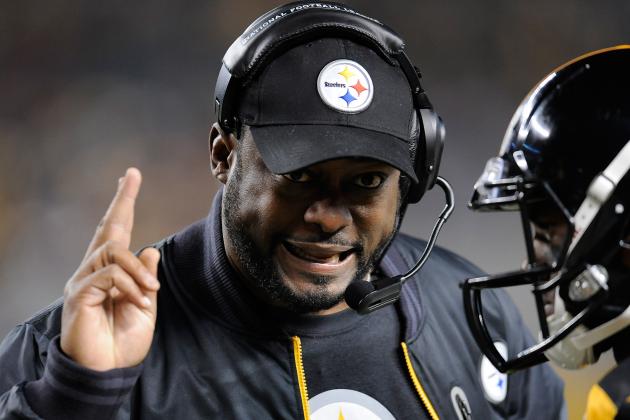 Joe Sargent/Getty Images

Hot Seat Meter: 4
The City of Pittsburgh is a little divided right now when you ask them how hot Mike Tomlin's seat should be. Half the people want him gone, the other half think he's a top five guy.
Personally, I think he's an upper echelon head coach in the NFL who happened to run into a slew of injury problems this season.
But that's not to say that a lot of the Steeler's problems aren't directly related to their head coach.
To me, Tomlin has come off as soft this season. He's always been known as a players coach and he's a guy who's going to stick with his players through thick and thin. But sometimes enough is enough and you have to put your players on notice.
The decisions to leave both Byron Leftwich and Charlie Batch in the game against the Ravens and Browns were mind-boggling, especially when you consider how poorly they both played. Tomlin never thought twice about leaving these guys in close games and both times it backfired on him.
Guys like Willie Colon have had back-breaking penalties on drives in close games and haven't even been pulled for a play and I think the players right now don't have that, let's call it productive fear, they had with Bill Cowher and Chuck Noll.
After the loss in Cleveland, there are plenty of guys Tomlin can make an example of. That doesn't mean he's got to go out and throw these guys under the bus, but just sitting a guy down for a game or even a half lets the rest of the team know this kind of play isn't going to be tolerated anymore.
Tomlin's got to do something because as good as the Steelers have looked at points this season, they still have losses to the Raiders, Titans and now the Browns. Those are three games that could have and should have been easy wins for Pittsburgh.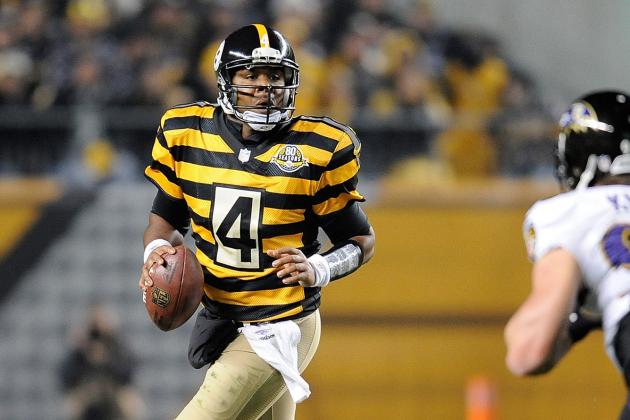 Joe Sargent/Getty Images

Byron Leftwich - 10
After the performance against Baltimore, it's pretty evident that, one, Byron Leftwich does not fit what the Steelers want to do on offense and, two, he's got little left in the tank. Leftwich is all but done in the Steel City.
Charlie Batch - 10
The Cleveland game was a disaster and a lot of that had to do with Batch at quarterback. He threw three interceptions and showed his age. His days as a Steeler are numbered.
Isaac Redman - 3
Redman Hasn't taken advantage of the opportunities presented to him and has been relegated back to a time-share role. He's done enough to warrant a new contract, but he's not going to be a starter.
Emmanuel Sanders - 0
Has an expiring contract at the end of the season but there's little doubt he'll be handed his walking papers. He's provided a great third option for this team and stepped up without Brown in the lineup.
Max Starks - 2
Starks has, again, quietly been one of the better left tackles in the league this year. For the price the Steelers have paid for him, I think they'll bring him back for another year. But with Gilbert and Adams looking ready to play next season, he could be looking for another job.
Ramon Foster - 7
Foster's seat was hot coming into the season with rookie first rounder David DeCastro being forecasted as the starter and nothing has changed now that DeCastro is again practicing with the team. Foster hasn't done a whole lot to solidify his position at right guard and could be playing his last season in Pittsburgh.
Willie Colon - 5
Colon will make $11.5 million over the next two seasons for a guy who's amongst the league leaders with nine penalties this season including six holding calls. Colon has been much better inside at guard and may be the teams best run blocker right now, but he's not worth the money they'll need to pay him. They have to restructure this deal or move on.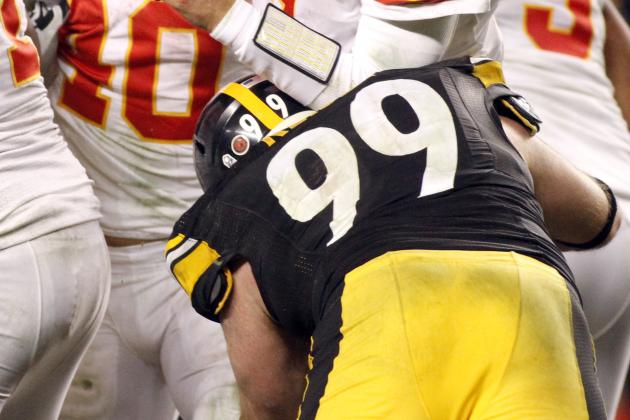 Justin K. Aller/Getty Images

Brett Keisel - 2
There's a lot of people who think Keisel's days are numbered in Pittsburgh, but with the way he's played over the last three games, they can't afford to let him go. The 34-year-old will be expecting a $3 million pay day next season and I'm not sure I have too much of a problem with that.
Ziggy Hood - 8
I wasn't very happy when the Steelers took Ziggy Hood in the first round in 2009 and I'm even less excited now. Hood has gotten blown off the ball all season long and hasn't ever really developed into the force they hoped for up front. Lucky enough for the Steelers, Hood won't be making too much money over the next two years, but he could be losing his starting job.
Larry Foote - 3
I'll be the first to admit that Larry Foote has exceeded my expectations. He's among the team leaders in tackles and sacks. He is getting slower and doesn't do well in pass coverage, so the Steelers should look for some help, but I think he'll be back next season.
Ike Taylor - 0
At one point in the season, this number was a 10. But after the Tennessee game, Taylor has been lockdown on the outside. Taylor makes a lot of money, but the Steelers need him on the edges both as a cover guy and a tackler.