Cardinals vs. Rams: Winners and Losers from Arizona's 31-17 Loss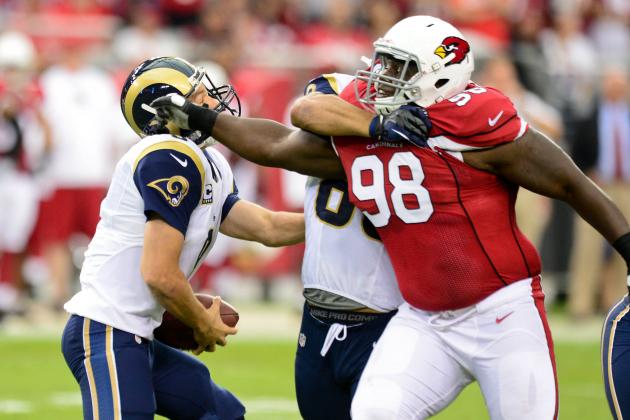 Matt Kartozian-US PRESSWIRE
The Cardinals showed some fight but dropped their seventh straight game.
The Arizona Cardinals dropped their seventh consecutive game when they fell to the St. Louis Rams 31-17 Sunday afternoon at University of Phoenix Stadium in Glendale, Arizona.
Arizona drops to 4-7 while St. Louis improves to 4-6-1 and picks up its first road win of the season. The Rams also completed the season sweep over the Cardinals and put any faint chance Arizona had of making the playoffs out of reach.
Arizona rookie quarterback Ryan Lindley had an inauspicious debut with 312 yards passing and four interceptions. Running back Beanie Wells provided the offense but Arizona couldn't stop the big plays.
Despite a seventh straight loss, there were some winners and losers on an individual level in this one. Start the slide show and see who they are.
Begin Slideshow

»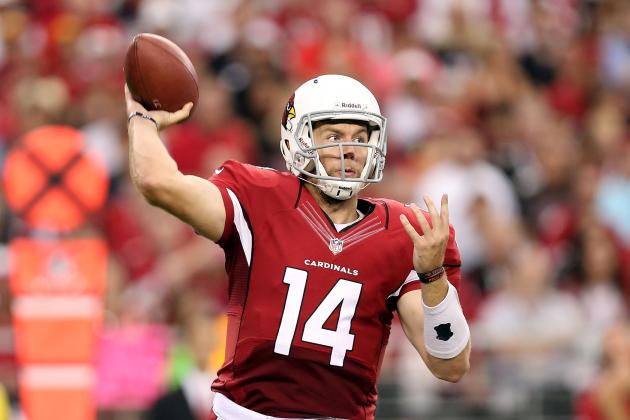 Christian Petersen/Getty Images
Lindley's first start didn't go well for the Cardinals.
Ryan Lindley's welcome to the NFL wasn't very friendly and the Rams' defense was anything but a welcoming committee.
Lindley threw for 312 yards on 31-of-52 passing and didn't record a touchdown pass. That part of the stat line doesn't look too bad for a rookie 's first start. Not many rookies break the 300-yard barrier in their debut but Lindley did just that. He also did a nice job distributing the ball and spread the passing attack between the wide receivers, tight ends and running backs.
The four interceptions he threw, two of which were returned for touchdowns, were the backbreaker of the Cardinals' hopes to snap their losing streak.
Lindley took advantage of an offensive line that gave him time to throw and only allowed one sack to the Rams.
It wasn't the best start by rookie but it also wasn't the worst. Lindley showed he can play in the NFL but still has plenty of bumps and bruises to suffer through. If he can work out the kinks, Lindley might be able to make a solid backup quarterback.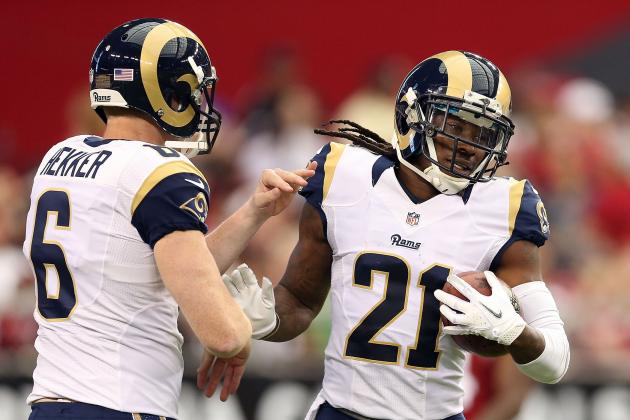 Christian Petersen/Getty Images
Jenkins (right) celebrates his second touchdown with punter Johnny Hekker.
The oft-maligned cornerback out of North Alabama had his finest day as a professional in the Rams' win over Arizona.
Janoris Jenkins had a pair of interceptions that he returned for touchdowns against the Cardinals.
Jenkins jumped the route that Lindley intended to hit LaRod Stephens-Howling with and picked off Lindley on the first play of the second quarter for a touchdown. Once Jenkins made the interception, no one came close to bringing him down.
On his second interception, Lindley underthrew Larry Fitzgerald and Jenkins made an easy interception. A couple of Cardinals had shots to knock him out of bounds but failed to do so.
Jenkins made it look easy as he reeled in two of the four interceptions that Lindley threw. Craig Dahl picked him off and nearly ran it all the way back for a touchdown of his own. James Laurinaitis also intercepted Lindley in the win.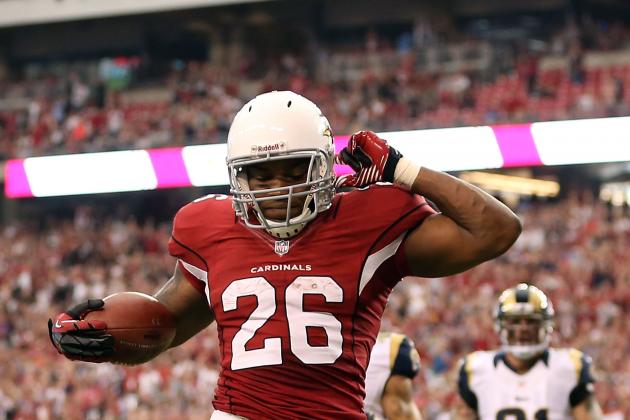 Christian Petersen/Getty Images
Wells scored a pair of touchdowns in his return to the lineup.
The Cardinals welcomed back Beanie Wells to the lineup after he missed eight games with a severe case of turf toe. He was put on the designated-to-return version of injured reserve and Arizona is glad he came back.
Wells provided both touchdowns in the losing effort. He ran the ball 17 carries but gained only 48 yards for a 2.8 yards-per-carry average.
The good news is that Wells can run and make defenders miss. He was able to plow his way into the end zone from a yard out. Wells showed good speed when he swept outside for a 12-yard touchdown run.
It's also encouraging that Wells was able to handle the lion's share of the workload. Arizona rushed the ball 23 times and Wells had 17 carries. LaRod Stephens-Howling had just one carry in Wells' return.
Wells may not be all the way back to the form he showed last year but it's encouraging to see him handle the feature back role this week.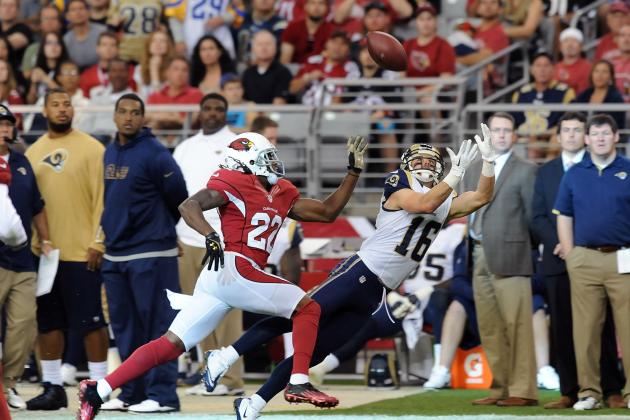 Norm Hall/Getty Images
William Gay (left) chases after Rams wide receiver Danny Amendola
Arizona has a firm reputation of being one of the tougher teams to score on over the last two seasons. Somehow the St. Louis Rams were able to hang up 31 points on the Cardinals.
The Rams only average 18 points per game yet were able to tie their season's best mark of 31 points that they put up against Washington in Week 2.
What makes the Cardinals defense a surprising loser is that one of the weaker scoring teams in the league walks in and puts up a big total against them. The other shock is that they allowed 17 unanswered points in the second half to be put on them. Most games, they don't allow 17 points total, but to have that happen in a half is very rare.
Also more concerning is that Arizona kept getting burned on big plays. All four of the touchdowns that the Rams scored were from 35 to 40 yards away. It's hard to control the yardage on the interception returns.
St. Louis quarterback Sam Bradford was able to throw a pair of 37-yard touchdown passes in the win. One went to tight end Lance Kendricks and the other went to Chris Givens.
An elite defensive unit doesn't give up many big plays and that turned out to be the Cardinals' undoing this week on this side of the ball. St. Louis had four plays of 35 or more yards in the win.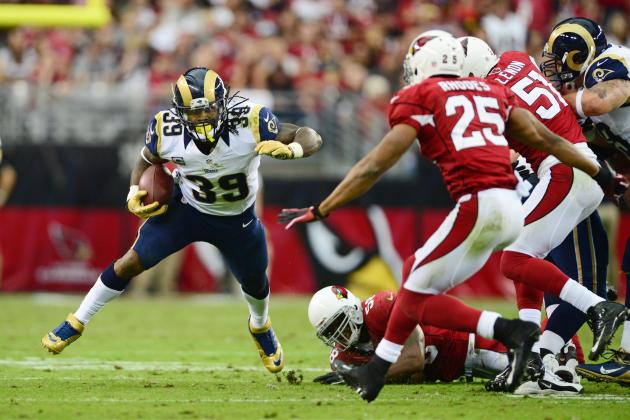 Mark J. Rebilas-US PRESSWIRE
Jackson (left) eludes a trio of Cardinal defenders.
St. Louis running back Steven Jackson had another solid game in the Rams' win. He piled up 139 yards on 24 carries including a season-long run of 46 yards.
With this performance, Jackson has now rushed for more than 100 yards in two of his last three games. The other was a 101-yard effort in the tie against San Francisco.
He continues to be a Cardinals killer as he has run for 409 yards in his last four games against Arizona.
Jackson started off the season slowly but has gotten stronger as the season progressed. This correlates with his increase in carries over the last three games. Jackson has run the ball 66 times in the last three games compared to 67 combined carries in the five games prior.
Norm Hall/Getty Images
Givens (right) makes a catch behind Justin Bethel.
Chris Givens is quickly building a rapport with quarterback Sam Bradford and the two are connecting quite nicely. Givens rolled up 115 yards and a touchdown on five catches in the win against Arizona Sunday.
With the exception of the game against the Jets, Givens has 14 catches for 336 yards in his last four games and is averaging 24 yards per catch. Givens has now scored in two of his last three games and continues to produce nicely for the Rams.
Givens is also starting to become a thorn in the side of the Cardinals just like Steven Jackson. The rookie out of Wake Forest has made six catches for 166 yards and scored two of his three touchdowns this season against Arizona.
Christian Petersen/Getty Images
Fitzgerald had another sub-par day against St. Louis.
Ryan Lindley kept trying to get the ball to Larry Fitzgerald but overthrew him, which led to interceptions. The Rams played tight coverage on him which also contributed to his weak performance.
Fitzgerald was targeted 12 times but made three catches for 31 yards and didn't score a touchdown.
He was the fifth-best receiver statistically in the game for Arizona.
Wide receiver Andre Roberts led Arizona with nine catches for 92 yards and a team-high 13 targets. Tight end Rob Housler had a solid showing with 8 catches for 82 yards on 11 targets.
Running back William Powell added six catches for 63 yards on nine targets. Rookie Michael Floyd caught all four times he was targeted and picked up 35 yards receiving.
Since the bye week, the Cardinals have had three different quarterbacks under center in two games. In those games, Fitzgerald has four catches for 42 yards.
The roller coaster of production from Fitzgerald continues to be a tough ride to stomach. He hasn't broken 75 yards in his last five games and has been held to fewer than 35 in three of them. By comparison, he broke the 100-yard barrier six times last season.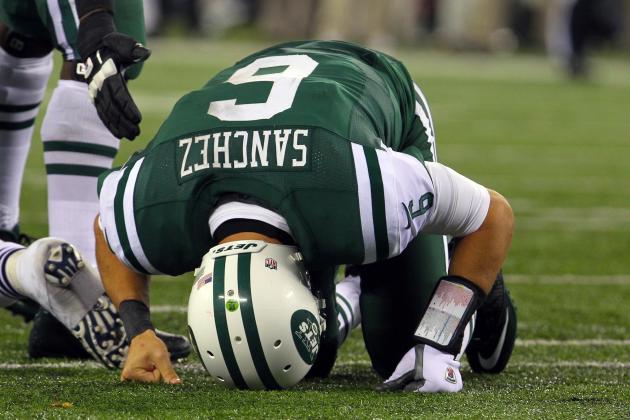 Ed Mulholland-US PRESSWIRE
Mark Sanchez and Jets await the Cardinals in New York next week.
The Cardinals' last best shot for a win in 2012 comes up next Sunday. Arizona will pack up and head to the Big Apple and tangle with the New York Jets.
The Jets are coming off of an embarrassing 49-19 loss to the Patriots on Thanksgiving night which had one of the funniest moments of the last few years in the NFL in that loss.
New York and Arizona are two teams going down the same path. The Jets started 3-3 and were tied with the rest of the AFC East for first place in the division after six weeks. They've since gone 1-4 and fallen just about out of the playoff picture.
Arizona started 4-0 and has now dropped seven in a row for their path to 4-7 and, yes, have also just about been eliminated from the playoffs. The other games still on the schedule for Arizona are on the road to Seattle, home with Detroit and Chicago before closing at San Francisco.
On a positive note, the Cardinals put up 35 points in their last game against the Jets. Yes, they still lost by three touchdowns, and Anquan Boldin broke his face on a vicious hit, but there is a glimmer of hope that the offense will come back on another visit there.
The fun, if you can call it that, kicks off at 1 PM in New York and 11 AM in Phoenix.
And one of these teams will get its fifth win of the season.