7 Reasons NASCAR Champ Brad Keselowski Will Struggle to Keep This Up in 2013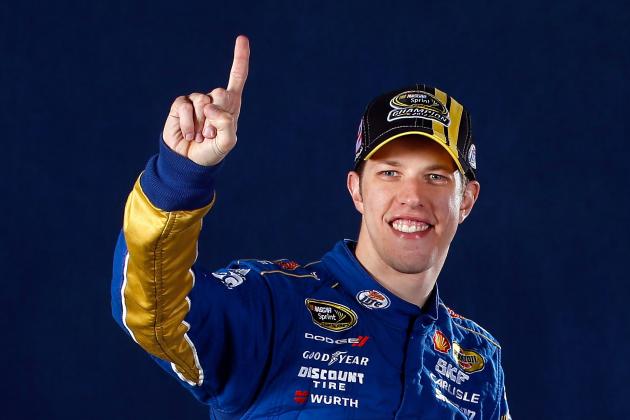 Chris Graythen/Getty Images

Welcome to the big time, Brad Keselowski.
The newly crowned Sprint Cup champion has been on a whirlwind media tour over the past few days, appearing everywhere from SportsCenter to the Late Show with David Letterman. So far, the 28-year-old Penske Racing driver has been everything NASCAR could ask for; humble, outspoken, and downright hilarious. Quite honestly, the way he represents the sport as its new champion has the potential to draw in many of the fans that the sport has lost over the years.
That doesn't mean that anybody's just going to let him keep this up, though.
Anybody in racing will tell you that they have an ego that drives them to be the best at what they do. While Keselowski satisfied his with the 2012 title, there are plenty of competitors that walked out of this season unsatisfied and especially motivated to knock the new champion off the mountain in 2013.
Besides that, Keselowski is going to be at a handful of competitive disadvantages next year, particularly as Penske switches manufacturers.
In short, a repeat title is not going to be easy. Here are seven reasons why:
Begin Slideshow

»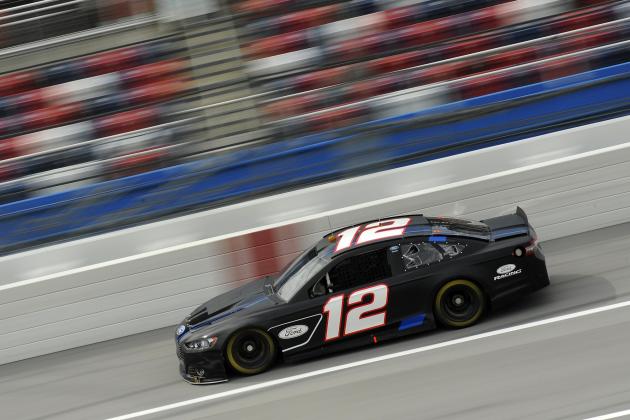 Jared C. Tilton/Getty Images

Yes, we all know that NASCAR is moving toward a new car model in 2013, meaning the vehicles in which Keselowski won this year's title will all be gone next year. But so will manufacturer Dodge, which decided to leave the sport after Penske ended its relationship with them after this season.
Though Penske isn't joining a slouch by any means in its move to Ford, it is part of a crowded house that includes Roush Fenway Racing, Richard Petty Motorsports, and Front Row Motorsports; and as all Ford teams, including the part-timers, will be getting their engines from the Roush-Yates shop, Penske won't have the reliability advantage under the hood (zero engine failures) that they did this year.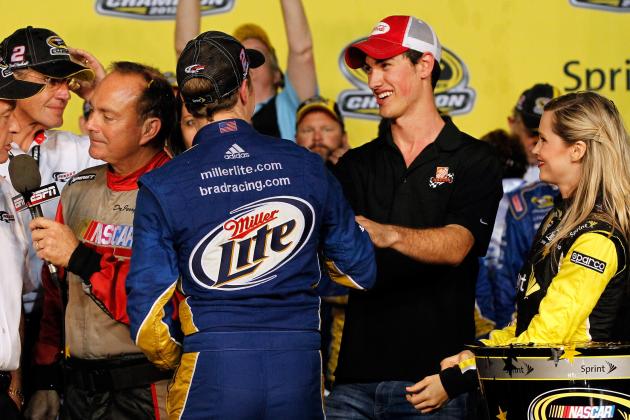 Tom Pennington/Getty Images

When Penske Racing opened this season with A.J. Allmendinger in their No. 22 car, he was the clear-cut second driver on the team. Then, when they replaced him with Sam Hornish Jr., who was ineligible for Sprint Cup points, that only further cemented the status of the second car. That won't be the case in 2013, as Joey Logano joins the team after years spent at Joe Gibbs Racing.
How is that addition going to detract from Keselowski's title hunt in 2013?
Remember, when Penske had two competitive cars in 2011, the second car failed to perform. If Logano starts the season as well as he ended this one and becomes a Chase threat, it could very well suck some of the momentum out of the No. 2 team as the team tries to put both cars in the playoffs.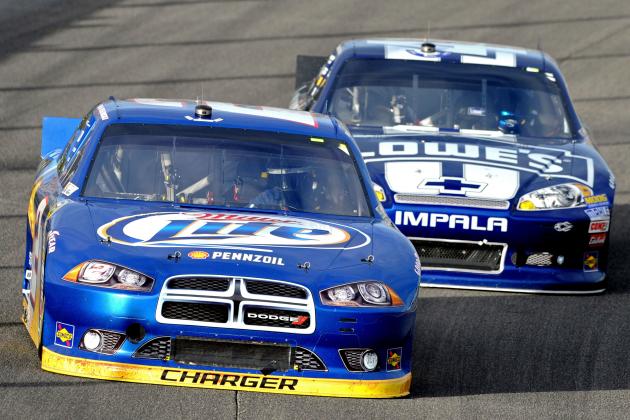 John Harrelson/Getty Images

Think of Jimmie Johnson, Chad Knaus, and the No. 48 team like an evil juggernaut in an action movie. Any time you take a good, hard swipe at them and send them reeling, they find a way to come back with unparalleled ferocity. Consider losing this year's championship a good, hard swipe.
Keselowski may have succeeded at doing something nobody else has since 2006—taking Johnson on head-to-head and beating him—but now he's stuck with an even less enviable task: backing that up the next year. When all is said and done, even a defeated Jimmie Johnson is still Jimmie Johnson.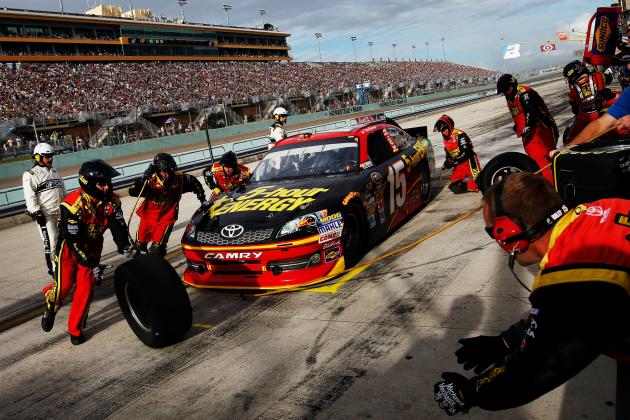 Tom Pennington/Getty Images

If not for the incident at Talladega and Jeff Gordon's retaliatory act at Phoenix, we could very well be writing about Clint Bowyer as champion right now. Bowyer, who beat Johnson for second in the championship by a single point, could have made this an even closer title race if only one of those incidents hadn't happened.
This was a breakout year for Michael Waltrip Racing, which didn't even establish Bowyer's team until this year. But finishing second in points with three wins right out of the box suggests that the No. 15 car could be a powerhouse for years to come. Bowyer still has some of his best years ahead of him, and he'll at the very least keep Keselowski honest in 2013.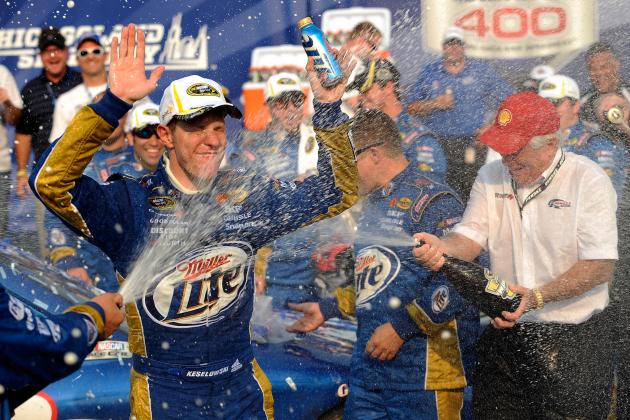 Jared C. Tilton/Getty Images

Keselowski did something fairly unprecedented in 2012—he posted career best finishes at 16 of 23 tracks on the Sprint Cup schedule, including seven of the 10 Chase tracks. That doesn't leave too much room to push forward, so to speak, but it also highlights something else: just how other-worldly of a season the new champion had.
With 23 top-10s, Keselowski set a new record for the No. 2 team. But he also scored the majority of them, 15 to be precise, in the second half of the season.
Beyond that, he had only one DNF, in the Daytona 500, and only four finishes of 30th or worse. Not only is that an unreal level of consistency, the only way to top it is to have a dream season like Jeff Gordon's 2007 run of 30 top-10s in 36 starts, something that no driver or team can bank on as a foregone conclusion.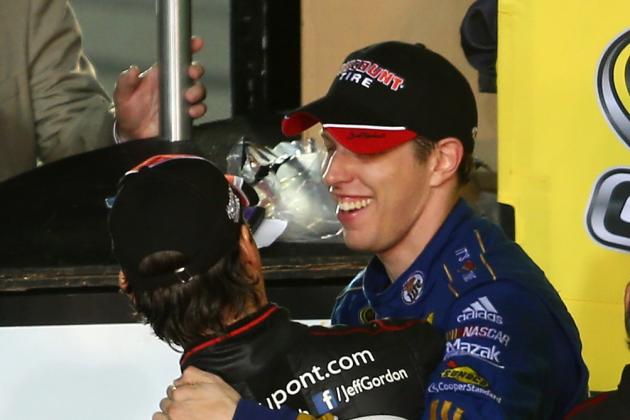 Todd Warshaw/Getty Images

For the first time since 2009, the Chase champion and the driver who scored the most points all season, were the same guy. That's great for Keselowski, because it confirms that he was the best driver in the series all season, regardless of how the sport crowned its champion. (Only four times in the nine-year history of the Chase has that been the case.)
But it's been a long time since any driver has scored the most points in back-to-back seasons. In fact, it's never happened in the Chase era, not even with Jimmie Johnson; only in 2006 and 2009 did he score the most points without factoring in the Chase format. The last time it occurred was when Jeff Gordon took back-to-back championships in 1997-98.
Keselowski has some work to do to approach that level.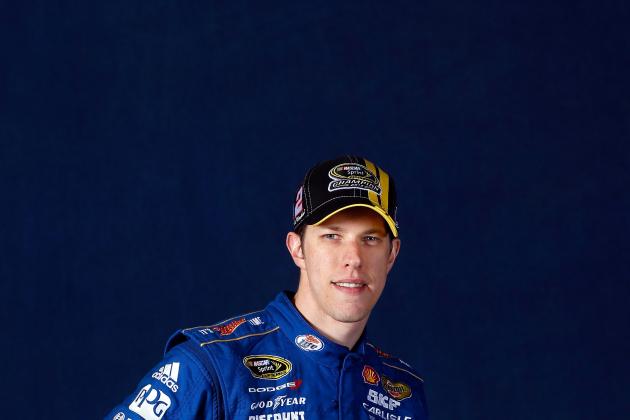 Chris Graythen/Getty Images

Juan Montoya may drive the Target car, but it's Keselowski who's going to be carrying the target on his back all next season as the defending champion.
That's just the way it works in professional sports, where everyone always guns for last year's victor. There's a special point of pride in being able to say you knocked off the guy who won it all last year, even if he comes home fifth the next season and you only come home third.
Sports are about two things: getting better than you were last year, and holding bragging rights. Each of the other 42 cars on track is going to have both of those goals in mind, and beating the defending champion satisfies them both. Keselowski will need to bring his A-game to overcome that. And while there's no doubt that the young defending champ will do so, like we've said, it won't be easy.
For more from Christopher Leone, follow @christopherlion on Twitter.