Lionel Messi Moves Closer to History, Barca Wins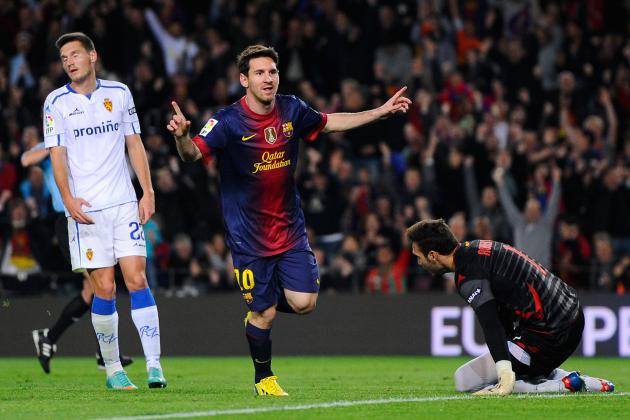 David Ramos/Getty Images

Lionel Messi led his FC Barcelona squad to another victory in La Liga as el blaugrana defeated Real Zaragoza 3-1 at the Camp Nou on Saturday. With the win, Barcelona have now earned 34 out of 36 points possible and matched the 1991-92 Real Madrid team for the best start after 12 games in Liga history.
Messi missed a golden chance to give the home side the early lead within two minutes when he missed putting the Jordi Alba cross into the back of the net. Messi made up for his miss in the 16th minute as Alba found Leo again–this time just outside the box—and Messi puts a great first touch on the ball and slide it past Zaragoza goalkeeper Roberto for the 1-0 lead.
Zaragoza nearly found the equalizer in the 22nd minute as a cross just missed the feet of Paco Montañes. But just two minutes later, Montañes got his goal as Martin Montoya did not clear the ball out well off a Zaragoza corner kick and the ball landed at the feet of Paco who slammed it past Victor Valdés for the equalizer.
Just four minutes later, Barça regained the lead as Messi drove left inside the box, which lead the Zaragoza defenders towards him, and Leo passed it to a wide-open Alex Song who made his first goal as a member of el blaugrana and gave Barcelona the lead again.
Victor Rodriguez nearly tied the game in the 30th minute, but his shot just went left of Valdés. Franco Zuculini nearly had a golazo in the 41st minute, but like Rodriguez's shot, it too went wide left.
The second half got off a bit slow for Tito Vilanova's men until the 60th minute when Montoya found Messi just outside the box. Leo curled a low shot from the half moon atop the penalty box and in to grab a brace on the night.
With his second goal of the night, Messi scored his 186th career Liga goal and has joined Carlos Santillana in 9th place in the all-time Liga scoring record.
Later in the game, Andrés Iniesta just missed making it 4-1 when his shot hit the crossbar. Barcelona stopped the few opportunities Zaragoza had in the second half and grabbed the 3-1 victory.
FINAL: FC Barcelona 3-1 Real Zaragoza
Let's look at the three most important points about FC Barcelona's win over Real Zaragoza.
Begin Slideshow

»
David Ramos/Getty Images

This Barcelona defense is shaky to say the least.
Other than the counter-attack, perhaps Barcelona's other main defensive issue is defending spot kicks and corner kicks.
I know, that's a big "other main issue".
It's been an issue all season, and it showed up in this game as bad defending on a corner kick—culminating with Martin Montoya's bad clearance—gave the ball to Paco Montañes who made the lone goal for Zaragoza.
I'm not panicking over this issue, but I won't lie and say that it doesn't worry me a bit.
I don't worry about defending corner kicks in Liga games as much as I do in UEFA Champions League games. The style of play of some of these CL teams makes for frequently more spot and corner kicks. The Celtic FC games of this CL season have been an example of this.
Is there anything Tito Vilanova can do to solve this?
Other than running defensive drills in practice, not really.
Barcelona is height-wise a small team. Of course, more practice in the training ground is needed. With Gerard Pique and Carles Puyol back, look for Barcelona to begin to slightly improve on defending corners. Marc Bartra and Sergio Busquets and their height will be needed more in Champions League action as well, especially in defending set pieces.
We'll see what happens with the defense now that it's relatively healthy again.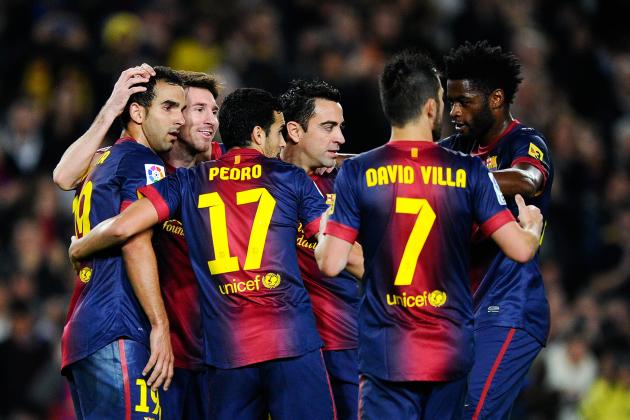 David Ramos/Getty Images

With their 3-1 win over Real Zaragoza on Saturday, FC Barcelona remains on top of La Liga with 34 points.
Think about it. Thirty-four out of 36 points have been earned by this Barça squad.
Simply incredible.
With 11 wins and 1 draw after 12 games, FC Barcelona equal the best Liga start ever after 12 games, equaling the 1991-92 Real Madrid squad.
Barcelona's next game is in Russia as they take on Spartak Moscow in Champions League action. Look for Dani Alves, Sergio Busquets and Cesc Fabregas to start that game as Dani did not play against Zaragoza (rest from international play), Busi was suspended (accumulation of yellow cards) and Cesc did not start against Zaragoza (came in as a substitute late in the game).
This coming game against Spartak is very important to not only get one step closer to securing the top spot in their group, but to also make a statement and rebound from their last CL game when they lost to Celtic FC.
After the loss to Celtic, many began to say that this FC Barcelona team is not as strong as some have though they were. Tito Vilanova's men need to go into Russia and make a statement against Spartak. It will be a tough game, but this team needs to let all the other teams in the CL that Barcelona has not fallen off in the Champions League.
They don't need to win 5-0, but a solid two-goal win with Barcelona being very physical would be good to see.
Barcelona's next Liga game is against Levante in Valencia. This is a tough week for the squad as they have to travel to Eastern Europe for CL action, then return to Spain and play a road game. This is where a solid rotation will come through for Tito Vilanova, especially for the midfielders.
Good win for FC Barcelona against Real Zaragoza on Saturday. This historic Barcelona team—with the historic year by Lionel Messi—continue their record pace in La Liga and is now looking to end 2012 on a solid run.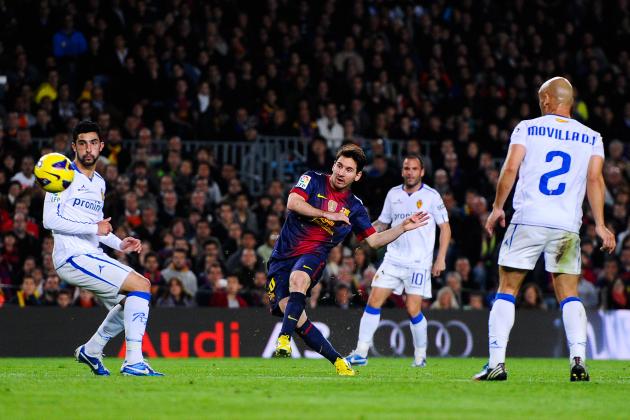 David Ramos/Getty Images

It seems like we do this every week for Lionel Messi.
Because we do.
Hey, he can't help breaking records.
And I'm not complaining.
Let's go:
For the eighth time this season, Lionel Messi has scored two goals or more in game. It's safe to say if Messi scores one goal, a second goal is a lock.
As previously mentioned, Messi scored his 186th career Liga goal and has joined Carlos Santillana in ninth place in the all-time Liga scoring record.
According to stat guru Mr. Chip, Messi surpassed the legendary Alfredo Di Stefano with the most two-goal games in Liga history (55). Messi now only trails another Spanish legend, Telmo Zarra, who holds the record with 76 two-goal games.
Lionel Messi has put Barcelona ahead in a match 99 times, and 61 of those 99 goals were the first goal of the game.
Messi is the first player in 64 years to score 17 goals the first 12 games. The legendary Barcelona player Cesar was the last player to do so in 1948.
Leo has played now scored 27 goals in 24 games for club and country this 2012-13 season.
Leo has now scored 50 goals in La Liga in 2012.
Messi has been directly involved in 101 goals in 2012: 78 goals, 23 assists (FCB: 66 Goals plus 22 assists; ARG: 12 Goals plus one assist) in 61 games (52 FCB plus nine ARG).
Lionel Messi has now scored 78 goals in 2012.
Messi is only seven goals away from Gerd Müller's record (85 in 1972) for the most goals in a calendar year.
I don't know how anyone can still think someone else deserves the Ballon d'Or in 2012. The numbers, the passes, the assists, the comeback winners and the golazos have been simply historic, not to mention ridiculous.
Lionel Messi more than deserves to be awarded the 2012 FIFA Ballon d'Or this coming January. Plain and simple.
But perhaps the statistic that is the most interesting for Messi and fellow Argentinians is this one: With 305 total career goals thus far, Lionel Andres Messi is only seven goals away from surpassing his boyhood hero Diego Armando Maradona's career goal-scoring mark of 311 goals.
At just 25 years of age, Messi is just seven goals away from having more goals than Maradona had in his entire career.
¡Grande Leo!
¡Grande Messi!
¡Históric Messi!
Xoel, The Voice of FC Barcelona on the net, period.
Don't forget to check out my other columns:
Is This Barça Team The Best La Liga Team Ever?