New York Yankees: Will the Bombers Keep Rivera, Pettitte and Kuroda for 2013?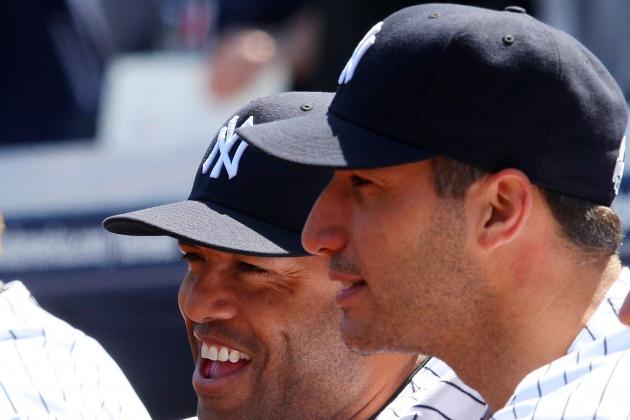 Jim McIsaac/Getty Images

The New York Yankees have slowly started to put their plans for the 2013 roster into motion.
As far as players from other teams go, it's hard to say who the Yankees will try to lure to the Bronx for 2013. But as far as their own players go, they have a few of them they would like to bring back for next season.
While players like Rafael Soriano and Nick Swisher will be calling another team home next season, the Yankees are looking to bring back Andy Pettitte, Mariano Rivera and Hiroki Kuroda.
According to Jon Heyman of CBS Sports and WFAN, the Yankees are confident that they can re-sign all three of them.
Can the Yankees bring back all three for the 2013 season? Let's look at each player's situation and determine if they are in fact coming back next season.
Begin Slideshow

»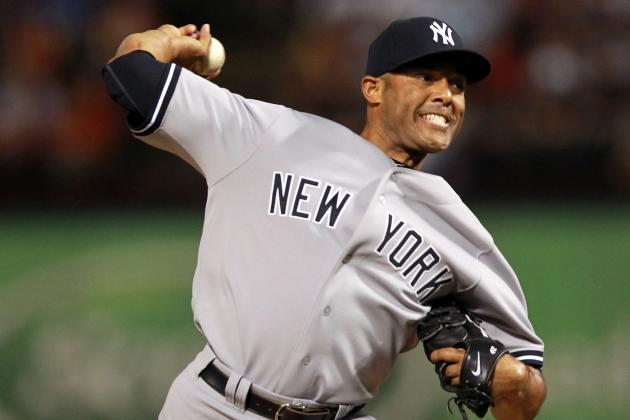 Ronald Martinez/Getty Images

Before the 2012 season started, we all thought that season would be the final one in Mariano Rivera's historic and Hall of Fame career.
And then Kansas City happened.
On May 4, Rivera was shagging fly balls in the outfield like he has done every single day in his career to stay active, and then he hit the turf.
At first, we thought maybe it was a sprain of the knee, but it wasn't. Instead, it was a torn ACL. Just like that, Rivera was lost for the season and needed surgery to repair it.
Rafael Soriano filled in nicely for the Yankees as the interim closer, which caused his value to go back up, allowing him to opt out of his contract to become a free agent again.
Rivera has said that he wants to come back for 2013, but he may have to do so while taking a pay cut.
Rivera is the greatest closer the sport has ever seen, but he will be 43 years old and coming off a major surgery when 2013 kicks off, so a pay cut isn't being unreasonable.
I think Rivera knows his situation, but I don't think the Yankees will play hardball with him (unlike how they did with Derek Jeter in the winter of 2010).
I think a one-year, $10 million deal should get the job done and get Rivera back to the Bronx.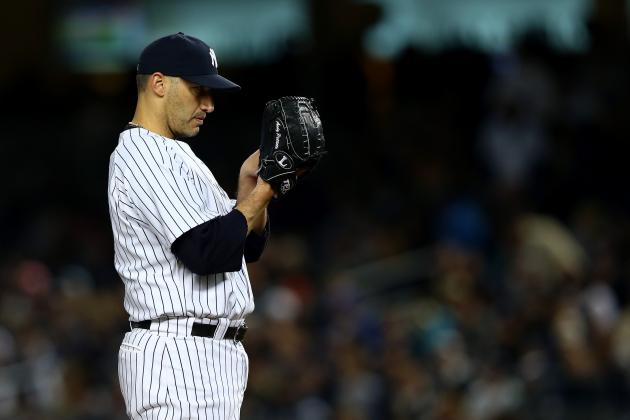 Elsa/Getty Images

Andy Pettitte shocked the entire baseball world by announcing in March of 2012 that he was coming out of retirement to pitch for the Yankees.
He signed a one-year deal for $2.5 million and was ready to pitch in May, and he was brilliant for the Yankees.
In June, he took a line drive off the ankle, which fractured it and forced him to the DL for almost three months. Upon his return, he still looked like the same old Andy Pettitte, even at the age of 40.
Pettitte came back for one more shot at winning a championship, but due to the fact that he was limited to 12 starts in 2012, I think he's going to give it one more go.
If Pettitte had made 25 starts, he may have thought about deciding to retire for good. But Pettitte's too much of a fierce competitor.
As long as Pettitte wants to come back, the Yankees will want him. With all of the question marks surrounding the rotation, they sure could use him.
My guess is a one-year, $10.5 million deal should be enough to get Pettitte back in pinstripes for at least one more season.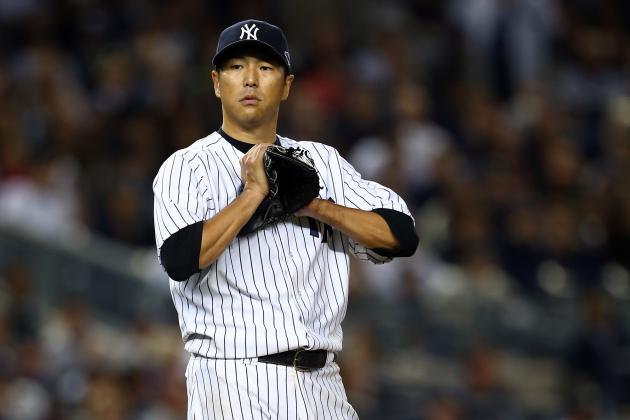 Elsa/Getty Images

Of the three players mentioned in this story, Hiroki Kuroda is the hardest one to figure out.
On one hand, Kuroda would prefer a one-year deal for 2013. On the other, he just rejected the Yankees' qualifying offer for a one-year, $13.3 million deal to return.
However, according to Heyman's story, the Yankees are willing to go higher as far as salary for Kuroda if it means they get to keep him.
The Yankees' main concern isn't the Boston Red Sox or Los Angeles Dodgers, but his native country of Japan coming in and taking him away.
The rumor about Kuroda is that he wants to return to Japan for at least one more year before hanging up his cleats for good. Can the Yankees entice him to stay in the states and pitch in the Bronx?
I think so, and I see a one-year, $14.5 million deal as a starting point for the Yankees to get the 37-year-old pitcher back.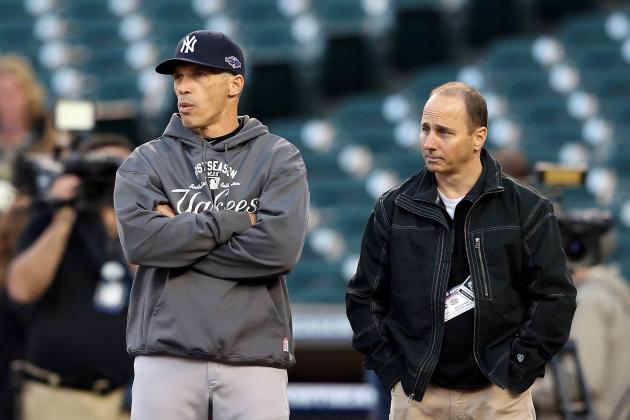 Leon Halip/Getty Images

Yankees GM Brian Cashman has some work ahead of him this winter.
Not only does he have to figure out the futures of Rivera, Pettitte and Kuroda, but he's also got to figure out if he's bringing back Russell Martin and Ichiro Suzuki as well.
Plus, Robinson Cano and Curtis Granderson are only signed through 2013, and he has to figure out if they fit into the team's plans long term.
But those will come later on. Right now, he has to focus on the three pitchers.
If you asked me right now, I'd say I'm 100 percent sure on Rivera coming back and 90 percent sure on Pettitte coming back.
As far as Kuroda goes, I'd say 50-50, only because of the Japan factor. But if he stays in the U.S, then I'd say he's coming back to the Yankees.
In the next coming weeks, I think we'll learn if the Yankees and Cashman are able to lure all three back to the Bronx for 2013.
Stay tuned, Yankees Universe.