12 Craziest Things in WWE so Far in 2012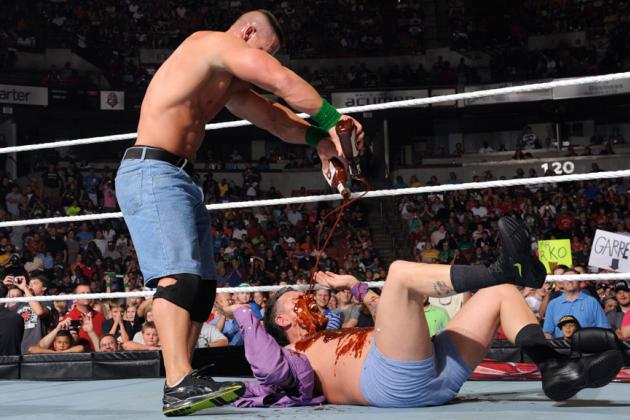 photo from wwe.com
2012, like most years, has been a wild one for WWE.
The biggest sports entertainment company in the world has had its share of flops, hits and surprises this year. Some have been ho-hum and will be soon forgotten, while the insanity of other moments will allow them to live on forever.
WWE has pulled out some bizarre gimmicks, peculiar storylines and given us some memories that reek of crazy.
Vince McMahon and company still have over a month to add to this list, but so far, here are WWE's best and worst adventures in lunacy.
Begin Slideshow

»
Having an announcer face off against John Cena for a Raw main event is only slightly crazy. Having that match end with Cena drenching Michael Cole in barbecue sauce is downright insane.
Cole had definitely moved into supremely irritating territory.
It made sense for someone to give the smug announcer his just desserts, but witnessing a man being stripped down to his boxers and turned into a human pork chop on air was discomforting.
This was the lasting image WWE presented as the show faded out, leaving it stuck in fans' minds for days.
The only person likely to have been happy about this match was Jim Ross, whose sauce was mentioned by name several times on air.
In an era with very few managers, Abraham Washington stood out. He was giving The Prime Time Players depth and seemed primed to slowly form a stable of wrestlers.
Then there was the Kobe Bryant joke.
Yeah, it was bad, both in terms of taste and in terms of quality. With a joke that like that, you groan and then you move on.
After some bad press regarding it though, WWE overreacted.
AW told ctpost.com that WWE didn't fire him because of the joke, but because of a tweet about Linda McMahon.
Ctpost.com also reported that WWE rep Brian Flinn said AW was fired because "he continued to exhibit poor judgment by making offensive and inappropriate comments on live television and on social media."
It seems AW's biggest crime was straying from the script. As history shows, WWE doesn't have a problem with offensive and inappropriate comments that they write themselves.
Big Show made a worse Kobe Bryant joke. John Cena spouted offensive homophobic insults in his promos.
John Morrison gave fans a phenomenal Spider-Man impression at Royal Rumble 2011. Kofi Kingston did his best to top that memorable moment.
The Miz seemed to have Kingston eliminated. The fan favorite's upper body hung over the ring apron. Miz shoved Kingston's boots forward, but Kofi stunned the crowd by doing a handstand on his way back to the ring steps.
Right alongside all the storylines and high-impact moves that the Royal Rumble match featured, Kingston's display of agility made him one of the event's major talking points.
The move was a welcome surprise and just an unbelievable sight.
Who knows what kind of ludicrous ideas get tossed around at WWE Creative meetings? Sometimes you have to come up with a few terrible ideas before you think of a great one.
Ideas like Natalya's farting angle have to be dismissed and abandoned long before they reach the airwaves.
What's the best way to showcase one of your best female wrestlers? It's certainly not by having her become a complete joke by tooting in backstage segments?
The concept is crazy enough, but the fact that they chose someone of Natalya's skill level to use it on is even more nuts.
Just when fans thought that their beloved WWE had become completely watered down and transformed into kid-friendly material, the blood came a pouring.
Twice during John Cena and Brock Lesnar's short feud did we see blood in the oft-sterile PG Era.
On an episode of Raw, a Lesnar punch left Cena's goofy smile a fresh crimson. Cena would go on to bleed again, this time at Extreme Rules.
Some hard Lesnar elbows seemed to be the culprit in causing the top of Cena's head to open up, delighting both Cena haters and bloodthirsty fans alike.
CM Punk got into the act during a steel cage match against Jerry Lawler.
The match ended with Punk's face a bloody mess, not exactly the family programming image WWE wants to portray.
Punk responded to speculation about him blading to achieve the match's gore by posting a picture of his head wound on Twitter. Generally, wrestlers don't give themselves gashes that big and not usually that high on their head.
There was a time not all that long ago when a few incidents of blood would have been considered the norm, but in the newly sanitized world of WWE, any sighting of the red stuff is a wild surprise.
We may be used to it now, but how weird was it when former monster heel Brodus Clay was first introduced as the only "living, breathing, rompin', stompin' Funkasaurus in captivity"?
Maybe it worked for some right away. Maybe it grew on others over time.
Still, asking a behemoth of a man to become a jiggling buffoon in red is a bizarre choice.
A ridiculous, crazy character choice isn't groundbreaking for WWE, but something this bizarre is noteworthy. The gimmick has led Clay's career to stall. Once the initial laughs were over, what could WWE really do with him?
The Funkasaurus character has led to the entertainingly awkward moment of Vince McMahon getting funky and a complete waste of WrestleMania time in the form of fake old ladies dancing.
If you asked a wrestling promoter how to best turn a talented wrestler into a beloved star, it's not likely they would suggest having him lose his world title in 18 seconds at WrestleMania.
Before that blink-of-an-eye loss to Sheamus, Daniel Bryan was well respected by wrestling publications and appreciated by wrestling purists. As for the casual fan, they seemed underwhelmed at best.
Whether it took an embarrassing loss on WWE's biggest stage for fans to appreciate him or if his momentum was just picking up that point, Bryan's worst loss became his biggest moment.
Fans latched onto him like never before.
The rumble of the "yes" chants grew to an incredible crescendo from WrestleMania 28 on.
Now, Bryan stands as one of the company's most valuable assets. Wildly enough, it wasn't one of his fantastic wrestling performances that kickstarted his stardom, but rather taking a Brogue Kick to the mouth and lying down for the three-count.
In the tradition of a heel insulting the local fans to get heat, Chris Jericho desecrated a Brazilian flag and no idea of the backlash it would cause.
Local police stopped the match.
Overreacting, WWE suspended Jericho for 30 days.
WWE's hypocrisy had fans believing that the suspension was some sort of storyline cover-up for Jericho going on tour with Fozzy or something.
Why would a company that has showcased Shawn Michaels sticking the Canadian flag in his nose and considered having Sgt. Slaughter burn the American one give a crap about Jericho's actions?
The answer is the lunacy of oversensitivity.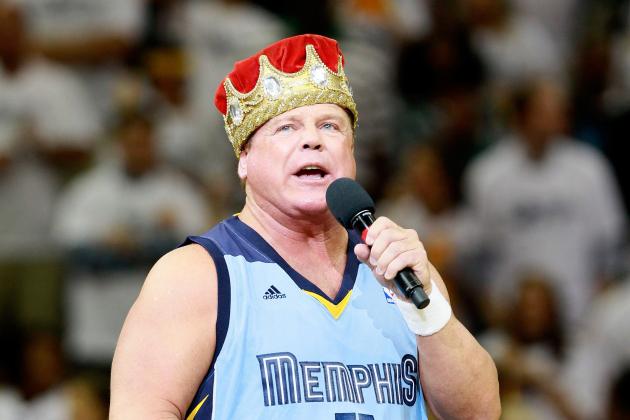 Kevin C. Cox/Getty Images

WWE attempts to draw fans into a fantasy world of violence, spectacle and drama. No matter how well they construct their narrative and have us believe it, reality can sometimes force its way into the picture.
While announcing a September tag team match on Raw, Jerry Lawler had a heart attack.
The audience's attention strayed from the wrestling and the commentary went an eerie quiet. Michael Cole had to assure fans that Lawler's serious medical condition was in fact real and not a WWE-created plot.
Lawler had just been involved in a feud with CM Punk, losing to him in a steel cage. This was not a continuation of that story—it was real.
In an instant, a frightening situation infiltrated sports entertainment. It was difficult to enjoy the rest of the show, not knowing what would happen to "The King." Fans expect to be shocked and moved, but not like this.
Thankfully, Lawler has recovered. He's scheduled to return to Raw on Nov. 12.
Kane and Daniel Bryan have been at the forefront of much of WWE's most entertaining moments this year. Credit WWE for taking creative risks with their segments.
How many members of WWE Creative thought that anger management classes or a nationally televised hug didn't belong on WWE TV?
Conceptually, many of Team Hell No's segments are a little crazy. In reality, they worked, providing a welcome burst of unexpectedness.
The angle has made use of anger collages, a vegan eating a meatball, role play, Gatorade baths and a Disney Land reference.
The whole ride has been a little crazy, but judging by the results, the right kind of crazy.
Santino Marella nearly became the biggest underdog to win a major WWE title in company history.
Rey Mysterio's title reigns are one thing, but having Santino win the big gold belt would have been the equivalent of Barry Horowitz beating Randy Savage for the title.
Facing five other men in the Elimination Chamber, Santino outlasted Wade Barrett, Cody Rhodes, Big Show and The Great Khali. After hitting his trademark Cobra Strike, Santino went for a pin on Daniel Bryan.
Bryan kicked out just before the ref's hand could smack the three-count, making the powder keg of a crowd at the Bradley Center moan in unison. Venturing so close to a long-time comic relief character winning the World Heavyweight Championship got the biggest reaction of the night.
In an era where wrestling fans are often over-informed and hard to surprise, WWE went in a direction no one saw coming.
AJ Lee went from the cute, athletic girl that hung around Daniel Bryan to a central figure in a number of storylines. The catalyst for her upward movement has been her kayfabe craziness.
Just don't use that C-word around her.
She inspired the "I Dig Crazy Girls" T-shirt, took over Raw as GM for a spell and was a big part of a feud over the WWE Championship.
Bouncing from Kane to CM Punk to Daniel Bryan, her over-the-top attempts at acting crazy made her a star and gave fans something new to soak up. Soap opera-inspired stories isn't new territory for WWE, but AJ's bubbly personality and skimpy outfits made it all seem fresh.
Emotionally unstable never looked so cute.