Miami Football: Winners and Losers from the Week 9 Game Against the Hokies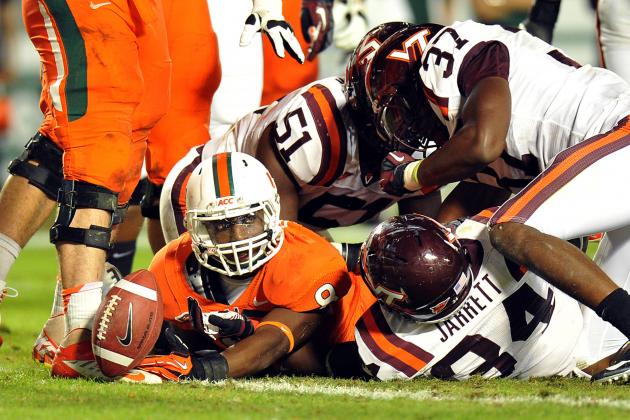 Steve Mitchell-US PRESSWIRE

The Miami Hurricanes beat the Virginia Tech Hokies 30-12 on Thursday night in Miami. The win snapped a three-game losing skid and gave the Hurricanes sole possession of first place in the ACC Coastal division.
Running back Duke Johnson led the way with 217 all-purpose yards, including an 81-yard kickoff return. Duke finished with 104 yards and a touchdown on just 11 carries.
Here are my winners and losers in the win against the Hokies.
Begin Slideshow

»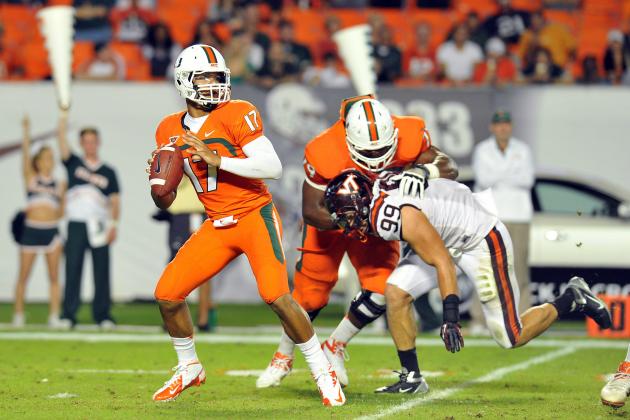 Steve Mitchell-US PRESSWIRE

Although Stephen Morris completed 13 of 28 passes for 170 yards, two touchdowns and no interceptions, he missed so many chances to have better numbers.
For the third straight week, Morris struggled finding receivers—and they were open all night long.
I am not sure if Morris has lost all confidence in his receivers or if he is scared to throw interceptions, but whatever it is, he needs to fix it immediately.
With the way that the defense is improving, the Hurricanes have a shot at being conference champs, but if Morris continues to be timid, they may not even beat Virginia next weekend.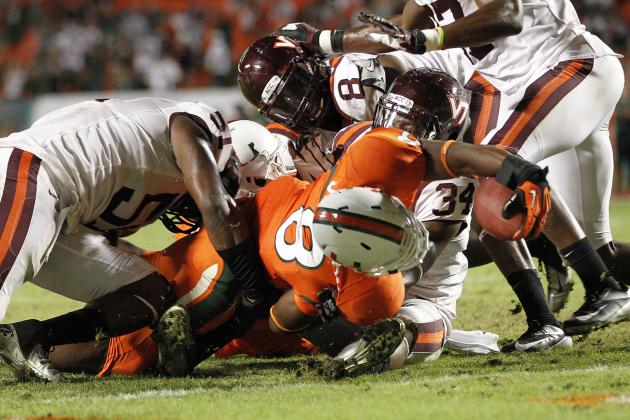 Joel Auerbach/Getty Images

Welcome back, Duke Johnson. For the last three weeks, Duke has been AWOL. On Thursday night, he finally showed the entire country what us fans have been missing for weeks now—amazing playmaking ability.
Duke finished with 104 yards and a touchdown on 11 carries while adding another 118 yards on kickoff returns—including an 81-yard return in the first quarter.
The Hurricanes need to continue to get Duke the ball as he is the best playmaker on the team. I believe that the coaching staff needs to set up more screen passes to try to get him into the open field.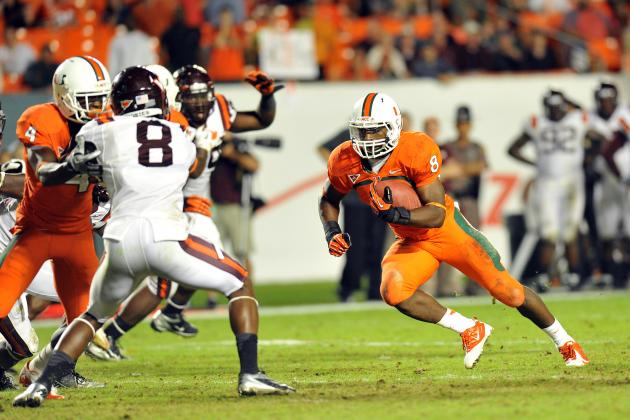 Steve Mitchell-US PRESSWIRE

Nothing frustrated me more on Thursday night than the play-calling of offensive coordinator Jedd Fisch. I honestly thought that the bye week would allow him to fix the lack of offense that Miami has gone through over the last few weeks.
Nope, it was pretty much the same garbage.
I am so frustrated with how poor this offense has been playing lately. I understand that Stephen Morris is struggling at quarterback, but that doesn't mean you can't do other things to produce yards.
How about more screen passes? How about throwing shorter slants? Maybe even toss a few counters in there.
I am so tired of having all these playmakers over the last few years being grounded by a poor offensive coordinator.
Last night was the same old, same old from coach Fisch. Dives to Duke Johnson, swing passes to Dorsett and a few deep balls to covered receivers.
Now I will blame Morris on some of those miscues on Thursday, but it wasn't just on him. I think that Fisch really needs to have a little more faith in his players as they are all tremendous athletes who can make big plays if given the chance.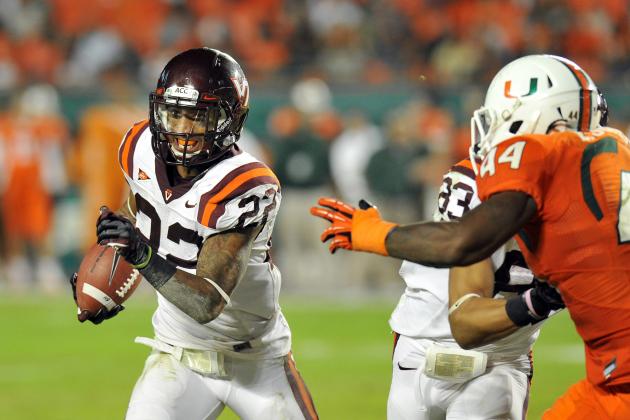 Steve Mitchell-US PRESSWIRE

The Hurricanes defense is steadily improving, and one of the biggest reasons why is linebacker Eddie Johnson.
Johnson continued his great freshman season last night by leading the team in tackles (11) with one of them being a tackle for loss. He also broke up a Logan Thomas pass.
Johnson is tremendously talented with a great knack for being around the ball all the time. He did miss a couple tackles, but in my opinion, he was the defensive player of the night.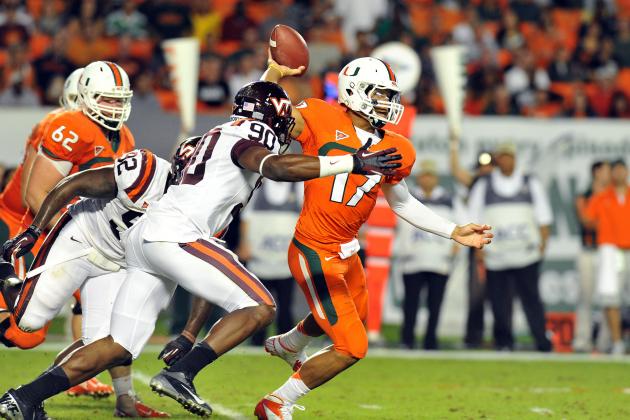 Steve Mitchell-US PRESSWIRE

Virginia Tech's defensive line never recorded a sack and had just three tackles for loss, but those stats won't tell the true story of how the Hurricanes' offensive line struggled.
The Hurricanes' official stat sheet doesn't show Virginia Tech with any quarterback hurries, but I beg to differ. I would say that the Hokies got to Stephen Morris anywhere from eight to 11 times.
Morris was forced into quick decisions, and for the second straight week, the offensive line struggled to open up holes for the 'Canes' running backs.
Even on the 65-yard scamper by Duke Johnson, Johnson had to break a tackle at the line of scrimmage.
The offensive line has been good all year long, but Thursday night was not a good game for it, and it was one of the reasons why Miami struggled on offense.
Steve Mitchell-US PRESSWIRE

It only took two catches for 56 yards to put someone on my winners list, and that honor went to tight end Clive Walford.
Obviously, the stats aren't mind-blowing, but every college football team that runs a pro-style offense understands how valuable a tight end is.
Walford was able to get open on multiple plays, and Morris hit him twice in a row midway through the second quarter.
Walford is a very big and physical tight end who has pretty decent speed. He has had a problem dropping passes this year but came through big for the Hurricanes on Thursday night.