Philadelphia Eagles: Game-by-Game Predictions for Second Half of the Season
Rob Carr/Getty Images
It's starting to get ugly in Philadelphia.
The Eagles fell to 3-4 after a 30-17 loss at home to the undefeated Atlanta Falcons. Philadelphia has now lost three straight games after a somewhat promising start, and the panic button is being pushed at a frantic pace.
The Eagles are by no means out of playoff contention. They trail the 6-2 New York Giants in the NFC East, a division that looks like it is the Giants' to lose. But in the Wild Card standings, the Eagles are chasing the 5-3 Minnesota Vikings and Green Bay Packers.
The season is not lost yet, so let's see what the remainder of the Eagles' schedule looks like and check how hopeful Eagles fans should really be.
Week 9 at New Orleans Saints
Rich Schultz/Getty Images
The Eagles will be under the national spotlight Monday night as they head into the Mercedes-Benz Superdome to play the 2-5 Saints.
New Orleans leads the league in passing offense, but it is dead last in the league in rushing offense. The Saints also have one of the worst defenses in the NFL, ranking 30th in passing defense and 31st in rushing defense.
Saints quarterback Drew Brees will put up his numbers, but if the Eagles want to win they need to be able to at least slow down the New Orleans offense so that they can keep pace on the scoreboard.
Prediction: Eagles 27, Saints 24
Week 10 vs. Dallas Cowboys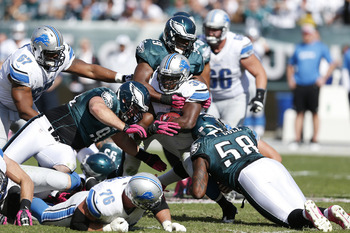 Joe Robbins/Getty Images
The Eagles play division rivals Dallas for the first time this season on November 11.
The Cowboys are 3-4, just like the Eagles. They've played pretty strong defense, but they have struggled to keep teams off the scoreboard despite their solid defensive stats.
Dallas will be coming off of a Sunday night matchup with the Atlanta Falcons and will likely be 3-5 as they enter Lincoln Financial Field, which will be at maximum volume for this huge rivalry game.
Prediction: Eagles 24, Cowboys 17
Week 11 at Washington Redskins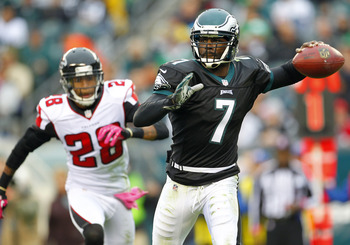 Rich Schultz/Getty Images
Back-to-back weeks the Eagles will be playing a division rival for the first time this season.
In Week 11, Philadelphia travels to Washington to face rookie phenom Robert Griffin III and the Redskins. Washington will be well rested for the Eagles since they have a bye in Week 10.
The Redskins have a potentially high-powered offense as long as Griffin's receivers make catches. Rookie running back Alfred Morris has rushed for 717 yards and five touchdowns this year and helps create a balanced offensive attack.
Washington ranks last in the league in passing defense, so this could be a game where Michael Vick makes a statement.
Prediction: Eagles 31, Redskins 21
Week 12 vs. Carolina Panthers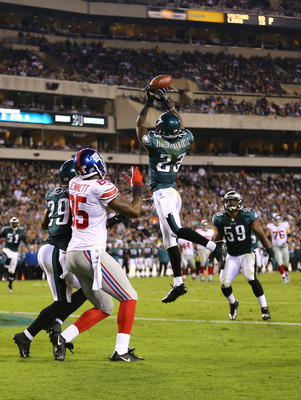 Al Bello/Getty Images
The Eagles play Carolina in Week 12, a team that is currently 1-6 and will be at Washington and then at home against Denver and Tampa Bay before visiting Philadelphia.
The Panthers entered the season hoping to make a playoff run with quarterback Cam Newton in his second year in the league, but Newton has struggled through a sophomore slump, only throwing five touchdowns and eight interceptions through the team's first seven games.
Looking at this matchup, it should be a win for the Eagles, but this team has disappointed in the past and this is the NFL, so anything is possible.
Prediction: Eagles 27, Panthers 17
Week 13 at Dallas Cowboys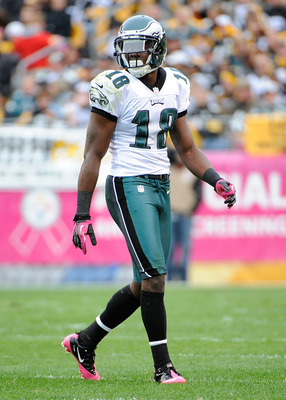 Joe Sargent/Getty Images
Philadelphia's second matchup with the Cowboys this season comes in Week 13. At this point in the year, I have the Eagles at 7-4, riding a four-game winning streak, and the Cowboys at 5-6, coming off of back-to-back wins.
It's very hard to beat a team twice in the same season, especially when that team is a division rival. This second matchup will be a very exciting game between two teams who will be fighting for playoff positioning.
I have the Eagles beating the Cowboys at home, but it will be tough to do the same on the road.
Prediction: Cowboys 23, Eagles 21
Week 14 at Tampa Bay Buccaneers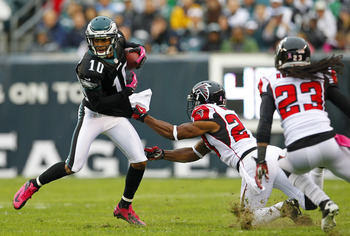 Rich Schultz/Getty Images
Tampa Bay is 3-4 and should be about 5-7 when they host the Eagles.
The Buccaneers have a middle-of-the-road offense led by quarterback Josh Freeman and rookie running back Doug Martin. Martin has rushed for 543 yards and is running a lot better now that he doesn't have to look over his shoulder at LeGarrette Blount.
Tampa Bay ranks 31st in the league in passing defense, so with the proper play-calling, Michael Vick could tear apart this defense.
Prediction: Eagles 28, Buccaneers 17
Week 15 vs. Cincinnati Bengals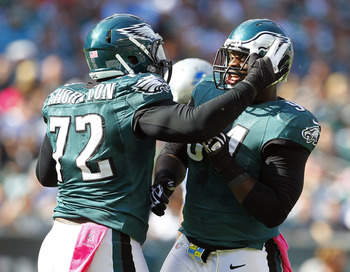 Rich Schultz/Getty Images
The Cincinnati Bengals are currently 3-4, but they could be playing to keep their playoff hopes alive in Week 15 against the Eagles.
Quarterback Andy Dalton is having a solid sophomore season, throwing for 1,831 yards and 13 touchdowns, but the Bengals lack a consistent running game, which will be beneficial for the Eagles.
The Bengals' defense has let them down this year, with the exception of a few games.
Prediction: Eagles 24, Bengals 20
Week 16 vs. Washington Redskins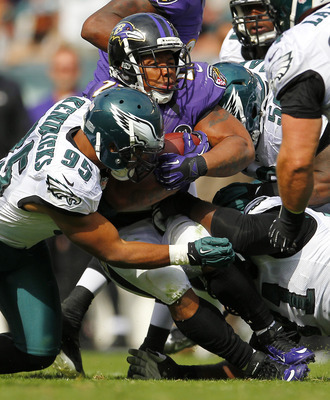 Rich Schultz/Getty Images
The Eagles' second matchup with the Redskins is in Philadelphia, and it should be a more important game for the Eagles than for Washington.
On paper, Philadelphia is the better team and should be able to beat the Redskins two times this season. But as mentioned before, this is the NFL, and anything is possible. However, you have to believe that the Eagles will be full of energy for this game.
Prediction: Eagles 34, Redskins 24
Week 17 at New York Giants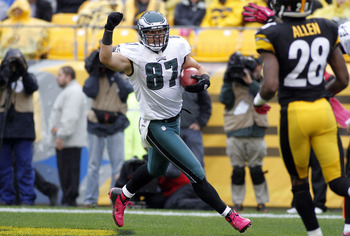 Justin K. Aller/Getty Images
The Eagles defeated the New York Giants 19-17 in Week 4, and the Giants have not lost since. Looking at the Giants' schedule, you can expect them to be around 11-4 heading into the last week of the season. If that's the case, and the Eagles are 10-5, this matchup would be for the NFC East title.
The Giants play two road games before hosting the Eagles: at Atlanta and at Baltimore. If New York loses both of those games, it could give Philadelphia an opportunity to beat them while they're down.
But once again, it's hard to beat a division rival twice in the same season, and this game will be a great one.
Prediction: Giants 20, Eagles 17
Follow @TimStoeckle on Twitter.
Keep Reading

Philadelphia Eagles: Like this team?