Pittsburgh Steelers Game by Game Predictions for Second Half of the Season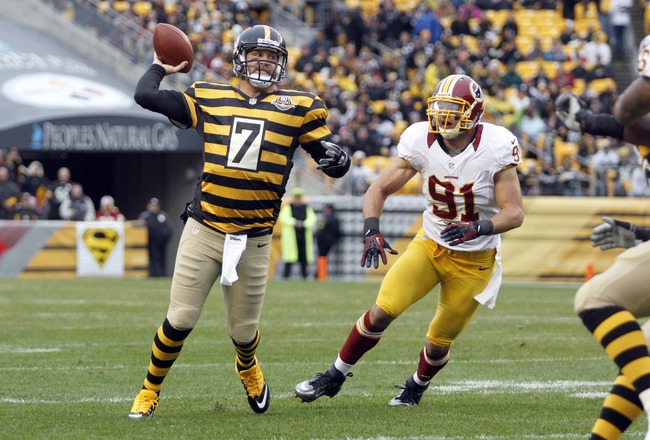 Justin K. Aller/Getty Images
With the Steelers standing at 4-3 after a defeat over the Washington Redskins on Sunday, Pittsburgh is now poised to make a run in the season's second half. Approaching it as a nine-game season from here to the finish, Mike Tomlin and his team have a golden opportunity to retake the AFC North.
Here's a look at Pittsburgh's remaining schedule and some predictions for each game.
Week 9: At the New York Giants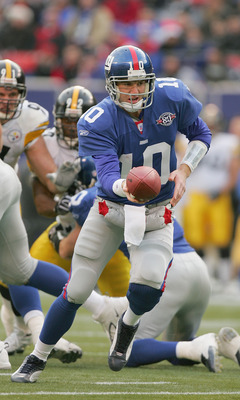 Ezra Shaw/Getty Images
Analysis
The Steelers will face a Giants team that's coming off a very shaky performance in Dallas against the Cowboys. They will have to perform better to beat a Steelers team that seems to be finally hitting its stride and playing within itself.
The key for New York might be Ahmad Bradshaw and their rushing attack. The Steelers have had some trouble containing opposing runners. An effective rushing attack could tip the balance for New York.
For the Steelers, it all comes down to how the defense performs. The offense should be fine, although the line will get a big test by the New York front seven. If the defense can continue to step up their game, they will be able to beat the Giants.
Prediction:
Steelers 20, Giants 18

Week 10: Versus the Kansas City Chiefs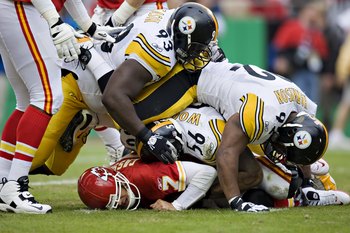 Wesley Hitt/Getty Images
Analysis
The Steelers struggled last season against the Chiefs, but right now the Chiefs are having trouble getting out of their own way. They lead the league in lost fumbles and can't seem to find any offensive groove. Against this Pittsburgh defense, they are in for a long day.
For the Chiefs to pull the upset, their best hope is to use their defense to shut down the Steelers. That isn't likely, but I do not see the Chiefs offense finding much consistency against Pittsburgh without a massive implosion.
The Steelers need to show up and play like the superior team. It's really that simple. If they go out and play down to Kansas City, the game will be far too close and interesting. If they play up to their talent level, this game could get very ugly for the Chiefs.
Prediction:
Steelers 34, Chiefs 9

Week 11: Verus the Baltimore Ravens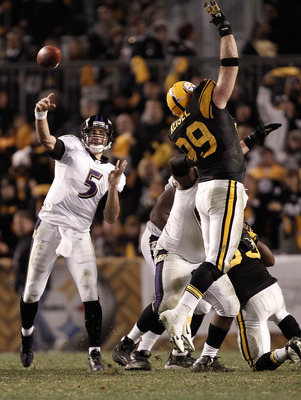 Jared Wickerham/Getty Images
Analysis
This game will be the Steelers' biggest test. The Ravens are banged up and, like Pittsburgh, showing some holes on defense. The Steelers couldn't beat Baltimore last season and will be looking to rectify that this time around.
The Ravens must use Ray Rice. It seems that as he goes, so goes Baltimore. Cam Cameron has been strangely reluctant to use him often and it costs the Ravens every time he comes off the field or isn't the focus of a play.
The Steelers must shut down Joe Flacco and Rice. If they can do that, the Ravens probably do not have enough defensive prowess left to beat the Pittsburgh passing attack. Their secondary is lacking its most consistent player in Lardarious Webb.
Prediction
Steelers 16, Ravens 13 (OT)

Week 12: At the Cleveland Browns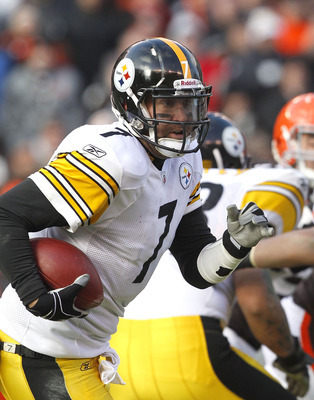 Matt Sullivan/Getty Images
Analysis
Predicting a blowout between these two teams has become impossible. They never seem to play anything but a close, hotly-contested game. This year shouldn't be different for any reason.
What makes this matchup interesting is that the Browns possess a good defense that has found ways to shut down effective offenses. On Sunday, the Browns silenced Philip Rivers and the Chargers. If they have a good game, they could stay within striking distance.
For the Steelers, this game is going to be about doing to Brandon Weeden what was just done to Robert Griffin III. The Steelers have to shut him down, make him confused and force mistakes. Weeden hasn't been the most accurate or mistake-free quarterback. The team that gets turnovers will win the game.
Prediction
Steelers 24, Browns 13

Week 13: At the Baltimore Ravens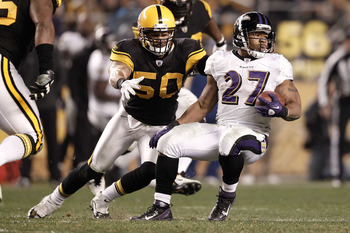 Jared Wickerham/Getty Images
Analysis
After facing the Browns, the Steelers have the daunting task of turning around and facing the Ravens again for their third straight division game. How they respond to that challenge will dictate the outcome of this game.
The matchups are going to be the same. The Steelers will need to contain Ray Rice and Joe Flacco while the Ravens will have to handle the Pittsburgh passing attack. The game will likely be close, regardless of who wins.
The big challenge for both teams will be to bring something unexpected to this game after playing only two weeks before in Pittsburgh.
Prediction
Ravens 14, Steelers 13

Week 14: Versus the San Diego Chargers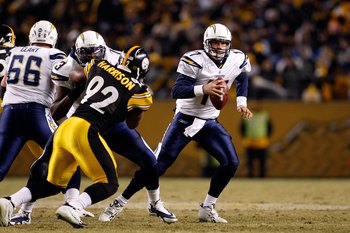 Chris Graythen/Getty Images
Analysis
A couple of weeks ago, I would have said that this could end up being ugly for the Steelers. Now I'm not so sure it couldn't end up being ugly for the Chargers, who haven't done well against the Steelers, especially in Pittsburgh.
The Chargers will have to make a long trip east, play in conditions likely to be difficult for them and play a team that is difficult to beat at home. They'll have to move the ball, which they haven't been doing well lately.
The Steelers will have to contain Philip Rivers. The Chargers' running game doesn't scare me enough to think it a major concern. Offensively, the Steelers should throw often and try to test this San Diego secondary, which has been okay at best.
Prediction
Steelers 27, Chargers 16

Week 15: At the Dallas Cowboys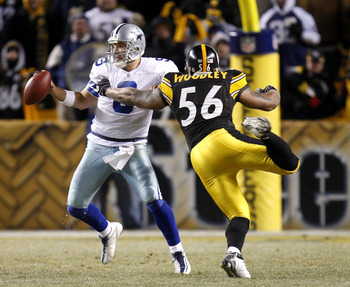 Gregory Shamus/Getty Images
Analysis
The classic 1970s rivalry has lost steam as the Cowboys have been largely irrelevant for the better part of a decade and a half, but these two teams play each other hard every time they get to face off.
The Cowboys have a statistically good offense and defense, but they just can't win games. They are the perfect proof that statistics lie. Tony Romo has been victimized by drops all year and the Cowboys are once again dealing with a banged up backfield.
For the Steelers, it will come down to being effective against a good Dallas secondary. If their passing game is successful and they can exploit short and medium passes, the Cowboys will have trouble preventing a loss.
Prediction
Steelers 26, Cowboys 19

Week 16: Versus the Cincinnati Bengals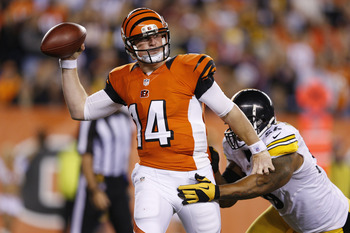 Joe Robbins/Getty Images
Analysis
In their first game this year, the Bengals were listless and had absolutely no killer instinct. They could have knocked out the Steelers a few different times, but instead they found themselves simply giving up.
This time, I'd expect a Bengals team that is probably fighting to remain above .500. They don't have the look of a playoff team anymore and the Steelers exploited their defensive weaknesses well. Getting another big game out of the rushing attack will be huge.
For the Bengals to win, it will take a concerted and spirited effort on offense. Andy Dalton will have to find other receivers after the Steelers proved to have an answer for A.J. Green. If he can get the ball to other guys in space, they can move it more effectively.
Prediction
Steelers 24, Bengals 20

Week 17: Versus the Cleveland Browns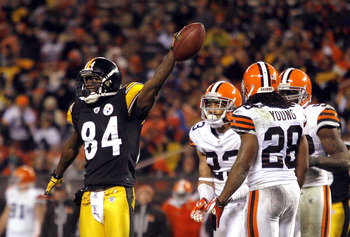 Matt Sullivan/Getty Images
Analysis
The Steelers finish the season at home against the Browns in what will again be a close contest. This game could be closer because the Steelers will, by my predictions have clinched at least a playoff berth and will be resting starters.
The Browns will want to exploit that to get one more victory. The best way to do so would be to get Trent Richardson going against the Pittsburgh defense. Effective running by him will open up some spots for the passing game.
The Steelers, if they are actually resting players, will simply be looking to get through this game healthy, but it should be a nice time to give Charlie Batch a send off start as I find it hard to imagine him making another season.
Prediction
Steelers 17, Browns 12

Keep Reading

Pittsburgh Steelers: Like this team?