Merseyside Derby Preview: 5 Keys to a Liverpool Victory Against Everton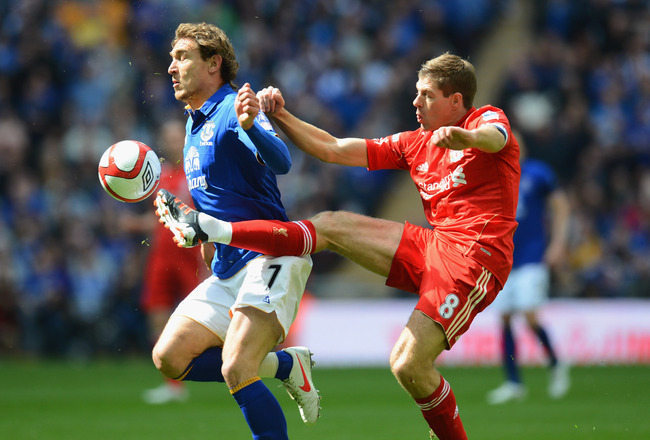 Mike Hewitt/Getty Images
After a tidy but important 1-0 win over Anzhi Makhachkala in the Europa League on Thursday, Liverpool return to the Premier League with a trip to local rivals Everton this Sunday.
Whisper it quietly—but after a leaky start to the season, Liverpool are now unbeaten in three matches and have kept clean sheets in all three.
And the stakes are about to get higher this weekend with a trip to high-flying Everton, currently sitting fourth.
Here are five keys to a Liverpool victory at Goodison Park this weekend—and, as usual, feel free to have your say in the comments below.
Cut Out the Mistakes at the Back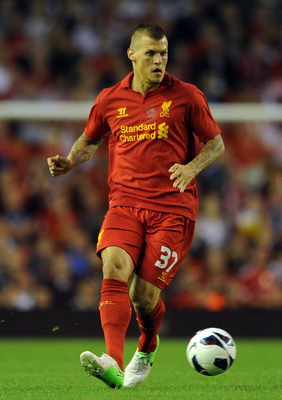 Chris Brunskill/Getty Images
Given Liverpool's patchy scoring record, any goals conceded automatically put a decent result in peril.
In their three recent unbeaten games, Brendan Rodgers' side notched two wins and a draw, but both were 1-0 wins, and the Stoke City result ended with a pair of zeros.
Just one goal conceded in each would have led to two draws and a loss.
Of course, this might point to an increased stability at the back, but attention must still be paid to a defence with a record of disastrous mistakes at the start of the season.
That way, nervy as it may be, a narrow scoreline can still give the Reds all three points.
Watch the Height in the Everton Ranks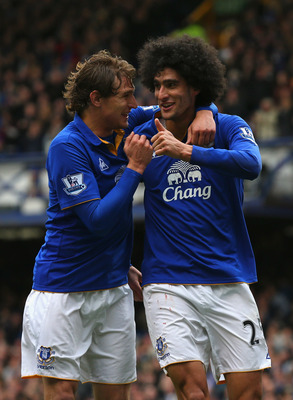 Alex Livesey/Getty Images
With the news that Marouane Fellaini might be able to shake off his knee injury and return to the Everton lineup on Sunday (per the Liverpool Daily Post), David Moyes may have his midfield talisman back in action at Goodison Park.
Alongside such options as Nikica Jelavic and Victor Anichebe, Fellaini completes a formidably physical offence, poised to take advantage of the crosses from Leighton Baines.
Add Sylvain Distin and Phil Jagielka into the set-piece equation, and you have an Everton team full of height against a small Liverpool side stronger on the floor.
Since Joe Allen isn't going to win any aerial duels against Fellaini in the midfield, the likes of Martin Skrtel, Daniel Agger and Steven Gerrard will need to be at their best to beat away any aerial attacks.
Remain Composed in the Midfield Area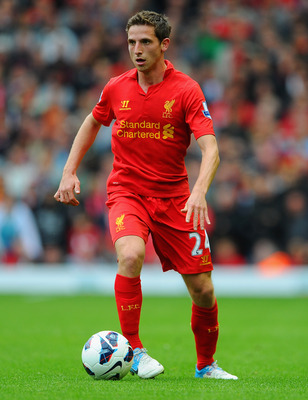 Michael Regan/Getty Images
The Everton midfield (with Phil Neville in as well) will be physical and defensively strong, and the occasion of a Merseyside Derby will fire up the Goodison Park crowd.
Which means that the Liverpool midfield will need to remain composed and play a patient possession-based passing game from the middle, something that, to their credit, they have done admirably at times already this season.
Joe Allen will be crucial to the midfield composure.
Faced with the constant harrying of the Everton midfield and forwards, he will need to work precisely with Steven Gerrard and Nuri Sahin (presumably) to ensure that the ball makes its way to the Liverpool flanks.
Dominate the midfield—hard as that may be on Sunday—and Liverpool will be in decent shape.
Hit Everton from the Left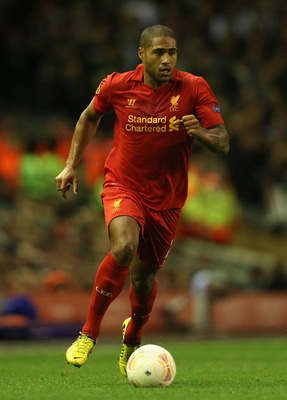 Clive Brunskill/Getty Images
The flanks will be crucial.
On the Liverpool right, the young duo of Suso (assuming he starts) and Andre Wisdom will have their work cut out for them facing off against the attacking threat of Leighton Baines, and they will need to call on the help of a right-sided Steven Gerrard.
So it is on the left that Liverpool will need to focus their attacks.
But with a rampaging left-back gaining impressive confidence in Glen Johnson—who is fast becoming one of the most underrated defenders in the Premier League—and a young new Liverpool star winger in Raheem Sterling, Liverpool are equipped with one of the most exciting left flanks in the league.
Whether they will be facing off against the trusty-but-slow Tony Hibbert or the inconsistent-but-fast Seamus Coleman, they should be looking to exploit Everton's relative lack of attacking threat in that area.
Get the Midfielders into the Box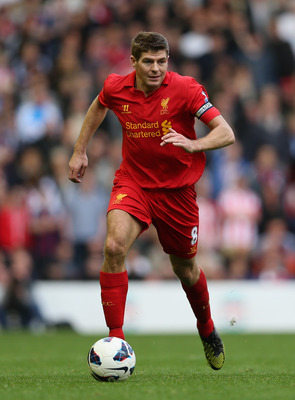 Clive Brunskill/Getty Images
With the left flank being the most crucial area for Liverpool, the attacking center also grows in importance.
Both Glen Johnson and Raheem Sterling are comfortable cutting inside or going outside defenders, so the amount of space created by either move should encourage their midfield colleagues to storm into the box.
Steven Gerrard made his name as a deadly attacking midfielder, while Nuri Sahin has shown an uncanny knack of getting into the box at the right time, and they need to put these attributes on full display on Sunday.
All this, of course, without having mentioned the nuisance Luis Suarez will cause for Distin (as he did in the FA Cup semifinal earlier this year) at the spearhead of the Liverpool attack, which will no doubt create more opportunities for his supporting attackers to get into the box.
All that is left, then, would be for those midfielders to show off their thus-far underused finishing ability.
Also check out: Why Reds and Joe Cole Need to Part Ways
For extensive coverage on the Premier League, please check out my Bleacher Report writer's profile. For all things Liverpool—match reactions, opinions, et al.—please subscribe to The Red Armchair.
Keep Reading

Liverpool: Like this team?