New York Knicks vs. Brooklyn Nets: Who Will Win the Battle of the Boroughs?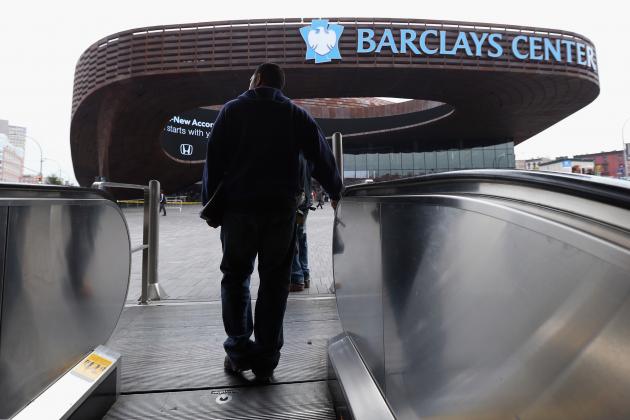 Bruce Bennett/Getty Images
Can The Barclays Center take away from MSG?
It is going down in New York—Cablevision vs. the Russian Billionaire. The battle for hoops supremacy in New York is taking place in the heart of the city.
Neither Jim Dolan nor Mikhail Prokhorov spared many expenses getting their teams and arenas in tip-top shape for the upcoming 2012-2013 season. It's Knicks vs. Nets, and the only things that separate the two arenas are about a dozen stops on the subway.
The Knicks' glory years of the '70s and then the Patrick Ewing era have been marred with minimal success at best since 2000. The Nets have banners hanging from their rafters showing that the last thing they won in basketball was in 1974 and 1975, when they won their two ABA titles. They, too, have struggled mightily over the years, other than in 2005 when Jason Kidd took them to the NBA finals in back-to-back years.
Both New York teams have revamped their rosters in hopes of gaining ground on the champion Miami Heat. The Nets went out and found themselves a few new stars to coexist with Deron Williams while keeping their current core in place. The Knicks, on the other hand, have acquired veterans for leadership, signing five players over the age of 35. The Knicks vets are an older team, but their starters are all 30 and under and are in the primes of their careers.
The Barclays Center's comparison to Madison Square Garden is incomplete since MSG just finished stage two, so that comparison will be determined at a later date. The Barclays Center's overall setup is a fantastic one, and fans will appreciate the work that has gone into Brooklyn's newest arena. There is a plethora of eateries and VIP clubs to experience the game in various ways.
Let's now explore both teams' current rosters and give out predictions for the 2012-2013 season.
Begin Slideshow

»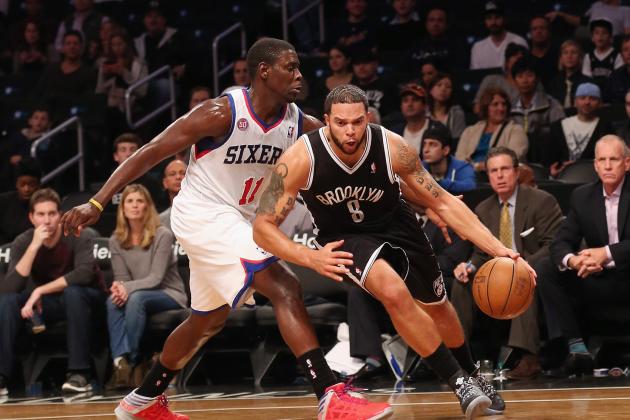 Bruce Bennett/Getty Images
Williams will not have to try and do all by himself this year
Russian billionaire Mikhail Prokhorov won out on the Deron Williams sweepstakes, and the Nets now possess a top-five point guard to run things in Brooklyn. Williams' combination of scoring, passing, strength and size make him a very tough defend on any given night.
Other than some ankle concerns—he recently had a cortisone shot—Williams is ready to go. He now has many weapons to work off of, so the sky's the limit.
C.J. Watson should be a solid backup guard who is more of a scorer than point guard. He showed his ability last year in Chicago running the PG spot in Derrick Rose's absence. Rookie Tyshawn Taylor will have plenty of time to grow and learn from the two vets. Taylor, a New Jersey native, could provide great speed and change of pace on the floor when needed.
Raymond Felton had Jeremy Lin-like success in New York before he was shipped out in the Anthony trade. After not matching Lin's expensive contract offer, the team turned their attention back to the guy who looked like the best player on the team before he left.
Felton, now back in shape again, is regaining the form that Knicks fans were falling in love with. He might not sell as many tickets or T-shirts, but the Knicks now have the better overall guard who can break down defenders off the dribble, score, distribute and play some quality defense.
Felton should produce well this year and take it personally that many still want Lin around and consider him the second-best point guard in New York.
In Jason Kidd, you have a 39-year-old future Hall of Famer who will help mentor all those around him. The Knicks are hoping that he has enough left in the tank to provide the team with some depth in both guard positions while making sure the ball is delivered to others at the right time and in the right place. His three-point shooting seems to have become more consistent over recent years.
Pablo Prigioni, a 35-year-old from Argentina, is an experienced guard that will provide great depth. He is a great pick-and-roll player and solid three-point shooter. If given minutes, he will show why the Knicks went with him instead of other available and younger point guards. Prigioni will now have the rep as the oldest NBA rookie in the last 40 years.
Slight Edge: Nets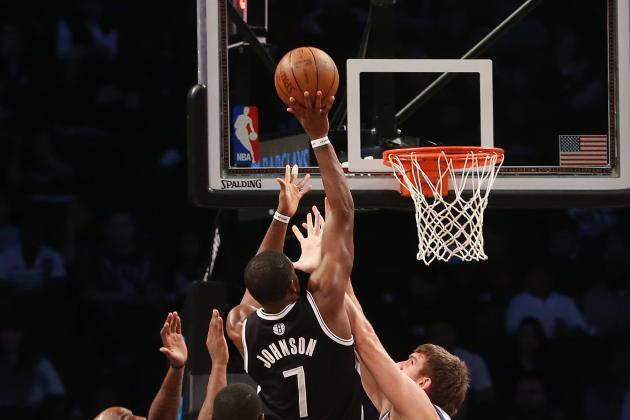 Bruce Bennett/Getty Images
Will Johnson rise to the top in Brooklyn?
With money not an issue this year, the Nets went all out after failing to secure Dwight Howard, and then turned to Joe Johnson and his five-year, $90 million contract for the six-time All-Star who can do it all. The 6'7" 240-pound guard is 31 years old and must prove he can blend in with his new teammates.
Johnson will be able to post up smaller guards, but at $19 million for this year, will he earn his keep or show signs of a drop-off? He is still the owner of a sweet jump shot, but he's used to having the ball in his hands often, so let's see how he plays off of it.
Marshon Brooks looked very good on last year's bad team and at times showed flashes of greatness. Keith Bogans and Jerry Stackhouse will provide depth and veteran presence.
The Knicks' Ronnie Brewer will bring his defensive prowess to MSG. His numbers won't wow you, but his play will at times. He brings a balance and toughness to a team that has plenty of scoring. He might have one of the ugliest shots in the league, but it does go in with enough frequency for him to be the starter.
J.R. Smith might not be happy about coming off the bench, but when he's on he can shoot and finish in transition with the best of them. He should make a serious run for Sixth Man of the Year if he gets his head right. With all the energy he plays with, he should use that to become a much improved defender.
Iman Shumpert's return to the team can't come soon enough, as the second-year guard showed the league that he can be a lockdown defender and potential star in this league. Things will get very interesting for the Knicks upon his return since he can play the point as well.
James White can still dunk with the best of them, but what else will he showcase for his new team?
Slight Edge: Nets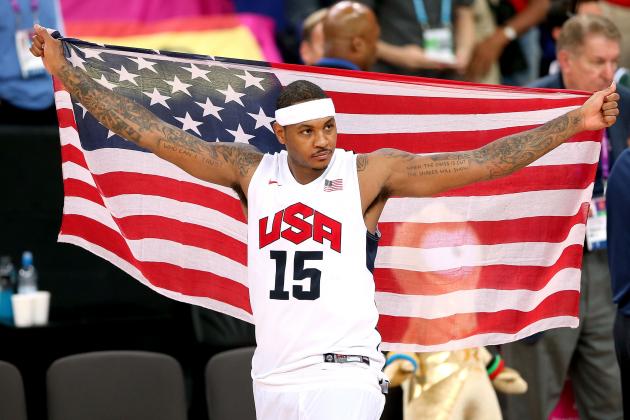 Streeter Lecka/Getty Images
He led his country to Gold now its time to Lead Knicks to the promised land.
Carmelo Anthony is seeing in his third year as a Knick that fans and the media are as demanding as they come. He's almost getting the A-Rod treatment in NY, as he led the Knicks to their first playoff win in over a decade. Nonetheless, he is still one of the top five scorers and fourth-quarter closers in the league.
With Amar'e Stoudemire out for an extended period, he will work out from both forward spots. He will show the league how versatile a player he actually is. Anthony creates serious mismatches when he plays the 4-spot, and is looking well conditioned early.
Steve Novak looked great in preseason and will see more minutes due to this. If his abilities to get to the rim and defend improve, his numbers should see an early season spike. He knows he's in there to shoot and believes his shots should go in. Confidence can go a long way in this league.
Chris Copeland has truly earned a spot with the Knicks with some stellar preseason play. He averaged almost 16 points a game, with a league high of 34. This solid athlete will see small minutes, but could surprise.
Gerald Wallace has been brought in to do what he does well, and that's defend the other team's best player. He can play multiple positions and really hits the boards with passion. He should have no problem being the fourth or fifth option on offense.
Josh Childress is a small combo forward who really doesn't get to the free-throw line much. Defensively, he might makes some things happen, but seems to be here as depth and veteran presence.
Tornike Shengelia is probably some time away from playing, but at 21, his athleticism and strong skill set will buy him time.
Edge: Knicks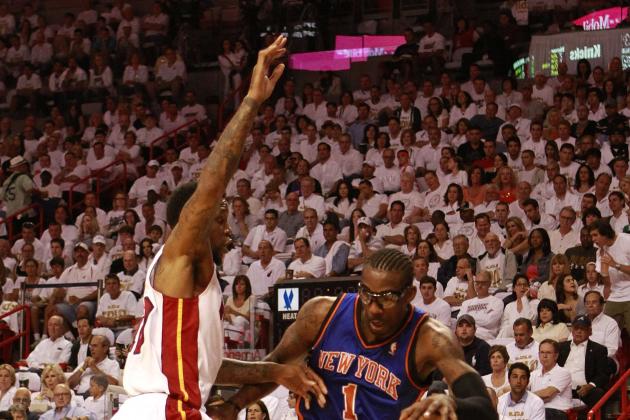 Marc Serota/Getty Images
Amare will have too wait almost two months to show off his new moves
Such poor timing and injuries have plagued Amar'e Stoudemire during his stay in New York. After injuries to his back, hand and now knee, the Knicks' $100 million man has yet another hill to climb to becoming the player the Knicks need him to be. The Knicks would settle for a cozy 18 points and eight rebounds with some better defense.
Amar'e has learned a couple of things from Hakeem Olajuwon over the last few months, but once his rehab from his knee procedure is complete, Knicks fans won't be very patient after his latest setback.
At 40, Kurt Thomas will give you a better effort than many of these young bucks. Thomas knows what he can do on the court: Stick to playing workhorse defense, setting solid picks, moving the ball and hitting the open 18-footer. Crazy eyes is back!
Rasheed Wallace must see something special in the Knicks, as the 38-year-old has come out of retirement after two years. The 15-year veteran can provide the Knicks with solid depth and toughness at the 4 or 5 position. He still can hit the open shot out to three and is probably one of the smartest players on his team and in the league. Someone will be heard from this year.
Kris Humphries earned a handsome paycheck for putting up average numbers on last year's squad. The high-energy rebounder should blend in well with all the new talent around. He will not see the ball much, but in transition, Humphries finishes well.
Reggie Evans was brought in for his gritty play and rebounding. He certainly won't offer much on the offensive end. He is a horrid free-throw shooter, but as tough as they come.
Mizra Teletovic's history shows he can shoot the three with the best of them, so I guess it's a matter of time before he makes his mark in the NBA. He has a naturally smooth stroke and did lead the Euroleague in scoring.
Edge: Knicks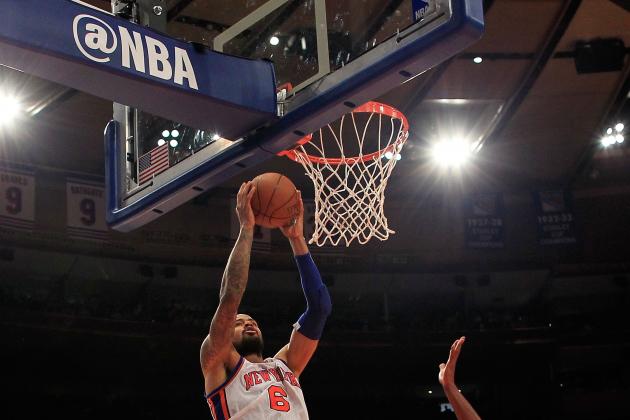 Chris Trotman/Getty Images
Chandler has given the Knicks hope on Defense
After a busy summer winning a gold medal and manning the middle for Team USA, Tyson Chandler must now get back to work for the Knicks. The Defensive Player of the Year now has the dubious task of holding down the interior while both Amar'e Stoudemire and Marcus Camby heal from various injuries.
I'm sure Chandler is up for the task, and after putting in his own work with big man guru Hakeem Olajuwon, he's looking forward to showing off some of that work. Chandler will still be one of the best team defensive players in the league due to his ability to communicate with teammates. In addition, his ability to make up for teammates' defensive breakdowns with his shot-blocking will be more than appreciated.
The 38-year-old backup Marcus Camby could wind up being the best pickup for the Knicks if healthy. His ability to gather defensive rebounds and block shots will be needed to contend. He still has the ability to knock down the 15- to 17-footer and give both center and power forwards a breather when needed.
The Nets counter with big Brook Lopez, who has had his own injury woes to deal with. After receiving a large extension over the summer, the Nets will be looking for Lopez to continue growing as a player. He does have the ability to score inside and outside the post.
He is very predictable going to his right and is slow of foot on defense versus athletic big men. He is now making All-Star-type money, but has yet to show that type of play consistently on the hardwood. To get to the next level, he must show the ability to rebound, play tough and defend the pick-and-roll.
Andray Blatche and his cloudy past have been brought to Brooklyn with hopes that a change of scenery will help the talented big man regain his old form. Before outcasting himself in D.C. as a member of the Wizards, Blatche showed the opposition a skill set that few seven-footers can.
Blatche is a small forward trapped in a seven-footer's body. The Nets will need him to be a better pick-and-pop guy who can continue to grow at 26 years of age.
Edge: Knicks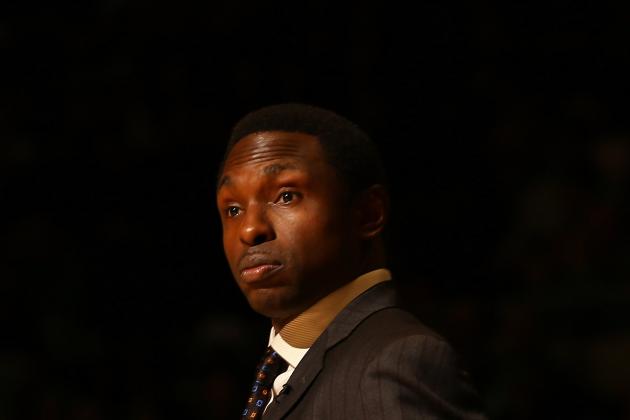 Al Bello/Getty Images
Can the general rise to the occasion in Brooklyn?
Avery Johnson will not get a pass after this year, as he inherits multiple weapons at all positions. He now has as competitive a roster on paper as any other team in the league after going 22-44 in 2011-2012.
His revamped group of new players addresses the team needs and adds depth at all positions. Johnson has proved he can lead a talented group, but the jury is still out on whether or not he can turn around a struggling team.
The deck is certainly stacked in his favor as the team's management has done a great job of filling in the newest roster. Johnson's passionate style is going to be needed around such a quiet bunch of players. Johnson's emphasis on defense will surely show on the court. How well he can pick the right combinations that will gel on both ends of the court remains to be seen.
Mike Woodson is another former player who has had great success both as player and now as a coach. His tough style is appreciated by players. His track record in the league gives us the idea that he can take a struggling team, stay with them and develop them as he did in Atlanta.
Management has given him a talented and veteran-filled team to work with and will expect a lot. The current Knicks seem to really be behind him, so the effort should always be there as a 18-6 finish to last season showed.
Edge: Even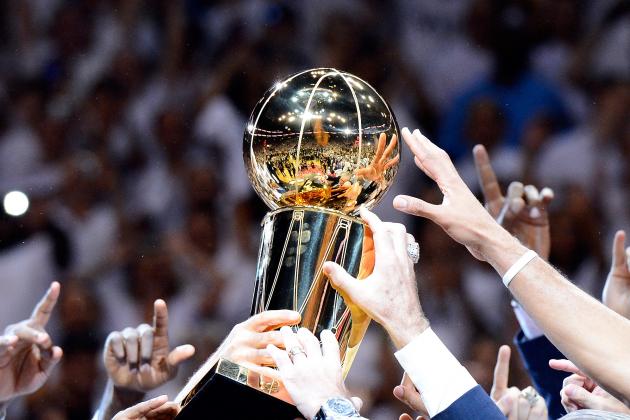 Ronald Martinez/Getty Images
Who will get closer for a chance at this?
When it's all said and done, money doesn't buy wins, but good, solid basketball does. Both teams will a have success this season.
I think it will take a while for them to gel, and that will cost them early games. The team that avoids the Heat in Round 1 of the playoffs will have a chance to at least compete for the Eastern Conference finals.
Predictions: Knicks 46-36, Nets 44-38