Ravens vs. Texans Take 2: Houston Sets the Pace in the AFC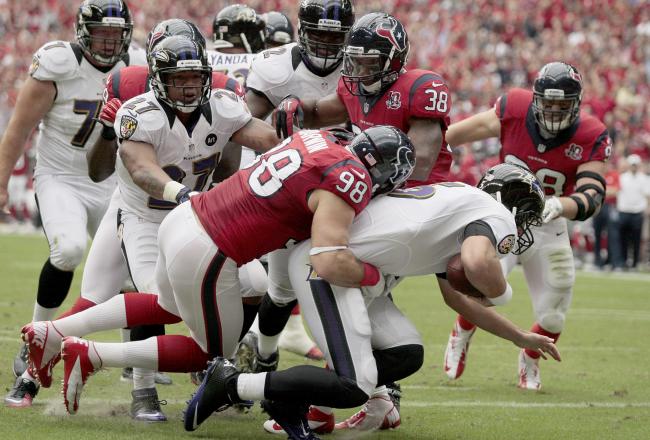 Connor Barwin's safety of Joe Flacco got the Texans going.
Thomas B. Shea/Getty Images
The NFL's most dominant team is the Houston Texans.
They padded their league-best point differential all the way to plus-88 with a 43-13 annihilation of the Baltimore Ravens in Week 7, establishing them as the team to beat in the AFC.
A second look at the tape shows Houston was every bit as lethal as the final score indicated.
The Real Story
Texans smash.
There were no hidden plot-lines in this laugher. The Texans' offense started slow, but the defense, led by Connor Barwin and J.J. Watt soon had the game well in hand.
In short, the Texans rushed for more yards (181) than the Ravens had net (176).
The Houston defense frolicked all day, forcing turnovers, sacks and generally making life impossible for Joe Flacco.
The offense ground its gears for a quarter or so before finally capitalizing on all the good fortune generated by the defense.
After Johnathan Joseph ran a Flacco pass back for a touchdown, the Texans put it on cruise control and bludgeoned the Ravens' line with the run and a few well-timed throws.
Heroes
Per our previous arrangement, there will be no mention of Watt in this space until cause arises. It takes more than an interception-causing pass deflection to merit giving this inhuman football freak any more attention than he already gets.
At this point, the only thing Watt could do to further impress me would be to start emitting lasers from his eyes. Or learn to play the lute.
So, in lieu of more Watt-talk, let's focus on Barwin, whose sack/safety got the defensive ball rolling for the Texans. Barwin's play had been conspicuously inconspicuous through six weeks, so his return to form was a welcome sight for the Texans.
Andre Johnson tortured the Ravens for nine catches and 86 yards. Baltimore fixated so much on stopping him that they blew several coverages against Kevin Walter.
Goats
Typically, this space is reserved for players on an AFC South team, but an extra word needs to be said about just how awful Flacco was.
Flacco was under pressure at times, but there were plenty of occasions where he just flat missed throws.
As Baltimore tries to transition to an up-tempo passing offense, they are always going to be limited by Flacco.
He's the primary reason why it will be the Patriots or Broncos and not the Ravens playing in Reliant Stadium for a spot in the Super Bowl come late January.
Secret Play
With a 30-point blowout, there aren't many secrets, but the Texans did have a nice third-down conversion early in the game.
On 3rd-and-1 from the Baltimore 42, Matt Schaub made a nice inside hand off to James Casey.
The blocking on the play was absolutely pristine, and Casey rumbled for a six-yard gain.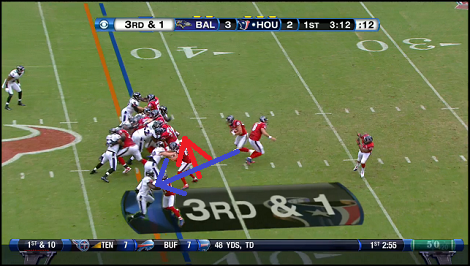 Casey trucks through a truck-sized hole
Once upon a time, it was death to try and run inside on the Ravens on a third-and-short.
Those days are long gone.
Coaching Notes
The Texans were up by such huge margins all game, it would be folly to second-guess any of Gary Kubiak's moves.
Instead, he deserves praise for rallying his team after the beating they endured against the Packers.
The mark of a good squad is how they respond to adversity. His Texans played with pride and were rewarded with the best record in the NFL.
Keep an Eye On...
The bye week comes at a good time for the Texans. Joseph can have the time he needs to heal up, and they can begin prep for how to hang 50 points on the hapless Bills.
Given that Buffalo has the worst run defense in the NFL, Arian Foster and Ben Tate will likely spend the week sharpening their knives.
Houston has a big test in three weeks against a stout Chicago defense, which may be the best in football.
If the Texans can come through that unscathed, it may be December before they are seriously challenged.
This article is
What is the duplicate article?
Why is this article offensive?
Where is this article plagiarized from?
Why is this article poorly edited?