You would think winning four straight Paul Bunyan trophies would be enough to make the Michigan State Spartans a favorite heading into Saturday's contest against the Michigan Wolverines.
The oddsmakers don't see it that way.
According to Bovada, the Spartans are nine-point underdogs as they head into this Week 8 clash of in-state rivals.
Luckily for Michigan State, it's not oddsmakers who actually decide the game. In fact, the Spartans match up extremely well against the Wolverines and should be able to exploit some gaping holes en route to an upset victory.
With that in mind, here is a look at how the Spartans will get that critical victory and win their fifth straight Paul Bunyan Trophy on Saturday.
Pound the Ball With Le'Veon Bell
The Spartans are 3-0 in games where their star running back has gotten 30 or more carries, and Le'Veon Bell should be in store for a huge workload on Saturday.
Though a vastly improved unit, Michigan's defense has struggled all season to stop the run.
Particularly ineffective has been the defensive line, which replaced all four starters from last season's squad. While improved lately, those deficiencies against the run have hurt the Wolverines in the past and could crop up again on Saturday.
For a blueprint, all Michigan State has to do is follow the Alabama model.
Presenting a running attack not too dissimilar from the Spartans, the Crimson Tide put up 232 yards on the ground on 42 carries in their 41-14 victory.
That should be all the evidence Michigan State needs to use Bell heavily on Saturday. He's been fantastic all season, stepping up without hesitation when needed and should be able to do the same against the Wolverines.
Cause Turnovers From Denard Robinson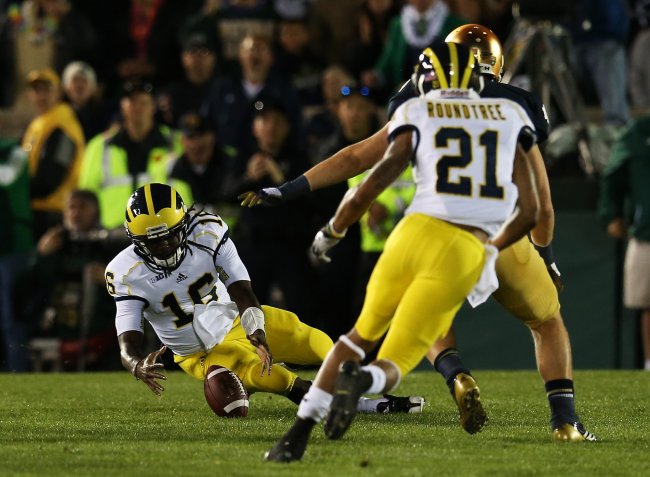 Jonathan Daniel/Getty Images
While sensational against lesser opponents, Denard Robinson has struggled mightily when the competition rises.
In two contests against elite defenses this season (Alabama and Notre Dame), Michigan has scored just 20 points as the dual-threat QB flounders under the pressure.
Those games have seen Robinson regress from a force to be reckoned with into performing like a wide-eyed freshman.
Completing just 24-of-50 passes for 338 yards and two touchdowns against six interceptions, the preseason Heisman hopeful almost single-handedly cost his team to win a chance to win both contests.
That should only mean great things for the Spartans.
Coming into Week 8, Michigan State has the best scoring and rushing defense in the Big Ten, meaning the unit should be able to negate some of Robinson's effectiveness on the ground.
As we have seen all season, if you negate Robinson's ability to run, the passing prowess will soon follow.
Get Ahead Early; Don't Succumb to the Road Crowd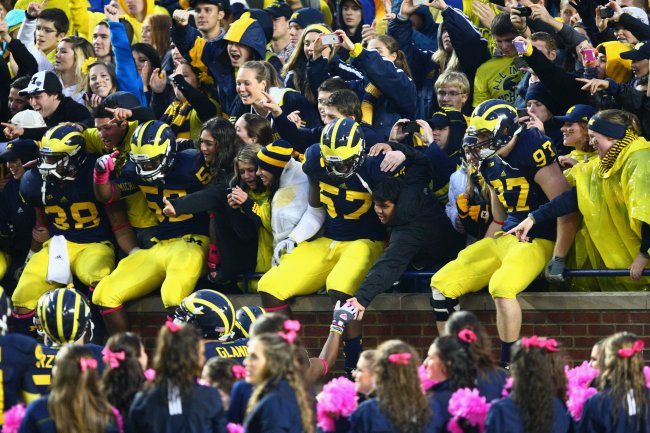 US PRESSWIRE
Michigan-Michigan State is one of college football's most storied rivalries and every year the battle for the Paul Bunyan Trophy brings an electric environment.
With Saturday being Robinson's final chance to defeat the heated rival, the Big House will undoubtedly be full of rabid Wolverines fans hoping to rattle the opposition.
For the Spartans to win, they must negate the crowd effect and make this simply about being the more talented team.
As always, the biggest key to quieting a raucous crowd is to strike a momentum-killing blow early in the contest.
Whether it's a long run from Bell or a critical turnover forced, the Spartans need to create a huge play that will shift the momentum in their favor for good.
Expect a critical early play to wind up being the ultimate difference in this contest.