New York Rangers: Where Does John Tortorella Rank Among the New York Coaches?
Use your ← → (arrow) keys to browse more stories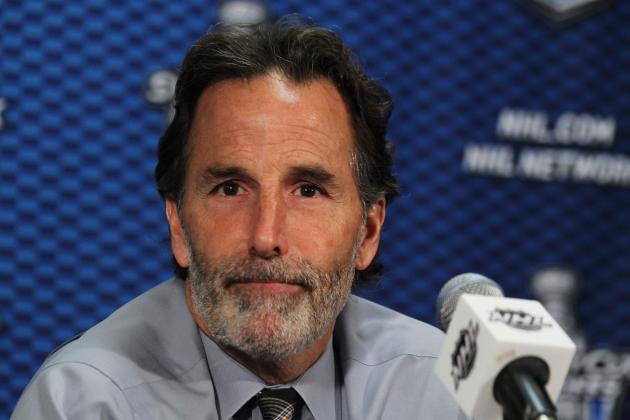 Bruce Bennett/Getty Images

New York features 10 different teams in the four major sports. That means there are 10 head coaches in the state of New York.
The coaches are Avery Johnson (Brooklyn Nets), Mike Woodson (New York Knicks), Rex Ryan (New York Jets), Chan Gailey (Buffalo Bills), Tom Coughlin (New York Giants), Terry Collins (New York Mets), Joe Girardi (New York Yankees), Lindy Ruff (Buffalo Sabres), Jack Capuano (New York Islanders) and John Tortorella (New York Rangers).
No matter what sport is being played, the most important factor to a team's success or failure all starts with the head coach. The head coach can be looked as a leader, a mentor and even a father to some of the players who play for him.
While each of the names listed above have had great careers as coaches, there can only be one "King of New York" when it comes to coaching. Does that honor go to John Tortorella?
Let's analyze.
I'll automatically eliminate all the coaches who have less tenure than John Tortorella has with the New York Rangers. Out of the group of coaches mentioned above, only three more have had longer careers in New York than John Tortorella. Those coaches are Lindy Ruff (14 years), Tom Coughlin (nine years) and Joe Girardi (five years). Jets coach Rex Ryan started his coaching career the same year as John Tortorella (2009).
Where Should John Tortorella Be Ranked Among the New York Coaches?
After that, five coaches remain (including Tortorella). Automatically, Coughlin and
Girardi
move a step closer to the "King of New York" crown, since both during their tenure have won championships in New York. Joe
Girardi
won a World Series with the Yankees in 2009, while Coughlin has won two Super Bowls with the Giants in 2007 and 2011.
Looking at the remaining three coaches, all have impressive resumes with their teams. Lindy Ruff is the longest tenured coach in the NHL. Rex Ryan found great success with the Jets early in his career, leading them to the AFC Championship game twice, in 2009 and 2010. John Tortorella has made the playoffs with the Rangers three out of the last four years he has coached.
With all that said, Torts moves on to the next round. Looking at what each coach has done recently, Tortorella has had the most success in the last four years. Ryan is immediately out of the discussion because he hasn't made the playoffs since 2010, and quite possibly may be on the hot seat if the Jets don't make it this year.
While Ruff may have the more impressive resume with Buffalo, his team has struggled the last four years. They've made the playoffs twice, but have been knocked out in the quarterfinals each time. Yes, Ruff has a Stanley Cup appearance with his team, however that was back in the 1998-99 season. Ruff is a great coach, but he seems to be on the decline, while Torts is on the incline.
However, the incline for the Rangers' coach comes to a halt. To me, John Tortorella is the third-best coach, behind Tom Coughlin and Joe Girardi.
Why?
Both men have championships, which is all New York cares about. The top three looks like this:
Tom Coughlin
Joe

Girardi

John Tortorella
While some Rangers fans may be disappointed, if Tortorella can win a championship, I think he jumps Joe Girardi, who may have won a championship because he had one of the highest payrolls at the time. Tortorella, would do more with less when/if he wins the cup.
However, neither man can take down Tom Coughlin, who has won two Super Bowls against the greatest franchise we have seen in the 2000s, the New England Patriots.