Chris Johnson: Why Fantasy Football Owners Just Can't Rely on the Titans RB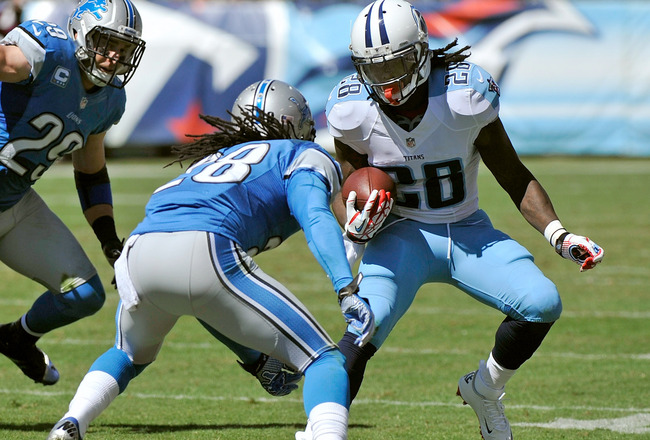 Frederick Breedon/Getty Images
Remember Chris Johnson, the player everyone used to call "CJ2K"?
Well if you do, you'd better forget those memories, because that player is never coming back for fantasy football owners.
After using first-round draft picks on Johnson the last two seasons, all Johnson has produced is a major hole in fantasy football owners rosters. Last season, we all thought it was a fluke because of his contract-holdout situation. Sure enough, that same player is back, as he continues to underachieve for the 2012 season—and he is here to stay.
Here are three reasons why it is time to hop off Johnson's bandwagon and send him to your fantasy football roster's bench.
No Legit Starting Quarterback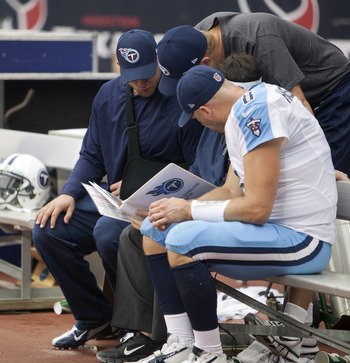 Bob Levey/Getty Images
You would think that a team with no legit starting quarterback would mean more opportunities for the starting running back, right?
Wrong.
The Tennessee Titans thought they had their quarterback of the future in Jake Locker. However, he went down with an injury in Week 4 and is expected to miss some time.
Now the Titans have turned to the 37-year-old Matt Hasselbeck. Five years ago, this would have been okay, but lets face it—Hasselbeck's career is over.
With either of these quarterbacks under center for the Titans, neither of them put any fear into opposing defenses. This allows defenses to stack the box and take away the Titans' running game. They'd much rather let Locker or Hasselbeck try to beat them instead of Chris Johnson.
Until the Titans get a quarterback who can pick apart defenses, Johnson is going to have nowhere to run.
The Tennessee Titans Are Always Playing from Behind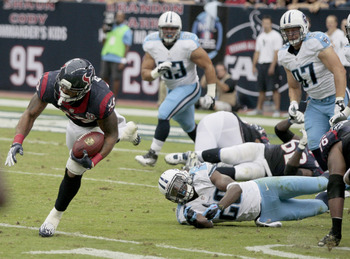 Thomas B. Shea/Getty Images
Thirty points.
That is the least amount of points that have been scored on the Tennessee Titans in a game this season.
The Titans' closest loss this season was against the New England Patriots, when they were outscored 34-13.
How is Chris Johnson ever going to get any carries if the Titans are always trying to play catchup?
The Titans have been blown out in every game this season except for their lone victory. This causes them to have to abandon the run game by the time they get to the second half.
If the Titans continue to get demolished every game by their opponents, then Johnson will continue to get fewer touches.
Chris Johnson Has Peaked
Harry How/Getty Images
When running backs hit their peak, there is no other position that falls to the bottom faster.
After three consecutive seasons of rushing for at least 1,200 yards, including the 2009 season when he ran for more than 2,000 yards, it looked like Chris Johnson was the best running back in the NFL.
He had game-breaking speed that was unmatched. Every time the ball was in his hands, you thought he was going to break off a big run.
Those days are long gone now, though, and it is time that fantasy football owners come to face the facts. After running for more than 1,300 yards in 2010, Johnson was the biggest first-round fantasy bust in 2011, rushing for only 1,047 yards.
Johnson has officially peaked, and he is heading toward rock bottom.
Fantasy football owners thought that 2011 may have been a fluke. However, five games into the 2012 season, it appears that Johnson is a mere shadow of the player he used to be.
In his first five games, Johnson has only surpassed 100 yards rushing in one game and is averaging only 2.9 yards per a carry. Since his historic 2,000-rushing-yard season in 2009, Johnson's yards per-carry average has declined every year.
From 2008-2010, if you had Johnson on your fantasy football team, the rest of the league feared when they had to play you. Today, fantasy football owners fear when they have to start him in their lineups.
Keep Reading