Virginia Tech Football: Winners and Losers from Week 6 Game vs. North Carolina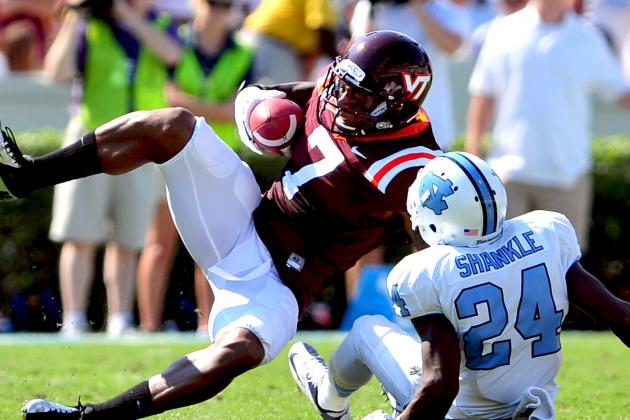 Lance King/Getty Images

Can it get any worse for the Virginia Tech Hokies?
The North Carolina Tar Heels crushed the Hokies, 48-34, on Saturday in Chapel Hill. It is the third loss in the last four games for the Hokies as they fall to 3-3 on the season.
While the Hokies' first two losses were tough, this was one was especially bad.
Bud Foster's defense gave up 533 total yards, including an embarrassing 339 yards rushing.
For the first time this season, the offense got off to a good start as Logan Thomas ended the Hokies' first drive with a 13-yard touchdown run.
Here are some winners and losers from Saturday's game.
Begin Slideshow

»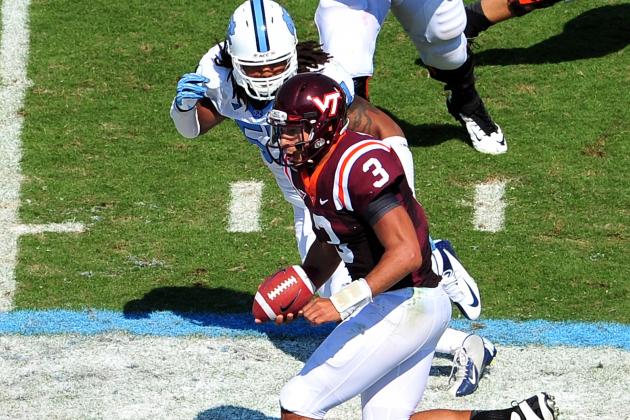 Lance King/Getty Images

Thomas, who has struggled this year, cannot be blamed for this defeat.
While he wasn't perfect, Thomas played very well on Saturday.
He finished the game 26-for-49 with 354 yards passing, two touchdowns and one interception. Thomas also led the team in rushing and scored the Hokies' first touchdown.
His receivers let him down by dropping at least five passes, including one that should have been a touchdown.
Thomas' two touchdown passes were both beautiful throws.
His performance was an encouraging development for the Hokies offense.
Bob Donnan-US PRESSWIRE

Dyrell Roberts' injury opened the door for redshirt freshman Demitri Knowles, and he excelled.
Knowles' 93-yard kickoff return for a touchdown displayed his playmaking ability as well as his blazing speed.
Knowles had a breakout game at wide receiver, too. He finished with six receptions for 83 yards.
Fellow wide receiver Corey Fuller continued his outstanding and surprising senior season, finishing the game with five catches for 143 yards. His 66-yard touchdown reception was the Hokies' last score.
Both Knowles and Fuller were reliable targets for Thomas as some of the other pass-catchers had issues with drops.
Lance King/Getty Images

Davis finished Saturday's game with three receptions for 66 yards with a 49-yard touchdown reception.
However, it was the plays Davis didn't make that put him on this list.
On three occasions, Davis dropped passes, one of which would have been a touchdown.
Davis is a terrific talent and arguably the most important player on Virginia Tech's offense, but he can't continue to drop passes at this rate. This team has less margin for error than past teams.
His drops really hurt the Hokies on Saturday.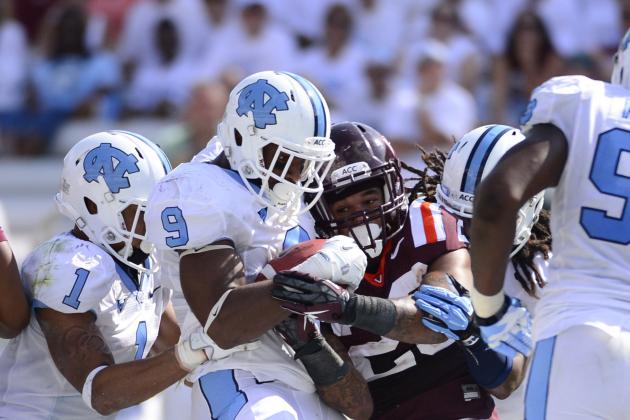 US PRESSWIRE

When you rush for 40 yards on 25 carries as a team, the problem runs much deeper than the running backs struggling.
The Hokies' leading rusher was Thomas, who finished with just 31 yards rushing.
Five different Hokies carried the ball, and the largest run from scrimmage was 13 yards. The 40 yards rushing was the lowest output for the Hokies since the 2007 season opener versus East Carolina.
For the fifth straight game, coaches continued to rotate the interior linemen with little success.
This group will continue to struggle until there is some continuity along the offensive line.
Both offensive tackles are doing a good job blocking in the passing game.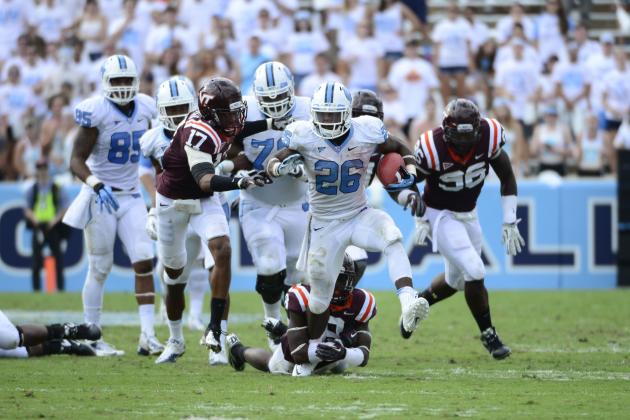 US PRESSWIRE

For the second time this season, an opponent went for over 500 total yards on the Hokies. That is the first time in defensive coordinator Bud Foster's tenure that two teams went for 500 total yards in the same season.
Cornerback Antone Exum played pretty well considering how bad he was last week. However, fellow junior cornerback Kyle Fuller, arguably the Hokies' best defender, had his struggles against the Tar Heels.
But the story of the game was the Hokies' inability to stop Giovani Bernard. Bernard rushed for 267 yards on just 23 carries.
Virginia Tech has always prided themselves on stopping the run, but this unit continues to struggle in that department.
Also, the Hokies continue to struggle rushing the passer. In 30 dropbacks, North Carolina quarterback Bryn Renner was sacked only once.