Browns vs. Giants: New York's Biggest Winners and Losers from NFL Week 5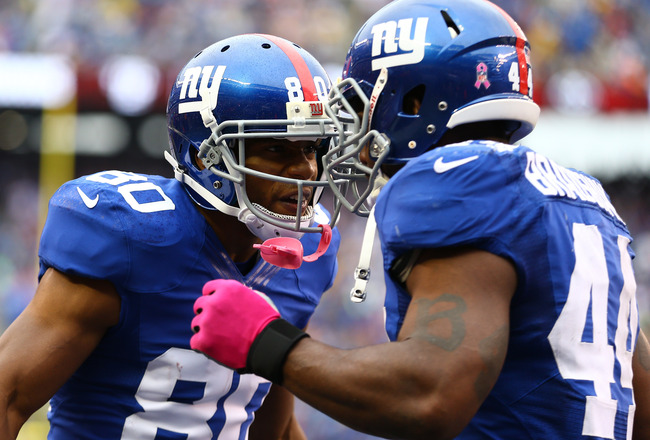 Al Bello/Getty Images
There weren't many losers for the New York Giants against the Cleveland Browns on Sunday.
After a slow start that saw the Giants fall behind 14-0 and look off-balance on offense and confused on defense, it all turned around at the end of the first quarter.
New York scored 20 points in the second quarter en route to a 41-27 victory, despite not much help from its defense.
Here are your Giants' winners and losers.
Winner: Eli Manning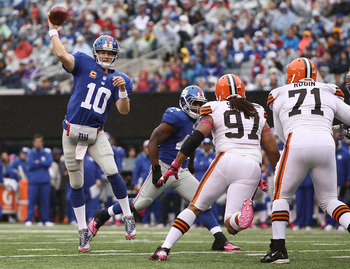 Alex Trautwig/Getty Images
Eli Manning didn't need to be at his best on Sunday, but he still put his own spin on a game in which running back Ahmad Bradshaw was the star.
He threw three touchdown passes (all to Victor Cruz) while going 25-of-37 for 259 yards. Manning also threw an interception. But that came on a pass that deflected off Cruz's hands and came on a play in which pass interference should have been called.
Overall, the Giants' QB did a great job of avoiding pressure and getting the ball to all his receivers, hitting seven different receivers on the day and getting rookie Rueben Randle involved early.
Manning was sensational, orchestrating a 92-yard drive to close out the first quarter.
Loser: Justin Tuck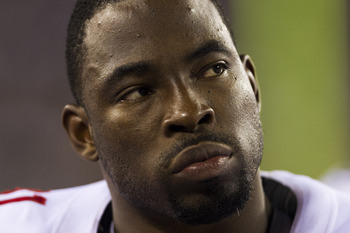 Howard Smith-US PRESSWIRE
If the Giants' defense is going to reach the quarterback, it all starts with Justin Tuck, and he's not getting it done this season.
Tuck—who has yet to record a sack this season—was unable to reach Brandon Weeden for a quarterback hit and was extremely ineffective pressuring the rookie QB.
No. 91 finished the game with six tackles but never came close to dragging Weeden down behind the line of scrimmage—or anyone else for that matter.
Against Cleveland, a performance like this will fly, but with the Giants' tough upcoming schedule, Tuck needs to return to his old form.
Winner: Victor Cruz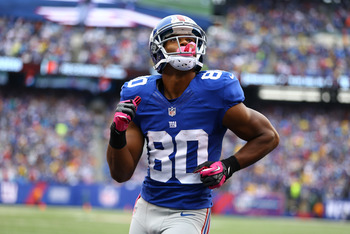 Al Bello/Getty Images
With Hakeem Nicks and Ramses Barden sidelined for Sunday's game, Victor Cruz was supposed to be the main priority of the Browns' secondary, leaving plenty of opportunities for Domenik Hixon.
Instead, Cruz stole the spotlight (as he's accustomed to doing), scoring three touchdowns on five receptions for 50 yards.
He consistently found room behind and over the top of the Browns' defense, dancing his way to a career high in receiving touchdowns.
With Nicks out, Cruz stepped up big time.
Loser: Osi Umenyiora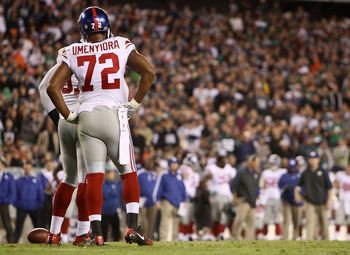 Alex Trautwig/Getty Images
Osi Umenyiora continues to run his mouth off the field but not perform on it.
After challenging Browns rookie Trent Richardson in the week leading up to Week 5 (via NFL.com), Richardson went off on the Giants' defense and Umenyiora couldn't stop him.
Richardson ran for 81 yards and a TD and had five receptions for 47 yards. Umenyiora recorded just four tackles and, like Tuck, didn't get any pressure on Weeden.
It's starting to look like LeSean McCoy was right. Umenyiora is the third-best defensive end on his team.
Winner: Ahmad Bradshaw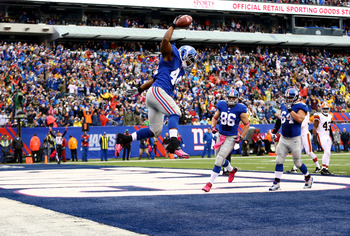 Al Bello/Getty Images
Ahmad Bradshaw had himself a day against Cleveland on Sunday, rushing for a career-high 200 yards and a touchdown on 30 carries.
It was sweet redemption for Bradshaw, who fumbled on New York's first play from scrimmage and led to a Cleveland touchdown that sparked an early 14-0 Browns lead.
From there, Bradshaw had all the motivation he needed, shredding the Browns' defense on the ground and adding four receptions for 29 yards out of the backfield.
As a team, New York ran for 243 yards, including 44 yards and a TD by rookie David Wilson.
Loser: Andre Brown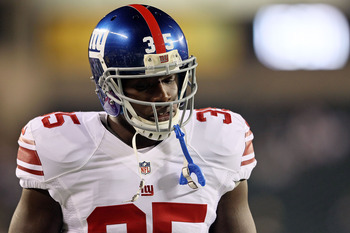 Alex Trautwig/Getty Images
Andre Brown was a loser for the Giants in Week 5, well, because they lost him.
Brown exited Sunday's game in the first half after slamming his head on the ground on a kick return and never returned to action.
It's being listed as a head injury, but New York Daily News' Ralph Vacchiano hints at a concussion with this tweet:
Giants RB Andre Brown has officially been ruled "out" with his head injury (a.k.a. concussion). #NYG

— Ralph Vacchiano (@RVacchianoNYDN) October 7, 2012
With Brown out, rookie David Wilson's role increases in the Giants' offense and return game.
Winner: Rueben Randle
Al Bello/Getty Images
Rueben Randle's work ethic has been questioned, but there wasn't anyone questioning him on Sunday.
Randle played a huge role in New York's first-half comeback, becoming Eli Manning's go-to receiver in the first and second quarters.
The rookie had a career day, leading the Giants with six receptions and 82 yards, including a 36-yard reception.
It was nice to see Randle break out. In the preseason, he looked as if he was the right man for the Giants' No. 3 wide receiver spot.
Manning now has more confidence in the rookie out of LSU and will be looking for him going forward.
Winner: Stevie Brown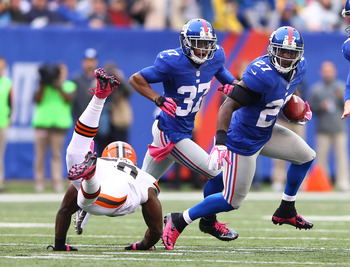 Al Bello/Getty Images
Stevie Brown's defense was responsible for the Giants' big second-quarter surge.
Aside from his solid pass coverage in the secondary, Brown intercepted a Brandon Weeden pass and returned it 46 yards to set the Giants up for an Ahmad Bradshaw touchdown that tied the score.
Brown then recovered a Josh Cribbs fumble on a kick return after Will Hill stripped the return man, leading to another Giants' TD, this time by Cruz, and the Giants never looked back.
Brown's defense led to 14 Giants points, making him an absolute winner.
Follow me on Twitter: Follow @Pete_Schauer
Keep Reading

New York Giants: Like this team?