2012 MLB Playoffs: Oakland A's Can Continue Great Run, Get to World Series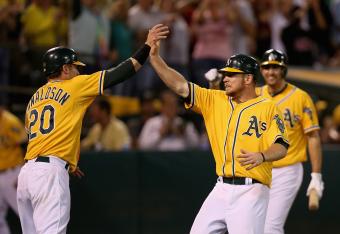 Ezra Shaw/Getty Images
Last night, O.co Coliseum was rocking. And no, it wasn't for the Raiders.
Because of their improbable, amazing second-half run, the Athletics had finally earned the fan support they strived for. It seemed inevitable that the A's were going to miss the playoffs, especially after entering the All-Star break with a 43-43 record.
Oh, and September wasn't going to be very kind to the A's, either.
However, the A's dominated in July and August, excelling in close games. They didn't limp through September, when everyone thought they would crumble. The Rangers, Angels, Orioles, Tigers and Yankees were among the teams who faced the A's, and Oakland dominated in those games.
Their poor hitting didn't stop them. Their lack of experience didn't stop them. Actually, nothing stopped them. Now they are in the playoffs, and they are just two wins away from winning the AL West.
In their game last night against the Rangers, Grant Balfour, Oakland's inexperienced closer, threw a nasty cut fastball. It hit 97 mph, and it was enough to fan Mike Napoli. Balfour struck out the side in the ninth, mixing his high heat with his nasty slider to KO the Rangers.
A whole city erupted with joy. Everyone in the country smiled. The A's did it. A team without much talent or money came through in the clutch, just like the 2002 team that had a movie and book dedicated to them.
A's fans were clamoring to bring in top prospects and make a big trade. After all, the Rangers and Angels were in their division, the Orioles and White Sox were doing well and the Red Sox were sure to make a run at the playoffs (they didn't, though). And how could you count out the Rays, who had made an improbable run in 2011?
Then, their offense exploded against the Twins, as they swept Minnesota. The Rangers took the first of a two-game set, but a walk-off home run from Brandon Hicks propelled the A's to a win in the second game.
The Yankees were next, and that was the series that changed the season for the 47-44 A's. They won four consecutive one-run games, capping it off with a comeback win. Seth Smith hit a tying home run in the ninth, and Coco Crisp capped off the sweep with a walk-off hit.
Balfour, Ryan Cook and Brandon McCarthy were sure to stay in Oakland. The fans got into it. Everyone started talking about the A's. Eventually, they climbed into the playoff race, winning nine straight at one point. Now, the team with 14 walk-offs is headed to the playoffs.
Despite having Cliff Pennington (or Adam Rosales), Derek Norris and Josh Donaldson in their lineup, Oakland's offense exploded. Yoenis Cespedes performed well, Brandon Moss always came up with clutch hits, Crisp and Stephen Drew got on base a lot at the top of the order, Donaldson exceeded expectations while replacing Brandon Inge at third base and much, much more happened.
Jarrod Parker won 13 games while getting the win in the clincher and pitching like an ace, especially with the pressure elevated. Balfour, Cook and Sean Doolittle became a formidable relief trio, while Tommy Milone, Travis Blackley and A.J Griffin exceeded expectations as inexperienced rookies.
Now, the lights are shining even brighter. Blackley and Griffin are in charge of winning the AL West for Oakland, which would make them the top seed. Even if they can't, there will be a one-game playoff at Camden Yards, Yankee Stadium or the Coliseum.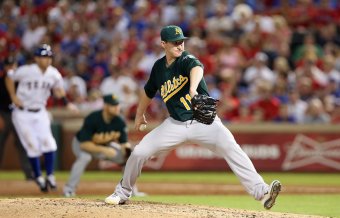 Ronald Martinez/Getty Images
Playing in Yankee Stadium would frighten most young, inexperienced teams. But the A's aren't like those teams. They come up with big hits, key pitches and great performances. Usually, that leads to wins. It has certainly led to wins in the second half, where Oakland is 49-25.
Oakland has power, pitching and clutch hitting. This formula has been amazingly successful in the second half, and Bob Melvin has helped. He has mixed and matched his team to perfection, and his strategy is working perfectly.
Can the A's continue their magical run? Certainly. The teams around them won't overwhelm the A's. They've had success against the Yankees, Rangers and Orioles, and the Tigers are definitely beatable.
Parker will have to pitch like an ace and continue to hit his spots. Griffin will have to keep his magic going. Blackley will have to piece together a decent performance, and Milone will, too. Balfour will have to be as dominant as he was against the Rangers, and Doolittle and Cook will need to lock down the seventh and eighth innings.
But in all honesty, there's no limit for the A's. They are a great team, they play the game the right way and they come up clutch. So, while it might seem like the A's are going to falter, they won't. Because they aren't going to back down. So unless the A's are outplayed, they won't lose. What does that mean?
It means that the A's can win the World Series.
This article was originally published on Golden Gate Sports.
This article is
What is the duplicate article?
Why is this article offensive?
Where is this article plagiarized from?
Why is this article poorly edited?

Oakland Athletics: Like this team?