Virtual Simulation Stimulation: Week 6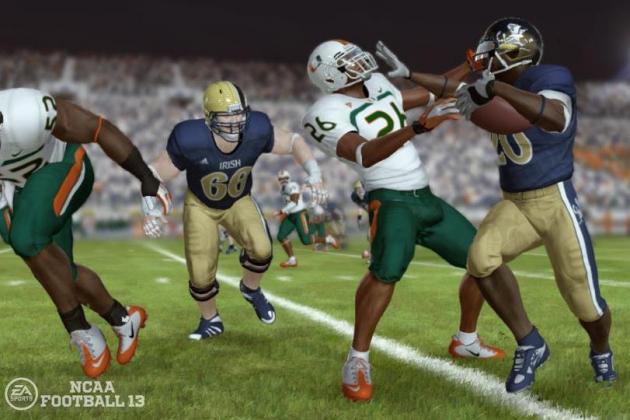 Image Via EA Sports
NCAA '13's impressive tear continued in week five as the world's most accurate outcome decider went 4-1 in spotlighted games. In the past three weeks it has gone 13-2 picking winners and improved to 19-6 for the season.
Get on NCAA's level. Actually, don't even bother trying.
The big miss last week came when NCAA picked Baylor to topple West Virginia by the Big Ten-ish score of 34 to 10. That, well, wasn't exactly how the game transpired, and we'd like to apologize to all scoreboards that were hurt in the making of this game. We'll just use a mulligan, blow on the ol' disc a few times Nintendo-style, and be on our way.
If it's your first time in these parts, don't worry, friend. Here's the rundown. Using NCAA '13, we simulate the entire week in college football and report scores, stats and notable numbers from the week ahead. We do not alter this in any shape or form—we have standards to live up to—and we report the outcomes.
The week-six slate of games is impressive, jam-packed with upsets, and our successful hot streak will undoubtedly be tested. Let's test it.
Season Spotlight Prediction Record Heading into Week 6: 19-6
Begin Slideshow

»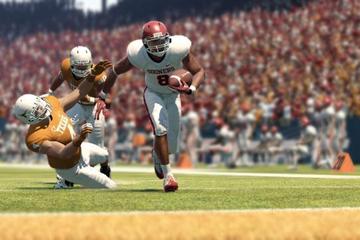 Image Via EA Sports
Oklahoma musters up a 21-point second quarter in this one, and their offense puts up nearly 500 yards to cruise to victory.
Sooner QB Landry Jones is very solid, throwing for 255 yards and three touchdowns on only 22 throws. His favorite target is Kenny Stills, who hauls in seven catches for 107 yards and two scores.
Texas Tech QB Seth Doege nearly matches Jones, and he finishes with 289 yards passing, three scores and one interception. Nine different Texas Tech players catch passes in this one, although it simply is not enough.
Oklahoma gets a huge win, and this offensive output bumps Texas Tech from the top spot in defensive rankings overall. That actually isn't a joke, it's very real and college football is weird.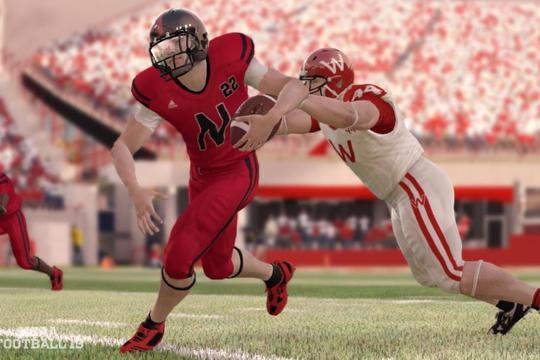 Image Via EA Sports
The two teams do a good chunk of their damage in the first quarter, scoring 25 combined points. While Ohio State takes a second half lead, Nebraska battles back to score 14 points in the 4th quarter and take this one.
Taylor Martinez's solid season continues as he throws three touchdowns through the air and one on the ground. Rex Burkhead adds the team's other two scores, and he also goes for 104 yards.
Ohio State's Braxton Miller adds four touchdowns of his own and finishes with 150 yards passing and 107 yards rushing. Miller throws touchdowns to three different targets, but their offensive output just isn't enough.
Taylor Martinez is now a legit Heisman candidate. Stop laughing. Yes, I'm talking to you, Bo Pelini. That's rude, bro.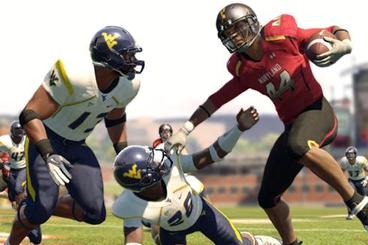 Image Via USA Today
Although the first half is tight, West Virginia's 17-point third quarter is the difference in this one.
Geno Smith puts up an average game yardage-wise—again, we're talking about Geno Smith here—and he finishes with 288 yards in the air. On the touchdown side, however, Geno is great and he tosses three and runs for another. Wideout Stedman Bailey catches five passes for 103 yards and a score.
Longhorn quarterback David Ash continues his surprising start and throws for 176 yards and three touchdowns. While Ash does most of the scoring, the stable of Texas backs is very good as well rushing for 233 yards.
This is just your weekly reminder to celebrate wins responsibly, Morgantown fans. Remember football is just a game, and there are more important things in Oh God that car's on fire. So is that one. And that couch. And that dumpster.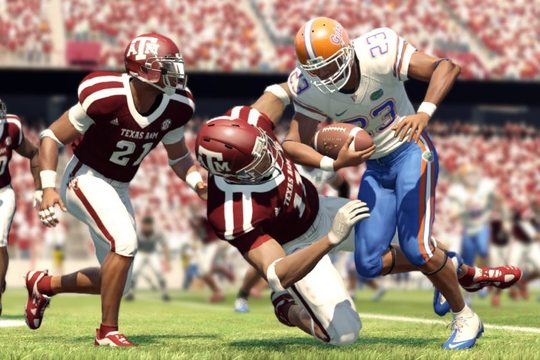 Image Via EA Sports
Florida heads into halftime with a 3-0 lead, and then the Gators explode in the second half. LSU's offensive woes continue, and they finish this one with only 155 (not a typo) yards of offense.
Gator running back Mike Gillislee is the star of the game, rushing for 135 yards and two touchdowns on 23 carries. Tight end Jordan Reed hauls in seven balls for 135 yards and is the main source of offense through the air.
Zach Mettenberger completes only six passes on 17 throws, and the LSU running games averages only 2.0 yards per carry for the entire game. I'd go over more offensive numbers, but frankly there aren't any.
"We just aren't a team filled with capable measures right now. We'll play well, we'll play better, and the product will improve over time like a fine glass of Merlot," Les Miles told the media shortly before cartwheeling away from the podium.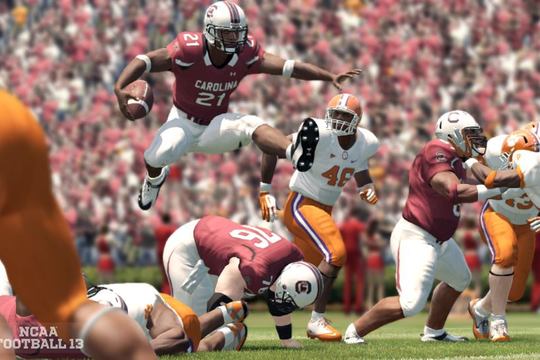 Image Via EA Sports
The Gamecocks begin their monstrous SEC game on a 30-3 run, and they don't look back. And the week's finest game turns out to be a blowout.
Connor Shaw is solid in this one, and he completes 17 of 22 passes for 187 yards and two scores. One of those scores goes to running back Marcus Lattimore who also adds two more on the ground and 135 yards on 27 carries.
Aaron Murray has his worst collegiate game in quite some time, throwing for only 151 yards and two interceptions. Georgia's impressive running game is also held in check, and the Dawgs' backs net just 95 yards on 33 carries.
Steve Spurrier's postgame presser is calm until he cracks a beer following the first question and then answers the remaining questions with random golf tips. Although it's all very confusing, the tips actually are quite good and many tape recorders stay on.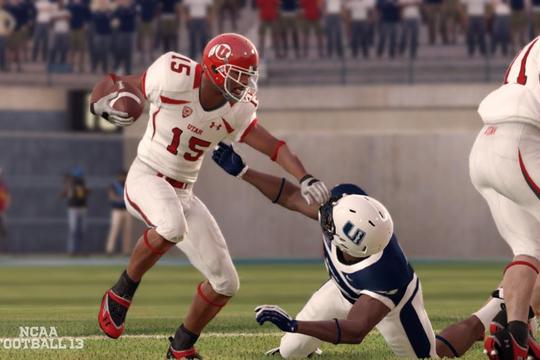 Image Via EA Sports
USC 37, Utah 7
TCU 45, Iowa State 38 (OT)
Michigan 32, Purdue 21
UCLA 45, Cal 28 - TheLadders.com. I'm just going to randomly leave this right here.
Kansas State 34, Kansas 31
Wisconsin 24, Illinois 17
Missouri 23, Vanderbilt 16
Boise State 31, Southern Miss 14
NC State 32, Florida State 18 - Oh. (Part One)
Clemson 23, Georgia Tech 17
Texas A&M 41, Ole Miss 20
Northwestern 34, Penn State 31 (OT)
Syracuse 33, Pitt 30 (OT)
Washington 45, Oregon 26 - If this happens, I am really moving to Vegas (with the game, of course).
Navy 45, Air Force 31
Oregon State 38, Washington State 17
BYU 34, Utah State 24
Virginia Tech 35, UNC 28
Auburn 24, Arkansas 10
Miami 31, Notre Dame 27 - Oh... (Part 3)
Stanford 17, Arizona 10