Virtual Simulation Stimulation: Week 5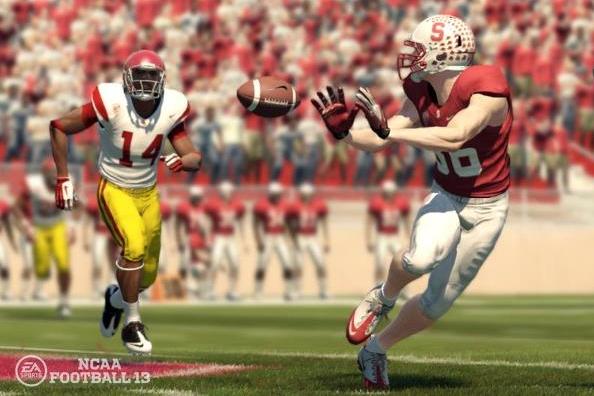 Image Via EA Sports
For the third consecutive week, NCAA '13 accurately predicted a double-digit upset. After pegging Arkansas to lose to UL-Monroe and USC to fall to Stanford, the greatest simulation device of all time accurately called Kansas State to upset Oklahoma in Week 4.
The last two weeks, we (I'm speaking on behalf of the game because it hates speaking with the media or fans) have gone 9-1, and it nearly pegged an Auburn upset over LSU last week as well. Oh, let's ride this heater.
For those of you new to this strange ritual, here's the rundown. Using NCAA '13–-some call it a game, but it's so much more–-we simulate the entire week of college football. We do not doctor any of the results and report these findings and meaningful stats directly from the box scores. You then take all your money out of your piggy bank and make fistfuls of cash off someone's dusty and noisy PS3.
It's a perfect system, really. As for this week's picks, here they are. Please take note of that stimulating record below.
Season Spotlight Prediction Record Heading into Week 5: 15-5
Begin Slideshow

»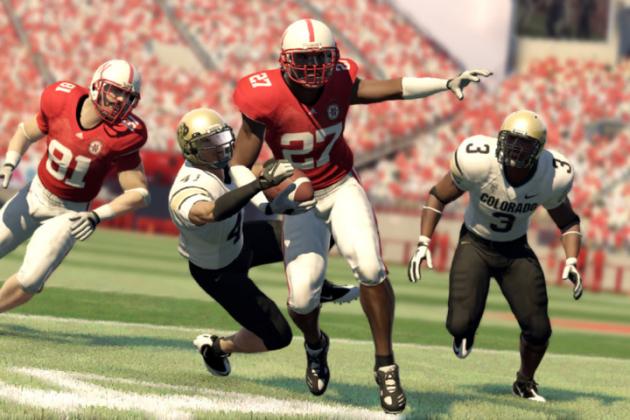 Image Via Video Game Writers
Despite falling behind 16-0, Wisconsin bounces back by scoring 24 points combined in the second and third quarters. It's not enough, however. Also, 90 points in a B1G game is HILARIOUS. Well-played, NCAA.
For Nebraska, Taylor Martinez continues his solid play. He completes 20-of-29 passes for 275 yards, three touchdowns and throws one interception. He also adds 38 yards rushing on the ground while running back Rex Burkhead runs for 89 yards and two touchdowns on 15 carries.
Badger back Montee Ball has a massive Saturday, running for 232 yards and three touchdowns on 26 carries. His backup, James White, adds two scores as well and much (basically all) of the damage in this one is down on the ground for the Badgers.
Bret Bielema responds to the loss by going home and playing NCAA '13 against Nebraska. He goes for the two-point conversion each time he scores but still ends up quitting halfway through the third quarter because of poor play. It wasn't a ranked game, so no biggie.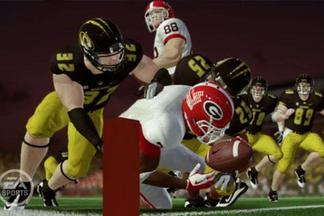 Image Via ESPN
Mark Richt's crew busts out of the gate with a 24-0 halftime lead and put it in cruise control after that.
Georgia QB Aaron Murray is absolutely brilliant, completing 19-of-31 passes for 339 yards and three touchdowns. Wideout Tavarres King catches only four passes, but two of them go for big-play scores, and he finishes with 121 yards receiving in the game. And yes, linebacker Jarvis Jones finishes with two sacks, a forced fumble and 10 tackles overall.
Tyler Bray is not nearly as effective as Murray in this one, and the Vols' quarterback struggles mightily. Bray throws for only 171 yards on 36 overall tosses and adds three interceptions to only one touchdown. Tennessee running backs are also held in check, and the team finishes with only 73 yards rushing on 30 carries. They also turn it over four times.
With games at Mississippi State, home against Alabama and at South Carolina on tap for the next month, Tennessee fans don't, at all, panic. These pitchforks, torches, dynamite and gasoline are just decorative pieces, you see.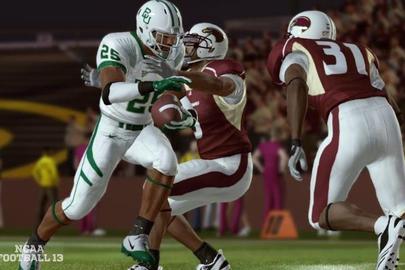 Image Via EA Sports
***Upset Special*** The stout West Virginia offense is held to only 210 yards against the Baylor defense (you've been drinking, haven't you, NCAA?), and Baylor cruises in Morgantown.
Baylor QB Nick Florence is solid but not spectacular, throwing for 234 yards, two touchdowns and two interceptions. His favorite target, Terrance Williams, is on the other end of a good chunk of his production as the wideout goes for 137 yards and a touchdown on seven catches.
The Heisman favorite is not nearly as productive. Geno Smith completes just 13-of-37 passes for 178 yards and adds a touchdown and an interception. Wideout Tavon Austin follows up his monster game against Maryland with only two catches for 27 yards.
The couch inferno following this game can be seen from Indiana. This is rather surprising because normally these Saturday flames are barely visible from Kentucky.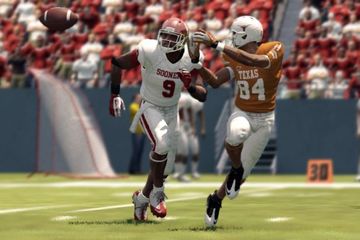 Image Via EA Sports
Oklahoma State's 17-point second quarter propels them to a 13-point lead at halftime. Texas finds their game in the second half, however, and scores the game-winning TD with three minutes remaining.
OK State quarterback Wes Lunt plays in this one and struggles mightily against this Texas D, completing only 18-of-40 passes and throwing four interceptions. Running back Joseph Randle finds some success en route to 115 yards and a touchdown on only 15 carries.
On the flip side, Texas quarterback David Ash is tremendous. His 211 passing yards don't jump off the page, but he does throw for four touchdowns only just 20 overall passes. The impressive stable of Longhorn backs are also good in this one, running for 146 yards on 28 carries combined.
If these numbers hold up, David Ash will have thrown for eight touchdowns in his last two games, which is further proof that the Mayans are absolutely spot on.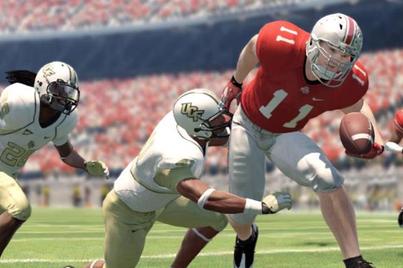 Image Via EA Sports
After a scoreless first quarter, Ohio State kicks three field goals in the second and adds a touchdown as well. Seriously, three field goals in one quarter is impressive. I don't care if it is a video game. It's also very, very Big Ten.
Despite his team's success, Braxton Miller has his worse collegiate game. He completes only 13-of-33 passes for 281 yards and a score but is intercepted five (not a typo) times. Oof, but again, they come out on top which is also very Big Ten. Miller does add 64 yards on the ground, and the Ohio State running game eclipses the 200-yard mark overall.
On the other side, Ohio State keeps Sparty runner Le'Veon Bell in check as he finishes with just 52 yards on 15 carries. QB Andrew Maxwell throws for 223 yards and two scores, both of which go to sophomore wideout Keith Mumphery.
Make all the Big Ten jokes you want, but this...wait. Actually, I have absolutely nothing to stop you from doing this. Please continue to make all the Big Ten jokes you please.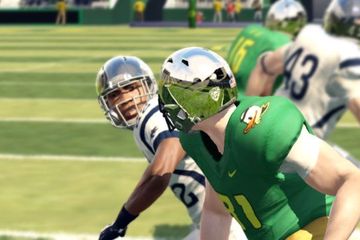 Image Via Operation Sports
Southern Miss 41, Louisville 20; NCAA'13 is not too fond of the Cardinals. Southern Miss also, apparently, has a defense in the virtual world.
Stanford 28, Washington 14
Florida State 48, USF 24
Illinois 24, Penn State 30
South Carolina 28, Kentucky 0; Virtual Kentucky is, well, a lot like the regular Kentucky. They'd be pretty tough in college basketball simulations, though.
Cal 35, Arizona State 16
Virginia Tech 23, Cincinnati 16 (OT)
Missouri 27, UCF 17
Alabama 27, Ole Miss 7
SMU 29, TCU 26; One of very few major upsets in the notables.
BYU 31, Hawaii 20
Arizona 24, Oregon State 23
NC State 21, Miami 20
Indiana 31, Northwestern 21
Arkansas 45, Texas A&M 28: SMILE
Clemson 30, Boston College 21
Oregon 48, Washington State 23