Bengals vs. Jaguars: Another Brutal Home Loss for Jacksonville
Use your ← → (arrow) keys to browse more stories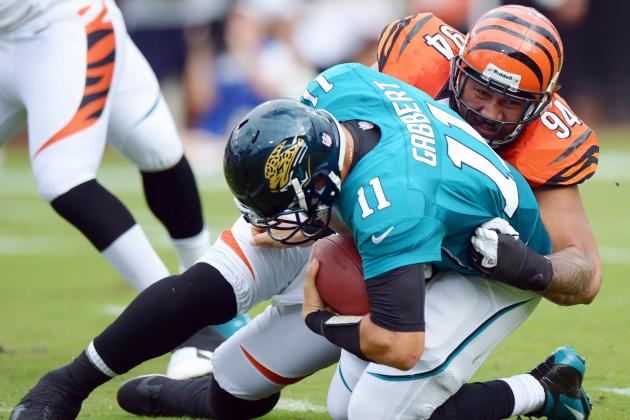 Jake Roth-US PRESSWIRE
Six, yes six, more sacks of Gabbert capped a terrible day in Jacksonville.
Cecil Shorts would have needed a 380-yard reception to save this day.
The Jacksonville Jaguars were hammered by a superior Cincinnati Bengals squad 27-10 in Week 5. The second-consecutive blowout loss at home dropped the Jags to 1-3 on the season and likely dashed any flickering hopes of a surprise resurgence in Jacksonville.
Despite an outstanding second drive led by Blaine Gabbert, the Jaguars quickly fell behind and proved incapable of sustaining drives. He hit six of his first seven passes for 61 yards and a score (142.6 rating), but finished the game just 17 of his last 28 for 125 yards and an interception (56.4 rating).
Gabbert's struggles were exacerbated by six sacks for 43 yards, and that doesn't include a sack/fumble that was negated by a Bengals penalty. With just 143 yards passing on 40 drop backs, the Jaguars averaged a paltry 3.6 yards per attempt.
While a lack of progress in the passing game marred the day for the offense, the defense was plagued by A.J. Green. The second-year wideout lit up the secondary for 117 yards receiving and a score, routinely dancing his way along the sideline for big gains.
Perhaps no play summed up the afternoon for the Jaguars as completely as a bizarre exchange on the Bengals' first possession.
Andy Dalton threw a tipped pass that Kyle Bosworth picked off. While running free inside the Bengals' 15-yard line, he fumbled the ball, and Cincinnati recovered. The Bengals would later go on to put up the first field goal of the game.
Despite their struggles, Jacksonville came with a huge play in the third quarter. Trailing 17-7, Cincinnati was heading in for a crushing score when Jeremy Mincey forced Ben-Jarvis Green-Ellis to fumble. The Jaguars recovered in the end zone.
They marched down to the Jaguars' 3-yard line, but elected to kick a field goal on 4th-and-1.
The lead was cut to 17-10, but it functionally ended their hopes for victory.
The next time they would see the ball on offense, the score was 24-10. Gabbert's first interception of 2012 on the Jaguars' first play from scrimmage of the fourth quarter nailed down the victory for the visitors.
Looking ahead, Jacksonville has one more test before their bye week. If they can't score a win over the Chicago Bears at home, they'll be facing road games at Oakland and Green Bay, which will be difficult places to win.
This is a franchise that has been rebuilding for going on four years now, and with wins just as scarce as ever, general manager Gene Smith has to be on notice. Jaguars fans, even the optimistic ones, are losing patience with the regime. As one fan said on Twitter,

As heavy rains pelted the field in the fourth quarter, the capacity crowd abandoned their seats, leaving few left willing to endure a drenching just to watch the hope drain from their season.
If the Jaguars lose their third-consecutive home game in ugly fashion in Week 5, there may be nothing left for fans to do but brace for another house-cleaning and another painful rebuild.