Best Moments from UFC 40-50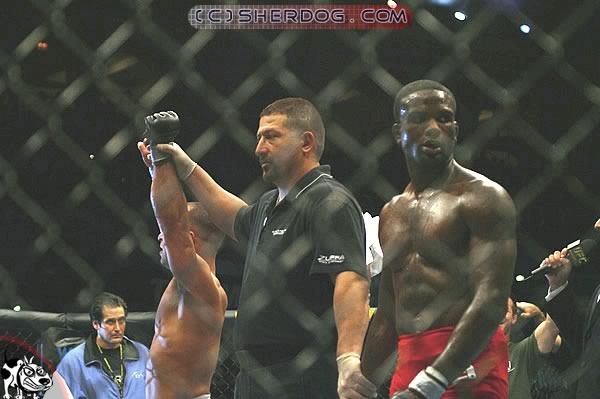 sherdog.com
UFC 41 saw some controversy on the preliminary card, as a lightweight dual between Din Thomas and Matt Serra went to a decision.
Bruce Buffer would announce the winner by split decision as Matt Serra, which would leave Din Thomas feeling robbed. Luckily, for Thomas, there was a mistake.
Backstage, Thomas was informed that one of the judges scored the fight wrong, and that he was actually the winner. It was a feel-good story that saw the right fighter get the right decision after initially being denied.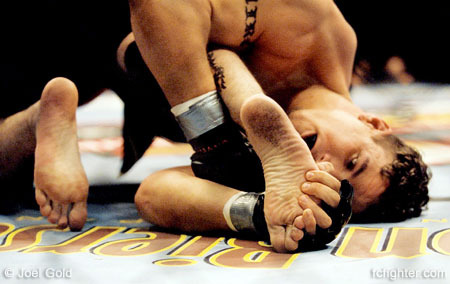 bloodyelbow.com
Tank Abbott, a staple of the UFC in the early days, made his return at UFC 41 for the first time in about five years. It was exciting for the fans, who would see the heavy hitter face off against a young Frank Mir.
46 seconds later, Mir had already spoiled the return with a toe-hold submission win. It was a heart breaking loss for Abbott, but another spectacular submission for Mir.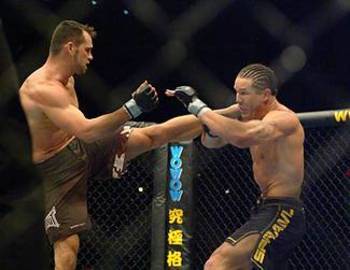 bleacherreport.com
Before Rich Franklin became the middleweight champion, he had to make his debut. At UFC 42, he was given a tough test when he fought Evan Tanner.
The legendary Franklin made a quick debut, dispatching the well-respected Tanner in less than three minutes. The knockout was a great moment in his career and showed the potential he had at that point.
en.susumug.com
The interim light heavyweight belt was on the line at UFC 43, with Chuck Liddell finally getting his chance to be a champion and meet up with Tito Ortiz with a victory.
Unfortunately, Randy Couture also showed up with a dynamite game plan.
Couture stood and struck with Liddell, which surprised many, including Liddell. He would mix up takedowns and his dirty boxing as well, before finally earning a referee stoppage in the third round to become the interim champion.
Liddell would have to wait for another day to fulfill his dream.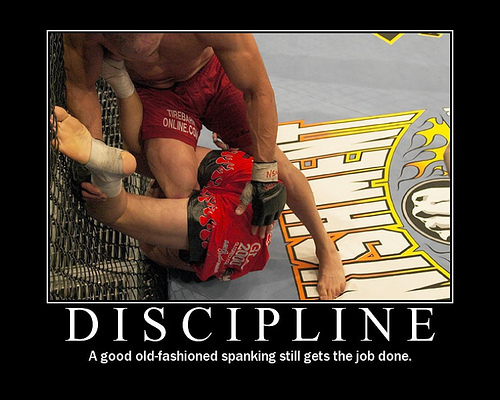 smashmouthmma.com
Randy Couture, fresh off his win over Chuck Liddell, was set to unify the light heavyweight titles against Tito Ortiz at UFC 44. It would lead to one of the most infamous moments in Octagon history.
After Couture doinated the entire fight, Tito Ortiz went for a desperation kneebar. It was obvious he wouldn't finish it, so to show his dominance in the fight, Couture literally spanked Ortiz on the butt, much to the delight of many.
Couture was now the undisputed champion.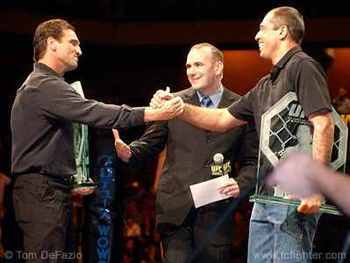 bleacherreport.com
UFC 45 saw the UFC open the doors to the first ever Hall of Fame class. Its first members, Ken Shamrock and Royce Gracie, were the best picks they could have possibly made, due to their contributions in the sport.
wikipedia.org
In one of the better feuds in MMA history, Matt Hughes and Frank Trigg absolutely hated one another. This would amount to two great fights, with the first meeting happening at UFC 45.
Hughes dominated the fight and won in impressive fashion. With just over a minute to go in the first round, Hughes got a standing rear-naked choke sunk in on Trigg and forced him to fall down and tap.
It was an iconic moment for Hughes.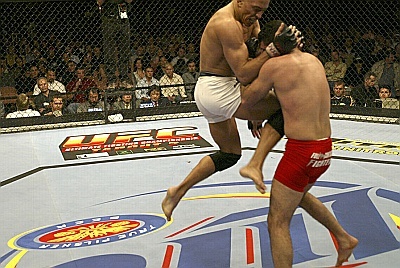 knucklepit.com
Before Georges St-Pierre was GSP, he was just another guy making his promotional debut in the UFC. He did so at UFC 46 with this unanimous decision victory over Karo Parisyan.
Parisyan was an established threat and a top welterweight at the time. It really showed how good GSP would be in the future.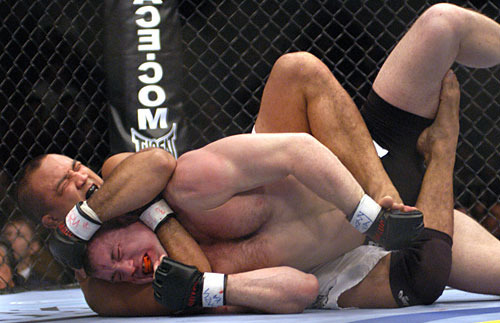 prommanow.com
Normally a lightweight, BJ Penn moved up a weight class at UFC 46 to challenge champion Matt Hughes for his 170-lb. strap. It was a fight that many thought Hughes took lightly, which would make him pay in the end.
With less than a minute left in the round, Penn got Hughes' back and sunk in a rear-naked choke. With that, Penn was a champion and Hughes was left with a bitter taste in his mouth.
It wouldn't be the last time the two met.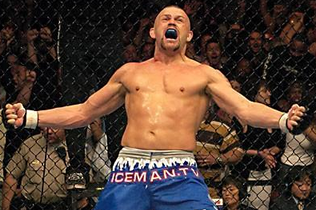 mobile.mmamania.com
The fight was a long time coming, but it finally happened at UFC 47 when Chuck Liddell met rival Tito Ortiz.
The former training partners met in the Octagon and Chuck backed up his assertion that he dominated sparring sessions. He dominated the whole fight, which took just over one round.
Like lightning, Liddell struck with an amazing combination that left Ortiz disoriented and on the mat in disappointment. It was a huge win for "The Iceman."
ugo.com
UFC 48 was the host of the heavyweight championship showdown between Frank Mir and Tim Sylvia. The main event was a quick one, and one of the most famous moments in Herb Dean's career.
Mir locked in a devastating armbar that appeared to break Sylvia's arm. At the time, the only person to notice it in real time was Dean, who ran in and stopped the fight.
Nobody understood at the time, but it was the most clutch save in referee history at that time. It literally may have saved Sylvia's career, and it established Dean as the most respected ref in the business.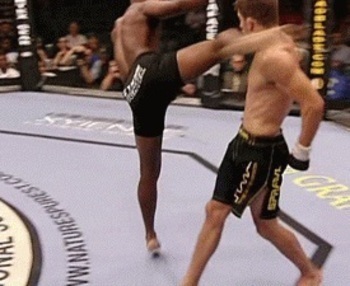 bleacherreport.com
It is one of the most devastating and beautiful knockouts of all time. It is the head kick that made Yves Edwards famous and made Josh Thomson into a highlight reel for the rest of his life.
Back peddling to escape Edwards striking, Thomson found himself on the receiving end of a brutal head kick from Edwards. One has to wonder how Thomson's head stayed on his body after a shot like that.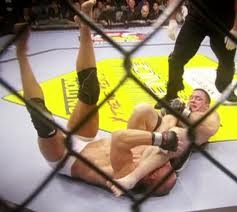 bloodyelbow.com
Matt Hughes battled Georges St-Pierre for the vacant welterweight title at UFC 50 and pulled off a win in the nick of time.
With one second remaining in the first round, Hughes executed a beautiful armbar that had GSP tapping out. One second later, and history may have been written differently.
It would not be the last time GSP saw a main event, a title shot or Matt Hughes.